Amsterdam in August
You'd be hard pressed to find the Dutch capital thriving more than it does in August. Seeing its largest annual throughput of tourists, the city brims with life in every way, from its bustling nightlife scene to its busy squares and huge selection of events and festivals. If you can put up with busier attractions during this time, then you're bound to find a trip to Amsterdam in August beyond rewarding.
Visiting Amsterdam in August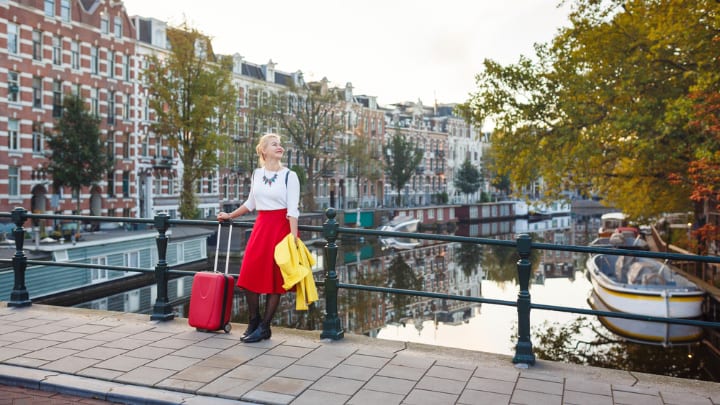 Average Temperature: 54 - 70°F • Average Rainfall: 11 days/mth • Average Sunshine: 6 hours/day
There are few periods busier for Amsterdam than summer, and August truly takes the cake. At the height of peak season, you can expect the city to be packed with families and summer vacationers, resulting in busy attractions and high accommodation prices. However, that also means you'll get to experience the Dutch capital at its best, with its veritably electric summertime atmosphere.
Upholding the seasonal climate established in July, Amsterdam typically experiences bright, mild days throughout August. While you shouldn't expect the heatwaves of more southern European destinations, you're likely to spend some very pleasant days in August, ideal for exploring its iconic streets, squares and open spaces. That being said, it's always smart to pack an umbrella, as rainfall is never unlikely in the Netherlands.
Things to Do in August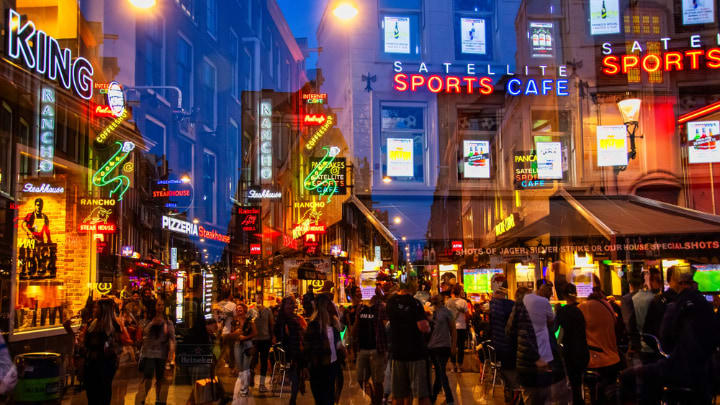 No matter the time of year, any trip to Amsterdam would be incomplete without discovering at least some of its famous cultural hubs. Taking precedence is the emblematic Rijksmuseum towering over the Museumplein, housing a vast collection of renowned artworks and historical artifacts. Where historical insight is concerned, the Anne Frank House stands as the most potent recounting of life in the Netherlands during the Second World War.
As a city with more bicycles than people, there are few better ways to explore Amsterdam than on your very own pair of wheels. Over 470 miles of cycle paths make up the Amsterdam Bicycle Network, making for a fantastic excuse to take a more physically active approach to exploring the capital. Many bike rental stores offer daily rates somewhere in the region of €10.
There's no better time than summer to make the most of Amsterdam's many sprawling green spaces. The weather in August offers a perfect opportunity to take a stroll among Vondelpark's ancient trees and stunning lakes, and grab a seat at one of its many charming park cafés. Equally, why not have a picnic in Westerpark, make the most of its live summertime events and shows, or even catch a viewing at its very own arthouse cinema?
Second only to cycling, Amsterdam's emblematic waterways offer a uniquely alternative means of seeing the city. You can choose from a large variety of tour operators offering their own canal boat excursions, often including tours of the capital's key landmarks accompanied by local insights into their cultural and historical significance.
Amsterdam's nightlife scene is never better than in summer, when you can expect most bars and clubs to be brimming with life. Popular venues can be found throughout the city, but as a general rule of thumb, the old area of Jordaan is typically very popular with young people for its trendy bars. Leidseplein and Rembrandtplein are particularly popular for their club offerings, while the street of Nes often attracts more of an intellectual theater crowd.
Events in August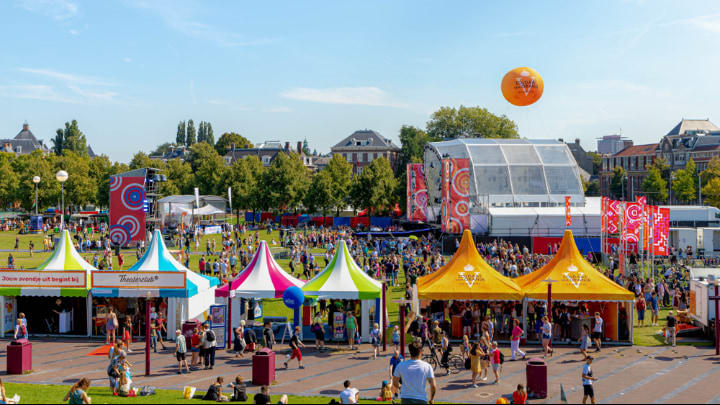 Pluk de Nacht Film Festival
Mid-August is prime time for sultry evenings beneath the stars, and the Pluk de Nacht ('Seize the Night') film festival aims to deliver just that. This event consists of an open-air cinema premiering acclaimed independent films never before released in the Netherlands. Film lovers can grab a lazy beach chair and enjoy an evening of cinema accompanied by warm blankets and cocktails.
Grachtenfestival
Amsterdam's Grachtenfestival, or Canal Festival, is considered one of the country's most charming cultural events. The event brings together talented classical musicians from both around the country and abroad to perform in a 10-day classical music marathon on the city's world-renowned canal belt.
Throughout the event, over 150 unique stages open up across private gardens, rooftop terraces, canal houses, cruise ships, hotel suites and tube tunnels. Visitors can enjoy classical music, jazz and world music concerts from international names, with many performances offered at very affordable prices or even free of charge.
Amsterdam Pride
As the first country in the world to legalize same-sex marriage, nobody knows how to celebrate Pride more than the Netherlands. Now a multi-day festival, Amsterdam's Pride Festival typically attracts around half a million visitors each year in late July in celebration of equality, diversity and personal identity.
Should you happen to visit around this time, you'll find local bars and clubs veritably thriving with festivity. Various street parties and events bring together thousands of revelers dressed in the full color spectrum to enjoy live music performances and Amsterdam's famous Canal Parade, during which over 80 official vessels celebrate the past, present and future of the LGBT community.
Uitmarkt
Late August marks the opening of the Netherlands' cultural season, with Uitmarkt standing as its opening act. The largest cultural festival in the country, Uitmarkt draws in over half a million visitors each year to appreciate a huge selection of performances taking place throughout the city.
Over 2,000 of the Netherlands' best performers, musicians, actors, orchestras and filmmakers come together to perform across more than 30 venues. The full program of events is offered free of charge to the public and includes everything from classical music performances to dance demonstrations and everything in between in a show of the country's vast cultural wealth.
De Parade
Touring the country's five largest cities, De Parade is a traveling theater festival that transforms the open spaces of its host cities into festival venues filled with colorful carnival tents, live entertainment acts, a carousel and a variety of family activities and food stands. Beginning in Eindhoven, the event also travels to Rotterdam, The Hague and Utrecht before arriving at its final destination in Amsterdam.
The festival typically arrives in Amsterdam in August and offers locals and visitors alike the chance to revel in fun-filled performances and the jovial carnival atmosphere. Whether you're a fan of theater and the circus or simply want to spend an evening exploring the event grounds accompanied by live music and delicious local delicacies, De Parade is well worth a visit.