Amsterdam in July
At the height of summer, Amsterdam in July positively oozes life and culture. Some of the largest crowds flock to the capital over the summer period to bask in the Dutch sun and explore the city's cultural hubs, hedonistic pleasures and world-famous nightlife scene. So long as you're prepared to put up with larger queues and busier streets, a trip in summer is sure to be a thrilling one.
Visiting Amsterdam in July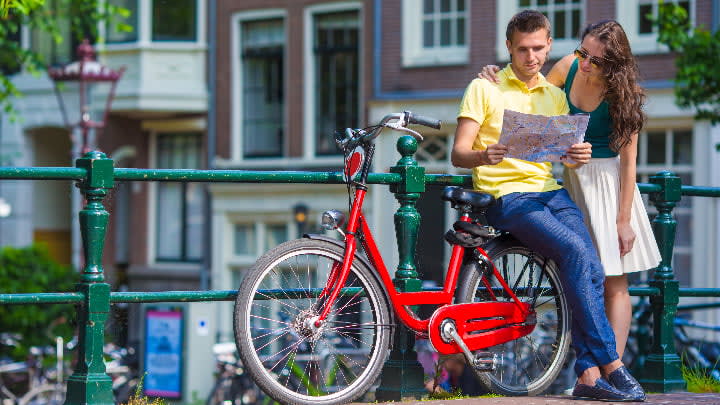 Average Temperature: 54 - 70°F • Average Rainfall: 12 days/mth • Average Sunshine: 6 hours/day
It likely comes as little surprise that visiting Amsterdam in July – and just about anywhere else in Europe around this time – will land you amid one of the city's most bustling periods. The Dutch capital positively brims with life throughout summer, as the waves of families and vacationers flock to see just what the country's cultural center has to offer.
Naturally, this comes at the cost of sharing the city with many more tourists than during the low season. Lines for attractions are likely to be longer, and accommodation rates will be at their highest. However, that also allows the nightlife scene to really come into its own, and the city as a whole will have a much more electric atmosphere.
Your trip to Amsterdam in July will likely be complemented by overall mild to warm temperatures. While you aren't guaranteed the same summertime heatwaves of more southern European destinations, July's climate is prime weather for exploring the iconic streets and squares of the Dutch capital. That being said, it also wouldn't be a terrible idea to pack an umbrella just in case.
Things to Do in July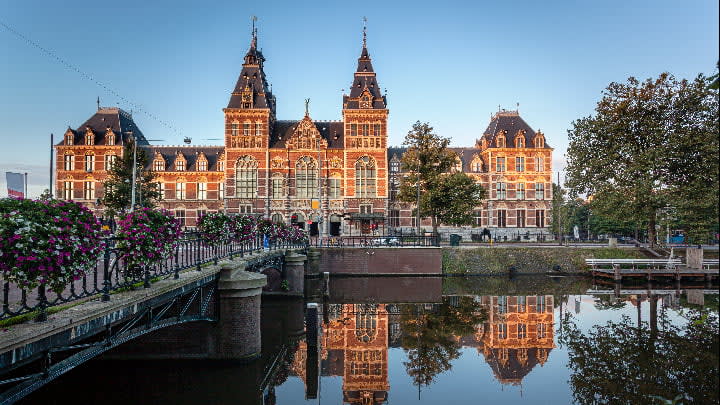 No matter the time of year, any trip to Amsterdam would be incomplete without discovering at least some of its famous cultural hubs. Taking precedence is the emblematic Rijksmuseum towering over the Museumplein, housing a vast collection of renowned artworks and historical artifacts. Where historical insight is concerned, the Anne Frank House stands as the most potent recounting of life in the Netherlands during the Second World War.
As a city with more bicycles than people, there are few better ways to explore Amsterdam than on your very own pair of wheels. Over 470 miles of cycle paths make up the Amsterdam Bicycle Network, making for a fantastic excuse to take a more physically active approach to exploring the capital. Many bike rental stores offer daily rates somewhere in the region of €10.
There's no better time than summer to make the most of Amsterdam's many sprawling green spaces. The weather in July offers a perfect opportunity to take a stroll among Vondelpark's ancient trees and stunning lakes, and grab a seat at one of its many charming park cafés. Equally, why not have a picnic in Westerpark, make the most of its live summertime events and shows, or even catch a viewing at its very own arthouse cinema?
Second only to cycling, Amsterdam's emblematic waterways offer a uniquely alternative means of seeing the city. You can choose from a large variety of tour operators offering their own canal boat excursions, often including tours of the capital's key landmarks accompanied by local insights into their cultural and historical significance.
Amsterdam's nightlife scene is never better than in summer, when you can expect most bars and clubs to be brimming with life. Popular venues can be found throughout the city, but as a general rule of thumb, the old area of Jordaan is typically very popular with young people for its trendy bars. Leidseplein and Rembrandtplein are particularly popular for their club offerings, while the street of Nes often attracts more of an intellectual theater crowd.
Events in July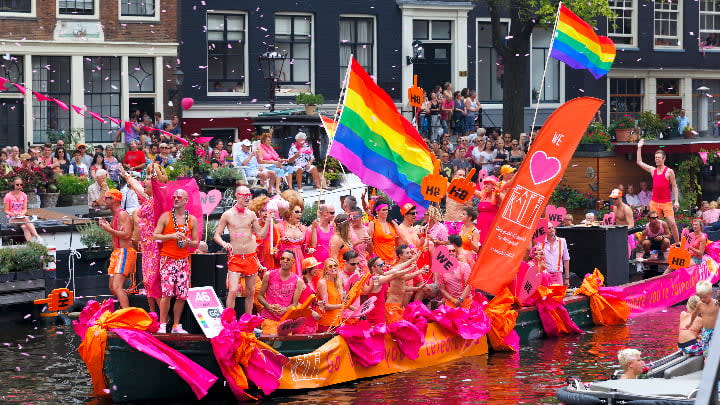 Over Het IJ Festival
Held on the waterfront of the River IJ in Amsterdam, the 10-day Over Het IJ Festival stands as a combined celebration of theater, art and culture. With the backdrop of Amsterdam's iconic wharves, piers and shipping containers, the festival offers a variety of theatrical performances, visual arts and interactive installations for visitors to enjoy.
The waterfront location allows for visitors to enjoy the festival's jam-packed program of location-specific shows and activities while enjoying the best of the Dutch summertime weather. The event is publicly accessible for visitors to explore at their leisure, with a variety of delicious food stands and chill spaces scattered around the venue.
Amsterdam Pride
As the first country in the world to legalize same-sex marriage, nobody knows how to celebrate Pride more than the Netherlands. Now a multi-day festival, Amsterdam's Pride Festival typically attracts around half a million visitors each year in late July in celebration of equality, diversity and personal identity.
Should you happen to visit around this time, you'll find local bars and clubs veritably thriving with festivity. Various street parties and events bring together thousands of revelers dressed in the full color spectrum to enjoy live music performances and Amsterdam's famous Canal Parade, during which over 80 official vessels celebrate the past, present and future of the LGBT community.
Milkshake Festival
Organized as a collaboration between two of Amsterdam's most prominent clubs, Air and Paradiso, the Milkshake Festival is a multi-genre music event built around central themes of inclusion and freedom of expression. The event promotes diversity in every sense of the word, as thousands of music fans flock to enjoy the festival's many different stages and performances in a safe, open environment.
North Sea Jazz Festival
The North Sea Jazz Festival is the world's largest indoor music festival. Hosted in Rotterdam, just over an hour away from Amsterdam by train, the event takes place over three days and features performances from various music genres.
Although primarily considered the world's most important jazz festival, the festival also offers blues, funk, hip hop and world music performances from local and international names both big and small. As many as 70,000 visitors flock to Rotterdam each year to enjoy live music from over 1,000 musicians performing across 15 stages.