Best Amsterdam Souvenirs
Vacations are all about fun. You save up to travel, head to a new place, and surround yourself with the local culture. Of course, vacations aren't cheap, especially when they involve hours-long flights and accommodation. That means you need to pick your vacation partners well and, ultimately, it means that some will be left behind. To ensure they don't curse you or seek vengeance for the slight, pick them up a souvenir! But, if you're heading to Amsterdam, which are the best? Read on, and discover our picks for the best souvenirs in Amsterdam!
Including:
Stroopwafels
Cheese
Fritessaus
Drops
Tony's Chocoloney
and more!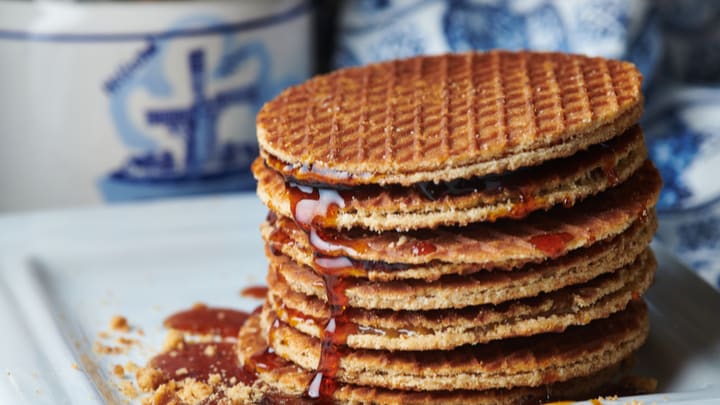 Stroopthroat
Let's begin with an undeniable Dutch delicacy. To those not in the know, stroopwafels are two wafer-thin waffle cookies joined in sweet matrimony by a layer of delicious caramel. They're as good as they sound, and you can find them everywhere.
Somehow, it's not a trend that's taken off worldwide, making them the perfect gift to bring back from your vacation. You'll find them in most supermarkets, but do yourself a favor and go get the good stuff. You'll find plenty of bakeries that make them fresh on-site. Check out Van Wonderen Stroopwafels for the best of the bunch. Stroopwafel makes it to the top of our list of the best Amsterdam souvenirs.
We Gouda problem?
One of the things the Dutch pride themselves on is their cheese. Unlike other countries that have dozens of national cheeses, the Netherlands goes for quality over quantity. And their most famous cheese is arguably Gouda.
This one has made it to the far corners of the world, with many shops selling Gouda. But the Dutch give Gouda its proper props, with many different types of the delicious cheese found in specialist cheese shops across Amsterdam. While you'll find packets upon packets of Gouda in the supermarket, head to a specialist like Old Amsterdam or De Kaaskamer to get the good stuff.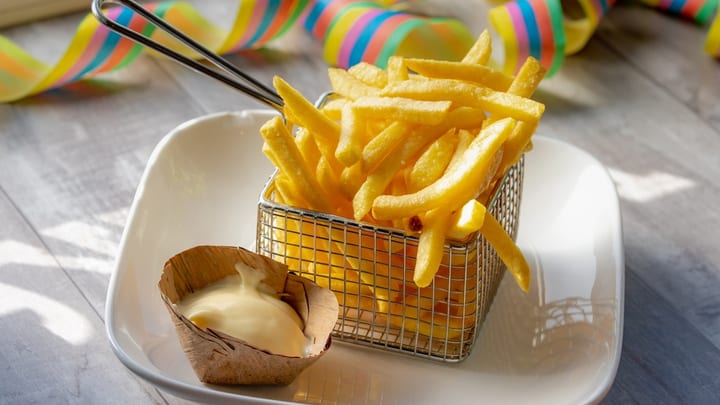 Saucy sides
French fries. One of America's favorite foods get a lot of love over in Europe too. Which makes sense, given they likely originated there. However, where the continents differ is in the choice of dipping sauce. Much of Europe goes with mayonnaise, while the US tends to lean towards ketchup or other sauces.
But the Dutch have their own dipping sauce created specifically with the French fry in mind; Fritessaus. It's a lighter, sweeter mayonnaise equivalent, containing chives, lime juice, and often capers. It might not sound amazing, but trust us, it brings a whole new taste sensation to your fry fascination. Go pick a bottle of it up from a supermarket, and induct your friends and family into a new world of dipping delight.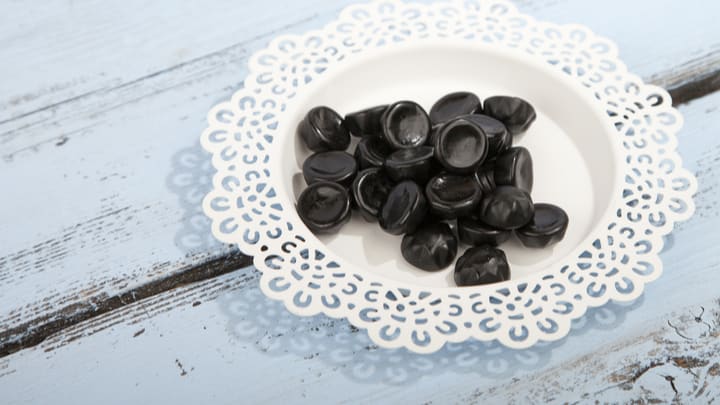 A drop in the ocean
Lots of Dutch delicacies tend to fall on the sweeter side. It's no wonder, then, why bikes are so popular in the country. Not only is it a cheap way to get about, but it's also the perfect excuse to burn off some of those sugary calories!
That might be why drops are one of the country's go-to snacks. These sweets are the country's take on licorice, which is, in fairness, already an acquired taste. Traditionally used to ease sore throats, it has since morphed into a sweet treat, coming in all shapes, sizes, and flavors. It might not be for everyone, but it makes for an incredibly authentic and unique souvenir. For the daring gift-giver, pick up some salmiak. It's a salty alternative that your loved ones will either love...or hate!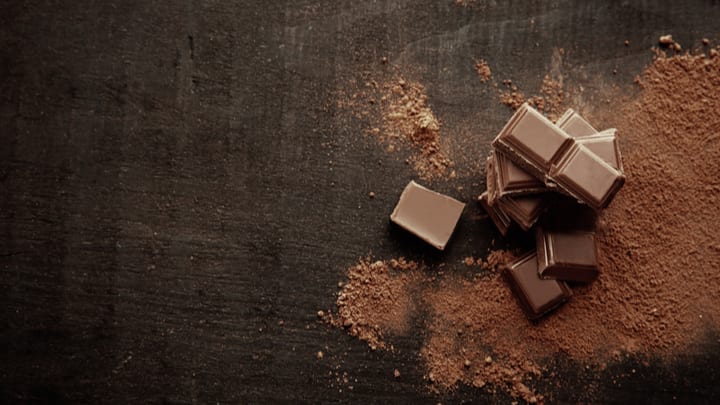 A clockwork chocolate
Yet another sweet makes our list, but this one is far less divisive. In a world full of Nestles, Cadburys' and Hersheys, this one is a new kid on the block. But boy, is it coming out swinging. We're talking, of course, about Tony's Chocoloney, one of The Netherlands' biggest exports. Having only existed since 2005, it's going toe-to-toe with centuries-old brands and taking the points.
This delicious brand of chocolate is 100% fair trade, something other brands only wish they could boast about. So morally, they already have the high ground. But what about taste? Well, we're pleased to say they're one of the best, with dozens of exciting and creative flavor fusions you won't find anywhere else.
And, while you can find Tony's Chocoloney in most supermarkets, why not go to the source at the Tony's Chocoloney Superstore? Sample the latest flavors, create your own chocolate bar from a long list of delicious ingredients, and then pick up a Rainbow pack for that special someone. Tony's is, without a doubt, one of the best souvenirs you can pick up in Amsterdam.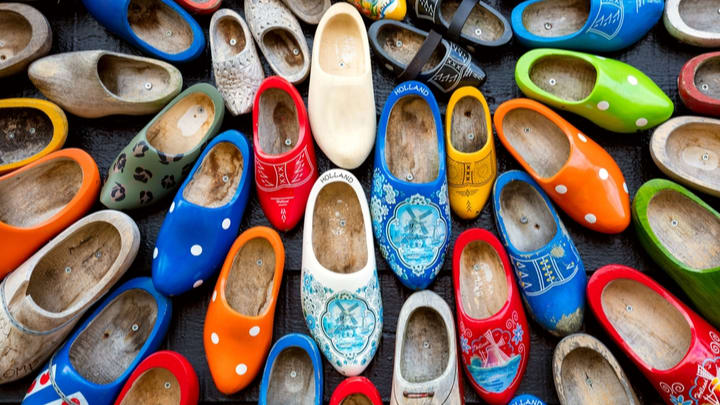 Clog on
A list of the best Amsterdam souvenirs would be sorely lacking if it didn't mention clogs. The traditional Dutch wooden shoe has become an iconic object associated with the Netherlands, and with good reason. They're strange, yet obviously quite cute, and not at all practical.
But, for the last one hundred years or so, they have earned their place as one of the de facto souvenirs. You'll find entire shops dedicated to them, where you'll find unique designs and fun takes on the shoe. And sure, you could go to any old souvenir shop in the city to pick some up, but why not go the extra mile? Hop on a bus to Zaanse Schans, the 'windmill' village, and go buy some from one of the area's authentic shoemakers?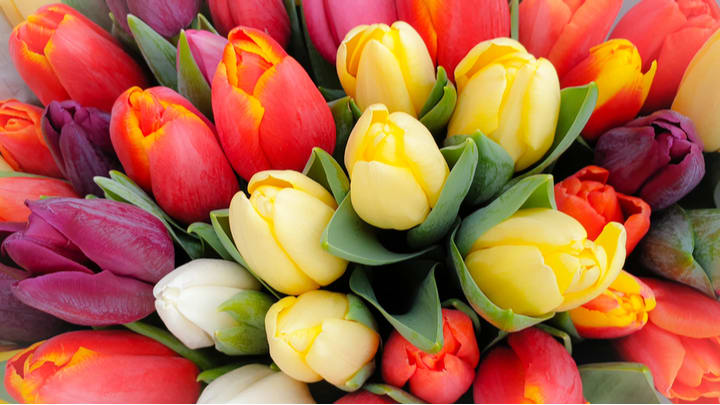 Tulip's kiss
And finally, let's end our souvenir excursion on another Dutch staple - the tulip. The famed flower originates in the Netherlands, so it'll make the perfect gift for the loved ones you left behind.
However, we all know that transporting a bouquet of flowers is difficult on a flight. So, why not instead give your loved ones the chance to grow their own? Keukenhof Gardens is about 20 miles outside the city, so if you're feeling active, why not rent a bike, ride down there, and pick up a seed packet or two? They'll transport a lot easier than the flowers themselves, are easier to wrap, and mean you avoid the responsibility of taking care of them! Perfect!
And that's our list of the best Amsterdam souvenirs!