Best Markets in Amsterdam
Even if you're vacationing abroad, markets can be the perfect place to pick up some fresh groceries, presents for your loved ones, or even something for yourself! Amsterdam is full of markets that run throughout the week, but which is the best? Well, we've collated this handy list of our favorites just for you, so no matter what you're in the market for, you'll find what you want! These are our picks for the best markets in Amsterdam!
Including:
Markets in Amsterdam North
Markets in Amsterdam East
Markets in Amsterdam Central
Markets in Amsterdam West
Markets!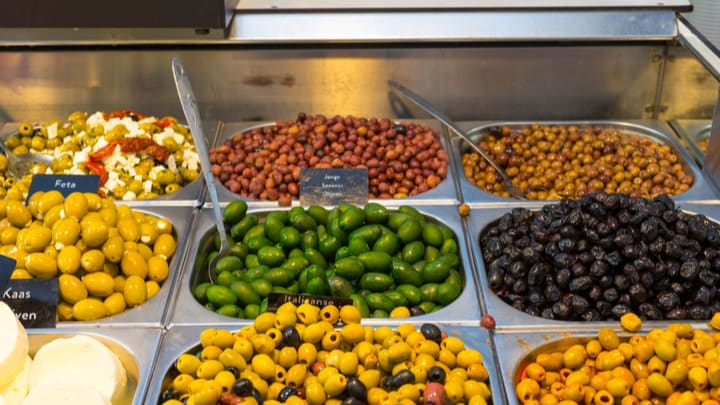 De Pijp is one of Amsterdam's coolest neighborhoods, where much of the expat community congregates. So it's no wonder that you'll find one of the city's most diverse and exciting markets there. The 'Cuyp', named after the famed Dutch painter of the same name, actually predates the modern expat avalanche, with the market going strong for over 100 years.
Not only is Albert Cuyp surrounded by De Pijp's cool bars, boutiques, and restaurants, but it also offers a ton of amazing produce, prepared nibbles, and charming handcrafted jewelry and clothing. So, do yourself the greatest favor anyone can do themselves ever, and head down there to see what we're talking about.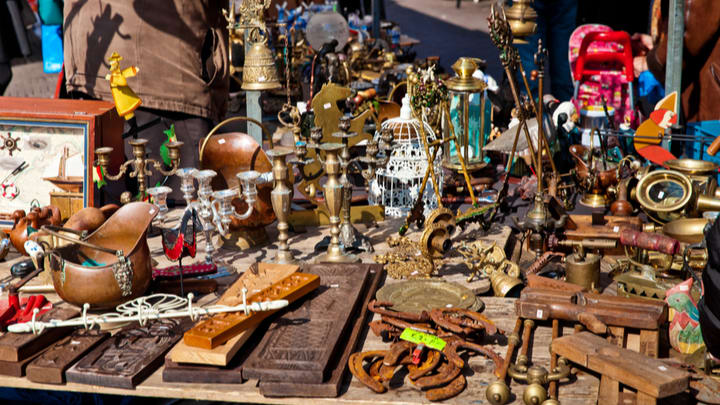 Predating Albert Cuyp by around 20 years, Waterlooplein definitely has a more local market vibe to it. Setup in the formerly Jewish part of town, you'll find hundreds of traders setting up stalls there.
Bargain-hunting is the name of the game here, with plenty of peddlers willing to negotiate their prices. If you're in the market for a cheap bike to get you around the city, or looking for some unique accessories to adorn your withered body, Waterlooplein is the perfect destination for those of you with the savvy to barter.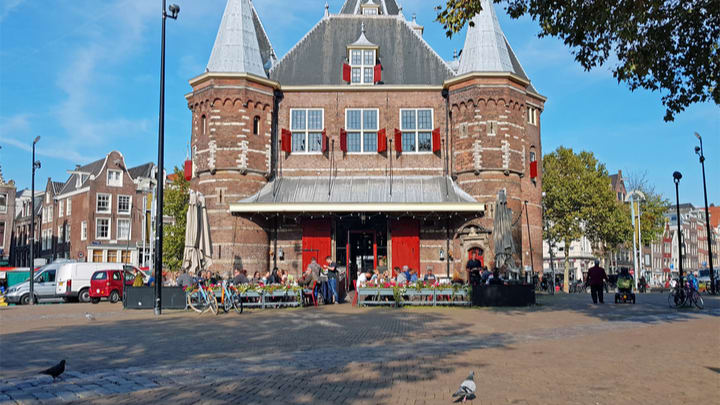 Nieuwmarkt (Centre)
Predating the other markets on this list by hundreds of years, Nieumarkt's name might be deceptive. But its offerings are anything but! This is a farmer's market through and through, where growers have sold their wares for centuries, back when the site used to be the city gate.
So, expect plenty of amazing organic produce straight from the field, alongside flowers, wine, and a variety of cooked snacks for you to munch on while you browse.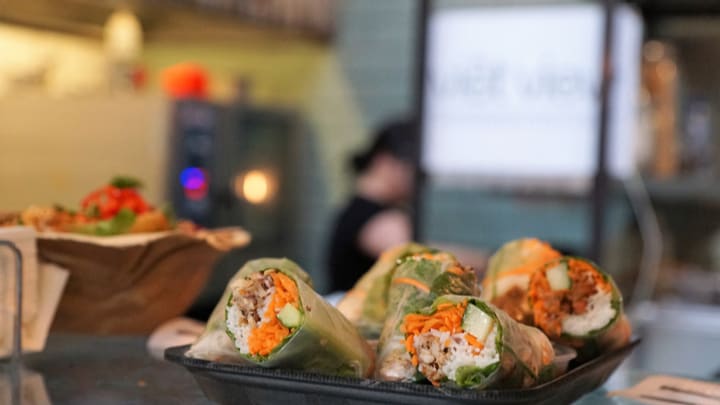 Let's swap the outdoors for the indoors now. Amsterdam's weather can be a touch unpredictable, what with the windswept clouds turning sun to rain in a matter of minutes. So, why not check out this undercover food extravaganza should the worst happen?
De Hallen is a mega-complex of sorts, built in the husk of an old train depot. Inside its walls, you'll find a cinema, events space, and the holy grail of street food - Foodhallen. Nestled inside this football-field-sized space, you'll discover delicious food from all over the world. Mexican, Italian, American diner, authentic Dutch, and many more cuisines call it home. And, with an island bar through the middle, and plenty of tables to eat on, you could spend all afternoon there sampling bits and pieces from each truck. While not a conventional market, Foodhallen is easily one of the best in Amsterdam.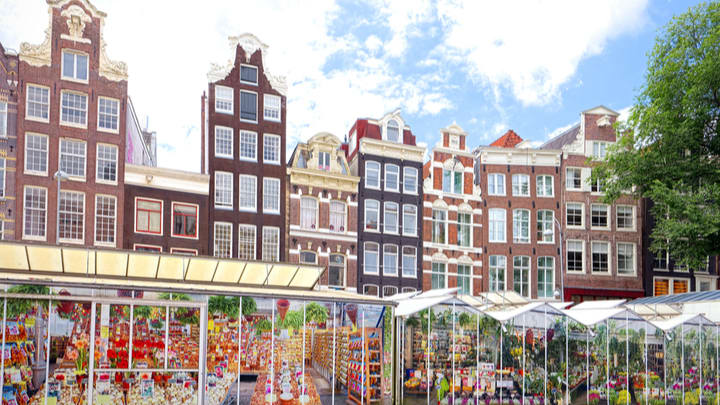 If you like flowers and you like boats, then boy is this next one going to blow your measly mind. Bloemenmarkt is a floating flower paradise, where you'll find a whole host of flower stalls that sit on one of Amsterdam's many canals.
So, if you're in the market for an apology bouquet, want to surprise your partner, or simply love flowers and want them displayed proudly in your house, head down there and pick from a myriad of different species. Of course, they have tulips; they're about as Dutch as it gets. But you'll also find roses, orchids, and many more on the water!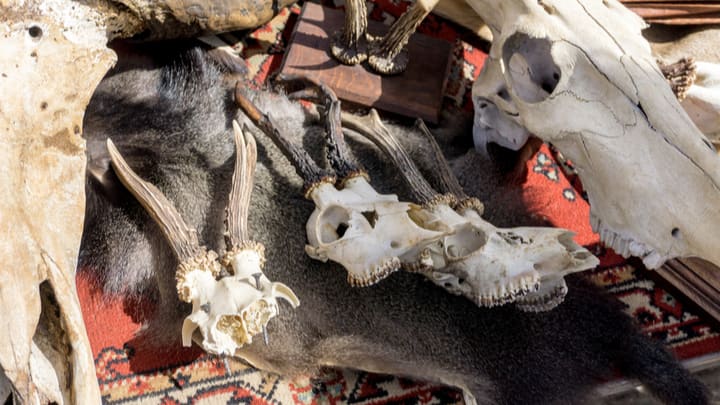 If you're in the market for some vintage items or second-hand knickknacks, TJ Hallen Flea Market might be the perfect place for you to peruse.
Over 500 stands dot the converted warehouse, which was used to build ships. And speaking of ships, you'll need to board one to cross the river. Don't worry; they're free, and run every 5-10 minutes until pretty late! Back to the market, anyone can go along, set up a stall, and flog anything they want to sell. And one person's loss could be your gain, so why not go check it out and see what deals lie in wait for your keen buying brain? And, when you're done, feel free to explore the cool urban landscape that's Noord. You'll find bars, restaurants, and a boat-load of street art!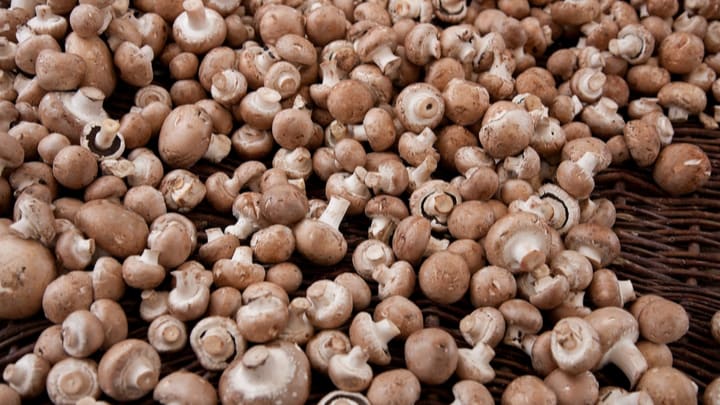 If you're looking for high-quality produce at a premium price, then Noordermarkt is the one. The large collection of stalls congregate by the river, and many people spend their day there, sampling bites and sipping fine wines once their grocery shopping is done. The sellers are always on hand to recommend products to match your palate, so don't forego striking up a conversation! They won't bite, for the most part.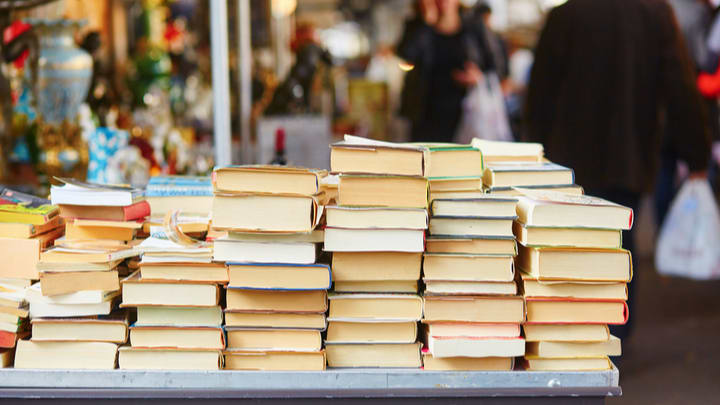 If food is off the menu, and you're looking for a good book to add to your collection, then head to Boekenmarkt in Central. Sellers arrive from across the Netherlands to sell out-of-print editions, old magazines, and other paper-related artifacts from times gone by.
Ideal for collectors or those interested in the finer things, feel free to head down there and ask if you're looking for something specific. You never know what they might have behind the stall.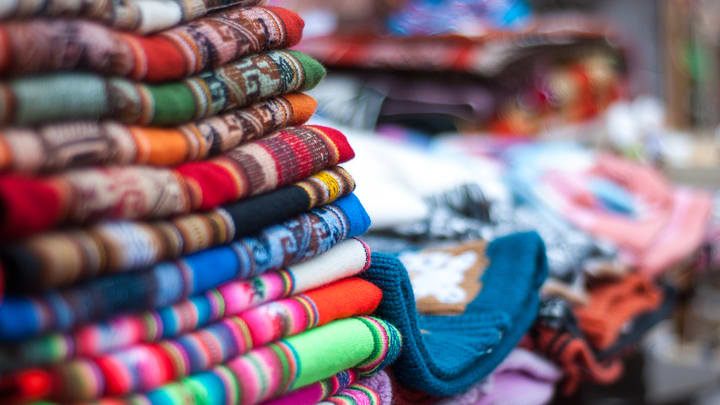 Lapjesmarkt (Jordaan)
Swap paper and pears for t-shirts and twine at Lapjesmarkt! This delightful material-focused market has a whole host of clothing on sale, from vintage pieces to more up-to-date second-hand items.
Alongside the clothing stalls is the craft market, where you can pick up fabrics, textiles, and other building/mending materials to create your own masterpieces, or simply sow that hole in your favorite jeans! For the fashion crazy, it's one of the best markets in Amsterdam!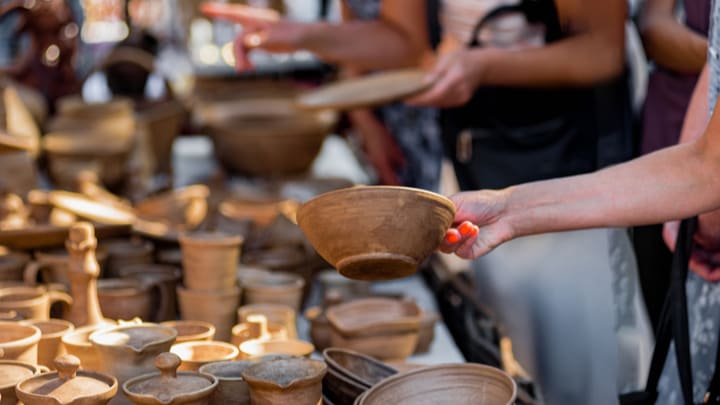 In the market, wink wink, for some fine art pieces? You'll find nothing but the best at Artplein-Spui, where local and international artists have been selling their pieces for over two decades.
Bargain-hunters will find paintings, sculptures, prints, jewelry, and many other pieces at one of its many stalls. They even have installations on show, if you want to kill a few hours exploring.
And those are our picks for the best markets in Amsterdam!