Overnight stopover in Bangkok
Bangkok Bound: The Ultimate Overnight Stopover Guide to Bangkok
by Mia Russell
Most travelers balk at a long layover, but whether they happen unexpectedly or come with a sweet deal, they are part and parcel of travel. However, spending hours at the airport may not be as bad as it sounds, especially if you're at an airport with loads of things to see and do. Bangkok's Suvarnabhumi Airport is one of these!
What to Do on a Layover in Bangkok (Long or Short)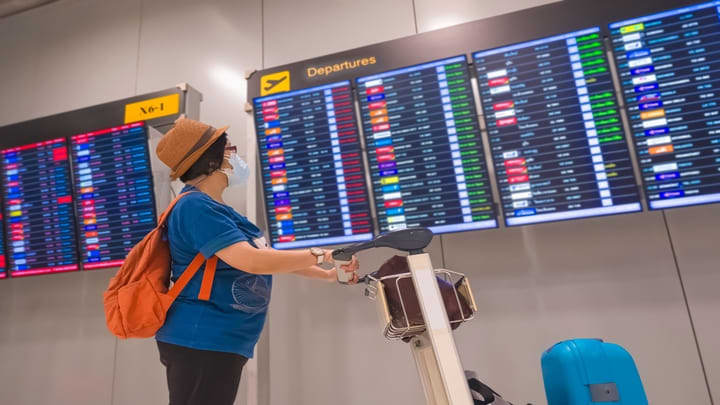 Before landing in Bangkok, there are certain forms that you may need to fill out. These documents ensure a streamlined entry process and compliance with immigration requirements.
Arrival Card: Most travelers arriving in Bangkok must complete an Arrival Card, also known as the TM.6 form. This card collects essential information such as your details, purpose of visit, and intended address in Thailand. The flight attendants typically hand out the Arrival Card during the flight, or you can find them at the immigration area upon arrival.
Visa Application (if applicable): Depending on your nationality and the purpose of your visit, you may need to obtain a visa before arrival in Bangkok. It's crucial to research the visa requirements and ensure you have the appropriate visa category, such as tourist, business, or transit visa. Complete the visa application process well in advance to avoid any last-minute complications.
Health Declaration Form: In response to the ongoing COVID-19 pandemic, Thailand may require travelers to complete a Health Declaration Form. This form includes questions about your health condition, recent travel history, and any potential exposure to COVID-19. Stay updated with the latest requirements and guidelines from the Thai authorities to ensure compliance.
It's important to note that immigration and entry requirements can change, so you should check with your country's Thai embassy or consulate before your departure.
Sleep!
If you prefer to stay inside the airport instead of getting a hotel room, Suvarnabhumi Airport has ample seating and private corners where you can get some shut-eye. There are also armrest-free benches, some padded benches, and couches if you don't mind cat-napping on your backpack.
Floor 3 has some quiet corners, with few shops and little foot traffic. The Observation Deck on Floor 7 is a calm area where staff and travelers rest on the few benches and charge up at the power outlets.
The Basement has a few quiet spots; however, these fill up quickly. Other good places to check out are the seats by 7-Eleven and Subway, the area between Doors 7-10, and underneath the staircases, although somewhat chilly!
Rest Zones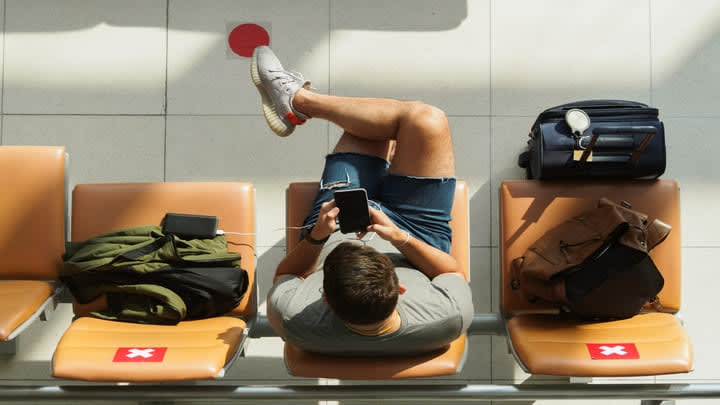 Designated rest zones with reclining leather chairs can be found inside Security in Concourses B and D.
Lounges
Suvarnabhumi Airport has an impressive array of lounges, offering weary travelers a haven of comfort and luxury. While some lounges can be accessed with specific tickets or membership cards, others may require a standard entry fee.
Royal Orchid Lounges: Operated by Thai Airways, the Royal Orchid Lounges offer an elegant and tranquil atmosphere. With multiple locations throughout the airport, these lounges cater to business and first-class passengers and Royal Orchid Plus members. Indulge in delectable cuisine and refreshing beverages, and unwind in plush seating areas. Some lounges even feature showers, spa facilities, and private suites.
Miracle Lounges: The Miracle Lounges are another fantastic option for travelers seeking respite from the bustling airport environment. With a stylish and contemporary design, these lounges offer comfortable seating, complimentary WiFi, and a delectable buffet spread featuring Thai and international cuisine. You can also take advantage of shower facilities, massage services, and a selection of newspapers and magazines.
Cathay Pacific Lounges: If you're a Cathay Pacific or Qneworld Alliance passenger, the Cathay Pacific Lounges are a must-visit. These spacious and elegant lounges boast luxurious seating, a wide selection of culinary delights, and a well-stocked bar serving alcoholic and non-alcoholic beverages. Catch up on work with complimentary WiFi or simply relax in a tranquil environment before your journey.
Emirates Lounges: Travelers flying with Emirates can experience the exceptional Emirates Lounges at Suvarnabhumi Airport. These lavish retreats showcase contemporary design, comfortable seating options, and a delectable buffet of international cuisine. Immerse yourself in the serene ambiance while enjoying a range of beverages and attentive service from the friendly staff.
Louis' Tavern CIP Lounges: Louis' Tavern CIP Lounges are famous for business and leisure travelers. With several locations throughout the airport, these lounges provide comfortable seating, complimentary WiFi, and an extensive food and beverage selection. Whether you're looking for a quiet workspace or somewhere to unwind, Louis' Tavern CIP Lounge has you covered.
Airport Hotels
If you prefer more privacy within the airport or want to grab some decent sleep without the stress of leaving the airport to get to a hotel, you can book a room at a Capsule Hotel or a Transit Hotel.
The Avagard Capsule Hotel is a super convenient way to enjoy some downtime. Located on the Basement Floor, the hotel offers five capsules with queen-size beds, quality bedding, and sleep ambient control systems. You'll find USB charging sockets, reading lights in each pod, and free WiFi connectivity. Several 24-hour convenient stores, café, restaurants, and public toilets are within a short walk from the hotel.
Another in-airport option is the Miracle Transit Hotel. Located on the 3rd floor of the airport, inside Security at International Departure on Concourse G, the hotel offers reservations from four to 12 hours for transit passengers wanting a comfortable place to rest.
Modern rooms have floor-to-ceiling windows overlooking the terminal, TVs, minibars, and complimentary WiFi. You can enjoy pampering massages at the hotel spa, unwind in the hot tub and sauna, and grab something to eat at a casual coffee shop in the hotel.
Outside of the Secure areas, you can head to Boxtel, a small hotel that rents rooms in four-hour blocks for short stays. Located inside the Airport Link station, Basement Level, just past the Airport Link ticketing area, the hotel features private rooms with double beds, desks, air-conditioning, and free WiFi. Guests can use the airport bathrooms, and plenty of restaurants and stress are nearby when you get hungry.
Things to Do Inside Suvarnabhumi Airport
If you aren't tired and want to explore, you'll find plenty to do at Suvarnabhumi Airport.
Take a Shower
Freshen up with a shower after or before your next flight. Showers at Suvarnabhumi Airport can be found at the Miracle Transit Hotel, Concourse G, Floor 3 East; Miracle CIP or in the First Class Lounges, International Terminal, Levels 3 and 4 West. If you haven't booked a room or have a membership to access the lounges, you'll have to pay a fee to use the showers.
Eat
Suvarnabhumi Airport boasts a range of eateries, bars, and restaurants that sell a variety of traditional Thai and global cuisine. Whether you feel like authentic Thai cuisine, international flavors, or quick bites on the go, this airport has many dining options to satisfy every palate, and most stay open for 24 hours.
If you're in the mood for a steaming bowl of delicious ramen, Kinramen is a must-visit. This popular eatery serves authentic Japanese ramen with various broth options, toppings, and noodles cooked to perfection.
Mango Tree is a top choice for a taste of exquisite Thai cuisine. This renowned restaurant showcases Thailand's culinary heritage's vibrant flavors and aromatic spices. Indulge in traditional dishes like pad Thai, green curry, and mango sticky rice, expertly prepared by skilled chefs.
Make a beeline for Black Canyon Coffee if you're a coffee lover. This Thai coffee chain is known for its aromatic brews and specialty beverages. From classic espressos to iced Thai-style coffee, you'll find a delightful range of options to satisfy your caffeine cravings. They also serve various light meals and snacks to accompany your coffee.
S&P is a well-established Thai restaurant chain offering a diverse Thai and international menu. From classic Thai curries and stir-fries to Western-style breakfasts and sandwiches, you'll find an extensive selection of flavors to suit your preferences. Don't miss the chance to try their signature Thai iced tea, a refreshing and sweet beverage.
Shop Until You Drop
All the Suvarnabhumi Airport terminals have a wide variety of shops, from Duty-Free stores and luxury brand boutiques to famous department stores and souvenir shops.
Relax at a Spa
Treat yourself to massage or spa services such as aromatherapy, manicures and pedicures, and facial treatments. Head for Sensib Thai Massage (International Departures, 4th floor in Concourses A and G) or Ruean Rak Spa & Massage (Main Terminal, Landside, and Airside 3rd floor for spa treatments.
Free Transit Tours
If you want to escape the airport for a while, you can join one of the free transit tours offered by Suvarnabhumi International Airport. After being approved by customs and immigration, you can enjoy a four-, five-, or seven-hour trip into Bangkok. The tour desks are on the Arrivals Level, Concourse C/D, and D/E intersections.