Area guide
History, art and culture
Anonymous
The Best Barcelona Neighborhoods to Explore
From Gaudi to gourmet: navigating Barcelona's most enchanting neighborhoods
By Mia Russell
Barcelona, a city that needs no introduction, is a captivating tapestry of history, culture and modernity. As you wander its streets, you'll find yourself immersed in a unique blend of architectural marvels, artistic treasures and a zest for life that's truly infectious.
But the capital of Catalonia is not just a single entity; it's a mosaic of neighborhoods, each with its own personality and story to tell. From the bustling streets of Las Ramblas to the creative haven of Gràcia, every corner of this city offers a different perspective on what makes Barcelona so special.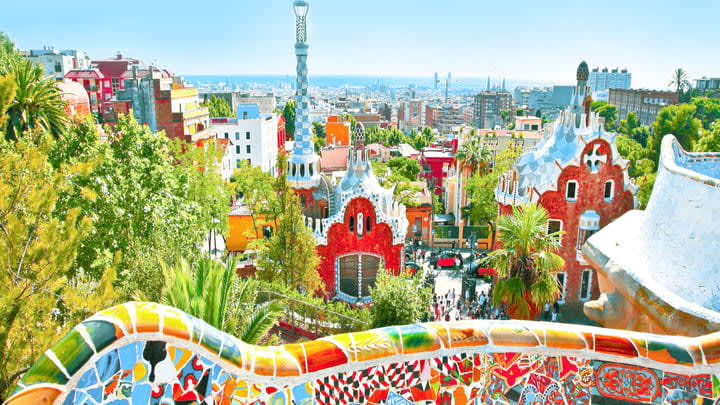 As you explore these neighborhoods, you'll uncover hidden gems, savor delectable cuisine, and discover the heart and soul of the Catalan people. Whether you're wandering through the historic lanes of the Gothic Quarter or enjoying the coastal breeze in Barceloneta, each neighborhood has something unique to offer.
1. Gràcia
Best neighborhood for being trendy and cool .
Gràcia exudes a bohemian spirit, artistic energy, and a delightful blend of traditional Catalan culture and modern creativity. Gràcia's cozy, village-like atmosphere within the bustling city sets it apart. Unlike the more touristy areas, Gràcia feels like a close-knit community where locals gather at the plazas, chat with neighbors, and celebrate life's simple pleasures. It's a refreshing escape from the hustle and bustle of the urban center, offering a sense of tranquility and authenticity.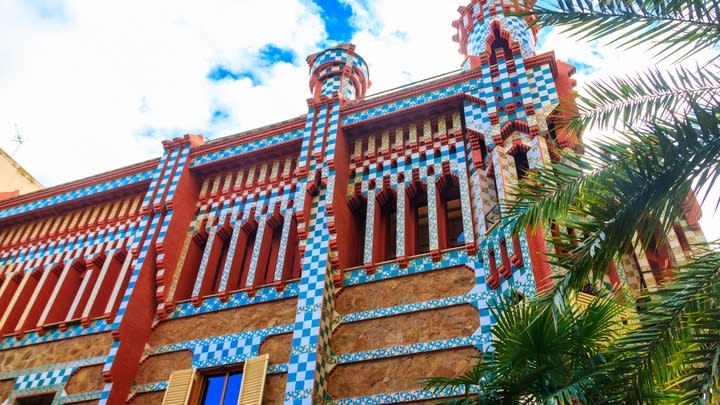 Attractions and activities
Gràcia is brimming with attractions that cater to a variety of interests. Start your journey by wandering through Plaça de la Vila de Gràcia, the heart of the neighborhood. Here, you'll find cafés, shops, and a relaxed atmosphere perfect for people-watching. Don't miss the chance to visit the iconic clock tower of the Town Hall, a symbol of Gràcia's history.
Visiting Casa Vicens, one of Antoni Gaudí's earliest works is a must for art enthusiasts. This architectural gem showcases Gaudí's unique style and is a precursor to his more famous designs like the Sagrada Família and Park Güell.
Best known for
Gràcia is renowned for its vibrant street festivals, and if you're lucky enough to be here during August, you'll witness the Festa Major de Gràcia. During this time, the streets burst with color as each neighborhood competes in a creative decoration contest, transforming the area into a whimsical wonderland.
Insider tips for visitors
Head to Plaça del Sol Terrace in the evening, grab a seat at one of the terrace cafés, and soak in the local vibe while enjoying beautiful sunset views.
Carrer Verdi is a hub of artistic creativity. Explore its independent boutiques, galleries, and theaters for an authentic taste of Gràcia's bohemian spirit.
Skip the mainstream chains and opt for the charming local cafés and tapas bars that line the streets. You'll get a genuine taste of Catalan flavors and enjoy a more personal dining experience.
The Plaça del Diamant is a quiet oasis hidden in Gràcia. Take a leisurely stroll here to unwind, read a book, or enjoy solitude amidst the urban buzz.
If you're in Barcelona on a Sunday, don't miss the Els Encants flea market near Plaça de les Glòries. You might stumble upon unique treasures and souvenirs to take home.
2. Barceloneta
Best neighborhood for beautiful beaches and a coastal vibe
Home to a glorious neckline of beaches, Barceloneta ('Little Barcelona') is a magnet for those seeking sun, sea, and a touch of maritime charm. While it's a hotspot for beachgoers and water sports enthusiasts, it also exudes a laid-back vibe that invites you to unwind at your own pace. The proximity to the sea creates a refreshing ambiance, making it an ideal spot to recharge your batteries.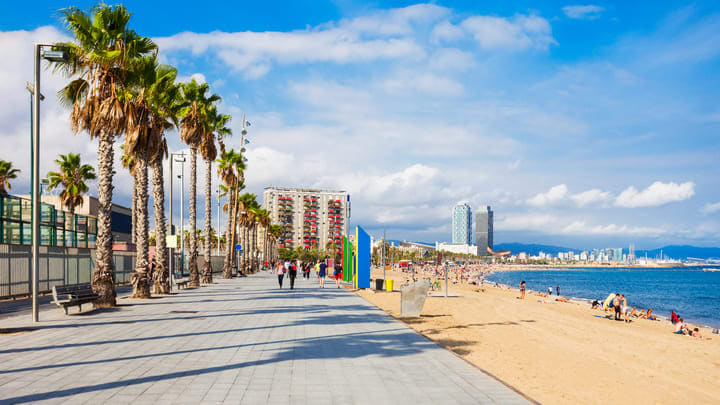 Attractions and activities
Barceloneta is all about embracing the beach life. Start your day with a stroll along the iconic Barceloneta Beach, where golden sands meet the shimmering Mediterranean Sea. If you're feeling adventurous, consider renting a paddleboard or kayak to venture out onto the waves.
The neighborhood also boasts the impressive Port Vell, home to the Barcelona Aquarium. This aquatic wonderland allows you to get up close and personal with marine life from around the globe, making it a treat for kids and adults.
Best known for
Barceloneta's fame extends beyond its sandy shores. It's renowned for its seafood scene, offering some of the freshest catches in town. As you explore its streets, you'll find charming seafood restaurants serving delectable paella, tapas, and other ocean-inspired delights.
Insider tips for visitors:
Start your day early with a tranquil stroll along the beach before the crowds arrive. The gentle lapping of waves and the sunrise hues over the sea make for a magical experience.
For an authentic culinary adventure, seek out La Cova Fumada, a hidden gem famous for its traditional tapas and seafood dishes. The unassuming exterior belies the flavors waiting inside.
Chiringuitos beachside kiosks offer refreshments and light bites. They're perfect for grabbing a quick snack or cooling off with a refreshing drink while enjoying the sea breeze.
Head to the Port Vell area during the evening to witness the sun setting over the water, casting a warm glow over the harbor and creating a stunning backdrop for your evening stroll.
Explore Passeig de Joan de Borbó. This bustling street is lined with charming cafés and seafood restaurants. Amble along this promenade, enjoy the architecture, and soak in the local atmosphere.
3. El Born
Best neighborhood for sightseeing
Effortlessly blending the old and the new, the historic district of El Born has an enchanting atmosphere that invites you to explore its cobblestone streets and uncover its artistic treasures. El Born's allure lies in its cozy and welcoming ambiance. While rich in history, it exudes a contemporary energy that resonates with locals and visitors. The abundance of charming squares, narrow alleys, and stylish cafés create an inviting atmosphere that encourages you to explore at your own pace.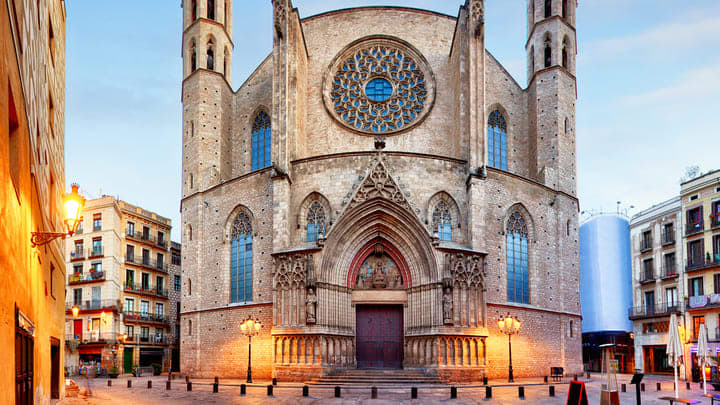 Attractions and activities
El Born is a treasure trove of attractions that cater to every interest. Begin your journey by visiting the striking Basilica de Santa Maria del Mar, a magnificent example of Catalan Gothic architecture. As you step inside, you'll be awed by its soaring columns and intricate design.
For art aficionados, the Picasso Museum is a must-visit. This museum houses an impressive collection of the artist's works, giving you a glimpse into his early years and creative evolution.
Best known for
El Born is renowned for its thriving arts scene and boutique shopping. The neighborhood is dotted with art galleries, artisan shops, and trendy boutiques, making it a paradise for those seeking unique and handmade treasures.
Insider tips for visitors
The vibrant Passeig del Born boulevard is lined with cafés and restaurants, making it an ideal spot for people-watching and soaking in the local atmosphere. It's particularly lively in the evenings.
Tucked away from the bustling streets, the tranquil Plaça Sant Felip Neri square offers a moment of peace. Its historic charm and picturesque fountain make it an excellent spot for a quiet break.
Explore the neighborhood's tapas bars for a culinary adventure. Be sure to try some local specialties like "bombas" (potato croquettes) and "pan con tomate" (bread with tomato).
Just a short walk away, Parc de la Ciutadella offers a serene escape from the city. Rent a rowboat on the lake, relax on the grass, or visit the impressive Cascada fountain.
Carrer de la Princesa comes alive after dark with various bars and small music venues. It's a great place to experience the vibrant nightlife of El Born.
4. L'Eixample
Best neighborhood for Gaudí architecture
L'Eixample's grandeur and sophistication set it apart as a neighborhood that exudes a cosmopolitan charm and is a testament to Barcelona's architectural and cultural grandeur. This sprawling district is renowned for its tree-lined avenues, upscale boutiques, iconic landmarks, and a blend of modernist marvels that leave an indelible mark on the city's skyline.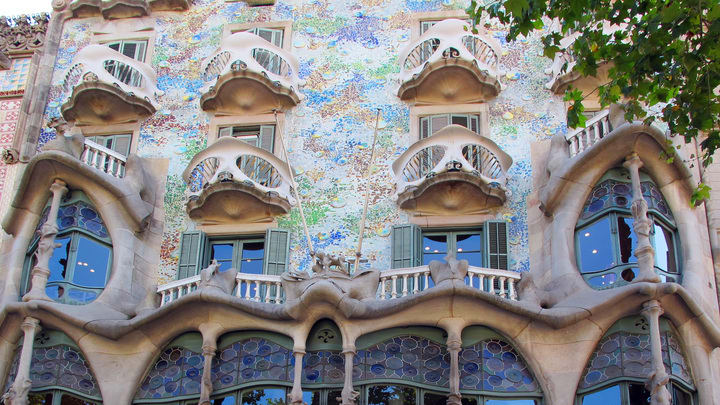 Attractions and activities
L'Eixample is a playground for architecture enthusiasts. Begin your exploration with a visit to the remarkable Sagrada Família, Antoni Gaudí's magnum opus. The basilica's intricate façade and mesmerizing interior are a testament to Gaudí's genius.
With a pass from Go City® you'll get entry into the Sagrada Família, along with a guided tour of the basilica with an experienced, arts-trained guide, plus skip-the-general-ticket-line access!
Another architectural gem is Casa Batlló, a surreal masterpiece that invites you to delve into Gaudí's creative mind. Its undulating shapes and vibrant colors are truly captivating. Use a pass from Go City® for free admission to this incredible UNESCO World Heritage Site and a complimentary smart guide.
Best known for
L'Eixample is renowned for its modernist architecture, transforming the city's landscape during the late 19th and early 20th centuries. The district's unique grid pattern of streets and grand boulevards is a testament to urban planning innovation.
Insider tips for visitors
Consider booking an early morning ticket to truly appreciate the beauty of the Sagrada Família without the crowds. The soft morning light filtering through the stained-glass windows creates a magical ambiance.
Explore Carrer Enric Granados, a charming street and local favorite for its delightful cafés, art galleries, and tranquil atmosphere. It's an ideal spot for a stroll or a relaxed brunch.
For panoramic city views, head to the rooftop terrace of the Hotel Claris. Enjoy a cocktail as you admire Barcelona's skyline and the distant sea.
While Gaudí's masterpieces draw crowds, other hidden modernist treasures are scattered throughout L'Eixample. Look for buildings like Casa Amatller and Casa de les Punxes.
The Passeig de Gràcia takes on a different charm after sunset, with its iconic buildings illuminated and a more serene atmosphere.
5. El Raval
Best neighborhood for bars
The eclectic and vibrant neighborhood of El Raval offers a unique and genuine experience that mirrors the dynamic soul of Barcelona itself. Close to the heart of Barcelona, this eclectic district boasts a fascinating blend of cultures and artistic expression with a dash of Bohemia.
El Raval's charm lies in its authenticity and edgy atmosphere. While it might not have the polished veneer of some other neighborhoods, it compensates with a lively and welcoming vibe. The streets are alive with a mix of residents, students, artists, and visitors, creating an inclusive and open-minded ambiance.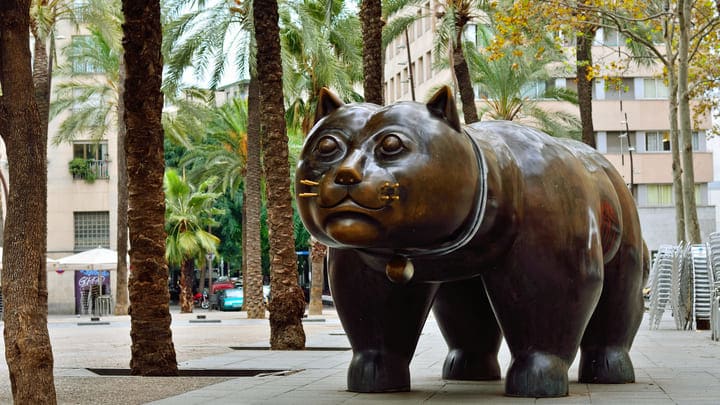 Attractions and activities
El Raval is a cultural hub with something for everyone. Begin your journey at the MACBA (Museum of Contemporary Art), where cutting-edge exhibits and thought-provoking art await. A pass from Go City® includes admission to the museum!
The nearby CCCB (Center of Contemporary Culture) is another gem, hosting exhibitions, talks, and events that delve into various aspects of contemporary culture.
To taste local life, visit La Boqueria Market, a bustling food market where you can sample fresh produce, traditional snacks, and a medley of international flavors.
Best known for
El Raval is renowned for its diverse and inclusive character. It's a melting pot of cultures where old and new collide, and artistic expression thrives in unexpected corners.
Delve into Barcelona's dark and mysterious past on a guided Raval Walking Tour around the hip neighborhood. Use a pass to enjoy this tour as you stroll through the city listening to the tales of Barcelona's troubled past.
Insider tips for visitors
Beat the crowds by visiting Palau Güell, one of Gaudí's lesser-known gems, early in the morning. The sunlight filtering through its stained-glass windows is truly enchanting.
Tucked away from the main streets, Plaça de Salvador Seguí is a local favorite for relaxation. Grab a coffee, find a bench, and soak in the relaxed atmosphere.
Embark on a self-guided street art tour. El Raval is a canvas for local and international artists; you'll discover vibrant murals and graffiti around every corner.
El Raval boasts a plethora of trendy café lounges perfect for people-watching. Order a coffee, sit back, and immerse yourself in the neighborhood's creative energy.
If you're a book lover, visit the Biblioteca de Catalunya. This library is a treasure trove of knowledge and an architectural gem.
6. Barri Gòtic (Gothic Quarter)
Best neighborhood for history
Barri Gòtic is the beating heart of historic Barcelona. This enchanting neighborhood is a tapestry of narrow medieval streets, Gothic architecture, and a palpable sense of centuries-old charm that invites you to step back in time.
Barri Gòtic's allure lies in its ability to transport you to a bygone era while offering a vibrant atmosphere. The juxtaposition of historical landmarks and modern life creates a unique ambiance that appeals to history buffs, art enthusiasts, and curious wanderers alike.
Attractions and activities
Barri Gòtic is a treasure trove of historical and cultural attractions. Begin your exploration at the awe-inspiring Barcelona Cathedral (Catedral de Barcelona), where intricate details and spectacular stained-glass windows await. Don't forget to visit the charming Plaça de Sant Felip Neri, a tranquil square steeped in history.
Venture deeper into the labyrinthine streets to discover hidden gems like the Plaça Reial, an elegant square surrounded by bustling cafés and ornate lampposts by Gaudí himself.
Best known for
Barri Gòtic is renowned for its rich history and architectural marvels. It's a living testament to Barcelona's past, with its cobblestone streets, medieval buildings, and a sense of timelessness that transports you to another era.
The best way of exploring this neighborhood is on foot, so why not use a pass from Go City ® to enjoy a free three-hour walking tour of the Old Town and Gothic Quarter?
Insider tips for visitors
Embrace the labyrinthine streets of Barri Gòtic and allow yourself to get lost. Each twist and turn reveals hidden squares, unexpected courtyards, and charming boutiques.
For panoramic views of the city, climb the bell tower of the Santa Maria del Pi church. The climb might be a bit steep, but the breathtaking vistas of Barcelona are more than worth it.
Indulge in a sweet treat by visiting Carrer Petritxol's Chocolaterías, home to a string of renowned chocolaterías. A cup of thick hot chocolate and "churros" (fried dough pastries) makes for a delicious afternoon snack.
Explore the Temple d'August, a Roman temple dating back to the 1st century. It's a fascinating glimpse into the city's ancient past, tucked away in plain sight.
Experience the passionate art of Flamenco in an intimate setting. Seek out small venues in Barri Gòtic for an authentic and captivating performance.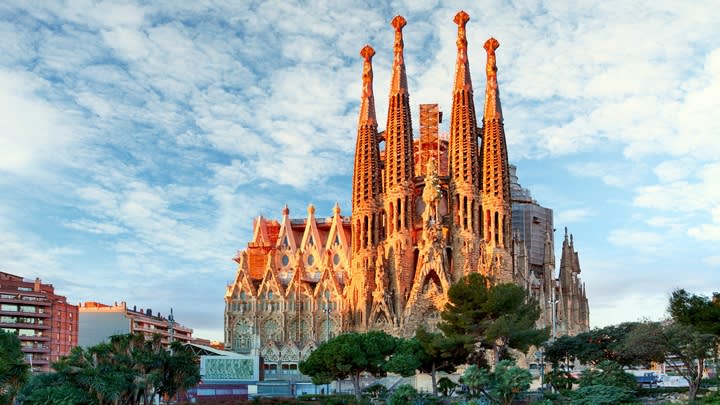 Final thoughts
The neighborhoods of Barcelona form a colorful mosaic that reflects the city's rich history, diverse culture, and dynamic spirit. From the modernist wonders of L'Eixample to the medieval charm of Barri Gòtic, each district has its own story to tell and a unique ambiance to offer.
Each neighborhood is an invitation to discover Barcelona's many facets, embrace its traditions and innovation, and immerse yourself in its dynamic tapestry. So, whether you're drawn to architecture, culinary delights, art, or simply the joy of exploration, Barcelona's neighborhoods promise a journey as diverse as the city itself.
With a Barcelona pass from Go City® you can enjoy lots of the attractions mentioned here and more, plus save up to 50% on entry!