Tips and advice
Trip inspiration
Area guide
Anonymous
Top Tips for Traveling from Madrid to Barcelona
Madrid to Barcelona: a journey through Spain's heart and soul
By Mia Russell
Embarking on a journey from Madrid to Barcelona is an exhilarating experience that promises to reveal the vibrant soul of Spain. These two iconic cities, each with unique charm and character, are separated by approximately 620 kilometers (385 miles) of captivating Spanish landscapes.
Whether you're seeking the convenience of high-speed trains, the flexibility of a road trip, or the swiftness of air travel, there are multiple to travel between these Spanish gems. Discover the rich cultural tapestry of Spain as you traverse this captivating route, filled with history, art, culinary delights, and endless opportunities for adventure.
1. Madrid to Barcelona by train: a high-speed journey
Spain's high-speed rail network, AVE (Alta Velocidad Española), offers one of the most efficient and scenic ways to travel from Madrid to Barcelona. With its punctuality, comfort, and speed, this mode of transportation has become a favorite among locals and tourists. Opting for a train journey from Madrid to Barcelona offers convenience and an opportunity to luxuriate in the spectacular Spanish scenery with ease.
Distance and duration
The straight-line distance from Madrid to Barcelona spans about 620 kilometers (385 miles). Thanks to the rapid AVE train service, celebrated for its high speeds, you can reach Barcelona in approximately 2.5 to three hours, depending on the route and train category. You can relish breakfast in Madrid and find yourself in Barcelona well before lunchtime!
Train types and classes
Several AVE train services operate on the Madrid-Barcelona route. The most common types are the Standard Class (Turista) and the First Class (Preferente). Standard Class offers comfortable seats, onboard services, and sometimes the option to purchase snacks and drinks. If you're looking for a touch of luxury, consider First Class (Preferente), where you'll enjoy spacious seating, complimentary refreshments, and access to VIP lounges in some stations.
Booking and costs
Booking your AVE train ticket is easy and can be done online, at train stations, or through authorized travel agents. Ticket prices from Madrid to Barcelona can vary based on factors such as time of booking, class, and availability. On average, Standard Class tickets cost between €60 and €100, while First Class tickets range from €90 to €150, with possible discounts for children, seniors, and groups.
Amenities and comfort
AVE trains are synonymous with comfort, providing spacious, ergonomically designed seats with generous legroom. Many of these trains offer onboard Wi-Fi connectivity for uninterrupted connectivity, and dining cars offer a variety of meals, snacks, and beverages. Restrooms are conveniently available in each carriage.
Station information
Your Madrid departure point is Madrid Atocha Station (Estación de Atocha), a historic and architecturally impressive station with a lush, indoor tropical garden. You'll arrive at Barcelona Sants Station (Estació de Sants), a central railway hub offering various amenities like shops, restaurants, and
Tips for a smooth journey
Book in advance: get the best fares and ensure availability by booking your AVE train tickets well in advance, especially during peak travel seasons.
Check timetables: AVE trains run frequently throughout the day, so you can select a departure time that suits your schedule.
Stay connected: while some trains offer Wi-Fi, it's a good idea to have entertainment, reading materials, or work to keep yourself occupied during the journey.
Arrive early: arriving at the station before departure allows you to navigate any check-in procedures, find your platform, and settle in comfortably.
Enjoy the scenery: sit back, relax, and take in the beautiful Spanish countryside as you speed from Madrid to Barcelona.
Traveling from Madrid to Barcelona by AVE train combines speed, comfort, and convenience. The journey offers a glimpse of Spain's diverse landscapes while getting you to your destination swiftly and efficiently. Whether on a leisurely vacation or a business trip, this high-speed train ride is an excellent choice for experiencing the best of Spain's rail travel.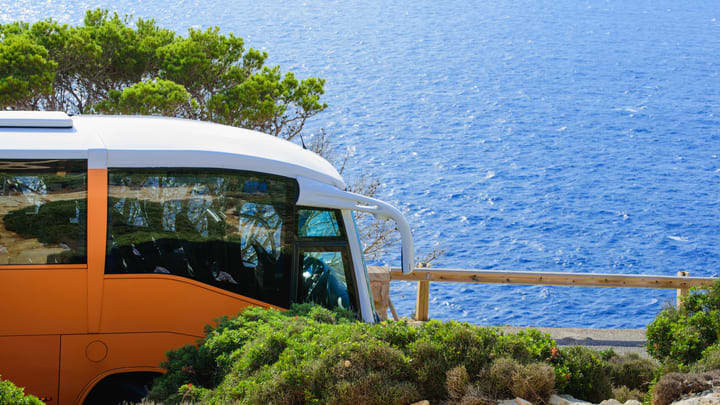 2. Madrid to Barcelona by bus: a scenic adventure
When journeying from Madrid to Barcelona by bus, you'll enjoy an affordable and picturesque expedition through the heart of Spain. This option allows you to savor the ever-changing landscapes and the charm of Spanish towns along the way.
Distance and duration
The straight-line distance from Madrid to Barcelona is around 620 kilometers (385 miles). Nevertheless, the bus route may span longer due to road networks and designated paths. Typically, the bus journey takes approximately seven to nine hours, contingent on traffic conditions, stops, and your bus's specific route.
Bus options
Various reputable bus companies operate between Madrid and Barcelona, offering multiple options to cater to diverse preferences and budgets. Providers like ALSA, Avanza, and FlixBus are known for their reliability and comfortable amenities.
Amenities and comfort
Modern buses are thoughtfully designed with passenger comfort in mind. You can relish features such as spacious reclining seats, onboard air conditioning for a pleasant journey, conveniently located restrooms, Wi-Fi connectivity (availability may vary), power outlets, and even entertainment options to keep you engaged during the ride.
Booking and costs
Securing your bus ticket is a breeze and can be accomplished online through the bus company's website or authorized booking platforms. Ticket prices fluctuate based on factors like the timing of your booking, the bus type, and whether you opt for standard or premium services. On average, bus fares range from €30 to €60, rendering it a budget-friendly choice.
Bus stations
In Madrid, your destination is Estación Sur de Autobuses (Madrid South Bus Station), which boasts amenities including waiting areas, restaurants, and information services. When you get to Barcelona, you'll arrive at Estació del Nord (Barcelona Nord Bus Station), a well-equipped and easily accessible departure point for travelers.
Stops and breaks
Bus journeys typically feature rest stops where you can stretch your legs, utilize restroom facilities, and grab a quick snack. These intermissions provide an opportunity to break up the journey, recharge, and relish some fresh air before continuing.
Tips for a smooth trip
Plan ahead: to secure your preferred departure time and seating, consider booking your bus ticket in advance, particularly during peak travel.
Pack snacks and essentials: while some buses offer refreshments, it's advisable to bring along snacks, water, reading materials, and any personal items you may require.
Comfortable attire: dress in comfortable clothing and have a light sweater or jacket on hand for a comfortable journey.
Stay entertained: bring entertainment such as books, podcasts, or movies to stay engaged during the ride.
Arrive early: arriving at the bus station before departure affords ample time to locate your bus, stow your luggage, and get comfortably settled for the journey ahead.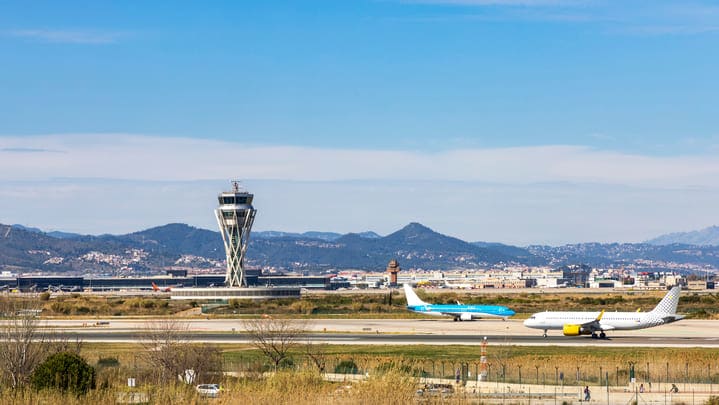 3. Madrid to Barcelona by air: swift and convenient
When it comes to zipping between Madrid and Barcelona, taking a flight is an excellent choice for travelers seeking speed and efficiency. Spain's well-connected airports and numerous daily flights make air travel popular.
Distance and duration
The aerial distance between Madrid and Barcelona is approximately 505 kilometers (314 miles) in a straight line. A direct flight typically takes one to 1.5 hours, making it the fastest way to move between these vibrant cities.
Airports
Your journey begins at Madrid-Barajas Adolfo Suárez Airport (MAD), which is well-connected to the city center via various transportation options. You'll land at Barcelona-El Prat Airport (BCN), conveniently situated near the city center.
Airlines and flights
Several airlines operate daily flights between Madrid and Barcelona, providing travelers various options. Well-known carriers such as Vueling, Iberia, Ryanair, and Air Europa offer frequent services, ensuring flexibility in travel plans.
Both Madrid-Barajas Adolfo Suárez Airport and Barcelona-El Prat Airport have modern facilities. Expect to find services such as restaurants, shops, lounges, car rental counters, and efficient public transportation links to city centers.
Arriving at the airport before your flight is advisable to ensure a smooth experience. Allow sufficient time for security checks, baggage drop-off, and boarding. Online check-in options are usually available, enhancing convenience.
Schedules and frequency
Flights between Madrid and Barcelona operate frequently throughout the day, offering flexibility in your travel plans. During peak travel seasons or holidays, booking your flights in advance is advisable to secure preferred departure times.
Booking and costs
Airfare costs fluctuate based on factors like the time of booking, the airline, and your choice of seating class. On average, one-way tickets can range from approximately €40 to €150, with economy class being the standard choice. For budget-conscious travelers, early bookings and flexible travel dates can lead to substantial savings.
Traveling from Madrid to Barcelona by air is a swift and efficient way to reach your destination. With multiple daily flights, modern airport facilities, and relatively short flight durations, you can make the most of your time exploring the vibrant cities of Madrid and Barcelona. Whether traveling for business or leisure, air travel provides an excellent option for traversing this iconic route.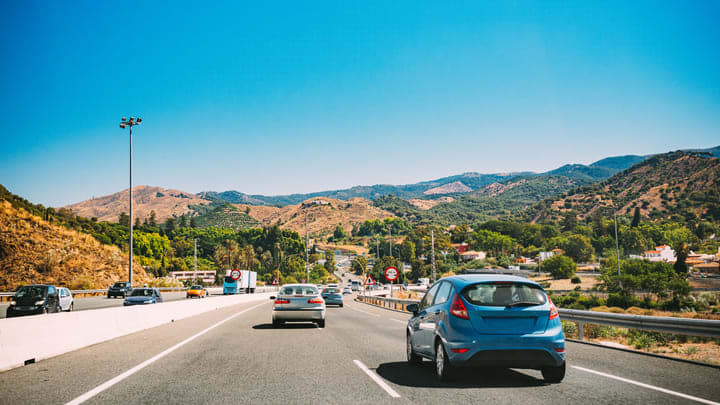 4. Madrid to Barcelona by car: a scenic road trip
A road trip from Madrid to Barcelona is a delightful way to explore Spain's diverse landscapes and charming towns. With the flexibility to set your own pace and make detours along the way, this journey promises adventure and scenic beauty.
Distance and duration
The distance between Madrid and Barcelona via the AP-2 and AP-7 highways is approximately 625 kilometers (388 miles). The road trip typically takes around six to seven hours, but travel times can vary based on traffic, road conditions, and stops.
Route
The most common route is via the AP-2 and AP-7 highways, which offer scenic views and well-maintained roads. You'll pass through picturesque towns and regions like Zaragoza and Tarragona.
Cost
The cost of the trip primarily depends on fuel, tolls, and any accommodation or dining expenses along the way. Toll fees are applicable on some portions of the highways, so it's advisable to carry some cash or cards for payment.
Amenities and comfort
Ensure your vehicle is well-maintained and has essentials like a spare tire, jack, and tools. Plan rest stops at service areas along the highway for meals, restroom breaks, and stretching your legs. Car rental companies in Madrid offer various vehicle options to suit your needs.
Scenic stops
Consider stopping in Zaragoza to explore its historic architecture, including the Basilica of Our Lady of the Pillar. Tarragona, located along the Mediterranean coast, offers Roman ruins and beautiful beaches for a relaxing break.
Tips for a smooth trip
Plan your route and use GPS or a navigation app to avoid getting lost.
Check traffic conditions before departure to anticipate delays.
Carry essentials like water, snacks, and a first-aid kit.
Ensure your vehicle's documentation, including insurance and registration, is current.
Adhere to speed limits and road signs to ensure safety.
Traveling from Madrid to Barcelona by car allows you to explore Spain's landscapes at your own pace. While it requires careful planning and attention to the road, this trip can be a memorable part of your Spanish adventure.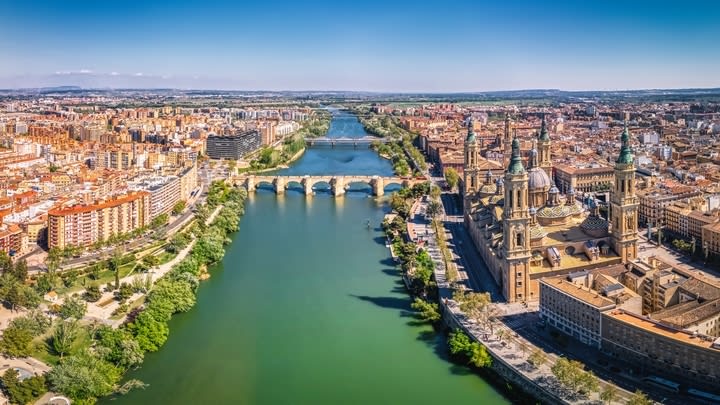 Exploring en route: Madrid to Barcelona
A journey from Madrid to Barcelona is not just a means of transportation; it's an opportunity to explore Spain's diverse landscapes and charming towns. Here are some fantastic places to visit along the way:
Zaragoza
Located halfway between Madrid and Barcelona, Zaragoza is known for its rich history and stunning architecture. Don't miss the Basilica of Our Lady of the Pillar, a magnificent baroque church on the banks of the Ebro River. Explore the Aljafería Palace, a UNESCO World Heritage site blending Islamic and Christian architectural styles.
Tarragona
As you approach Barcelona, consider a detour to Tarragona, a coastal city steeped in Roman history. Visit the Tarragona Amphitheatre, where gladiator battles once took place, and the Roman Aqueduct, an engineering marvel. Relax on the sandy beaches of Tarragona for a refreshing break.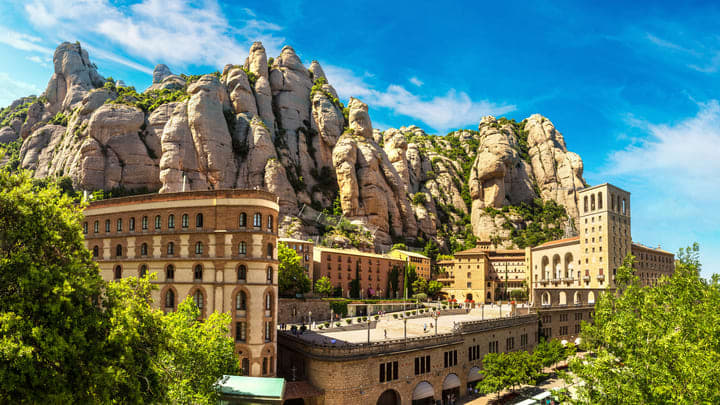 Montserrat
Located just off the highway, Montserrat is a unique mountain range with spectacular rock formations and a famous Benedictine monastery. Explore the Santa Maria de Montserrat Abbey, home to the Black Madonna statue, a significant religious icon in Catalonia. Hike the trails or take the funicular for panoramic views of the surrounding landscapes.
Sitges
This picturesque coastal town is known for its beautiful beaches, art scene, and vibrant nightlife. Stroll along the charming streets, visit the Museu Cau Ferrat and Museu Maricel, and savor fresh seafood at local restaurants. Sitges offers a relaxing stopover before reaching bustling Barcelona.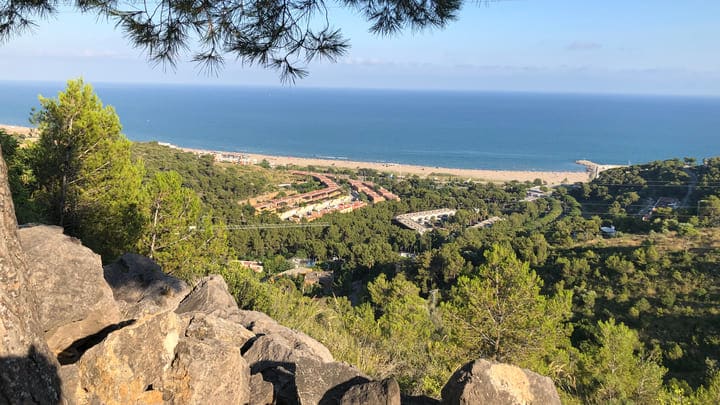 Garraf Natural Park
Situated near Sitges, Garraf Natural Park is a haven for nature lovers. Enjoy hiking or cycling through its scenic landscapes, characterized by limestone hills and lush vineyards. The park's unique geology and Mediterranean flora make it a peaceful retreat.
Penedès Wine Region
En route, you'll pass through the Penedès wine region, renowned for its vineyards and wineries. Consider a wine-tasting tour to savor some of Spain's finest wines, including cava, a sparkling wine produced here.
Catalan Countryside
The drive offers picturesque Catalan countryside views, with rolling hills, olive groves, and vineyards. Take advantage of viewpoints and rest stops to capture the beauty of the journey.
Whether you're a history buff, a nature enthusiast, or simply seeking a relaxing detour, these places en route from Madrid to Barcelona offer diverse experiences that add depth to your Spanish road trip.
Choose Go City® and save up to 50%
Buy passes from Go City® for Barcelona or Madrid and you could save up to 50% on top attractions, tours and activities.