Best Parks in Barcelona
Parks. Every city dweller's chance to get a little more nature in their life. You can often gauge a city on the quality of its parks. They're the perfect escape from the surrounding hustle and bustle. Find your own little spot, sit back and unwind from the daily grind. And Barcelona is no different, with a range of parks dotted across the city. So, if you're planning a trip to the city, you might be wondering which park is for you? That's why we've put together this list of the best parks in Barcelona. So put on your best pair of reading glasses, or just use your eyes if they still work, and prepare to be informed. Right now.
Featuring:
Park Guell
Parc de la Ciutadella
Parc del Laberint d'Horta
Parc de Montjuïc
Jardins de Pedralbes
Jardins de Laribal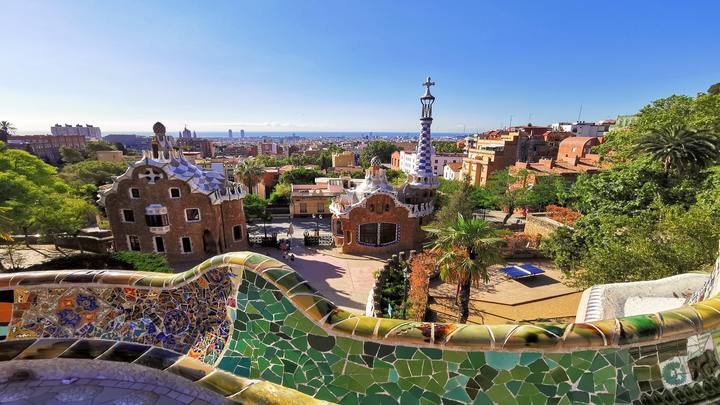 Park Guell
Barcelona is almost synonymous with the works of the late, great Antoni Gaudi. You can find the trail-blazing architect and artist's unique and inspiring works all over the city. However, you needn't visit a museum or walking tour to experience his greatness. Just head down to Park Guell, designed by the man himself at the turn of the 20th Century. There, you'll find strange mosaics, weird sculptures, and architectural monuments to Gaudi's style. Be on the lookout for El Drac, a multicolored lizard mosaic perched prominently between two sets of stairs. Keep in mind that there is a fee for tourists who want to see the best stuff up-close. Of course, you could avoid all that and get a more curated experience by taking a walking tour of the park. That way, you'll dive deeper into the history and meaning of the park's pieces.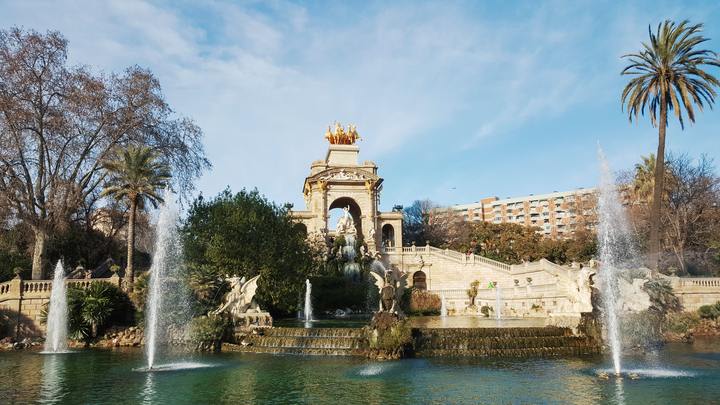 Parc de la Ciutadella (Ciutadella Park)
Situated in the heart of the city, Parc de la Ciutadella, or Citadel Park, was actually built atop the ashes of a 19th Century military fortress. Torn down in a public rebellion against the ruling regime, it now houses one of the best parks in Barcelona. Some of the citadel still stands, so you have the chance to study some beautiful 19th Century architecture. The rest of the park is a paradise of greens and blues, with vast amounts of open space to stretch out and relax. Visitors will also find places to eat, drink, and live music to enjoy. Be sure to check out the massive fountains and other delightful water features that reside inside. And, if all that wasn't enough, Barcelona Zoo is also part of the park. You'll find a reptile house full of strange and beautiful creatures, and the African Savannah area replete with elephants, giraffes, and cheetahs! Perfect for big and little kids alike.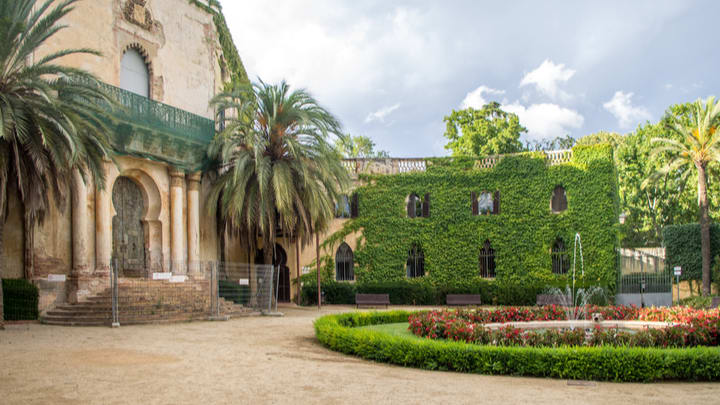 Parc del Laberint d'Horta (Horta Labyrinth Park)
Parc del Laberint d'Horta, or Horta Labyrinth Park, kind of speaks for itself. It's a huge maze, created at the end of the 18th Century. And, in fact, was part of a private estate until the 1970s. Since it's been open to the public, it has become a must-visit destination. It was even featured in the 2006 film Perfume: The Story of a Murderer. That surely makes it one of the best parks in Barcelona! Over nearly 2500sq feet, you'll get lost in this wonderful labyrinth, and explore the beautiful gardens and surrounding architecture, including the remains of the Torre Sobirana, a medieval palace. Epic.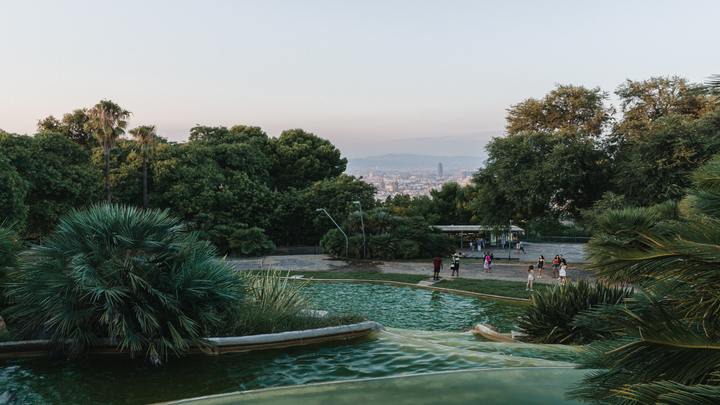 Parc de Montjuïc (Montjuïc Park)
Known as the 'park of parks' in Barcelona, Montjuic, or Jewish Mountain, Park is a veritable feast of gardens, forest trails, picnic spots, and beautiful landmarks. Perhaps the most impressive feature is the Jardi Botanic, a huge garden split into five zones representing the planet's different climates and landscapes. Named after the Jewish cemetery housed within, you can make your way up the mountain on foot or take a cable car from Barceloneta Beach, which also has a mountain of activities to enjoy. Your visit might even coincide with one of the many music festivals put on in the park. If all that exploring has your tummy rumbling, grab a bite to eat at one of the many restaurants and cafes the park welcomes.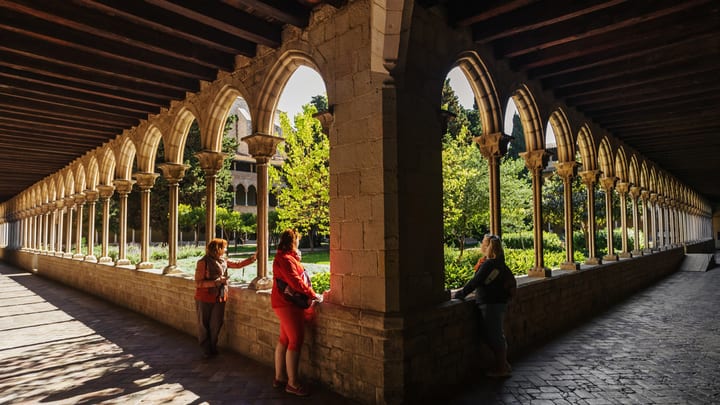 Jardins de Pedralbes (Pedralbes Gardens)
If you like a sprinkling of royalty with your park experience, check out the Pedralbes Gardens. Housed within the Palace of Pedralbes, which situated the Spanish Royal Family until the 1930s, the imperial gardens are quite the sight. The beautifully-colored flora is unmissable. Literally - the entire park is full of it, so you won't miss it! There's also the Gaudi-designed Hercules Fountain because, of course, Gaudi got his magnificent creations in here too. There are also music festivals, great places to relax, and cafes to get some sweet refreshments on those warm summer days.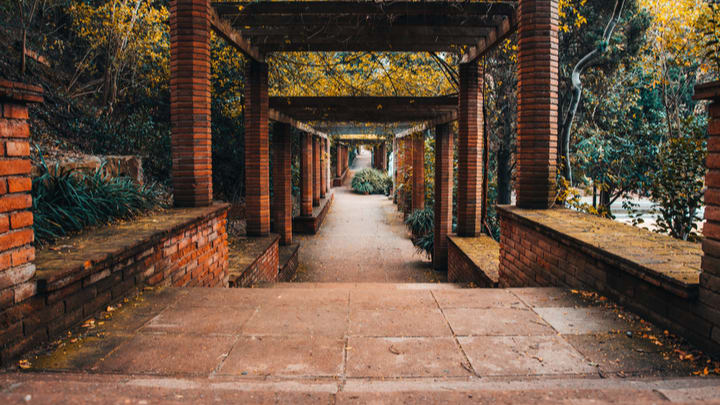 Jardins de Laribal (Laribal Gardens)
Designed during the Barcelona World Fair in the 1920s, Laribal Gardens is another beautiful spot in the city, and easily one of Barcelona's best parks. Be sure to check out the Font del Gat, a fountain inspired by cats, which also doubles as a bustling picnic area. Feel free to stretch out with a towel, hamper full of food, and relax. Alternatively, you can pick up a bite to eat or a refreshing beverage at one of the nearby cafes. Alongside the Font del Gat, there are many other sculptures and water features to find and admire. And, if you want to get your step-count up, wander over to the Greek Theater. It also has its own gardens to explore.
And that's our list of the best parks in Barcelona! You're really spoiled for choice in the city, so be sure to explore as many of them as possible. Of course, parks are just one of Barcelona's many jewels. If you like a little sand with your walk, be sure to check out our picks of Barcelona's best beaches! If all the Gaudi pieces mentioned above tickle your culture bone, there are plenty more Gaudi-centric things to see and do. And, if you're looking to put together a weekend itinerary to make the most of your visit, check out our guide to your weekend in Barcelona. You will love it. Until next time!