Walking Tours in Barcelona
Walking. One of life's many pleasures. Good for the mind, body, and soul, the simple act of walking is one often overshadowed by evil technologies like cars, buses, and bikes. Avoid these at all costs and trust your legs. They've gotten you this far. Want to take your walking to the next level? Combine it with the power of education and learning. Yes, we're talking walking tours today. Spice up those strolls with a bit of culture. Plus, some handy soundbites you can use to fool people into thinking you're more clever than you really are. These are the best walking tours in Barcelona, curated by us for you, so you can focus on strengthening those leg muscles. Always be prepared.
Featuring:
Sagrada Familia Tour
Park Guell Guided Tour
Picasso Museum Guided Tour
Barcelona Architecture Tour
Barcelona Ancient Markets Tour
Old Town and Gothic Quarter Tour
Raval Walking Tour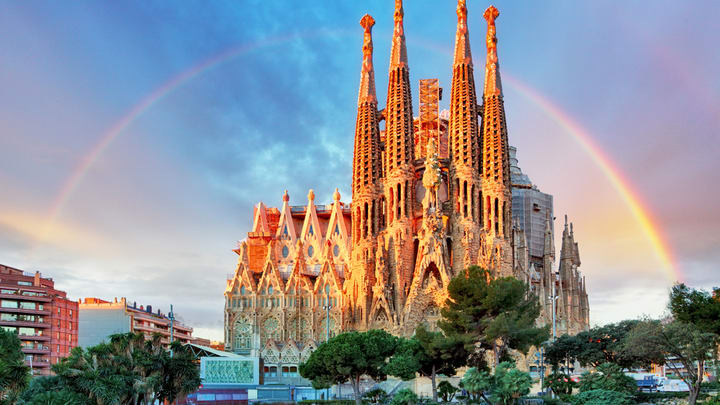 Take a walk through time itself with a Sagrada Familia tour. Explore the history of Gaudi, Spain's most famous architect, as you explore his most famous work, the Sagrada Familia. This century-old wonder combines elements of Gothic and Art-Nouveau, mixed up on a palate with Gaudi's distinguished strangeness.
Of course, a wizened guide will join you on your adventure, giving you key insight into the artist's style and history. Witness the religious symbolism present in his works. Have your mind blown by the geometry of the building's ceilings and stained-glass windows. Easily one of the best walking tours in Barcelona. You will love it.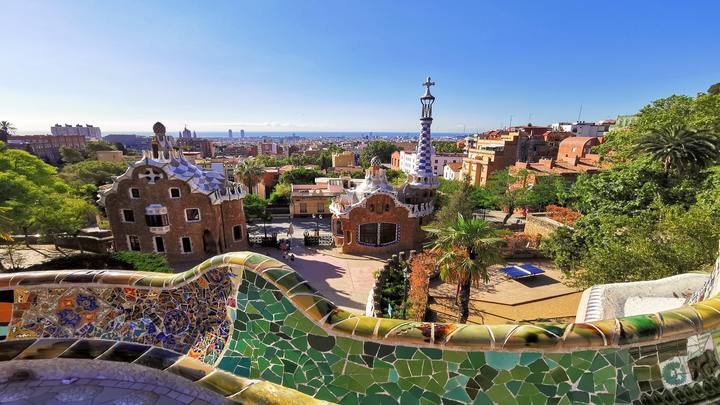 Take your tour to a more natural place with a guided tour of the wonderful Park Guell. Our man Gaudi has done it again, designing Park Guell to his ideal specifications. Not only do you get a healthy dose of the green and pleasant, you also get some of the man's signature strangeness.
Learn about Gaudi's inspiration behind oddities like El Drac, a multicolored mosaic lizard. Stand in awe of the Porter's Lodge and its stunning style. Rumour has it that if you whistle Gaudi's favorite tune, your learned guide will reveal the universe's secrets to you. That is not true. Please do not do that. A tip will suffice.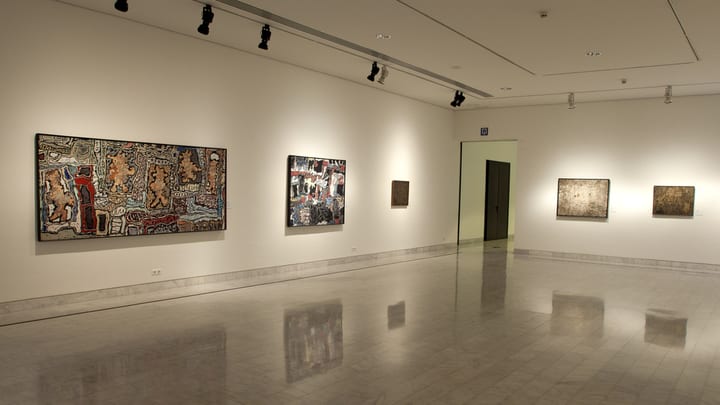 Or, if you've had enough Gaudi to fill a lifetime, why not try another of Spain's revolutionary artists? Picasso, specifically. Take a Picasso Museum Guided Tour, and learn all about one of the 20th Century's most important artistic voices. Look upon his works, but do not despair. Instead, marvel at them, as your guide showers you with facts and information about his pieces.
And once the tour is over and you've devoured as much information as possible from your informative guide, you're free to roam the museum at will. Our top tip, retrace your steps and impress passers-by with your newfound knowledge. Unless they're on a guided tour, in which case, hold your tongue. You cannot compare to their majesty.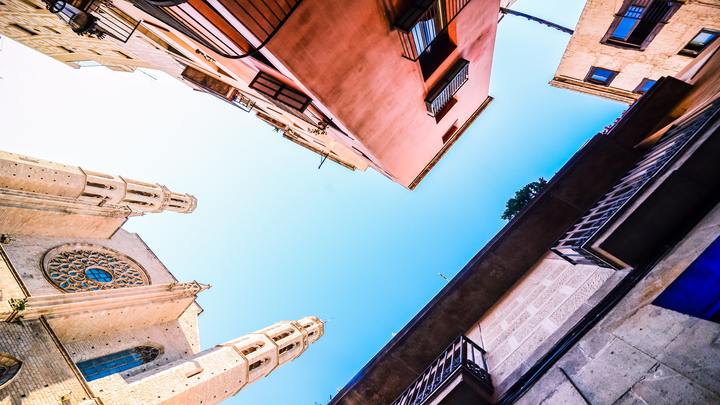 You thought we were finished with Gaudi? Think again. Take a tour of the architect's work throughout Barcelona with one of the best walking tours you'll ever discover. You'll see all the hits; Casa Mila, Casa Batllo, and even the Sagrada Familia itself.
Your tour will end at Casa Amatller, the home of Catalan chocolate. Try some for yourself, if you dare. By then, you'll have explored works from other Spanish architects like Montagner and Puig i Cadafalch. Just don't try and say the latter's name five times fast. These tours are for walking, not tongue-twisters.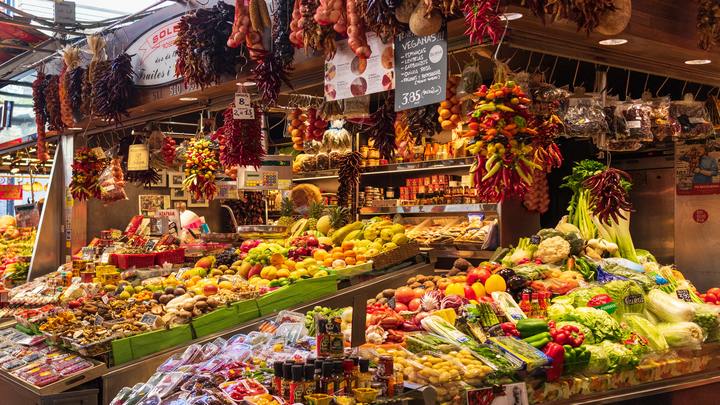 Explore Barcelona's ancient markets and pretend you're trading with Romans on this walking tour. Learn about Barcelona's millennia of history in market trading. Explore three, yes, three ancient markets; Boqueria, Mercat de Santa Caterina, and Mercat de El Born.
You'll also pass Barcelona Cathedral, which isn't a market, but that just means you're getting more bang for your buck. And be sure to visit the caganer shop and inquire about one of Barcelona's strangest traditions. It may just make you question life itself. Or not, you'll have to find out for yourself.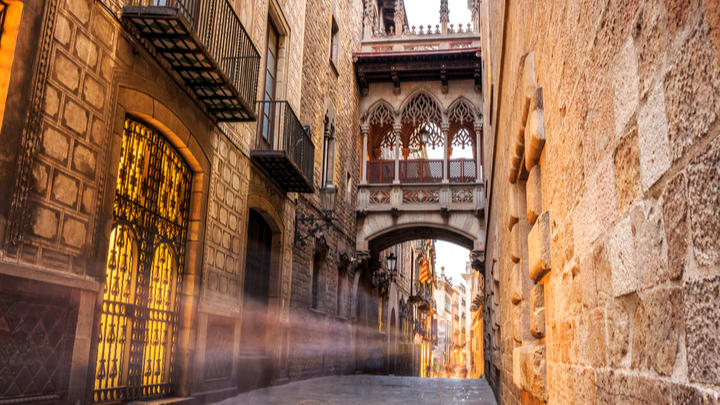 Travel back to the past with this guided tour through Old Town and the Gothic Quarter. Suitably named for their old-ness, you'll pass Roman ruins, medieval marvels, and much more! Learn about Barcelona's long history, and its many changes of the guard.
This tour also passes by Boqueria market, so feel free to taste some local delicacies. Some cured ham and a drop of cava will hit the spot. Best take this walking tour if you want to learn more about Barcelona's history and the people who walked its streets in times past.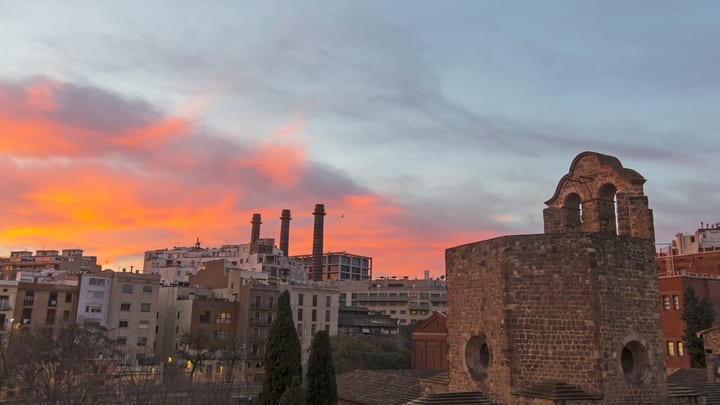 Walkers beware; you need a strong stomach for the next stop on our list. Take a trip into the depths of Barcelona's sordid past with this bloodcurdling walking tour. Raval is one of the city's districts, and one with a rather macabre history. Your ghoulish guide will beguile you with gruesome tales of ghostly orphanages, haunted hospitals, and the definitely real Vampire of Raval. Please note that your guide isn't a real ghoul, unlike the Vampire of Raval, who is very real. You'll see their house and everything. It doesn't get more real than that.
At the end of it all, you'll walk through Raval's south side, which has lots of graffiti. Now, that might not sound spooky, but there's nothing spookier than degenerates who dare to ruin bland walls with colors. The perfect addition to your social medias, if that's what you kids are still doing.
And there ends our journey into the best walking tours in Barcelona. No matter your desire, there's sure to be one that fits you like a Spanish glove. Looking for more hijinks to get up to when visiting the Catalan capital? Walking lovers might want to check out our list of the city's best parks. Are you taking a loved one with you? Here's our guide for couples. Keep that step count up, and we'll see you next time.