Sagrada Familia
Gaudí is one of the world's most famous architects. Such was his influence at the beginning of the 20th-century, you'll find his work all over his native Barcelona. His greatest achievement is undoubtedly La Sagrada Familia, a huge monument to Gaudí's faith. So, let's take a deep dive into La Sagrada Familia, and discover why it absolutely has to be on your itinerary!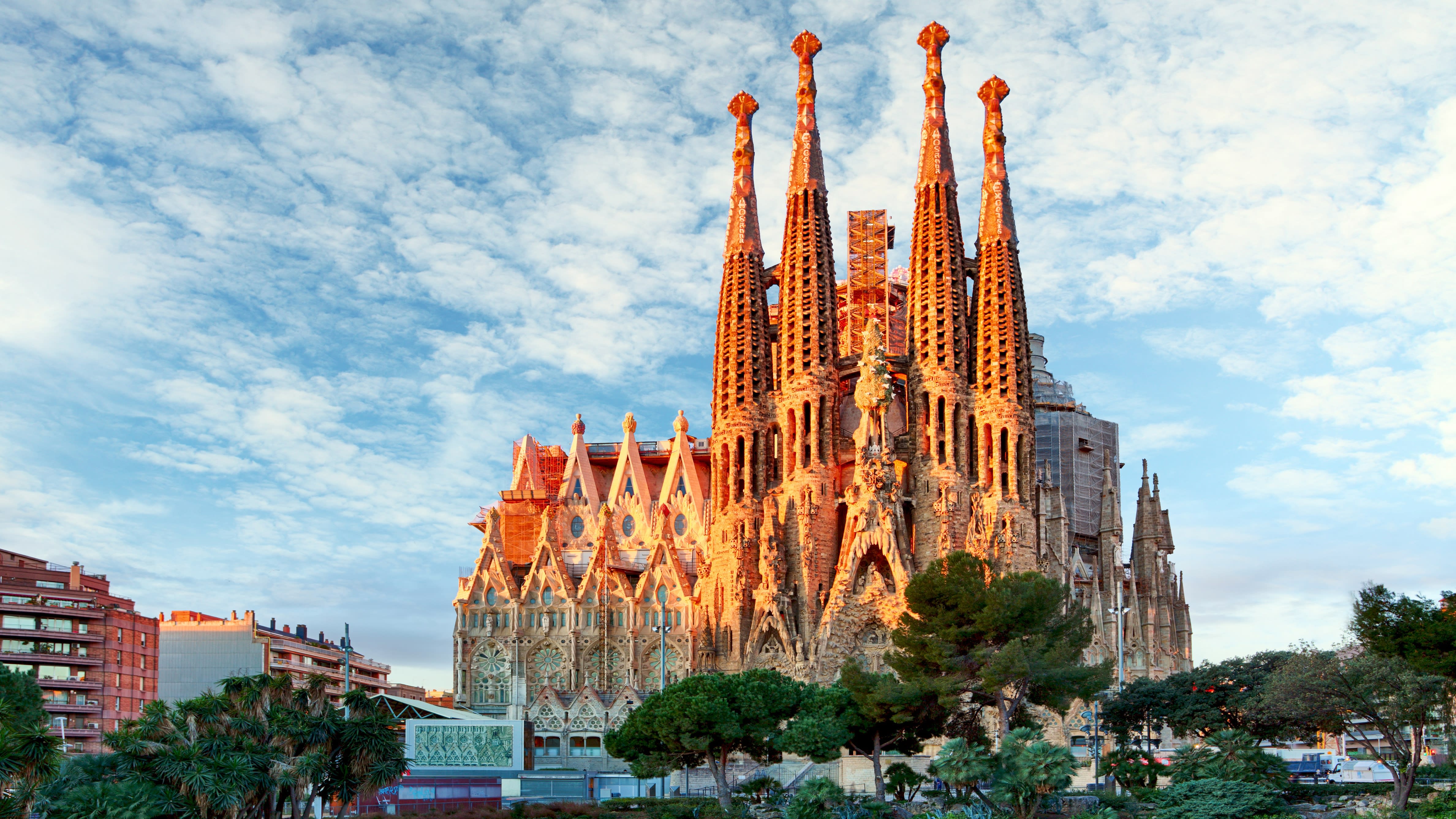 What is La Sagrada Familia?
To put it simply, La Sagrada Familia is a temple that was designed by world-famous Catalan architect Antoni Gaudí. It was considered his Magnum Opus, but he was unable to finish it before his death more than 100 years ago. To this day, the monument has yet to be finished, and work continues to this day.
Who was Antoni Gaudí?
Antoni Gaudí i Cornet was a Catalan architect born in 1852. His unique style, characterized by the marriage of neo-Gothic art, Oriental art techniques, and a fascination with nature and the human body, led the Catalan Modernism movement. A Barcelona local, his creations are found predominantly in the city.
Rather than working from sketches, Gaudí preferred creating detailed 3D models of his would-be buildings before construction. This often meant more time spent in pre-production than many other architects of his time, but is likely part of the reason his works remain so unique to this day.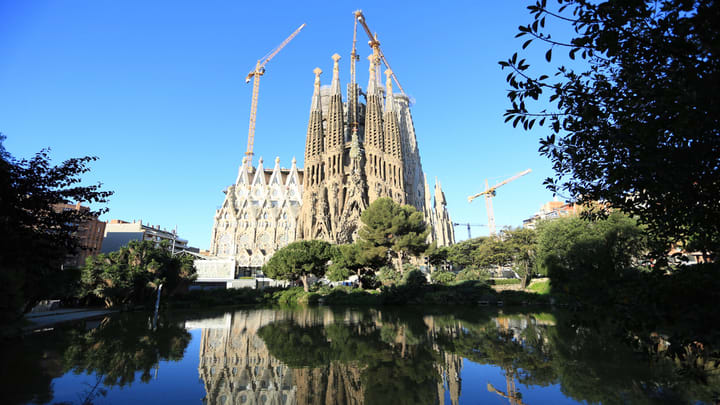 History of La Sagrada Família
The idea for La Sagrada Familia was conceived in 1872, after bookseller and prominent religious organizer Josep Maria Bocabella returned from the Vatican. After seeing the Basilica Della Santa Casa, or Basilica of the Holy House), he wanted to create a similar church in Barcelona.
Josep approached famed Catalan architect Francisco de Paula del Villar, who planned to create an authentic Gothic revival church. Work began in 1882, but Villar only oversaw the creation of the apse crypt before resigning from his position in 1883.
That's when our man Gaudí stepped in. After radically redesigning the building, work continued, and he was appointed architect director one year later.
But Gaudí knew his design would take many years to come to fruition. Thankfully, Josep didn't mind this; the work, and the time it would take to finish it, would speak for itself.
However, nearly forty years later, only 20% of the work was complete. And worse yet, Gaudí soon passed away, leaving his understudy Domènec Sugrañes i Gras to carry on in his stead. In fact, both Gaudí and Maria Bocabella are the only two people to be laid to rest in the crypt.
Then, tragedy struck. The Spanish Civil War led to parts of the building being destroyed and the plans being badly burnt. Therefore, once the war was over, it took over 15 years to reconstruct his original plans from early concepts and undamaged sections. In the years since, many architects have taken control of the project.
And now, nearly 150 years after the project was conceived, it's almost complete.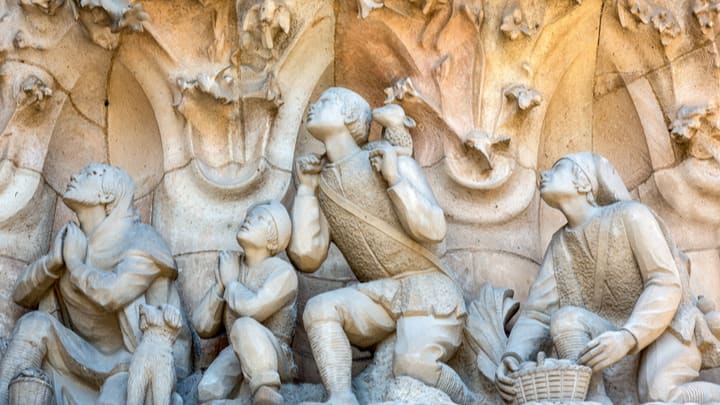 La Sagrada Familia design and influences
Every inch of the church is symbolic of important elements of Christianity. Originally, eighteen spires were planned, symbolizing Jesus, his twelve disciples, the Virgin Mary, and the four Evangelists (Luke, Mathew, John, and Mark). However, to date, only nine have been completed. A religious man himself, Gaudí insisted that the largest spire, dedicated to Jesus, be shorter than Montjuïc Hill, so as not to surpass divine creation.
The three grand façades are similarly dedicated to important moments in the faith; the Nativity represents the birth of Jesus and life itself, the Passion of his sacrifice, and the Glory of his everlasting reign. Each has its fair share of iconic imagery, ranging from life-affirming to torment.
The interior of the church is a feast for the eyes, with geometric shapes intersecting throughout the pillars and the ceiling. No single surface is flat, as abstract shapes undulate with curves, twists, and jagged edges.
Gaudí's style influenced the Cubism movement, and you can see as much in the church's design.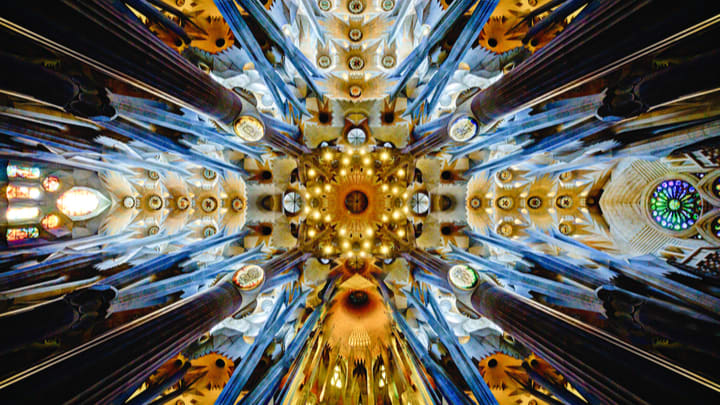 Visiting La Sagrada Familia
La Sagrada Familia is easily one of Barcelona's most prominent tourist spots, with thousands of people visiting the breathtaking building every year. And the best way to see it is by taking a guided tour. Your experienced guide will give you insight into every exciting part of its design, from inside to out. They'll unravel every hidden element of symbolism not covered above, and leave you with a newfound appreciation for Gaudí's work.
However, as one of the city's most visited places, you have to book ahead if you want to get a spot. And expect to be among crowds, which has taken on a whole new meaning after recent events!
If you'd rather skip all that and see the church from a different perspective, why not take a Virtual 360 tour of the building without even setting a foot inside? Thanks to the power of virtual reality technology, you can explore every surface up close, all while standing outdoors, away from the hustle and bustle of the church's innards! What would Gaudí think about that? We're sure he'd be impressed.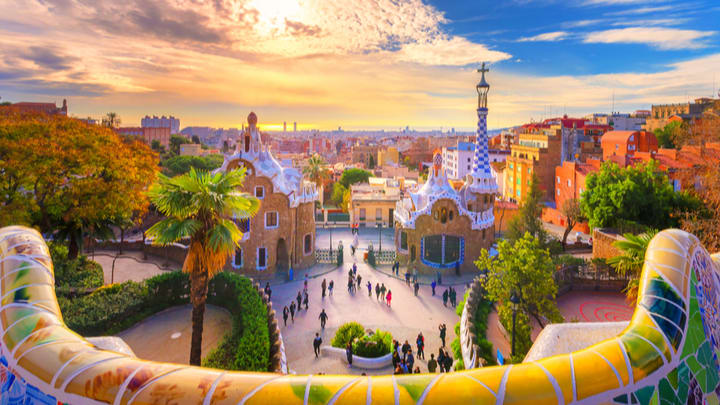 Other Gaudí Highlights
Of course, La Sagrada Familia is just one of Gaudí's many creations in Barcelona!
You could stroll around Park Güell and see his many unique creations, including the salamander mosaic El Drac, and ascend the rib-like staircase to the Porter's Lodge.
Why not visit Casa Batlló? It's a homestead turned tourist attraction that's often considered the epitome of Gaudí's finished works.
Or, take a trip to the ghoulish-looking La Pedrera, with its limestone-chiseled walls mimicking bleached bone.
Alternatively, go back to where it all began at Casa Vicens, Gaudí's first-ever architectural work.
Perhaps this all seems a bit pedestrian? If you want to see Gaudí's creations through a different lens, head to the Gaudí Experience 4D and take a breathtaking digital ride through his life, times, and influences.
If getting to all of these on your vacation seems a struggle, board a hop-on hop-off bus tour and get to them all in a single day!
And that's everything you need to know about La Sagrada Familia!