Where's hot in November
As the winter chill sets in and the days grow shorter, we all dream of escaping to sun-drenched paradises where warm weather and blissful relaxation await. Swap your winter coats for swimsuits, soak up the sun on pristine beaches, and immerse yourself in cultures in some of the world's best destinations for basking in glorious warmth.
From the sunny shores of San Diego and the shopping haven of Hong Kong to the larger-than-life Texan culture of San Antonio and the cosmopolitan allure of Dubai, these destinations promise unforgettable experiences and a rejuvenating dose of warm weather bliss. Pack your bags, leave winter behind, and embrace the adventures that await you in November's paradise destinations.
San Diego, California, United States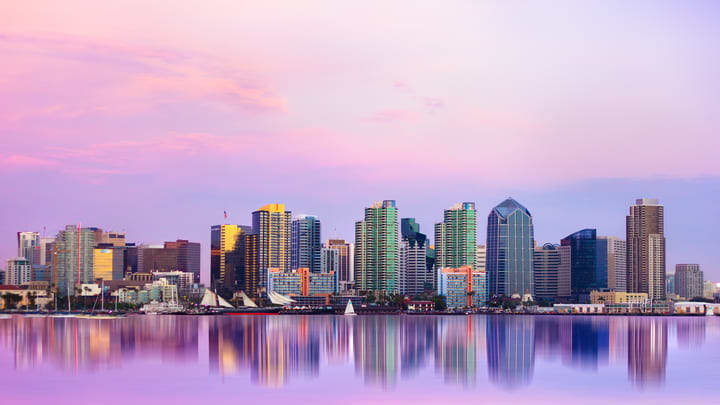 Average November temperature: 71.6F
Blue skies, golden beaches, and a laid-back California vibe sound good? The captivating coastal city of San Diego offers the perfect backdrop for an unforgettable getaway in November! San Diego showcases best in November. The city enjoys comfortably mild temperatures, with average highs in the mid-60s ̊F to low 70s ̊F (around 18-23 ̊C). This makes it an ideal time to soak up the sun, explore the outdoors, and indulge in the city's coastal charms without the sweltering summer heat or the winter chill.
San Diego is renowned for its gorgeous beaches, and November offers the perfect opportunity to enjoy its beauty without the summer crowds. Take a stroll or bike along the iconic shores of La Jolla, Coronado, or Mission Beach, feeling the warm sand between your toes and breathing in the refreshing ocean breeze. Whether you're looking to catch some waves, enjoy a beachside picnic, or explore the shoreline on a kayaking adventure, visiting San Diego's beaches is a must! Nature enthusiasts will find themselves in paradise in San Diego during November. Explore the city's numerous parks and reserves, such as Balboa Park and Torrey Pines State Natural Reserve, where you can take in lush greenery, hike scenic trails, and marvel at breathtaking coastline views. November also marks the annual migration of gray whales, providing an incredible opportunity for whale-watching tours along the coast.
San Diego's cultural scene shines bright in November with various events and festivals. Experience the colorful and lively Día de los Muertos (Day of the Dead) celebrations, where the city comes alive with altars, parades, and traditional performances. The San Diego Beer Week also takes place in November, offering beer enthusiasts a chance to sample a wide selection of local craft brews and attend special tasting events. Food lovers will delight in San Diego's thriving culinary scene. Fresh seafood, farm-to-table delights, and international cuisines at the city's diverse restaurants, markets, and street food vendors will have you spoilt for choice. From the famous fish tacos in La Jolla to the culinary delights of Little Italy, San Diego offers a delectable journey for your taste buds.
San Diego is also home to a myriad of world-class attractions and family-friendly entertainment. Explore the world-famous San Diego Zoo, where you can encounter exotic animals from around the globe. Visit the USS Midway Museum, a floating tribute to America's naval aviation heritage. Or experience the interactive exhibits at the Birch Aquarium at Scripps Institution of Oceanography, where you can discover the wonders of marine life. San Diego offers an enticing blend of beaches, diverse attractions, and a relaxed coastal atmosphere that captures the essence of Southern California living. San Diego is the perfect destination for a November vacation with its year-round pleasant weather and abundant activities for every interest.
Dubai, United Arab Emirates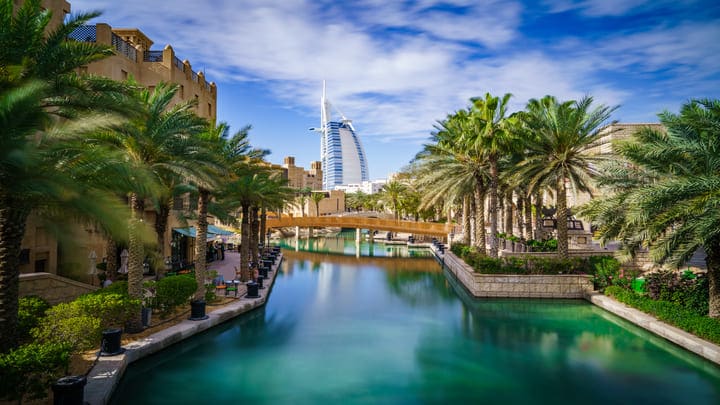 Average November temperature: 87.8F
November brings an irresistible blend of sunshine, luxury, and boundless adventures to the dazzling gem of the United Arab Emirates, Dubai. Offering larger-than-life attractions, warm hospitality, and a wealth of experiences, Dubai is the perfect destination for your much-needed getaway in November. With an average of eight hours of sunshine daily, you'll have ample oppurtunity to soak up the golden rays and revel in the city's outdoor wonders. From strolling along palm-fringed beaches to enjoying al fresco dining with panoramic city views, Dubai invites you to embrace the great outdoors.
Dubai is renowned for its landmarks, and November is the ideal time to explore them. The Burj Khalifa, the world's tallest building, stands tall and proud, offering breathtaking views from its observation deck. Take an exhilarating elevator ride to the top and witness the city's panoramic beauty unfold. If you're a shopaholic, Dubai is a shopper's paradise! Take a trip to the Dubai Shopping Festival, a month-long extravaganza of discounts, entertainment, and cultural experiences. From luxurious malls to traditional souks, Dubai caters to every shopping desire, offering a mix of international brands and local treasures.
When it comes to adventure, Dubai has you covered. From exhilarating desert safaris where you can dune bash and ride camels across golden dunes to water sports such as kayaking and stand-up paddleboarding, the city is a playground for water lovers! November's pleasant temperatures make outdoor activities even more enjoyable, allowing you to create unforgettable memories against Dubai's awe-inspiring backdrop. Beyond the glitz and glamour, Dubai embraces its rich Arabian heritage. Immerse yourself in the traditional markets of the Dubai Souks, where spices, exquisite gold jewelry, and intricate textiles await. Don't forget to savor the flavors of Emirati cuisine, where fragrant spices and sumptuous dishes tantalize your taste buds.
Dubai's hospitality is legendary, with world-class resorts and hotels that redefine luxury. From iconic palm-shaped islands to beachfront escapes, you'll find many accommodations to suit your preferences. Treat yourself to rejuvenating spa treatments, fine dining experiences, and let the warm Emirati hospitality pamper you throughout your stay. Dubai in November is an oasis of warmth, wonder, and pure indulgence. It's a city that invites you to enter a world where dreams become reality. With its glorious weather, iconic attractions, exhilarating adventures, and luxurious offerings, Dubai promises an unforgettable escape.
Hong Kong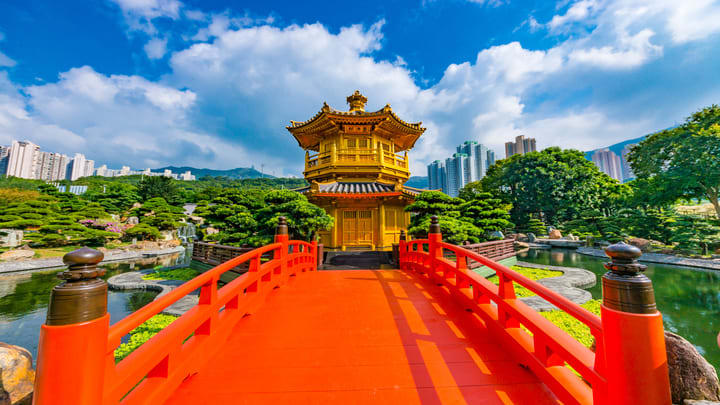 Average November temperature: 75.2F
Boasting a captivating blend of East and West, ancient traditions, and modern marvels, the bustling metropolis of Hong Kong is another fantastic place to explore in November. You can expect pleasant weather - not too hot and not too chilly – plenty of cultural festivities and a tapestry of experiences and unforgettable adventures. November's clear skies are perfect for taking in Hong Kong's incredible skyline from vantage points like Victoria Peak. Hop on the Peak Tram and ascend to the peak, where you'll be rewarded with panoramic views of towering skyscrapers, sparkling Victoria Harbour, and mountains surrounding the city.
Hong Kong is a culinary paradise, and November is the perfect time to savor its diverse flavors. From mouthwatering dim sum to tantalizing street food, your taste buds will embark on a thrilling journey. Wander through markets, sample local delicacies, and discover hidden gems in the city's culinary scene. Don't forget to treat yourself with a traditional Hong Kong-style afternoon tea for a unique experience. Explore historic landmarks like Man Mo Temple and Wong Tai Sin Temple, where you can witness the city's spiritual side. Dive into the streets of Central and Sheung Wan, where traditional shops, art galleries, and antique stores await your discovery. The city's art scene is buzzing, with numerous galleries showcasing contemporary works from local and international artists.
You'll find solace in Hong Kong's beautiful natural landscapes if you're a nature lover. November offers comfortable temperatures for hiking and exploring the city's greenery. Lace up your hiking boots and tackle trails like Dragon's Back, or venture to outlying islands like Lantau Island, where you can visit the awe-inspiring Tian Tan Buddha and enjoy breathtaking views from Ngong Ping 360 cable car. Hong Kong is also known for its shopping scene, and November brings exciting opportunities to snag great deals. From glitzy malls to bustling street markets, you'll find an array of shopping experiences to suit your taste. Whether you're hunting for designer labels, unique souvenirs, or trendy street fashion, Hong Kong's shopping scene will leave you spoilt for choice.
Hong Kong in November is a playground with endless excitement and exploration. From the captivating cityscape to the tantalizing flavors and cultural treasures, this dynamic metropolis will leave an indelible mark on your soul.
San Antonio, Texas, United States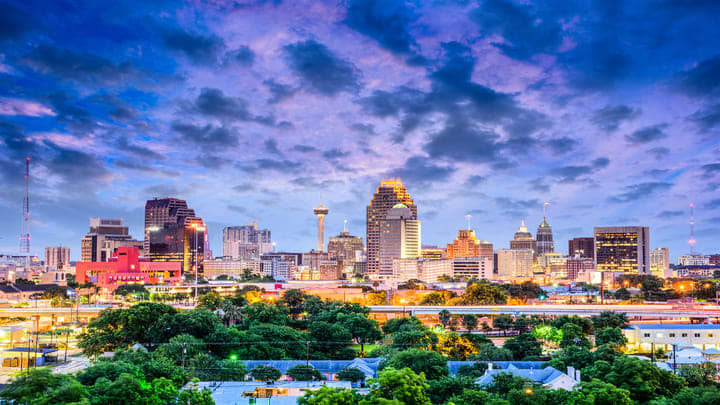 Average November temperature: 71.6F
The beating heart of Texas, San Antonio, seamlessly blends a rich history, cultural diversity, and modern attractions. While San Antonio is a fantastic destination year-round, November brings its unique charm to the city and promises plenty of exciting adventures. San Antonio experiences mild temperatures in November, making it a perfect time to see the city's outdoor beauty and fascinating landmarks. Stroll along the iconic River Walk, a charming network of walkways lined with restaurants, shops, and foliage. Take a boat cruise along the San Antonio River, marvel at the picturesque bridges, and soak up the scenic views. With the comfortable weather, you can explore the city at your own pace, from the historic Alamo to the Market Square.
November also brings exciting events and festivals that showcase the city's culture. Experience the spirited Dia de los Muertos celebrations, where the streets come alive with colorful altars, music, dance, and traditional food. Explore the bustling El Mercado, where you can shop for unique crafts, savor delicious Tex-Mex cuisine, and soak in theatmosphere. The city's rich cultural heritage is fully displayed with traditions and festivities. November is the perfect time to enjoy the city's breathtaking natural surroundings. Take a short drive to the scenic Hill Country, where you can explore stunning landscapes, picturesque wineries, and charming small towns. Enjoy hiking and birdwatching at nearby state parks like Enchanted Rock or Government Canyon. San Antonio's arts and entertainment scene comes to life in November. Catch a performance at the historic Majestic Theatre or Tobin Center for the Performing Arts, where you can witness world-class shows, concerts, and ballet performances. I Soak up the city's rich history and arts at the various museums and galleries, including the San Antonio Museum of Art and the McNay Art Museum.
Whether its exploring historic sites, sampling flavorful cuisine, or immersing yourself in the city's arts scene, San Antonio promises an unforgettable November getaway!