Where's hot in April
As the last traces of winter slowly fade away, there's an undeniable urge to bid farewell to the cold and embrace the warmth of the sun. April is a perfect month to indulge in some much-needed vitamin D replenishment and embark on an adventure to destinations that boast glorious, sun-drenched days.
Whether you dream of lounging on pristine beaches, exploring vibrant cities, or immersing yourself in new cultures, there are countless places around the world where you can experience delightful hot weather in April.
From the sun-kissed shores of Hawaii and the bustling streets of Southeast Asia, join us as we explore these sun-soaked destinations, uncovering the hidden gems and must-visit attractions that make them perfect for an unforgettable April escape.
Oahu, Hawaii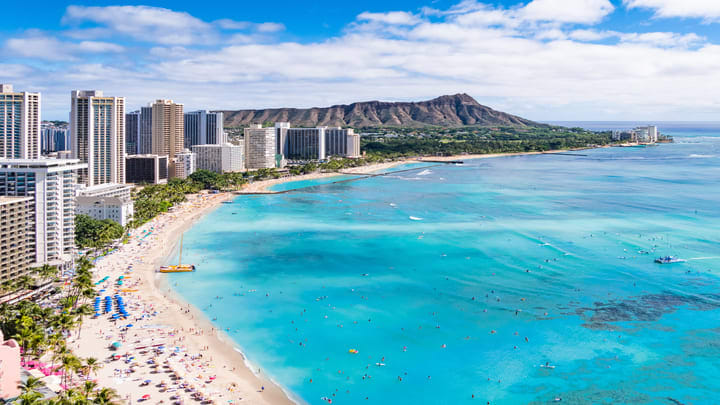 Average April temperature: 78°F
If you're searching for a destination that blends the perfect balance of spectacular natural beauty, exciting outdoor activities, and fascinating local customs, then look no further than Oahu, the heart and soul of Hawaii.
Oahu is blessed with balmy weather in April, making it an ideal time to soak up the sun and indulge in outdoor adventures. Whether strolling along the golden sands of Waikiki Beach, hiking to the majestic Manoa Falls, or embarking on a thrilling snorkeling expedition in Hanauma Bay, the weather is perfect for all your island escapades.
Hawaii's largest island is home to some of the world's most beautiful beaches. Waikiki Beach is a must-visit, offering breathtaking views of Diamond Head. For a more tranquil experience, venture to Lanikai Beach, known for its crystal-clear waters and postcard-worthy beauty.
You'll find an array of thrilling outdoor activities that will get your heart pumping too. From hiking and kayaking to surfing and sailing, there's no shortage of exhilarating experiences to enjoy in Oahu. Conquer the iconic Diamond Head Crater hike for panoramic vistas of Honolulu and the Pacific Ocean. If you're up for a challenge, catch some waves on the North Shore, home to world-famous surf spots like Pipeline and Sunset Beach.
Looking for something a little more educational? Why not explore the historic sites of Pearl Harbor, or visit the Polynesian Cultural Center to learn about the island's fascinating traditions, and be captivated by the mesmerizing performances of hula dancers. Indulge in delectable local cuisine, sample the famous shave ice, and embrace the warm aloha spirit that flows through the veins of Oahu's welcoming locals.
With its perfect weather, breathtaking beaches and thrilling adventures,, Oahu in April beckons you to embark on an unforgettable island getaway.
Bangkok, Thailand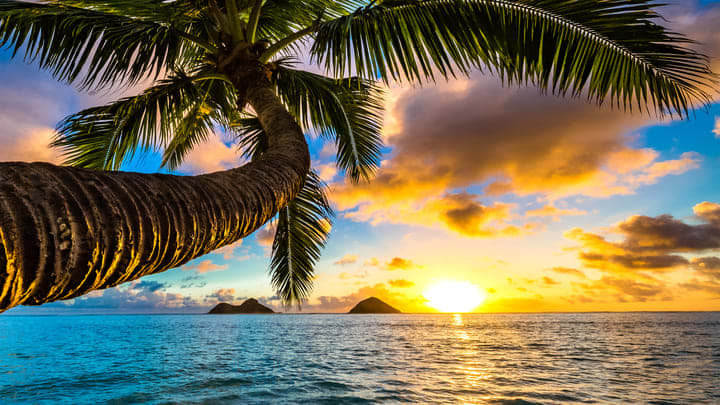 Average April temperature: 72F
Bangkok pulsates with energy, immerses you in a rich cultural tapestry, and offers a feast for the senses! April is the perfect time to dive headfirst into the dynamic heart of Thailand, where ancient traditions seamlessly blend with modern marvels.
April is time to experience the vibrant festivities of Songkran, the Thai New Year. Streets come alive with laughter, music, and joyful celebrations, creating an atmosphere you won't find anywhere else. Join in the festivities, embrace the playful spirit, and immerse yourself in a cultural celebration that will leave you with unforgettable memories.
Soak up the rich cultural heritage of Bangkok, where centuries-old temples, ornate palaces, and bustling markets stand as testaments to the city's glorious past. Marvel at the architecture of the Grand Palace, home to the revered Emerald Buddha.
Lose yourself in the tranquility of Wat Arun, the Temple of Dawn, as the golden spires glisten in the sunlight. Take a boat ride along the Chao Phraya River, and witness the floating markets where locals trade fresh produce and colorful crafts. Bangkok's cultural wonders will transport you to a world steeped in history and enchantment.
Beyond its cultural heritage, Bangkok is a city that seamlessly blends tradition with modernity. Explore the sleek skyline with towering skyscrapers and rooftop bars offering breathtaking panoramic views. Indulge in the vibrant nightlife scene, where trendy clubs, rooftop lounges, and night markets come alive as the sun sets.
Experience the city's modern marvels, from world-class museums and art galleries to innovative culinary experiences that fuse traditional Thai flavors with contemporary twists. Bangkok's cosmopolitan charm will captivate you at every turn.
Bangkok is a haven for retail therapy, with many shopping experiences to suit every style and budget. From glitzy malls like Siam Paragon and CentralWorld to the bustling street markets of Chatuchak Weekend Market and the Maeklong Railway Market, you'll find everything from trendy fashion to unique handicrafts.
Prepare your taste buds for an explosion of flavors! Bangkok is a food lover's paradise, offering a mouthwatering array of street food, local delicacies, and world-class dining experiences. Whether exploring street-side stalls or indulging in elegant restaurants, Bangkok's culinary scene will take your taste buds on an adventure.
With its festive spirit, exquisite cuisine, captivating cultural heritage, bustling shopping scene, and modern marvels, Bangkok in April is an electrifying adventure waiting to unfold.
Miami, United States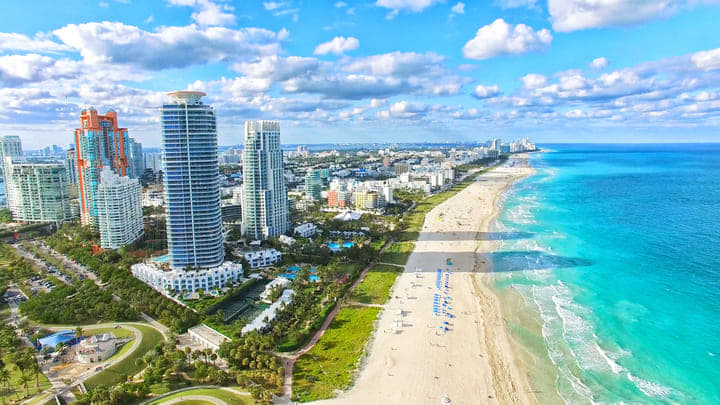 Average April temperature: 78.8F
Known for its year-round tropical climate, sunny skies, beautiful beaches, and vibrant atmosphere, Miami is an ideal destination if you're looking for an early taste of summer. With rising temperatures and plenty of exciting events, April is the perfect time to explore this city.
In April, Miami's weather is glorious, with warm days and pleasant evenings creating an idyllic atmosphere for exploration. Whether you're lounging on the world-famous South Beach, strolling along the iconic Ocean Drive, or enjoying water sports in Biscayne Bay, the delightful weather sets the stage for a sun-soaked adventure.
Miami is renowned for its pristine, sandy beaches that stretch for miles, and April is the ideal time to indulge in beach bliss. From the lively atmosphere of South Beach to the more tranquil shores of Crandon Park Beach, Miami offers a variety of coastal havens to suit your mood.
The Magic City's vibrant energy is fueled by its diverse blend of cultures, creating a melting pot of flavors, music, and art. Explore the colorful streets of Little Havana, where the aroma of Cuban coffee and the lively beats of salsa music fill the air. Immerse yourself in the thriving art scene of Wynwood, adorned with mesmerizing street murals and contemporary galleries. Basque in the fusion of flavors from Latin American, Caribbean, and international cuisines that make Miami a culinary paradise. Get ready to embrace the multicultural essence of Miami and let it ignite your senses.
When the sun sets, Miami comes alive with an electric nightlife scene that will keep you dancing until dawn. The city offers many options for revelers seeking unforgettable evenings, from chic rooftop bars to pulsating nightclubs. Sip on handcrafted cocktails, groove to the beats of renowned DJs, and immerse yourself in the vibrant energy of Miami's party scene.
Whether you're indulging in the trendy hotspots of South Beach or exploring the sophisticated lounges of Brickell, the nightlife in Miami is an experience you won't want to miss.
Miami is a playground for outdoor enthusiasts, offering many adventures to satisfy your thrill-seeking spirit. Explore the unique ecosystem of the Everglades, where airboat rides and wildlife encounters await in this vast wetland wilderness.
Go kayaking in the crystal-clear waters of Key Biscayne, surrounded by stunning marine life and picturesque landscapes, or snorkeling in Fort Lauderdale. Take a bike ride along the scenic Venetian Causeway or hike in one of the city's beautiful parks. Miami's outdoor playground invites you to embrace nature's wonders and create unforgettable memories.
With its glorious weather, pristine beaches, vibrant cultural scene, electrifying nightlife, and thrilling outdoor adventures, Miami is an absolute must-visit destination this April!
Sydney, Australia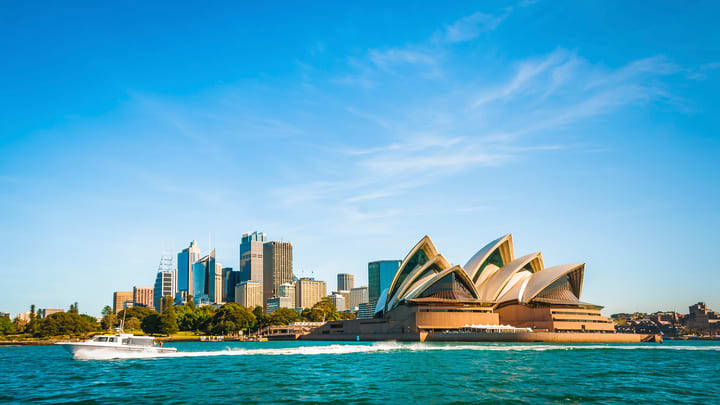 Average April temperature: 73.4F
Boasting sun-kissed beaches, landmarks, spectacular natural beauty, and a thriving cultural scene, the dynamic city of Sydney is a fantastic destination to visit in April. Dive into an urban paradise where cosmopolitan charm meets natural wonders, creating a perfect escape filled with excitement and relaxation.
You'll enjoy mild temperatures and less crowded attractions, making it an ideal time to explore everything this city offers. From strolling along the world-famous Bondi Beach to marveling at the architectural wonder of the Sydney Opera House, Sydney promises a unique blend of urban sophistication and coastal beauty.
Bask in the golden rays of the Australian sun on Sydney's world-famous beaches like Bondi, Coogee, or Manly Beach. Swim in the crystal-clear waters, catch some waves while surfing, or relax with a beachside picnic. Sydney's beaches are an absolute paradise, offering the perfect combination of relaxation and coastal adventure.
Marvel at the architectural masterpiece of the Sydney Opera House, a UNESCO World Heritage site, and snap the perfect photo with the Sydney Harbour Bridge as your backdrop. Stroll through the historic Rocks district, where charming cobblestone streets meet modern galleries and trendy cafés. Whether exploring the vibrant Circular Quay or soaking in panoramic views from the Skywalk at Sydney Tower Eye, the city's landmarks will leave you in awe.
Sydney is a cultural melting pot, offering experiences that will captivate your senses. Explore the vibrant neighborhoods of Chinatown, Little Italy, or the bustling Paddington Markets, where you'll discover a treasure trove of flavors, crafts, and unique finds.
Beyond its urban charm, Sydney is surrounded by breathtaking natural beauty. Embark on a coastal walk along the stunning Bondi to Coogee path, where rugged cliffs and turquoise waters provide a backdrop of unparalleled beauty.
Discover the enchanting Royal Botanic Garden, a tranquil oasis in the heart of the city, or venture out to the nearby Blue Mountains for a day of hiking amidst majestic waterfalls and ancient forests. Sydney's scenic wonders offer a refreshing escape and a chance to reconnect with nature.
With its beachside bliss, landmarks, cultural delights, scenic wonders, and gastronomic adventures, Sydney in April offers an unparalleled experience that will leave you with unforgettable memories.