Where's hot in March
Spring has sprung when March arrives in the Northern Hemisphere, but it isn't all sunshine and singing birds just yet! There's still a distinct nip in the air, plenty of rainy days, and it's not quite hot enough to tuck away your winter coat.
Time to fly south to sunny skies, sapphire seas, beautiful beaches, and balmy climes. Depending on how adventurous you're feeling, you could soak some rhythmic vibes in Cuba or take a desert safari in Dubai. Snorkel and scuba dive in gin-clear waters in the Maldives or hike through the rain forests of Costa Rica. Explore ancient temples in India and Mexico, shop until you drop in Singapore, or taste some of the world's best wines in South Africa.
Whether you're after white sand beaches, lush tropical forests, or vibrant city life, there's a suitable destination for you. So pack your bags, leave the winter blues behind, and head off on a sun-soaked adventure to one of these top March destinations!
Mexico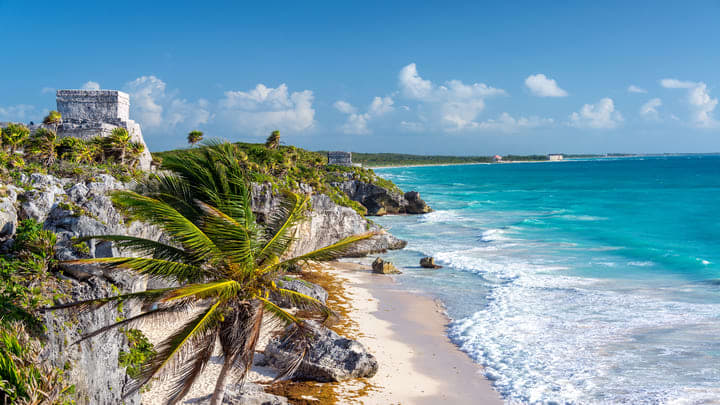 Average March temperature: 73 – 84 F
If you're looking for a fun and exciting getaway this March, look no further than Mexico! Home to beautiful beaches, rich culture, and delicious cuisine, Mexico is nothing less than magical in March.!
Mexico is a land of contrasts, from the bustling cities to the quiet, secluded beaches. Whether you're looking for lively nightlife or a peaceful retreat, Mexico has something for everyone. The weather is warm and sunny in March, making it the ideal time to soak up the sun on one of Mexico's many beautiful beaches. The country also has a rich cultural history, with ancient ruins and historic sites scattered throughout the country. Visit ancient Mayan ruins, or explore the vibrant city of Mexico City, with its colorful architecture and bustling markets.
For an idyllic tropical escape, head to Cancun. Relax on the beach, go snorkeling or scuba diving to explore the world-famous coral reefs, or take a day trip to the ancient ruins of Chichen Itza or Tulum. If you're looking for some excitement, hit one of the many bars, nightclubs, or casinos in the Hotel Zone. Let us not forget about the food! Mexican cuisine is famous around the world and for good reason. From street tacos to mole poblano, there's something for every taste bud. March is also the time of year when Mexico celebrates Carnaval, a festive time of parades, music, and dancing.
Cuba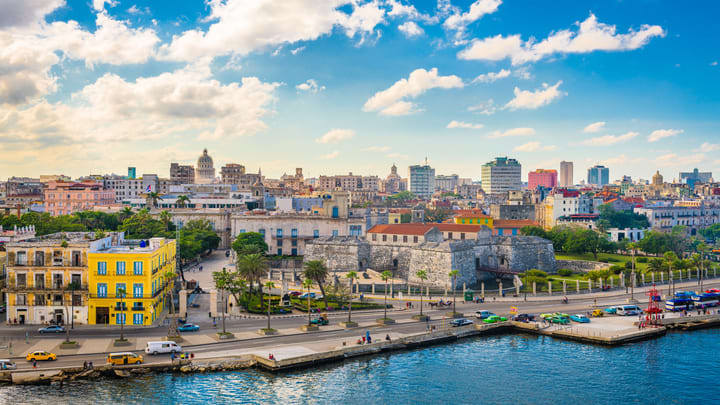 Average March temperature: 73-82F
Cuba is another fantastic travel destination to head to in March. With dry, warm temperatures during the day and balmy nights, it's the best time to explore all this Caribbean gem offers.
Cuba has an enchanting allure that captivates visitors with its rich historical background, lively culture, beautiful architecture, and breathtaking natural scenery. The country has been under an economic embargo for over 50 years, and is slowly awakening from this period of isolation. Its time-warp-like atmosphere only adds to the country's uniqueness and charm, making it an even more remarkable destination.
The weather in March is impeccable! It's warm and sunny, but not as hot and humid as in the summer. Hikers will love the river-studded Alejandro de Humboldt National Park and the lush, boulder-ridden Viñales Valley, while divers will delight in Cayo Largo's calm waters.
The city of Havana is the beating heart of Cuba and an ideal starting point for your journey. It's a lively city that offers a range of exciting activities, from admiring splendid architectural wonders to dancing salsa with friendly locals on street corners.
To get a genuine feel for the city, take a leisurely walk along the Malecon, the beachfront promenade where locals gather every evening. Explore the city in a classic 1950s car, a hallmark of Havana's distinctive charm, and sip on a refreshing minty mojito at Hemingway's Café.
If you're a nature lover, head to the stunning Vinales Valley, known for its picturesque limestone hills and tobacco plantations. Or visit the pristine beaches of Varadero, Cayo Coco, or Cayo Santa Maria for sun, sand, and relaxation.
You'll be greeted with warm hospitality and a friendly smile wherever you go in Cuba. The country's unique blend of history, culture, and natural beauty will surely leave you mesmerized and wanting to return for more.
Costa Rica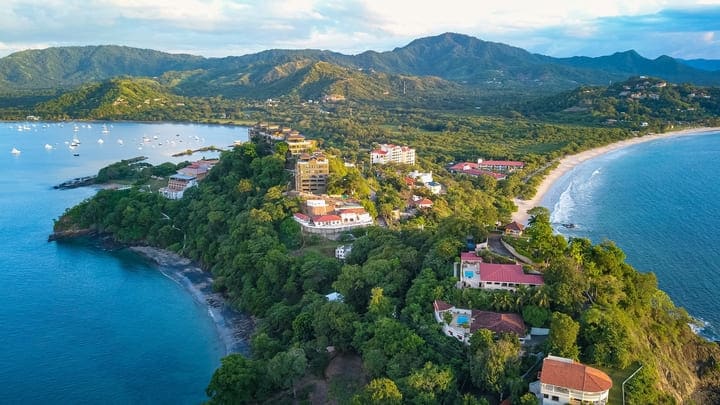 Average March temperature: 77F
Costa Rica is a land of tropical beauty, known for its beautiful beaches, dense rainforests, and incredible wildlife. Hemmed in by the Pacific and Atlantic Oceans in Central America, it's a great destination for nature lovers and adventure seekers alike.
March is a fantastic time to visit Costa Rica, as it's the tail end of the dry season, and the weather is perfect for exploring the country's natural wonders. The crowds are also thinner in March, allowing you to enjoy the country's top attractions without the crowds.
There is so much to do in this beautiful country! With the sun shining and the ocean waters warm, March is the time to visit Costa Rica's spectacular beaches like Manuel Antonio, Tamarindo, and Playa Flamingo. Discover the country's incredible wildlife on guided tours in one of Costa Rica's national parks, such as Manuel Antonio, Arenal Volcano, or Corcovado National Park.
Hit the rapids of the Pacuare River for some of the best whitewater rafting in the world. Hike through the lush vegetation of Monteverde Cloud Forest Reserve or the Arenal Volcano National Park. Unwind with a soak in one of Costa Rica's natural hot springs.
Whether you're looking for adventure, relaxation, or a bit of both, Costa Rica in March is a must!
Dubai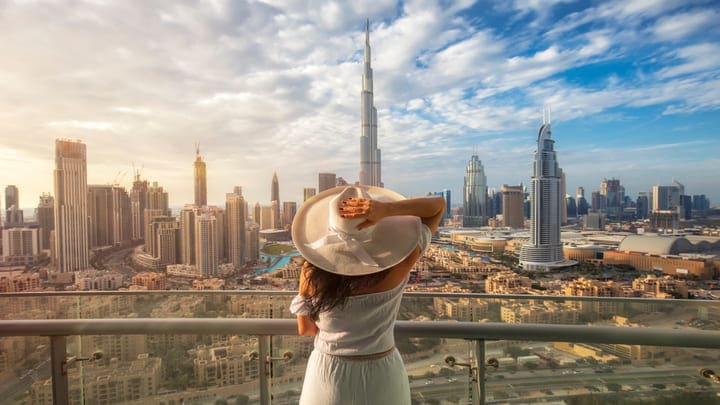 Average March temperature: 64-84F
Dubai is a glamorous and bustling city that boasts some of the world's most impressive architecture and innovative technology. This incredible Middle Eastern city is the best destination if you're looking for a warm escape in March.
March falls outside the peak tourist season, which means fewer crowds and lower prices on accommodations and activities. You'll have more opportunities to explore all that this city has to offer without the hassle of large crowds.
From the towering Burj Khalifa and the luxurious Palm Jumeirah to the traditional souks and sprawling malls, there's something for everyone in Dubai. Take a desert safari, go skiing in the desert at Ski Dubai, or enjoy the thrills of the world's fastest rollercoaster at Ferrari World. You can also indulge in some of the world's best dining and shopping experiences, enjoy a desert safari, or simply relax on the spectacular beaches along the Arabian Gulf.
March is also an ideal time to participate in the city's annual shopping festival, where you can find fantastic deals and enjoy cultural events, concerts, and fireworks displays. Overall, Dubai is a fascinating destination that offers an unforgettable experience, and March is a good time to visit and enjoy all that this city has to offer.
South Africa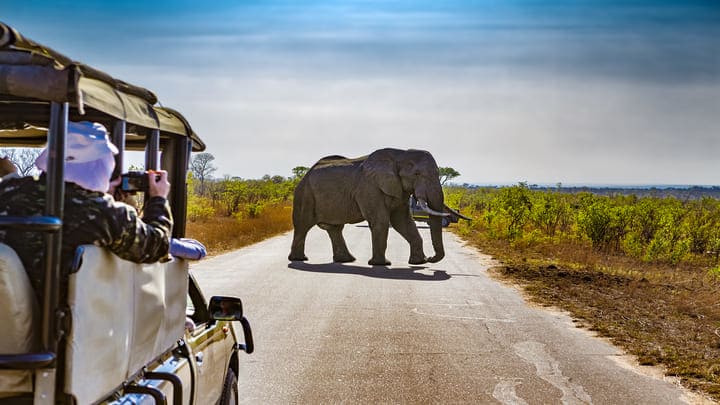 Average March temperature: 77F
South Africa is a land of breathtaking landscapes, cultures, and fascinating wildlife. March is an excellent time to visit this beautiful country, as the summer heat is starting to subside, and the autumn weather is mild and pleasant.
South Africa is home to some of the world's most famous game reserves, including the Kruger National Park and the Sabi Sands Game Reserve. March is a wonderful time to go on safari, as the weather is cooler, and the vegetation is less dense, making it easier to spot the Big Five: lions, elephants, leopards, rhinos, and buffalos.
March is also harvesting season in South Africa's famous Cape Winelands, and there's no better time to taste some of the country's best wines. Take a tour of the vineyards, sample the award-winning wines, and indulge in delicious food at one of the many world-class restaurants.
No trip to South Africa is complete without a visit to the Table Mountain in Cape Town. Take a cable car to the top and enjoy panoramic views of the city and the surrounding landscape.
Garden Route is a scenic coastal drive along South Africa's southern coast, stretching from Mossel Bay to Storms River. The weather is perfect for hiking, beach hopping, and exploring charming coastal towns in March.
South Africa is a melting pot of cultures, and March is a great time to experience the country's music, dance, and art. Attend a traditional Zulu dance performance, visit the historic Robben Island, where Nelson Mandela was imprisoned, or explore the colorful neighborhoods of Cape Town.
With its mild weather and abundant outdoor and cultural activities, March is an excellent time to visit South Africa. From safari adventures to wine tasting and cultural experiences, this country has something to offer every traveler.
Singapore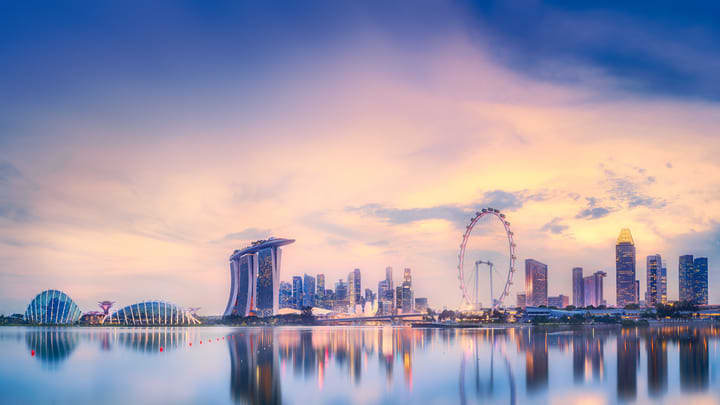 Average March temperature: 77 – 89 F
Blending traditional culture with modern innovation, the bustling city-state of Singapore in Southeast Asia is a fantastic place for a break in March. The weather is warm and sunny in March and excellent for exploring the city's many outdoor attractions.
Singapore is famous for its breathtaking gardens and parks. You won't want to miss the world-renowned Gardens by the Bay, where you can experience a futuristic garden oasis with towering Supertrees and a breathtaking indoor waterfall.
If you're a foodie, Singapore will delight! Home to an incredible mix of cultures and cuisines, from traditional hawker centers serving mouth-watering local dishes like Hainanese chicken rice to Michelin-starred restaurants offering innovative fusion cuisine.
And if shopping is your thing, you'll be in heaven in Singapore. The city is known for its luxury malls, bustling street markets, and unique boutiques selling everything from high-end designer fashion to locally made crafts.
March is also a great time to experience some of Singapore's most popular events, including the Singapore Festival of Fun, which offers a range of activities for all ages, from circus performances to carnival games. You can also catch the Singapore International Jazz Festival or the World Gourmet Summit, which celebrates the city's culinary scene with top chefs from around the world.
India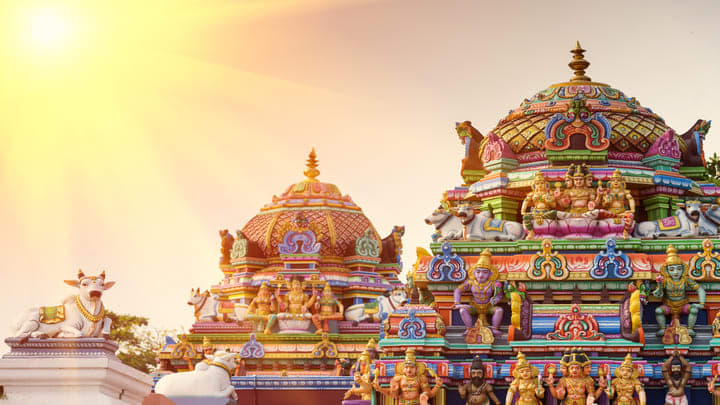 Average March temperature: 89F
India is a country that's as colorful and diverse as it is fascinating and mystical. March is a great time to visit India, with pleasant weather and fewer crowds than during the peak tourist season.
From bustling cities to the serene countryside, from ancient temples to modern skyscrapers, and from spicy street food to elegant fine dining it is one of the top destinations to visit in India is the Taj Mahal in Agra, a breathtaking white marble mausoleum that's considered one of the world's seven wonders.
Visit the city of Jaipur, also known as the 'Pink City,' and explore its spectacular palaces, forts, and markets. Or head to the southern state of Kerala and take a tranquil boat ride through the lush backwaters, where you'll see verdant rice paddies, coconut groves, and small villages.
India is also a foodie's paradise, with an array of spicy and flavorful dishes to try. Whether you're craving buttery naan, creamy chicken tikka masala, or tangy chaat, you'll find it all in India.
But what makes India truly special is its people, known for their warmth, hospitality, and colorful culture. You'll be welcomed with open arms wherever you go, and you're sure to make some lifelong memories and friendships along the way.
Thailand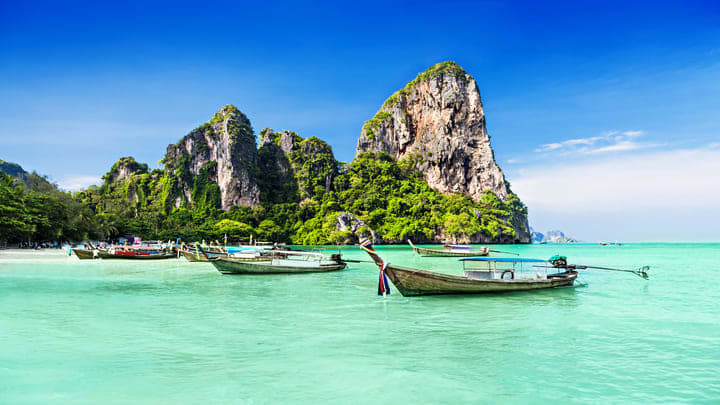 Average March temperature: 80 – 93 F
Thailand is one of Southeast Asia's gems, offering something for every type of traveler in March. A land of culture, delicious cuisine, and breathtaking landscapes, Thailand boasts dry and sunny weather in March, making it the ideal time to explore the country's many attractions.
Explore the bustling streets of Bangkok, the country's capital city, and immerse yourself in the frenetic energy of this vibrant metropolis. Visit awe-inspiring temples and palaces, such as the Grand Palace and Wat Phra Kaew, home to the Emerald Buddha.
Thailand's natural beauty is breathtaking, from the lush jungles of the north to the powder-soft beaches of the south. Trek through the jungle, visit the ancient city of Chiang Mai, or lounge on the shores of Krabi and Phuket.
The people of Thailand are friendly and welcoming, always ready to share their culture and traditions with visitors. Experience the warmth of Thai hospitality by staying in a traditional guesthouse or homestay or participating in a local festival or celebration.
The Maldives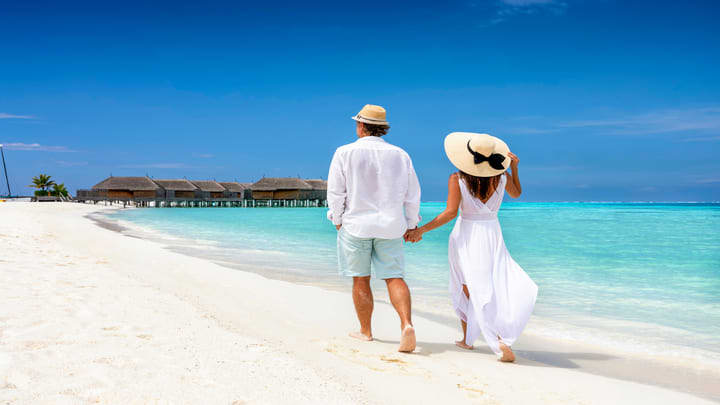 Average March temperature: 82-89 F
Picture-postcard scenery, clear waters teeming with marine life, and white sandy beaches dappled by swaying coconut palms - the Maldives is one of the world's most beautiful destinations. Home to more than 1,200 tropical islands, the Maldives offers an idyllic slice of paradise in which to escape the hustle and bustle of the daily grind.
March is a fantastic time to visit the Maldives, with warm weather, blue skies, and plenty of sunshine. The balmy weather and spectacular scenery provide adventure lovers with a wealth of activities, from world-class snorkeling, scuba diving, and surfing to deep-sea fishing, parasailing, and hoverboarding.
You'll find some of the world's most spectacular resorts here, each with its own private island, luxurious villas, and breathtaking ocean views. Whether you're looking for a romantic getaway or a fun-filled family vacation, the Maldives has something for everyone.
The clarity and temperature of the water make it one of the best snorkeling destinations in the world. The clear waters are home to diverse marine life, from colorful tropical fish and turtles to manta rays and whale sharks.
In stark contrast to the laid-back pace of island life, the pint-sized capital city of Malé is the beating heart of the Maldives. Densely populated and full of color and life, Malé boasts tall, brightly colored buildings, bustling sidewalk cafés, striking mosques, and lively markets. Visit Malé to get a real feel for the country and its rich culture and to meet local Maldivians as they go about their daily lives.
For those looking for relaxation, the Maldives is the destination for you. You can indulge in a spa treatment, enjoy a yoga session on the beach, or simply soak up the sun on a lounger by the pool. The food in the Maldives is also a delight, with a mix of flavors influenced by the country's Indian, Sri Lankan, and Arabic heritage.
March is a great time to escape the cold weather and bask in the sun. From the beautiful beaches of the Caribbean and the Maldives to the cultural hotspots of Thailand and Mexico, many destinations offer warm weather and sunshine in March.