Workcations in 2023: How Americans Are Using Their Vacation Time
Whether you want to explore a new city, check off a bucket list item or relax at the spa, vacations among Americans are looking different in 2023. As remote jobs allow people to travel and work at the same time, our new report finds nearly 30% of Americans are planning a 'workcation' this year. What is a workcation? A workcation is a trip that blends vacation time with remote work and it's a growing trend amongst American workers in 2023.
How Much Paid Time Off Will Americans Take in 2023?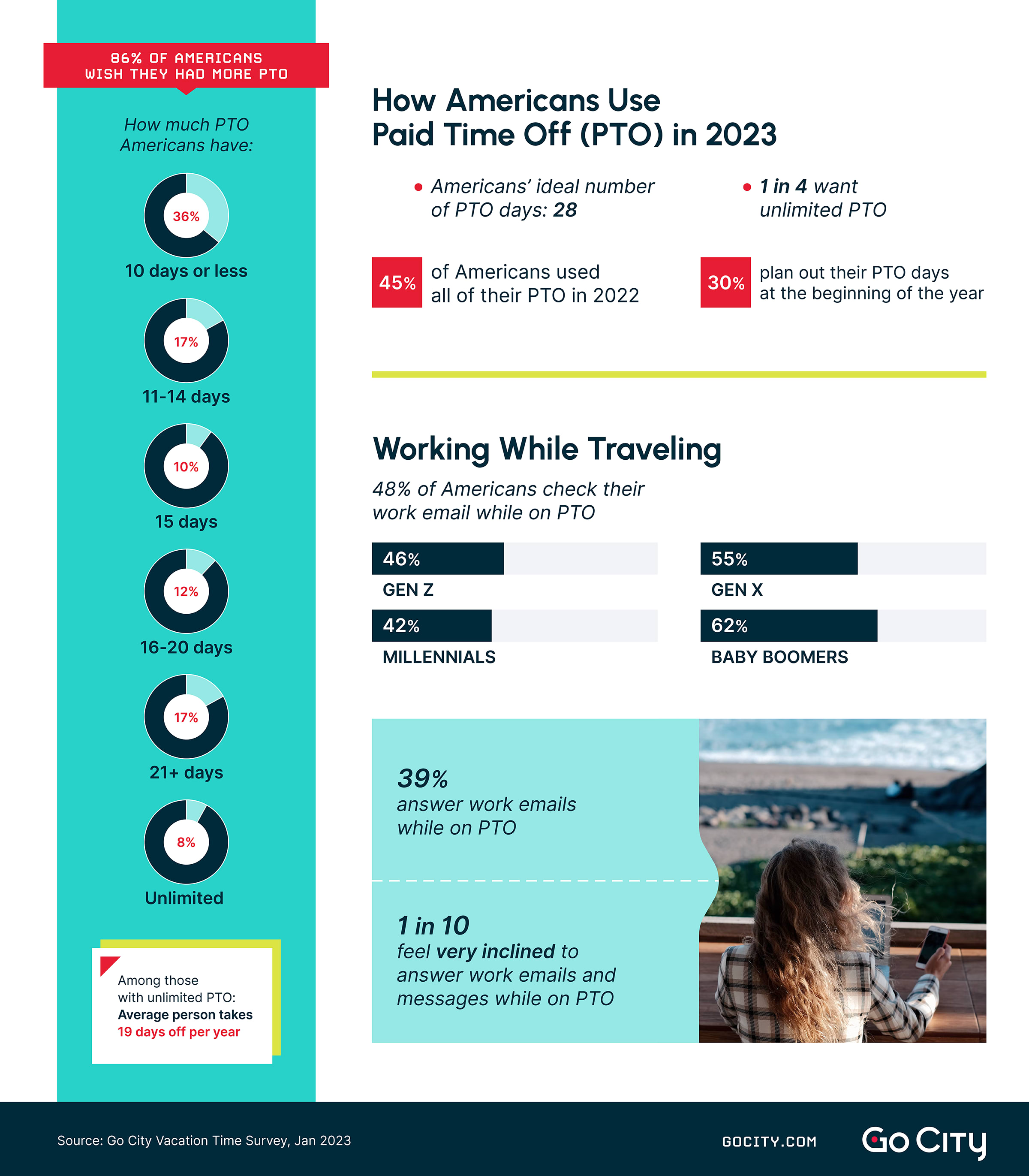 We recently surveyed more than 1,000 full-time workers across the U.S. about their vacation time and travel plans to get the latest vacation statistics in 2023. We found 86% of Americans wish they had more time off the clock! When it comes to time away from work, 36% report having 10 days or less of paid time off (PTO) per year. Nearly 1 in 5 (17%) have 11-14 days, 1 in 10 have 15 days, 29% of full-time workers have 16+ days and 8% have unlimited PTO.
PTO Statistics in 2023
What do Americans think is the ideal number of PTO for the average full-time worker? 28 days. Additionally, nearly 1 in 2 Americans (45%) report using all of their PTO time in 2022. Among those with unlimited PTO, the average person takes 19 days off per year.
For some people, it can be hard to disconnect from work while out of the office. In fact, 48% of Americans say they check their work email while on PTO. Baby Boomers are the generation most guilty of doing this, with more than 3 in 5 opening their work email on vacation. Surprisingly, Millennials are least likely among the generations to check their email while traveling. Among all ages, nearly 2 in 5 (39%) say they answer emails while on vacation, and 1 in 10 feel very inclined to do so.
Where Americans Want to Workcation in 2023
Nearly half (48%) of those surveyed work remotely. Among them, the workcation trend seems to be booming – 29% say they plan to work remotely while on vacation in 2023, and 1 in 4 will extend a vacation this year by working remotely.
The term 'digital nomad' is used for a remote worker who travels freely by working from different locations like coffee shops, libraries and coworking spaces with wireless internet. In recent years there's been more talk about digital nomads and in fact, 1 in 5 remote workers consider themselves to be one. Gen Z claims the title the most at 31%. It's no secret being able to work remotely offers more flexibility in everyday life, and that's impacting travel. More than 3 in 4 Americans believe remote work allows them to be more flexible with their vacation schedule, and 80% say it is easier to travel as a remote worker.
A quarter of remote workers plan to work in a different city, state or country than where they live in 2023. When it comes to the most ideal places to work remotely, California tops the list, followed by Florida and Hawaii. Nearly 1 in 10 are making their ideal place to work a reality and are planning to work under the sunny skies in Florida this year.
How Americans Are Maximizing Vacation Days in 2023
Workcations can be a great way to get the most out of vacation days. More than 1 in 4 Americans plan to take a workcation in 2023. Among the different generations, half of Gen Z say they will take a workcation, followed by 26% of Millennials, 24% of Gen X and 22% of Baby Boomers.
More than 1 in 3 (35%) have taken a blended work and travel vacation before and nearly 60% say they're just as productive as they'd be at home. When on these blended trips and not working, the top things travelers want to do are relax, try new restaurants or cuisine and sightsee.
Americans' Vacation Plans in 2023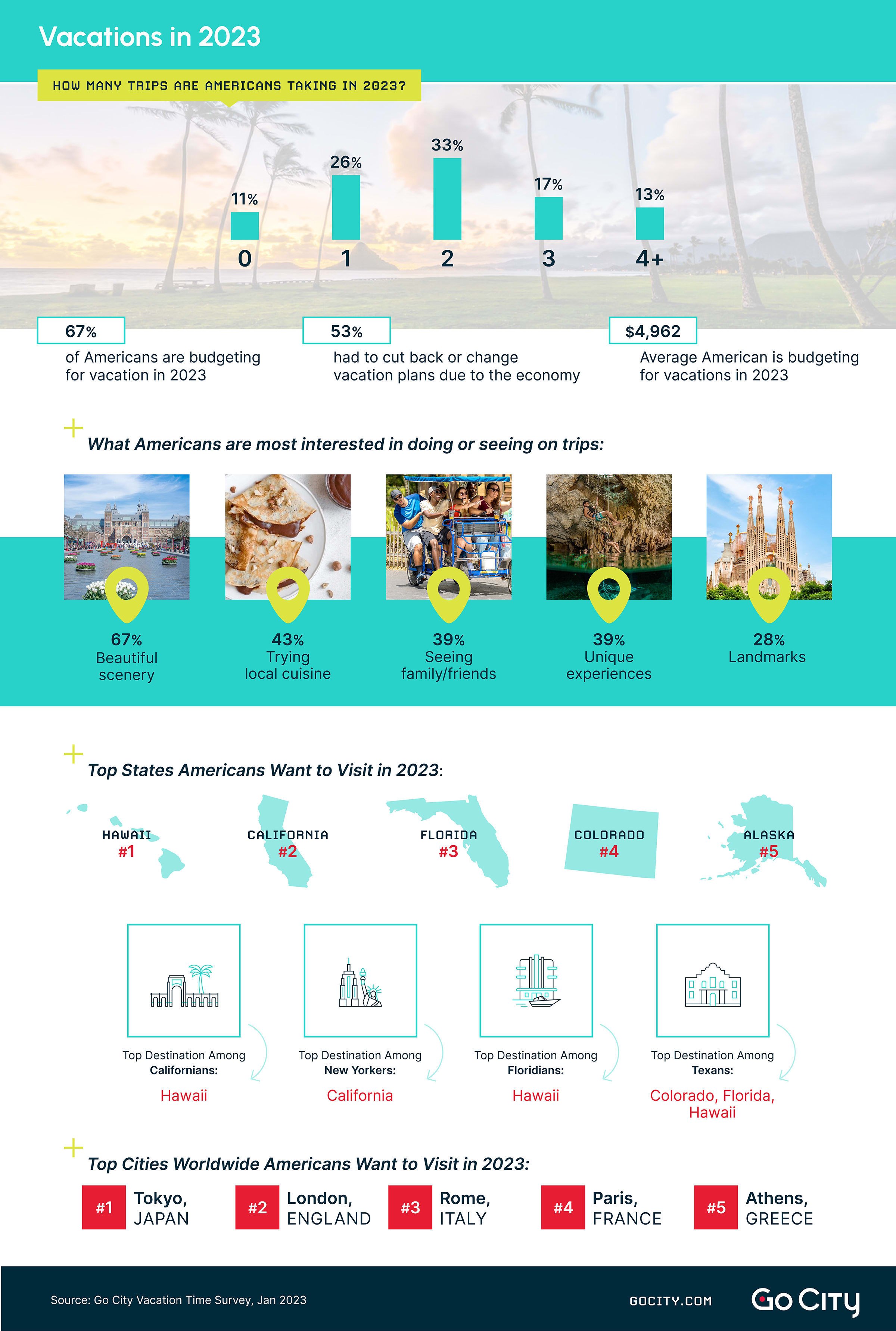 While some people save up all their vacation time for one big trip, others may be planning multiple getaways this year. More than a quarter (26%) will be taking one vacation this year, 1 in 3 Americans are planning 2 trips, and 30% are taking 3+ trips.
Many Americans (67%) are budgeting for travel, and 53% had to cut back or change their plans due to the economy. The average individual American is budgeting nearly $5,000 for vacations in 2023.
The top things people are looking forward to doing on trips include seeing beautiful scenery, trying local food, visiting family or friends, having a unique experience and visiting landmarks or local attractions.
Most Desired Travel Destinations in 2023
What are the top travel destinations in 2023? The study found the top U.S. travel destinations include states like Hawaii, California, Florida, Colorado and Arizona. Your most desired destination likely has something to do with where you're from. We found the top destination among Californians is Hawaii, while California is on the top of New Yorkers' travel lists. Additionally, Floridians want to explore Hawaii in 2023, and the top destinations among Texans include Colorado, Florida and Hawaii.
Many Americans are also setting their sights on international trips. The top cities worldwide Americans want to visit in 2023 are Tokyo, London, Rome, Paris and Athens. No matter where your travel plans take you in 2023, here at Go City we encourage you to explore and discover new destinations!
Methodology
In January 2023, we surveyed 1,001 full-time workers from across the U.S. about their vacation time and travel plans in 2023. Respondents' ages varied from 18-85 with an average age of 39. 48% identified as female, 49% identified as male, and 3% identified as non-binary or transgender.
For media inquiries, please contact [email protected].
Fair Use
When using this data and research, please attribute by linking to this study and citing https://gocity.com/en-us