Family friendly
History, art and culture
Food and drink
Katie Sagal
Cancun Itinerary - 3 Days in Cancun for First-Time Visitors
Heading to the tropical paradise of Cancun but aren't sure how to make the most of your amazing vacation? To help you maximize the fun on your Mexican vacay, we've put together a list of our top things to do when you've got three days in Cancun. From swimming and sailing to arts and culture to relaxing beachside with a cool drink, this itinerary has it all. Plus, this suggested itinerary also helps you save money on admission to Cancun's top attractions and activities. This 3-Day Itinerary Includes:
Swimming with Dolphins at Isla Mujeres
90-minute Surf Lesson
Cancun Wax Museum
Interactive Aquarium Cancun
Isla Mujeres Discovery Catamaran Sail
And more!
Are you spending less time in Cancun? Check out our 1-day in Cancun itinerary and our weekend in Cancun itinerary for more fun ideas.
Day 1Stop #1: VIP Swimming with Dolphins at Isla Mujeres (All Day)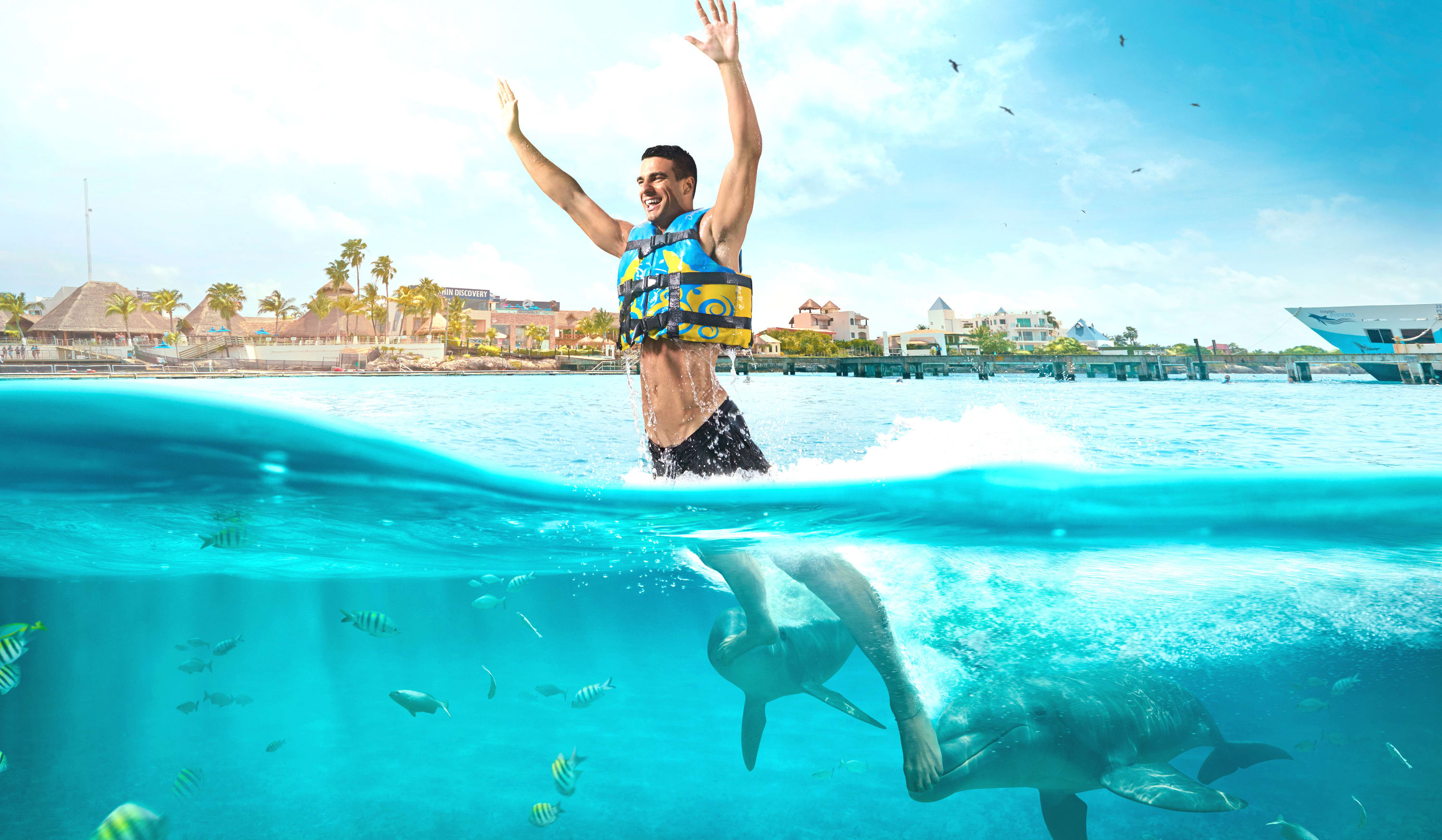 Start off your Cancun vacation with what's sure to be one of your favorite memories from the entire trip – Swimming with Dolphins at the gorgeous Isla Mujeres.
Spend some time in the water with a friendly dolphin, and watch them play and dance. Then, you'll also get to swim with sea lions and manatees, too, for quite the VIP experience.
After your one-in-a-lifetime swim with not one but three different amazing marine mammals, you'll want to relax. Head to the lounge eat and drink to your heart's content. What a first day!
Day 2Stop #1: 90-minute Surf Lesson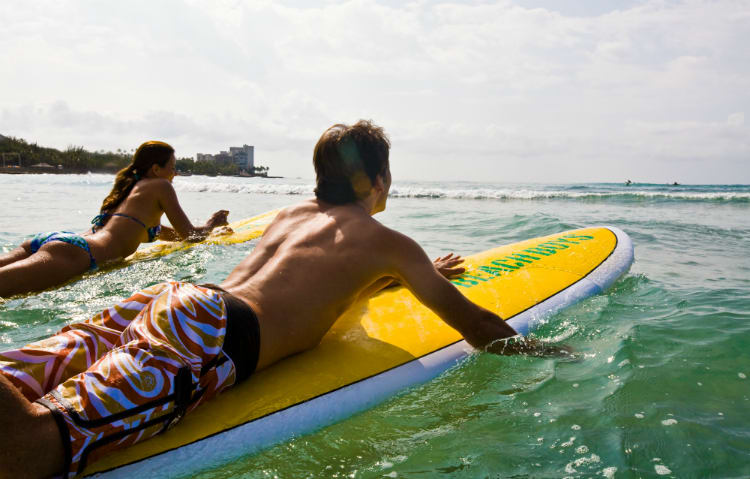 Spend some time working on your bucket list with this 90-minute Surf Lesson from 360 Surf School. Staffed by trained professional surf instructors, this is the best place in Cancun to learn how to enjoy Mexico's favorite water sport.
Begin with some on-beach training, then head to the waves to practice your newfound skills. Trainers will be on-hand in the water the whole time to help you out, too! Don't forget to take advantage of their local knowledge, either – your trainers are a great insider resource for learning about the best places to dine, etc.
Stop #2: Cancun Wax Museum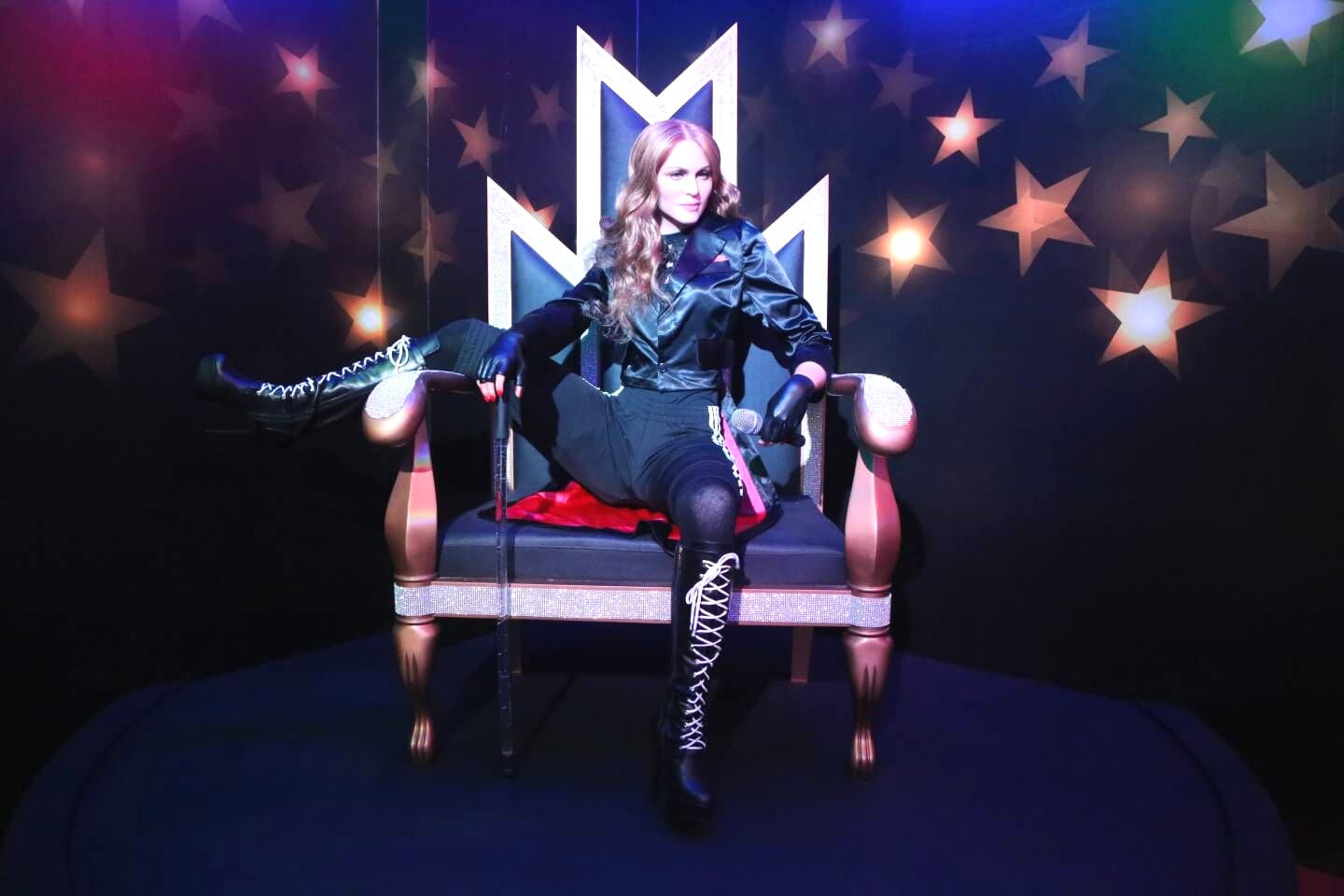 Next, you'll want to take some time to enjoy a little bit of Mexican culture with the visit to the Cancun Wax Museum. With more than 1,000 life-like wax creations, this fascinating institution is a great place to see the people who most inspire Mexico.
These inspirational people hail from around the world, too, including everyone from Barack Obama to Queen Elizabeth to Amy Winehouse. We recommend reserving between 1 and 2 hours for this attraction.
Stop #3: FlowRider at Aquaworld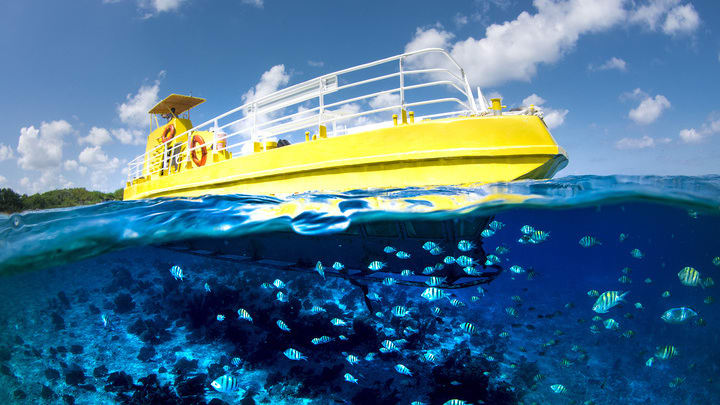 For families with smaller children, the FlowRider at Aquaworld is a smart alternative to the in-ocean surfing opportunity. This attraction provides an hour of uninterrupted time in a controlled environment with artificially-generated waves. It's a great chance to learn to body surf or board, and provides the opportunity for practicing advanced moves, too. Plus, the bottom of the pool has a trampoline-like composition so falls will be virtually pain-free!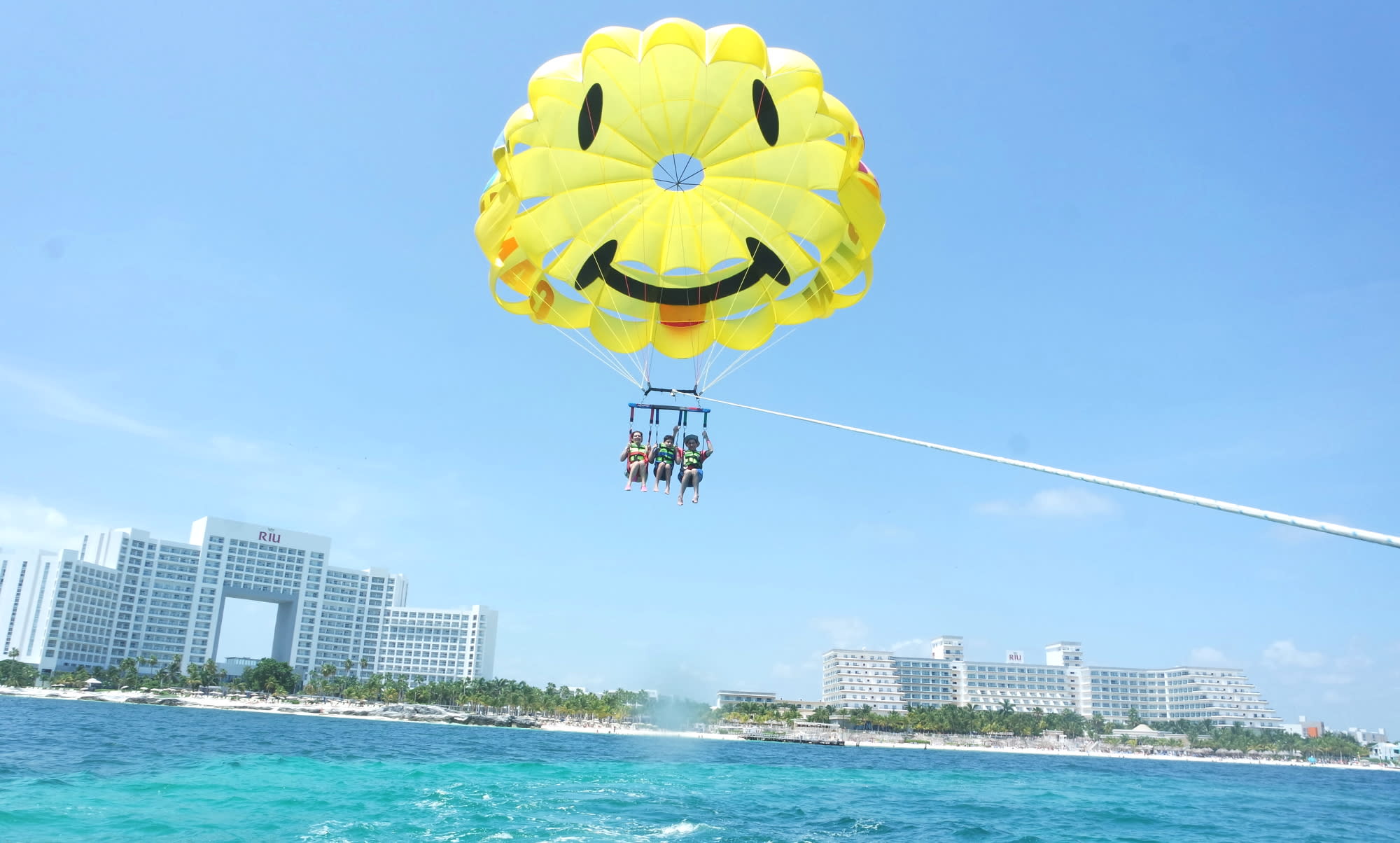 For those looking for a little more of a thrill-ride, hop aboard a Parasailing Adventure and take to the skies to enjoy this wonderful tropical paradise from above. You''ll be strapped in for take off on this awesome parachute ride for 12 minutes of sky-time.
You'll also be provided with a walkie talkie so that you can communicate with the team onboard – choose how high or low you go as you glide along!
Day 3Stop #1: Luxury Catamaran Sailing Tour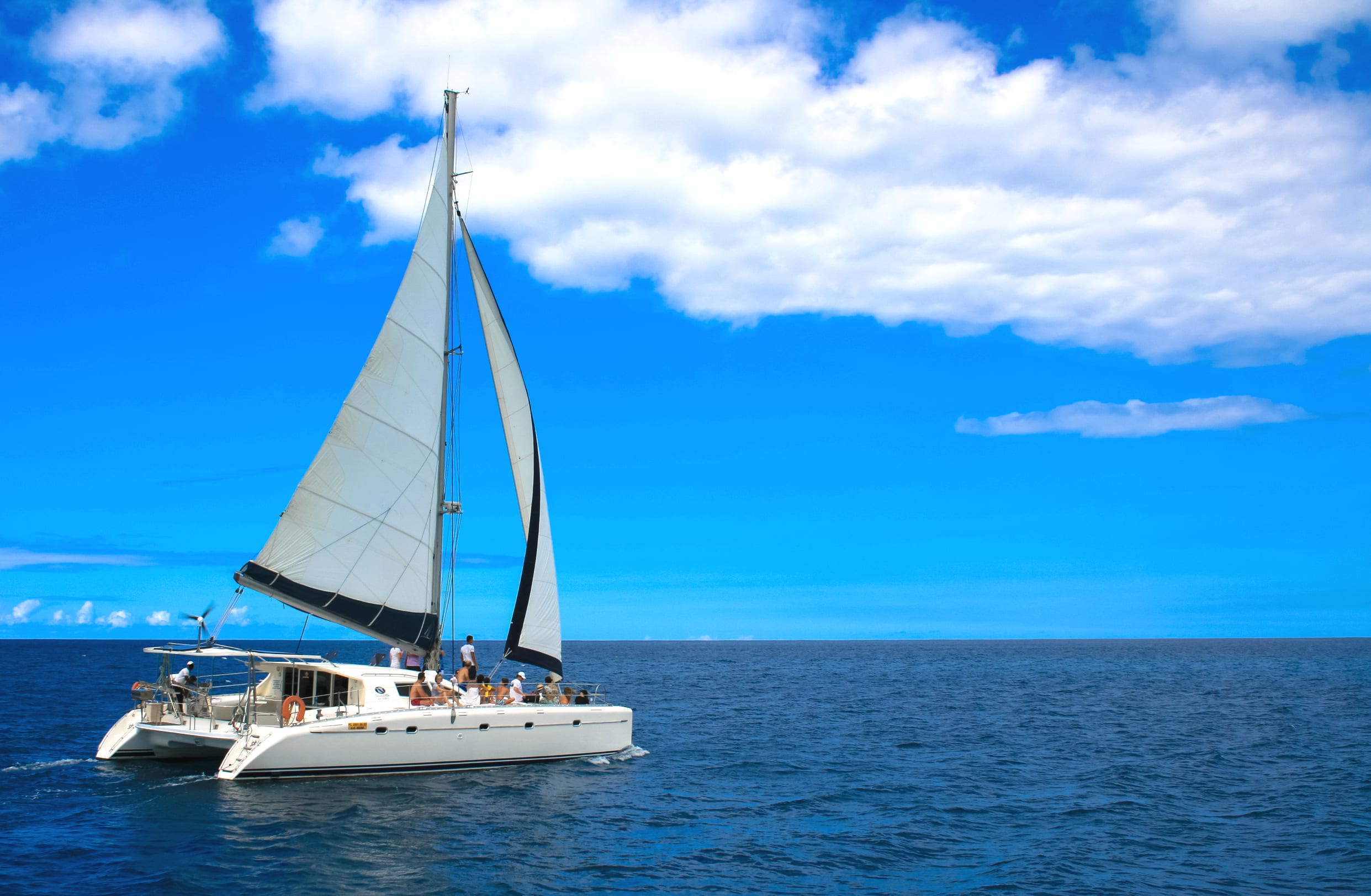 Spend your final day in Cancun on an amazing adventure that combines a little bit of just about everything into one unforgettable experience. Sail out to the beautiful Isla Mujeres on a luxe catamaran, spend an hour or two snorkeling the El Farito reef, explore Isla Mujeres' downtown area, enjoy your included buffet lunch and exclusive drink special, and then sail back to Cancun.
It's a special experience that ends the trip on a high note. This excursion will keep you busy until around dinnertime.
Stop #2: Drinks at Fred's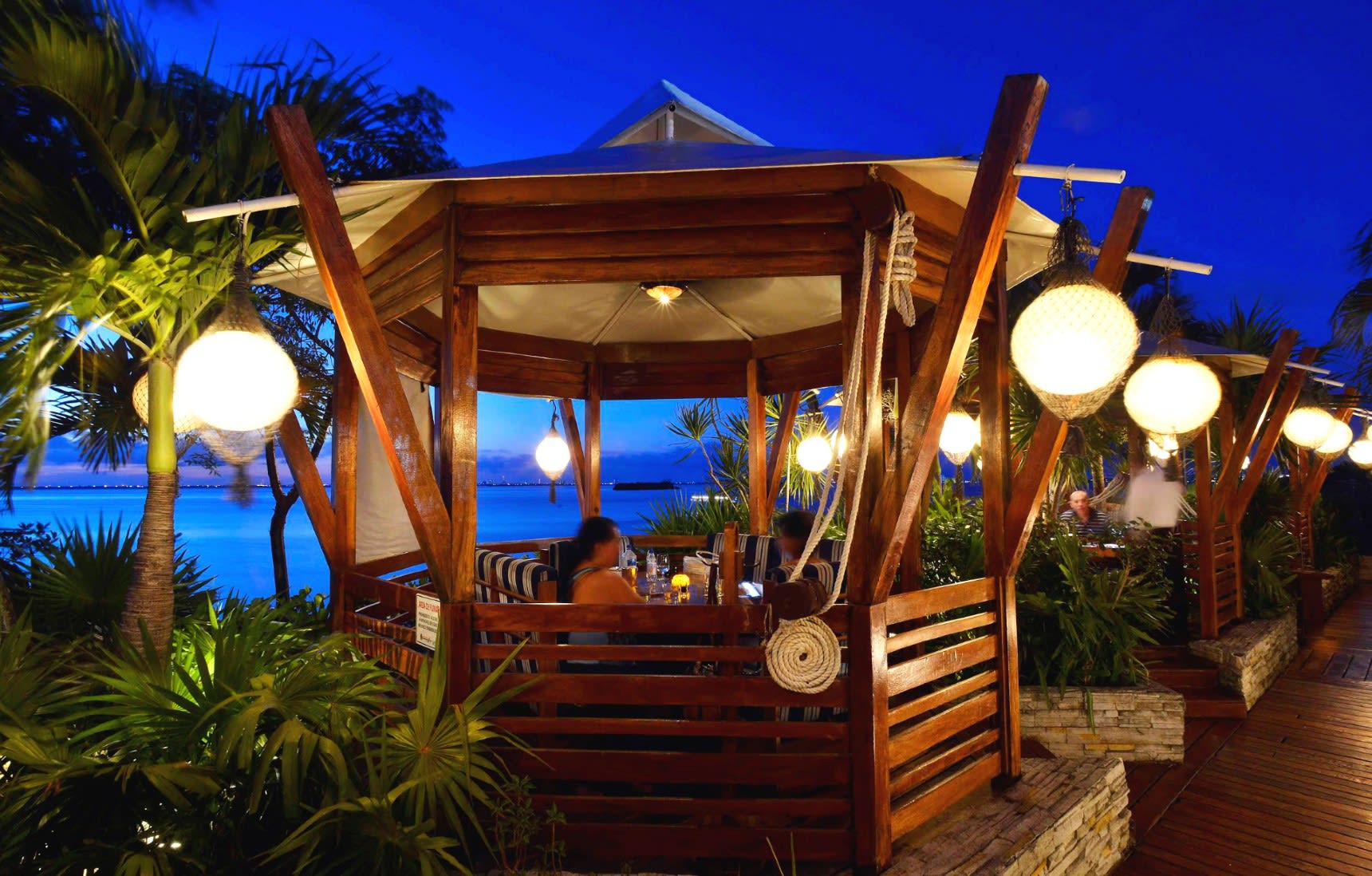 But wait, one last thing! If you've got any energy left after your day-long excursion to Isla Mujeres, head to Fred's House! This modern American seafood restaurant and oyster bar offers plenty of delicious cocktails, cold beers, chilled wines, and more. With a pass from Go City, you can enjoy drinks at Fred's with $20 towards drinks, and head home happy!

Save on Attraction Admission
So these are a few suggestions for how to most fully enjoy your three days in Cancun. Experience the best of swimming, sunbathing, surfing, and sailing that this tropical wonderland has to offer, and combine that with a little bit of culture, and you've got one fantastic vacation.
If you want to pay less for your fun in the sun, pick up a pass for Cancun with Go City and save on combined admission vs. paying at the gate. This itinerary calls for a 3-Day pass, which can help you make huge savings on admission fees for these and other exciting attractions in Cancun.