Seasonal travel
Tips and advice
Lee Dales
The Best Time to Visit Las Vegas
Las Vegas is a playground of pure indulgence, combining the glitz and glamour of its world-famous strip with a striking desert location. Scorching summers and bright springs make it perfect for those seeking a slice of sunshine, while its megabrand luxury resorts and bold stage shows draw in visitors all year round, even during its cooler winter months. The best time to visit Las Vegas is therefore anytime, but choosing your ideal month of travel will largely depend on your tolerance of high temperatures and your love of crowds.
Shoulder seasons: The best time of the year to visit Las Vegas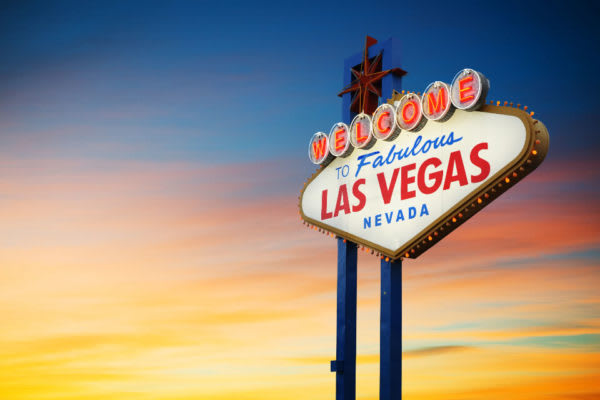 The spring and fall shoulder seasons offer ideal climatic conditions for active Las Vegas sightseeing thanks to comfortable temperatures and low amounts of rainfall. Expect mild average temperatures hovering in the 70s and high 80s over the spring months of April to May, and soothing temperatures in the 80s and 90s as the summer heat fades between September and October. March and November are also great months to visit, but expect cooler temperatures and pack plenty of layers to keep you warm when the sun goes down. These spring and autumn months also receive fewer visitors than usual, so great accommodation deals can be found.
High Season in Las Vegas
Be prepared for a surge in Sin City visitor numbers from late November to February, as crowds flock to Vegas for their winter holiday escapades. New Year's Eve is a very hectic time, so book your flights and hotel reservations way ahead of your visit if you want to take in the city's legendary NYE parties. This isn't the best time for sun-worshippers though, as average temperatures drop to under 130C.
Las Vegas Summers
Las Vegas summer weather is scintillating thanks to the city's hot subtropical climate. Lying amid America's bone-dry Mojave Desert, and just a few hours away from Death Valley, one of the hottest places on earth, it's no surprise that city temperatures can sizzle above 100 °F from June to August. This is fine if you want to stay in the confines of your air-conditioned hotel, but less so if you want to explore the city's sights or surrounding desert attractions. These months are also popular with families and crowds, despite the increased chance of summer rainstorms, so expect higher hotel rates and competition for space at the city's ritzy resorts.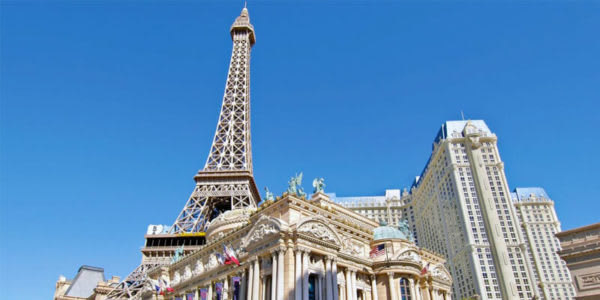 Las Vegas; A Month-by-Month Guide
This detailed month-to-month guide will help you select your own best time to visit Las Vegas. From the height of the city's winter party period to the city's sunny spring days, every month is covered with unique recommendations of what to see and do while you're there.
January: Fireworks, stage shows and Cirque du Soleil
February: Touring the city's striking hotels
March: A walk around the historic Freemont Street
April: A trip to the Death Valley National Park
May: Hiking through the Grand Canyon
June: A jaunt to Joshua Tree
July: Pool parties and poolside lounging
August: A Grand Canyon helicopter tour
September: Riding the Vegas rollercoasters
October: Halloween parties and the Valley of Fire
November: Las Vegas museums
December: Stage shows and fine dining
January
January is one of the coldest months in Las Vegas, with an average temperature of 90C. There's also a 15% chance of rainfall, making this month one of the wetter months of the year to visit. But most travelers are only here at this time for the city's electrifying party and show scene. Welcome in the New Year in style at one of the city's spectacular fireworks displays, which fire up when the clock strikes 1 second past midnight on New Year's Day at many of the Strip's famous hotels. These sparkling pleasure palaces are also the perfect places to take refuge when the winter weather bites thanks to their amazing restaurants, bookable spas and must-see stage shows. The award-winning Cirque Du Soleil shows at The Mirage and New York, New York hotels are some of the city's most visually impressive.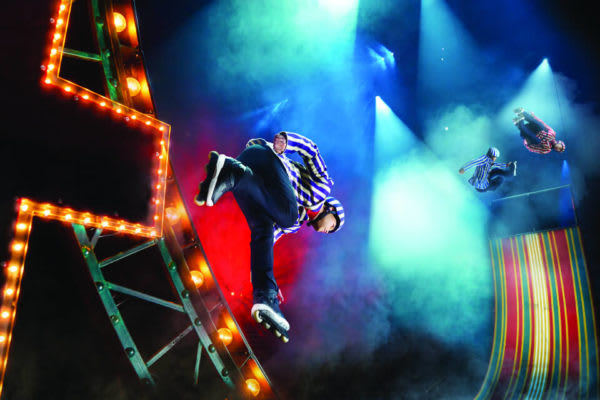 Average Temperature: 90C Average Rainfall: 13mm Average Sunshine Hours: 8 hours
February
Temperatures start to warm up in February, with highs of 170C, but some rainy days are likely, and you'll still want to pack plenty of clothing options to defend yourself against the remaining winter chills. Avid sightseers can explore the city's key attractions in greater comfort by opting for a city sightseeing bus tour or using the handy Las Vegas Monorail, which runs the entire four-mile length of the city's world-renowned strip. With trains running every 4-8 minutes and stopping off at the Strip's most iconic establishments, it's a great way to take in key Las Vegas sights while dodging the winter weather. The Venetian hotel, with its replica gondolas and canals, and the giant Luxor hotel complete with its own Egyptian Sphinx and Pyramid, are two truly jaw-dropping must-sees. Good to know: The Go Las Vegas pass includes a free hop-on-hop-off city bus pass, as well as access to the Las Vegas Monorail. Average Temperature: 120C Average Rainfall: 11mm Average Sunshine Hours: 9 hours
March
March is a great time to visit Las Vegas as temperatures start to increase in the run-up to spring, and the winter crowds have cleared. Daylight Savings Time also kicks in towards the end of this month, meaning longer days and later sunsets, but average temperatures hover around the low to mid-teens, so you'll still need to wrap up well if you want to explore the city. Take advantage of the drop in visitor numbers with a fascinating walk around the city's historic heart. The corner of Fremont Street and Main Street is where it all began in 1905, as the first settlers officially established the city of Las Vegas. Make sure you grab a picture by the famous neon Cowboy and the glittering Golden Nugget hotel for extra vintage style points. Take me there: The Go Las Vegas pass includes access to a Fremont Street walking tour that takes in all of the district's brightest and best sights.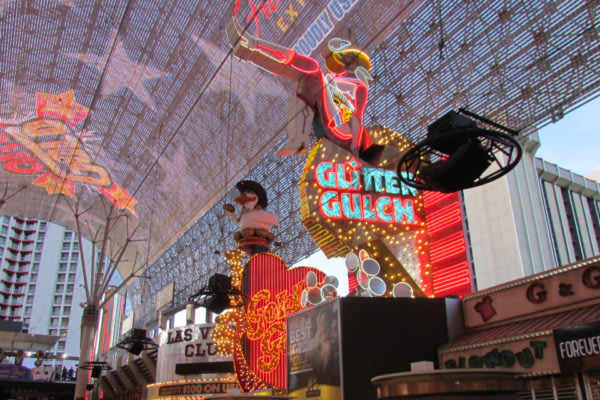 Average Temperature: 140C Average Rainfall: 10mm Average Sunshine Hours: 10 hours
April
April days deliver sensational weather in Las Vegas, with 12 hours of sunshine and clear, bright skies. Moderate average temperatures in the low to mid-20s make this a perfect month for city sightseeing or heading outside of town to take in the region's stunning natural attractions. Experience the rugged beauty of the Red Rock Canyon on the city's outskirts with its entrancing burnt-red rocks or hire a car and drive a few hours west of the city to the epic Death Valley National Park for mesmerizing views in a moon-like landscape. This unique desert valley in eastern California is the driest place in North America, where the hottest temperature in the world was recorded in 1913 (134°F, or 57°C). Thankfully, average temperatures peak at a blisteringly balmy 32°C in April, making it a much more sensible time to see this world wonder.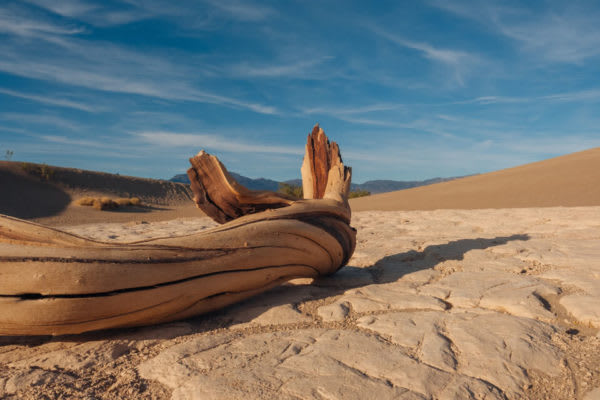 Average Temperature: 190C Average Rainfall: 5mm Average Sunshine Hours: 12 hours
May
May is another magical time to travel to Las Vegas, with average temperatures climbing to a comforting 250C, and rainfall levels dropping to their lowest levels all year. Those in need of some rest and relaxation should head to the swish resorts of the Strip at this time, where poolside sunbathing is almost obligatory thanks to the dreamy weather. But thrill-seeking types should head further afield for an unmissable adventure of a lifetime at the Grand Canyon National Park, accessible by day trip from the city center. Hikers can meander down breathtaking trails that weave their way from the top of the Canyon's edge and down to the Colorado River below, while photographers can head to several famed viewpoints around the Canyon's rim to snap a sunset showdown that they'll never forget. Expect a spell-binding spectrum of pink, orange, red and purple hues as the sun melts against the ancient rusty rocks. Get me there: The Go Las Vegas pass includes a full-day Grand Canyon tour with stops at Route 66 and the Grand Canyon caverns.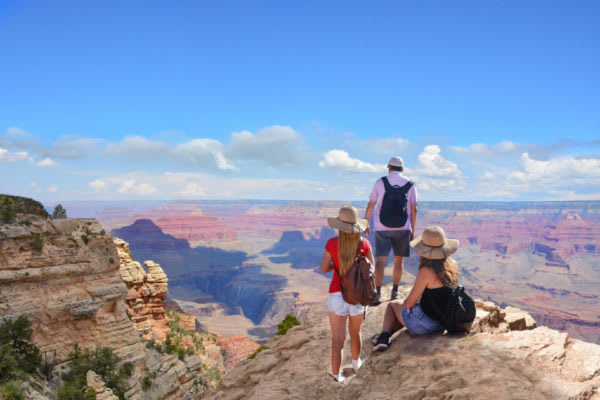 Average Temperature: 250C Average Rainfall: 5mm Average Sunshine Hours: 13 hours
June
Summer has officially arrived in Las Vegas in June, with average temperatures floating around 300C, and only 2mm of precipitation falling on average across 3 days of the month. Skies should be blissfully blue and cloudless at this time, so make sure to cover up with plenty of sunscreen, and stay in the shade during the intense midday sun, which can sometimes soar to highs of 380C. It makes sense to take things slow in the heat, so opt for relaxed activities in the resorts or head to one of the city's many air-conditioned museums for an engaging break. The Mob Museum is a great choice, where you can learn all about the city's notorious legacy as the one-time home of organized Italian-mafia crime. If you think you can still handle the hot temperatures, then don't neglect the city's gorgeous surroundings, like the other-worldly Joshua Tree National Park, just three hour's drive from the city. Think sculptural rocks, strange spiked trees and surreal sunsets that will take your breath away. With sweltering summer temperatures in full force, you may just have the place all to yourself. Good to know: Entry to the Mob Museum is included with the Go Las Vegas pass.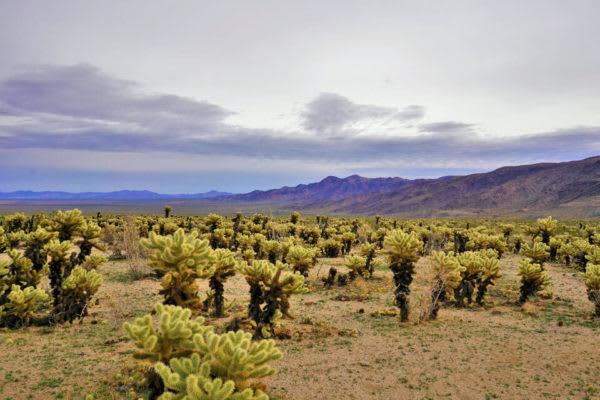 July
July is the hottest month in Las Vegas, with 13 hours of daily sunshine and average temperatures skyrocketing to 33.50C. On some days, temperatures can reach highs of over 400C, so this isn't a great time to travel around outside for long periods due to the risk of sunburn and heatstroke. Drink plenty of fluids, stay in the shade when the sun peaks in the mid-afternoons, and leave outdoor sightseeing to early mornings or evenings, when the sun is at its weakest. Even better, simply stay by the poolside all day to beat the heat at one of the striking resorts along the Strip. The 11-acre aquatic playground at Mandalay Bay resembles a tropical paradise with its very own sandy beach and poolside palms, while the Caesars Palace Fortuna Pool looks like an ancient temple with its Roman columns and decorative god statutes, arranged around a complex of seven heaven-like pools. Pool parties are also offered around the city, giving you the chance to relax at different poolside locations, often with VIP cocktails and drinks offers included. This really is a super fun way to keep your cool when the Las Vegas desert heat rages. Average Temperature: 340C Average Rainfall: 11mm Average Sunshine Hours: 13 hours
August
August is the second hottest month of the year in Las Vegas, as average temperatures escalate to 330C, with recorded highs peaking to 390C. Staying indoors is a smart idea if you are particularly sensitive to the heat. The risk of rainfall is also at its highest during this time, with rainstorms likely across 6 days of the month. This is a good time to venture into the city's kaleidoscopic casinos, which are always sheltered from the heat thanks to constant air-conditioning. The razzle-dazzle Flamingo Casino built in 1946 is a fantastic vintage option, full of old-world charm, while the modern Bellagio and Paris Las Vegas casinos will astound you with their outlandish architecture. Adventure-seekers can cool down instead by opting for a heart-racing helicopter ride above the Grand Canyon, featuring once-in-a-lifetime birds-eye-views of this immense natural icon.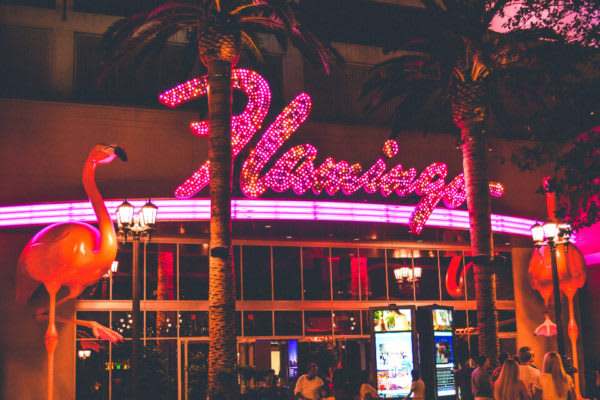 Average Temperature: 330C Average Rainfall: 14mm Average Sunshine Hours: 13 hours
September
Intense summer temperatures start to drop in September as the summer draws into autumn. Expect higher temperatures in the low 30s at the start of the month and lows of around 190C towards the end. These hot to warm conditions offer the perfect excuse for travelers to sample some of the city's head-spinning rides. Rapidly cool yourself down by opting for an adrenaline-fuelled whizz on the rollercoaster of the New York, New York Hotel for example, or spin in the air above the city at the Stratosphere Hotel's aptly named 'Insanity' ride, which sits on top of this gigantic sky-scraper and spins passengers around at top speeds while they hang 64-feet over the edge of the tower. It must be one of the quickest ways to catch your breath when the desert heat is making you sweat. Other more sedate options include a ride on a giant observation wheel, where you can witness panoramic views of Las Vegas from 550 feet above ground, or a trip above the city on a 122 foot-tall zipline, which lets you glide across the Vegas skyline at speeds of up to 35mph. Forget turning on the air-con when multiple theme-park rides are at your fingertips all across the city. Get me in: Free entry to a range of Las Vegas rides is included with the Go Las Vegas pass. Average Temperature: 270C Average Rainfall: 8mm Average Sunshine Hours: 12 hours
October
The Las Vegas desert heat mellows considerably in October, with the average temperature dropping to a mild 210C. Action along the Las Vegas strip starts to slow down to a more comfortable pace as summer holiday-makers vacate the city, and great hotel deals can often be found as demand drops. But bear in mind that some of the city's outdoor pools may close towards the end of the month as the winter temperatures creep in. This moderate month is a good time to venture into the usually red-hot landscapes that surround Las Vegas, like the Valley of Fire State Park, with its crimson-colored rock formations. Cooler temperatures mean that you can hike around in the midday heat without worrying too much about the possibility of heat exhaustion. This month is also a great time to scare yourself stupid at the buzzing Halloween events and parties that pop-up all around the city, from the Fright Fest party at Fremont Street to a tour of the Haunted Shark Reef at the Mandalay Bay hotel.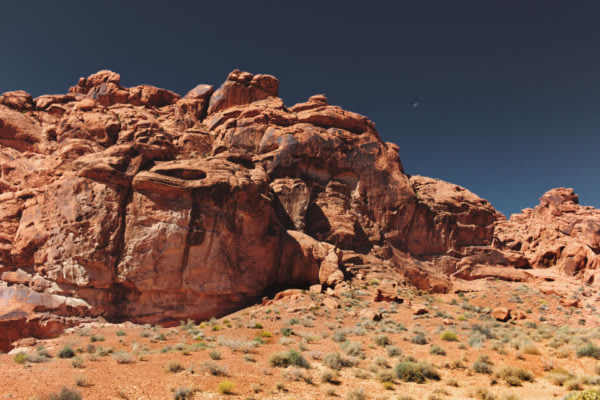 Average Temperature: 210C Average Rainfall: 6mm Average Sunshine Hours: 10 hours
November
November heralds in the Las Vegas winter, as the average temperature plummets to a cool 130C. But some warmer days can still be experienced in early weeks of the month. Make sure you come prepared with lots of layers and warm clothes, which you'll need as soon as the sun goes down. Some night-time temperatures can drop as low as 60C, so avoid this month if you want a side of sub-tropical temperatures with your vacation. The fresh conditions mean that days by the outdoor pool are no longer a viable option, so seek alternative entertainment at the city's magical museums before the winter holiday crowds descend on the city. Learn about the history of the city's gleaming signage at the Neon Museum or view over 100 vehicles that have made Hollywood history at the Hollywood Cars Museum, which features flashy James Bond sports cars and the infamous Batmobile. You'll also be able to browse the dazzling personal artifacts and over-the-top cars of Liberace, a true Las Vegas legend who lit up the Las Vegas stage scene with his extravagant shows until his death in 1986. Get me in: Entry to a wide range of city museums is included with the Go Las Vegas pass. Average Temperature: 130C Average Rainfall: 11mm Average Sunshine Hours: 9 hours
December
As the coldest month of the year, with an average temperature of only 80C, it won't surprise you to learn that December is not a great time to head to Las Vegas if you want to sunbathe in the desert heat. But this doesn't deter travelers who are looking to have a great time over the festive winter break. City accommodation can get fully booked during December as people look to celebrate their Christmas holidays with a dash of Las Vegas flamboyance. Embrace the excess of the city by booking yourself into a star-studded theatrical show at one of the 5-star hotels located along the Strip or explore a world of flavors at the city's impressive range of buffet restaurants. There's no better place to spend the festive season if you want a perfect mix of lavish luxury and star-filled fun. Take me there: The Go Las Vegas pass includes free entry to some of the city's most talked-about stage-shows.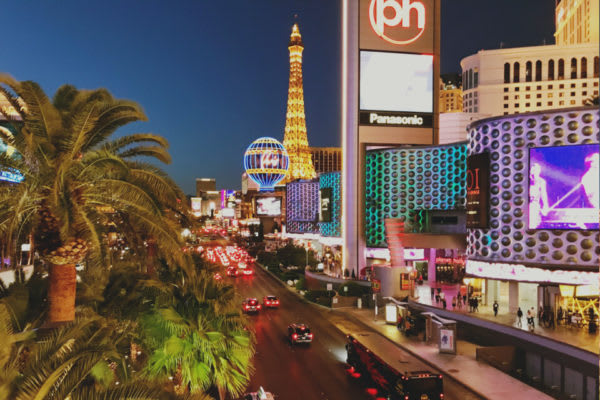 Average Temperature: 80C Average Rainfall: 8mm Average Sunshine Hours: 7 hours
Save on Admission to Top Las Vegas Attractions
Explore the best things to do in Las Vegas with the Go Las Vegas pass. Select from top attractions with our All-Inclusive, Explorer and Build-Your-Own passes, where you'll enjoy access to must-see Vegas shows, thrilling rides, exhilarating tours and much more.
Share Your Adventure with Us
Tag @GoCity or use the hashtag #GoCityPass in your vacation photos and we'll feature you on our page. Follow the Go City Instagram and Facebook channels for exclusive competitions, special offers and events to help you make the most from your travels.