Best Beaches in Miami
If you're looking for the best beaches in Miami, check out our picks and find the perfect place to get your sun, sand, and sea fix!
Including:
South Beach
Bal Harbour Beach
Mid-Beach
Sunny Isles Beach
Soho Beach House
and more!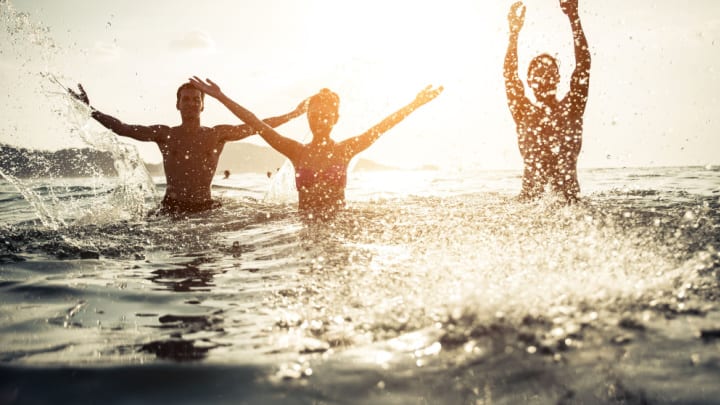 Can you swim in Miami beaches?
Yes, you can swim at any of Miami's beaches. Some may be cleaner than others, but you're free to frolic in any of them!
What month can you swim in Miami?
If you're hitting Miami's beach scene between April and October, you'll experience the warmest seas on offer, making it the perfect time to go for a dip. Even in the off-season, the further south you head, the warmer you'll find the water.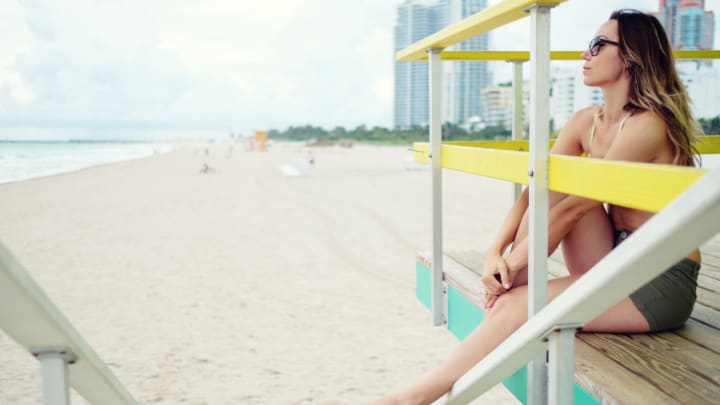 What beach do Miami locals go to?
Generally, South Beach is Miami's most popular beach for both tourists and locals alike. This is likely due to the sheer volume of hotels you'll find along the waterfront, coupled with the number of bars, clubs, and other hangouts that call it home.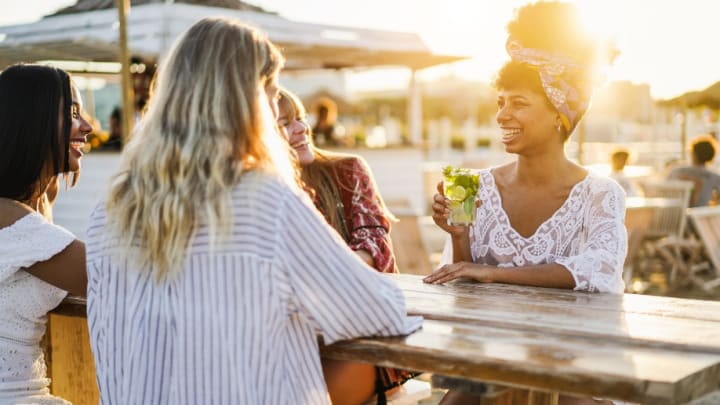 Best Beaches in Miami: South Beach
We couldn't start anywhere else, really. In the vibrant realm of South Beach, you'll discover an array of immaculately chiseled people, luxurious automobiles, daring swimsuits, and captivating Art Deco architecture.
This renowned two-mile expanse of pristine white sand constitutes Florida's most renowned beachfront. Additionally, this area encompasses Lummus Park, home to 18 volleyball courts and two open-air fitness facilities, making it the perfect beach for activity-seekers.
Beyond this bustling hub, locals often prefer the tranquility of the beachfront south of Fifth Street, away from the myriad hotels and tourists, where ample space remains for anyone seeking to lay down their beach towel.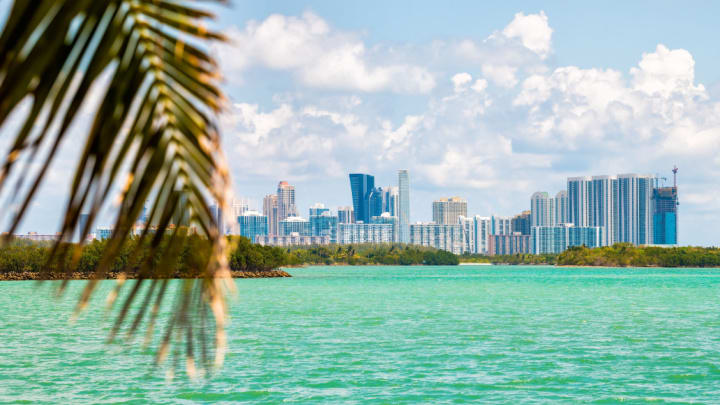 Best Beaches in Miami: Bal Harbour Beach
Bal Harbour is one of Miami's most upmarket neighborhoods, so you probably have some idea of what to expect from its accompanying beach: designer garb, expensive boats, and plenty of money being flashed about.
If you feel like your current attire makes you stand out like a sore thumb, fear not. Bal Harbour Mall is a hop, skip, and jump from the beachfront, where you can burn hundreds if not thousands of dollars on swimwear, sunglasses, and other accessories that'll help you fit right in. Is it worth it? Only you can be the judge of that!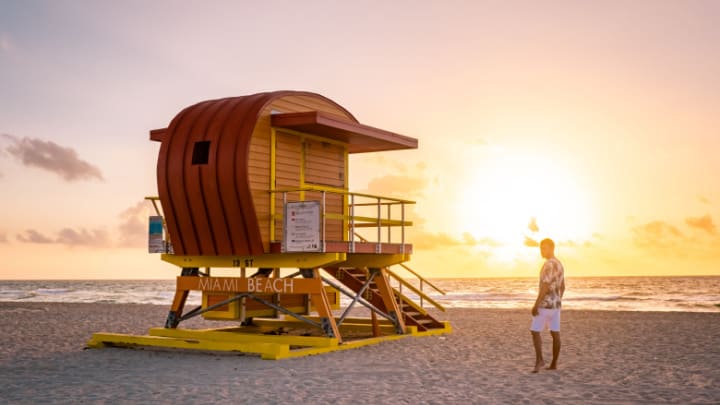 Best Beaches in Miami: Mid-Beach
Mid-Beach is the home of Miami's most chic and upscale hotels, attracting the city's fashionistas and more 'distinguished' travelers who want to avoid the crowds of South Beach.
As such, expect hefty displays of wealth, a largely international audience, and plenty of people spending their time at exclusive hotel beach clubs instead of the sand itself, meaning you should get a tanning spot rather easily.
Best Beaches in Miami: Bill Baggs Cape Florida State Park
At first, Bill Baggs Cape Florida State Park might seem a bit unassuming. However, look beneath the surface, and you'll find some of the best hiking trails in Miami. They'll take you along the nearby beach, through the park, and then emerge above the city, giving you some of the best views of Miami around.
Regularly receiving plaudits as one of America's best beaches, it's the perfect city respite for active couples or families looking to beat the crowds.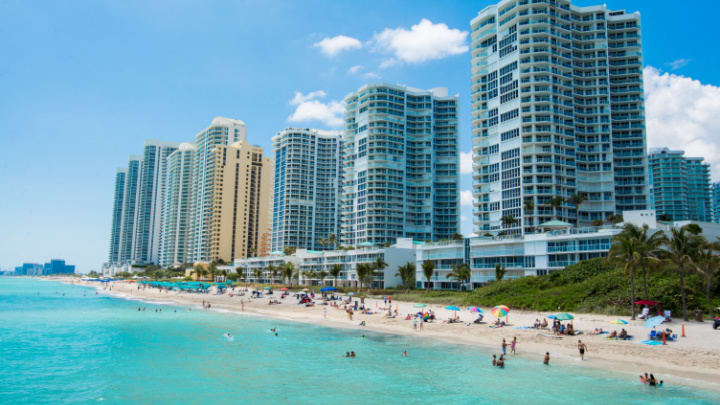 Best Beaches in Miami: Sunny Isles Beach
Bordered by serene, sapphire waters and offering respite from the bustling crowds, this two-mile stretch of Miami beach is the epitome of chill.
Here, you'll find predominantly residential condos of varying shapes and sizes, though the residents don't flood the sand like they do in South Beach.
As such, Sunny Isles Beach is far enough away from the busier beaches that it's ideal for families and couples who just want a beautiful beach without the White Claws and EDM.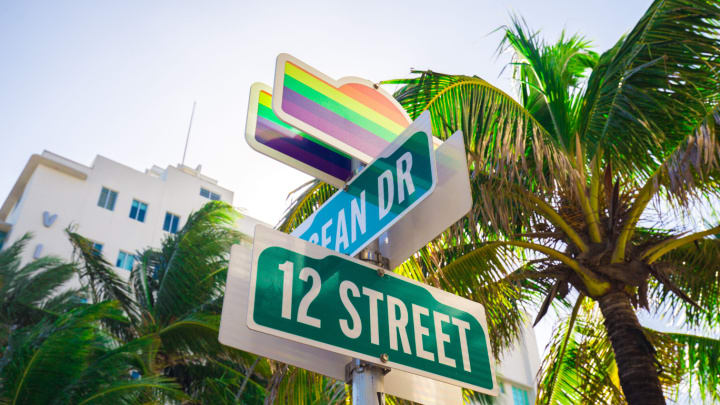 Best Beaches in Miami: 12th Street Beach
12th Street Beach is your one-stop destination for LGBTQ+ fun, as it's the destination for gay beach revelers. If you're looking for a party vibe, you'll get it at 12th Street Beach.
Bluetooth speakers, BBQs, and myriad six-packs supplement the fun, and after dark, the nearby Nathan's Beach Club comes to life with cocktails, smooth jams, and plenty of loungers.
If you're looking for a laid-back time, it's best to head somewhere else.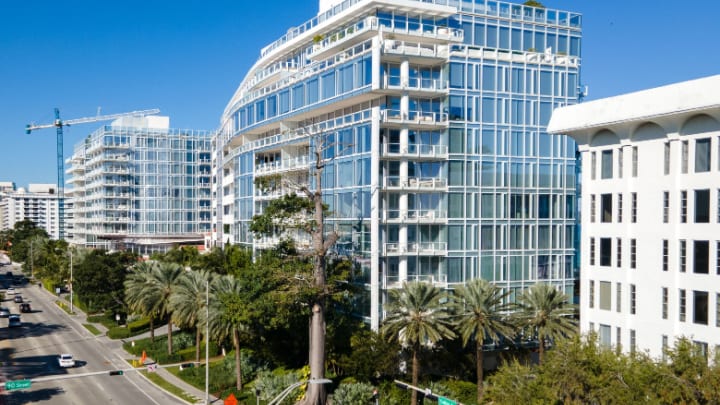 Best Beaches in Miami: Four Seasons Hotel at The Surf Club
Miami's Four Seasons Hotel has hosted some of the most recognizable faces of the 20th Century, having put up the likes of Elizabeth Taylor, Frank Sinatra, and Winston Churchill over the years. The hotel is a mainstay of the Miami skyline, but it's the location's Surf Club, which only opened a few years ago, which takes center stage on this list.
Found on the hotel's exclusive stretch of beach, it's a little slice of tropical paradise reserved for guests. Though, if you have the cash to splash, staying at the Four Seasons might be a treat in itself. The Surf Club is just the icing on the cake, allowing you that cocktail-sipping beach experience typically found in the Caribbean.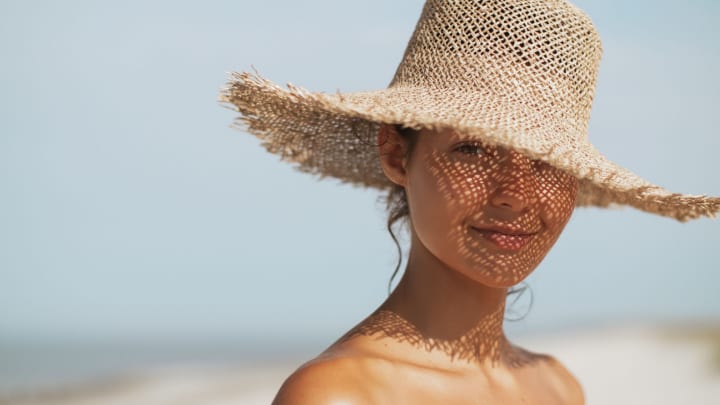 Best Beaches in Miami: Haulover Naturist Beach
If you're looking to let it all hang out in Miami, Haulover Naturist Beach is the one for you. And, as Florida's oldest official nudist beach, you'll be in good company.
It might not be the place to take the kids, unless you're alright with bits and bobs free from the prison of clothing.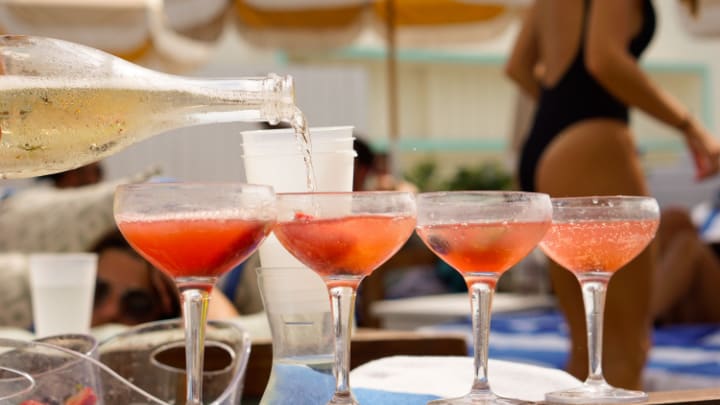 Best Beaches in Miami: Soho Beach House
If you've not heard of Soho House, it's a chain of exclusive 'resorts' found all over the world. Built for media personalities, it foregoes a dress code (and actively bans suits and ties) for a laid-back escape for people in and around show business to grab a drink, relax on a rooftop, and avoid the prying eyes of journos, and the macho bravado of finance bros.
Miami has its very own location called Soho Beach House, where you can grab a drink, a bite to eat and beat the crowds in its exclusive surroundings.
But don't worry; even if you're not a member, you get access if you stay over at Soho Beach House's hotel.
And those are our picks of the best beaches in Miami! If you're looking to see the best experiences that Miami has to offer during your stay, check out Go City! With our All-Inclusive Pass and Explorer Pass, you can see all of Miami's best bits for one low price!