Top 10+ Things to Do in Miami for First Time Visitors – Must See & Do Attractions
From the famous beaches, to top-rated night life, to popular attractions perfect for the whole family, Miami has it all. Relax on South Beach, explore Downtown lounges and restaurants, and get to know the artistic culture of Miami in the Wynwood District. If you're traveling to Miami for the first time and feel overwhelmed with options (we get it - there's a lot to do here!), then not to worry, we've put together the perfect guide of all the must-see and do attractions. Our top things to do in Miami include...
Hop On Hop Off Big Bus Miami
Miami Seaquarium
Biscayne Bay Sightseeing Cruise
South Beach Duck Tours
Zoo Miami
Jet Boat Miami
Jungle Island
Gray Line Miami Day Trip to Key West
Vicayza Museum and Gardens
Everglades Airboat Tour
Bike Rentals
and more!
Save on Admission to Top Things to Do in Miami
Many of these must-see attractions are available on the Go Miami Card. Choose as you go from dozens of popular Miami attractions and save up to 55% off combined admission vs. paying at the gate. See all available Miami passes, attractions, & prices – Learn more. Please keep in mind that some of the attractions listed in this post may be separately ticketed and not be currently included with the Go Miami Card.
1. Hop On Hop Off Big Bus Miami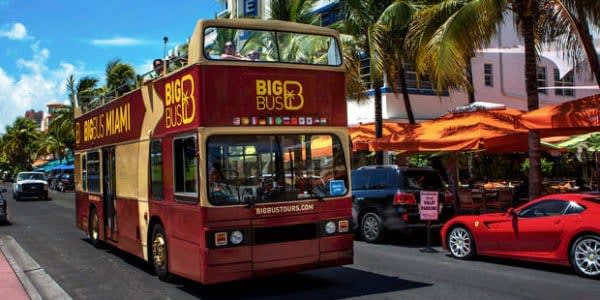 This is the best way to kick off your trip to Miami. It combines the need to get around with a fun and informative sightseeing tour. Aboard the double-decker, open-air bus you'll drive past and be able to hop on and off at many famous Miami spots. Pass Miami Seaquarium, South Beach, Jungle Island, and more all while listening to your charismatic tour guide provide a history of this beach town. Getting in: Hop On Hop Off Big Bus Miami 1-Day Tour tickets are included on Go Miami Card.
2. Miami Seaquarium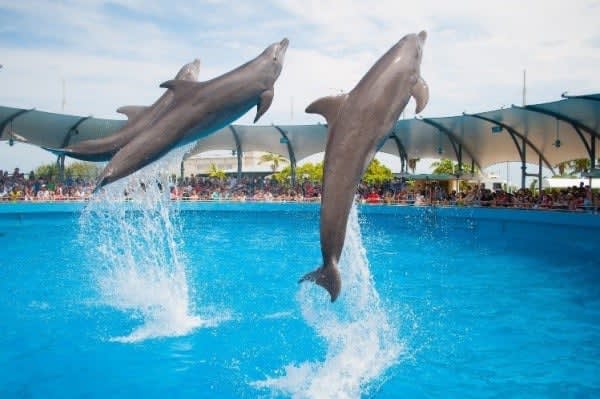 Image credit: Miami Seaquarium Facebook Page
The Miami Seaquarium is a great family attraction if you're planning to head down to Miami with the kids. This 38-acre paradise full of marine animals is right on the water and offers fantastic views of Biscayne Bay and beyond, which makes for a great backdrop as you explore the grounds. The aquarium's mission is to create a fun and interactive way to teach visitors about the best way to conserve and save our marine life. There are eight different animal performances, shows, and feedings throughout the day as well as ten different themed exhibition halls that showcase animals from around the world. Head to Penguin Island to see your favorite tuxedo-d creatures, dive under the water and see colorful fish and corals at Tropical Reef, and touch the back of a slimy stingray at the Stingray Tank.
Getting in
:
Miami Seaquarium tickets
are included on Go Miami Card.
3. Biscayne Bay Sightseeing Cruise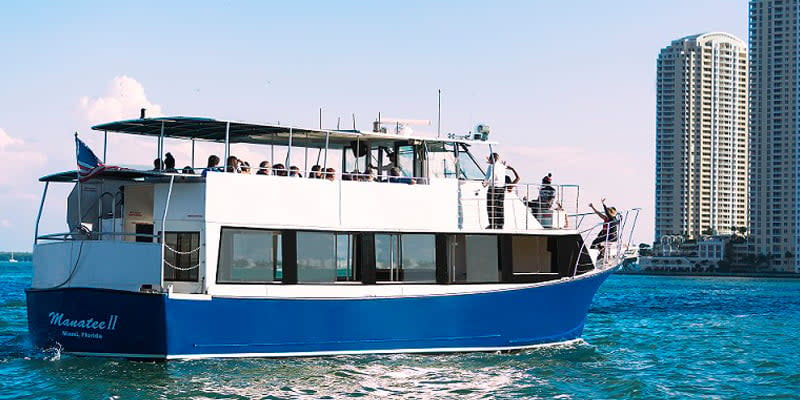 Take a relaxing cruise around Biscayne Bay and soak in the beautiful views of Miami's coastline. This 80-minute tour will take you around the coast and over to the Venetian Islands. You'll enjoy delicious food and drinks on board, listen to live music, and really chill out aboard one of the double-decker cruise ships. Your tour guide will narrate the entire trip as you pass homes of the rich and famous, iconic Miami landmarks, and picturesque beaches. Getting in: Biscayne Bay Sightseeing Cruise tickets are included on Go Miami Card.
4. Duck Tours South Beach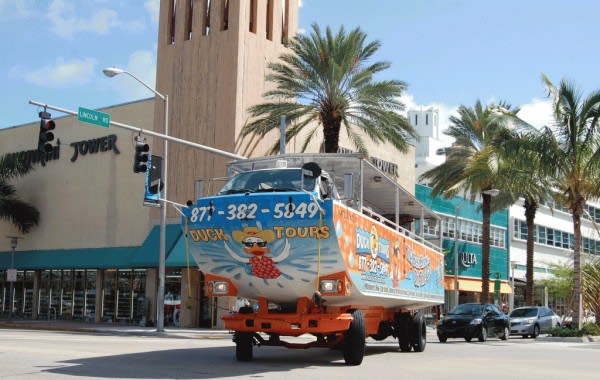 Image Credit: Duck Tours South Beach Facebook
Taking a Duck Tour around South Beach is an absolute must when visiting Miami. You'll experience the area by land and sea, which means you won't miss a thing! These amphibious vehicles will take you past the Art Deco District, Fisher Island, Millionaire's Row, Star Island, and much, much more. With each landmark you pass, your guide will provide a history and plenty of fun facts. You'll even have a chance to become part of the tour with interactive games and questions as you ride.
Getting in:
Duck Tours South Beach tickets
are included on Go Miami Card.
5. Zoo Miami
This is another great place to take the family while in Miami! Zoo Miami allows you to travel the entire world all in one place. The 340-acre compound is home to 3,000 animals, 1,200 plants and trees, and seven themed zones with animals from each continent. You can feed camels and giraffes, meet the keepers and listen to scheduled animal talks, and pet familiar farm animals at the petting zoo. Explore each zone and find your favorite animals, both big and small. Watch the elephants, lions, tigers, and jaguars roaming in their habitats. Don't miss the Florida: Mission Everglades exhibit, a habitat full of local animals from the marshlands and swamps across Florida. Come face-to-face with alligators, North American Black Bears, bobcats, and Bald Eagles. Getting in: Zoo Miami tickets included on Go Miami Card.
6. Jet Boat Miami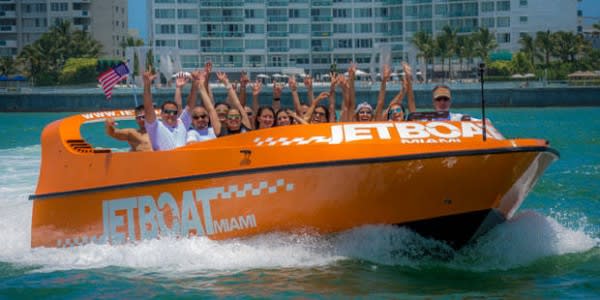 Need to cool down on a hot day? Try a Jet Boat ride around the waters of Miami. This ride will get your adrenaline pumping as you race across the sea at 45 mph doing twists, turns, and jumps over the waves. Even though you'll be moving at top speed for the most part, your expert operator will make sure to point out the famous sights along the coastline. Getting in: Jet Boat Miami tickets are included on Go Miami Card.
7. Jungle Island
After a hiatus for renovations, Jungle Island is back and better than ever before! This animal oasis has now expanded to become a hub of activities and attractions. The eco-adventure park still offers its famous animal encounters and experiences. Learn more about lemurs, sloths, birds, and more. You can even interact and get up close to them! One of the newest additions is the Neo Splash Water Park Pop Up, which is open from June until the end of September. The park boasts 60-foot water slides, wave pools, areas to relax and more. It's the perfect place to go after exploring all the animal exhibits under the sun. There is still much more to come at Jungle Island, too, so keep your eyes peeled. Getting in: Jungle Island tickets include Go Miami Card.
8. Gray Line Miami - Key West Day Trip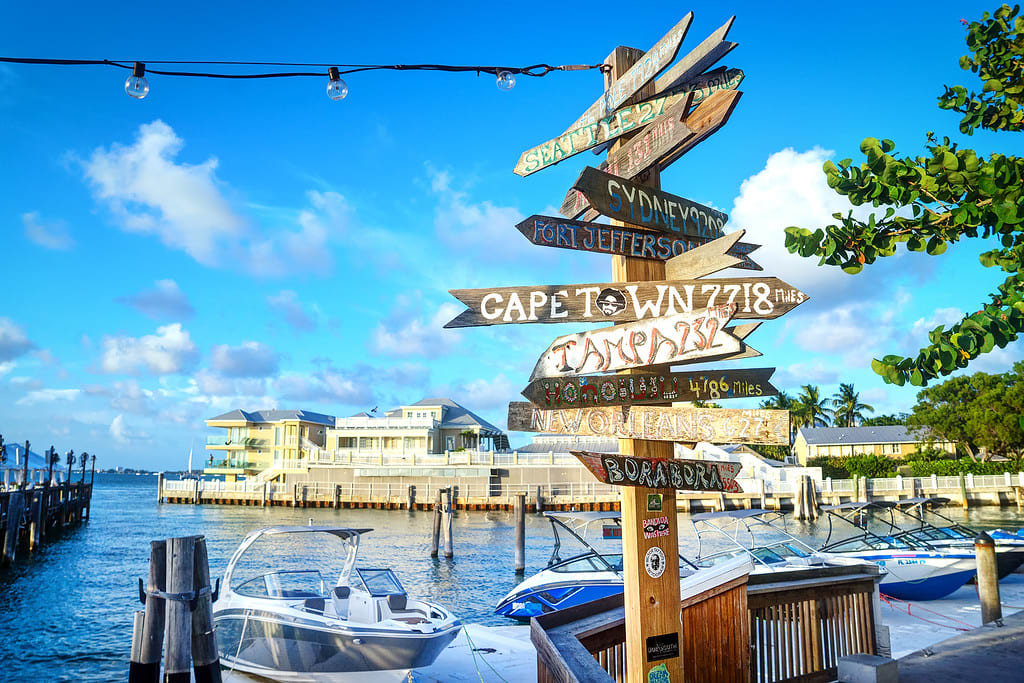 Photo via Expert Vagabond
You'll cross over 42 bridges and hop over 32 islands to get to Key West, the Southern Most Point in the U.S. It'll feel like you've been transported to a Caribbean paradise once you've arrived! You'll have the entire day to explore the island for yourself. Shop around the local boutiques, dine on delicious cuisine, appreciate the street art, and really immerse yourself in the culture of the Keys. You'll find that the Keys have a very relaxed and 'go with the flow' vibe. Whether you spend the day relaxing on the beach or choose to load up on activities, like kayaking or visiting the Hemingway House, you'll have a blast exploring the island for the day.
Getting in:
Gray Line Miami: Key West Day Trip tickets
are included on Go Miami Card.
9. Vizcaya Museum and Gardens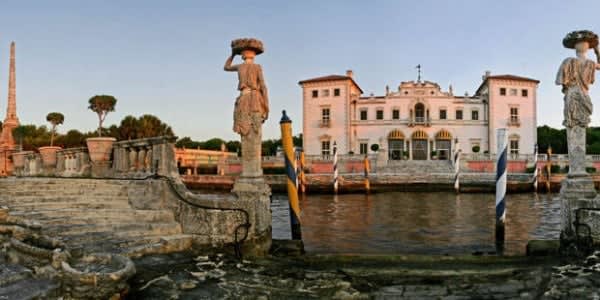 A visit to the Vizcaya Museum and Garden will arouse your cultural senses. With a lush tropical garden and a gorgeous mansion full of artifacts and unique art pieces, it's the perfect place for art-lovers and those in search of learning more about Miami's history. Peruse the museum and find vintage furniture, paintings from years and years ago, and beautiful homemade jewelry. Outside, a walk through the garden will provide unmatched views of Biscayne Bay and a great surrounding to sit down and relax for a bit. Getting in: Vizcaya Museum and Gardens tickets are included on Go Miami Card.
10. Everglades Airboat Tour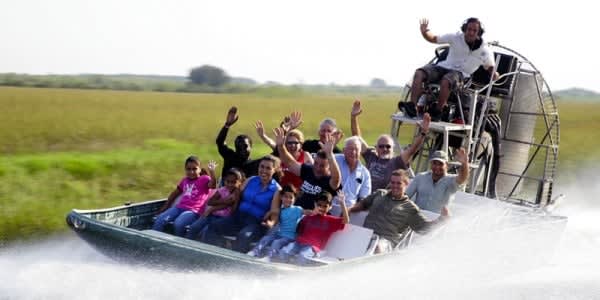 Discover the mystery of the marshlands in the Everglades of South Florida. Everglades Alligator Farm is the oldest alligator farm in Florida and is home to over 2,000 alligators. Zip through the tall grass over the marshlands and keep your eyes peeled for swamp creatures. You'll see several species of alligators, crocodiles, and snakes from aboard the airboat. Your tour guide will be sure to point them out and describe each species' unique characteristics. Getting in: Everglades Alligator Tour & Airboat Ride tickets are included on Go Miami Card.
11. Bike Rentals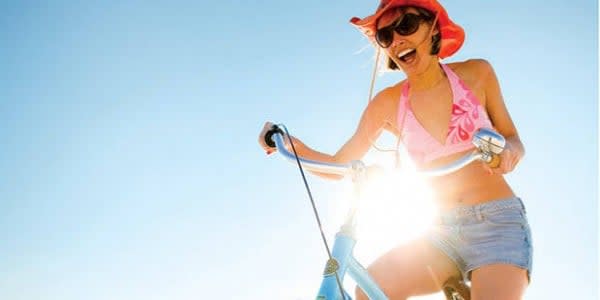 The best way to get out and take advantage of Miami's sunshine-y weather is to rent a bike. Over the past couple of years, the city has become very bike-friendly, with many bike-only lanes added to popular routes and main roads. So strap on your helmet and get to pedaling with a Bike and Roll Full Day Rental. Miami is yours to explore, so use their handy map to check off all the places you'd like to see. You can create your own route and get to all the spots on your bucket list by bike. The best part? You'll be outside enjoying the great weather and beautiful surroundings the whole time. Getting in: Bike and Roll - Full Day Bike Rental tickets are included on Go Miami Card.
12. Wynwood Art District
Photo via
Flickr
The Wynwood Art District is home to over 70 galleries, museums, and street art murals. It's considered to be one of the largest open-air street art installations in the world. The district was founded by Mark Coetzee, who had originally tested out this concept in his hometown of Capetown, South Africa. Miami is already an arts-y society as it is, so the Wynwood walls and art district fit in perfectly. Every second Saturday of the month, a public art walk is held where all of the galleries and collections open their doors and allow visitors in for free. If you'd like to take a guided tour of the Wynwood District and make sure you don't miss any of the major pieces, try the Cycle Party Wynwood Miami Insta Tour. Aboard the trolley cart, you'll drive past countless murals and your guide will tell you more about each one and the history of the art that calls the Wynwood District home.
Getting in:
Cycle Party Wynwood Miami Insta Tour tickets
are included on Go Miami Card.
13. South Beach
Photo via World Travel Guide
It's the neighborhood and beach that needs no introduction: famous South Beach. The South Beach area was the first to be developed back in 1910 and is still a hub of activity and sightseeing down in Miami. Here is where you'll find the best restaurants, pool clubs, boutiques, hotels, and nightclubs. There's always something going on in South Beach. And of course, the beach itself is something you can't skip. The bright blue waters and comfy lounge chairs make for a perfect place to kickback and relax on at least one of your days in Miami.
14. Art Deco District
Photo via
Flickr
The Miami Beach Architectural District, also known as the Art Deco District, is another great place for art and architecture lovers to go. Located right in South Beach, this area is most famously known for being the home of Italian fashion designer Gianni Versace's iconic Versace Mansion on Ocean Drive. It is also very well-known for it's old-fashioned looking buildings that light up in fluorescent neon colors come nighttime. With so much to see and do here, you might want to opt for a guided tour to guarantee you don't miss any of the action. Embark on the Official Walking Art Deco Walking Tour and learn more about the history of the area and its iconic buildings.
Getting in:
The Official Art Deco Walking Tour tickets
are included on Go Miami Card.
Let's Recap
There you have it – our must-see and must-do list of attractions and sights in Miami. Even if you can't add every single one of them into your itinerary, we hope this helped narrow down your choices! Remember, you can save up to 55% on admission to a number of these popular attractions and more with a Go Miami Card.