Best time to visit Paris
Paris has a wealth of world-renowned attractions to entice you at any time of the year. From iconic landmarks like the Arc de Triomphe to romantic architecture and amazing food and shopping. But some months are better than others depending on your particular interests. The city can fall victim to its fair share of rainfall and some months can be cold and grey. But don't let this put you off. We've pulled together the perfect guide to help you enjoy the city whenever you want to visit. Simply select your ideal month and enjoy....
Our month-by-month guide to the perfect Parisian break
January – fireworks and café crème to sensational shopping
February – Valentine's Day romance and Paris Fashion Week pizzazz
March – colorful carnivals and magical museums
April – hitting the markets of Montmartre and Notre Dame
May – jazz pizzazz and perfect parks
June – sublime summer rides and the Palace of Versailles
July – jump in the pool
August – café culture and the Belle Epoque
September – chic shopping and directional design
October – gastronomic delights
November – time for fine wines
December – the City of Light in lights at its brightest
January
Winter in Paris is certainly a cold one, with temperatures averaging around seven degrees, and some days hitting below zero. But there's a lot on offer to melt the chill from the get-go, starting as soon as the clock strikes 12 on January 1. The dazzling New Year's Eve fireworks display on the Champs-Élysées will fire you up with its electrifying colors as you witness the monumental Arc du Triomphe glow gold against a rainbow night sky. The city's decorative ancient streets are equally entrancing if you're lucky enough to catch them on a glitteringly frosty winter's day. Don't forget to pop inside one of the amazing boutiques in this world-class shopping city to grab yourself a bargain in the winter sales. Once you're weighed down with shopping bags, escape into the warmth of a cozy café and grab a delightful café crème and French pastry to soothe your winter soul.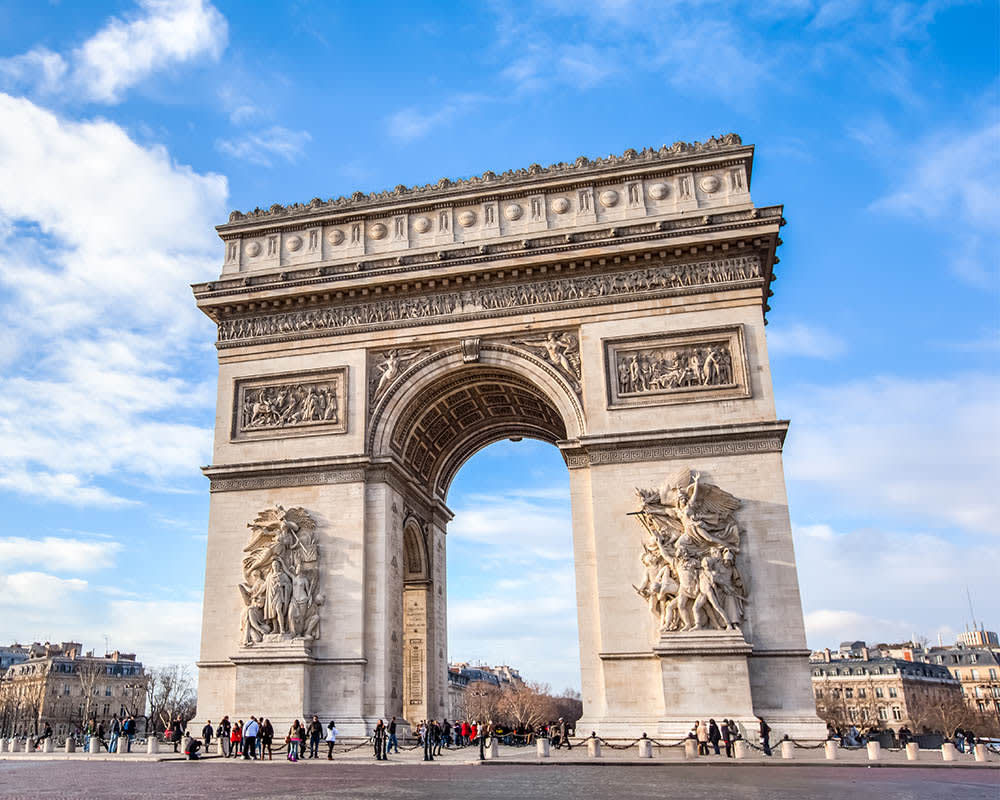 Average temperature: 4 degrees
Average rainfall: 14 days
Average sunshine hours: 1 hour
February
If you fancy a romantic or decadent escape in February in time for Valentine's Day, then Paris offers an intoxicating mix of tempting attractions. Why not drift down the city's World Heritage listed River Seine on a relaxing cruise, giving you the perfect opportunity to take in the city's most beautiful sights in peace. Experience panoramic views of key landmarks like the Notre Dame from a new perspective and stop off at sights that capture your interest most. Then make a beeline for a spot of indulgence at Paris's Gourmet Chocolate Museum, a definite must-see for every chocoholic. Sample cocoa delights while being told about the history of chocolate making to see how the dreamy treat is made. Fashion lovers will also rejoice at this time of year thanks to Paris Fashion Week, which hits the Parisian catwalks for its fall-winter shows, giving you the perfect excuse to waltz the stunning streets like you're a runway model yourself. Head to the city's iconic luxury fashion houses centered around Rue Cambon and Rue Royale to deck yourself out in style.
Getting in: show your Go Paris pass to gain free entry into the Gourmet Chocolate Museum.
Average temperature: 6 degrees
Average rainfall: 13 days
Average sunshine hours: 2 hours
March
The city still tends to have a chill in the air in March, and a mix of clouds and rain can spell trouble, but don't let this dampen your spirits. The kaleidoscopic Carnaval des Femmes or 'Washerwoman's Festival' is a vibrant visual treat that will undoubtedly brighten your day. Expect 4,000 fancy-dress enthusiasts descending on the city streets in colorful clothes, with music and dancing thrown in. But if full-on carnival drama isn't your thing, then you can also escape the dreary weather by heading to one of the city's many magical museums. Why not head to the epic Musee de Louvre with its amazing collection of over 35,000 pieces of art, including Leonardo Da Vinci's famous Mona Lisa, or the magnificent Palais Garnier Opera House, a truly opulent Beaux-Arts building featuring a spell-binding seven-tonne crystal chandelier. A trip to the Dalí' Museum will also fill you with wonder thanks to its picture-perfect exhibits of his surrealist masterpieces.
Average temperature: 9 degrees
Average rainfall: 14 days
Average sunshine hours: 2 hours
April
Spring is finally in the air by April, making it the ideal time to get out and about in the city's most captivating neighborhoods. Montmartre is a great one to explore, with its charming village-like atmosphere. This serene but bustling place was the hub of creativity during the city's Belle Époque in the 18th Century when world-renowned artists like Monet and Picasso flocked to the neighborhood to live the beautiful life. Today this beauty can be witnessed in the district's cute cobblestone streets filled with colorful buildings, chic dining venues and tempting food options. Taking a guided walking tour of the district is the ideal way to experience all of its splendor. The Go Paris pass entitles you to a great one where you can see the striking sights while sampling fine cheeses and wines from local food artisans along the way – the perfect way to welcome in springtime.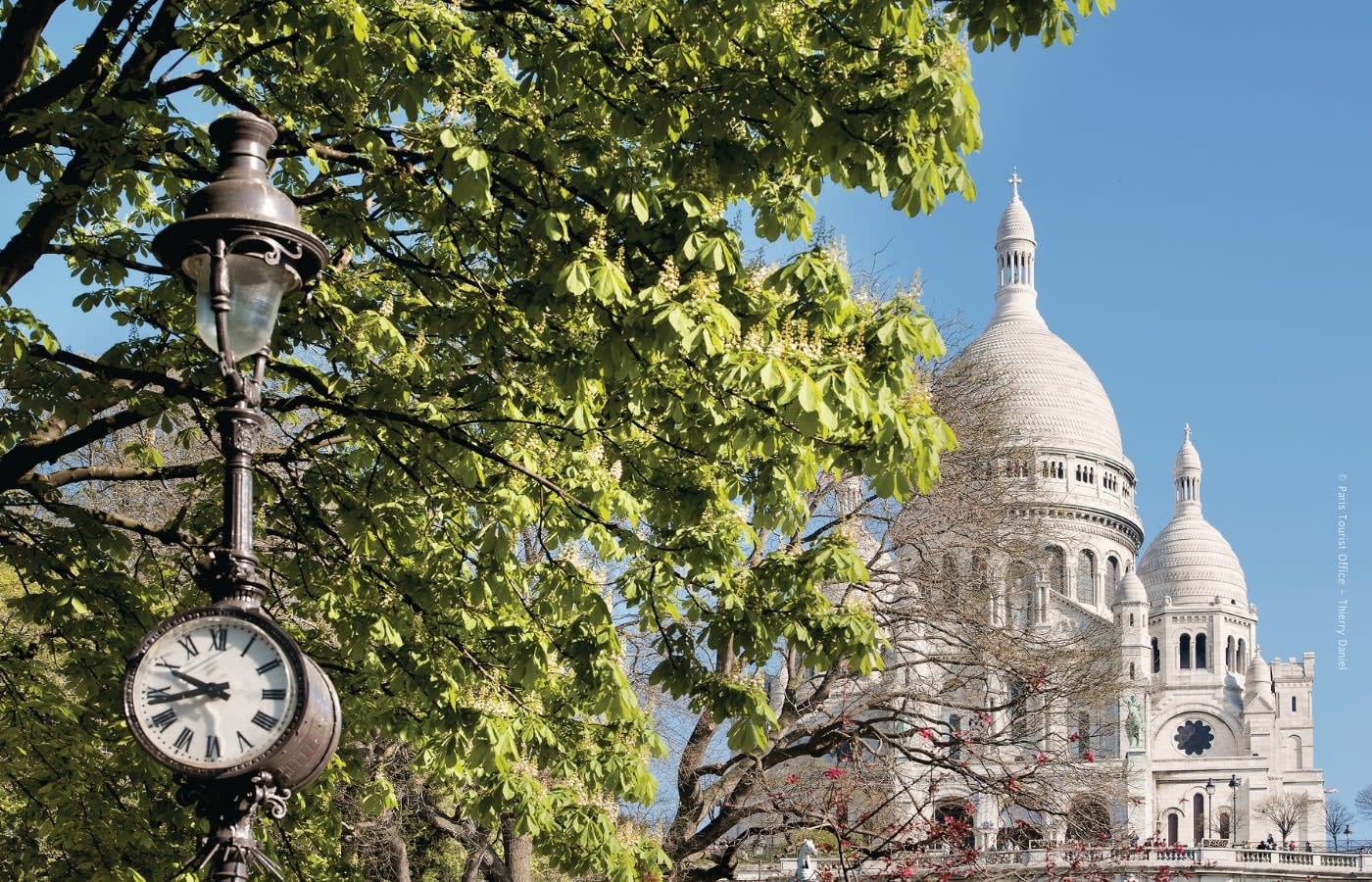 Average temperature: 11 degrees
Average rainfall: 14 days
Average sunshine hours: 5 hours
May
The average hours of sunshine in Paris start to ramp up in May, so embrace the outdoors with a walk around some of its most impressive parks, which should be in full bloom with spring flowers at this time. Jardins des Tuileries, between the Louvre and the Place de la Concorde, is a green and grand choice thanks to its tree-lined avenues lined with classical statues and sensational views of the museum, while Jardin de Plantes near the River Seine erupts into a sea of color saturation thanks to its exotic botanical garden and the presence of pink flamingos. Add to the bright and breezy springtime vibe by sampling an outdoor jazz session as part of the annual Jazz Festival of Saint-Germain-des-Prés.
Average temperature: 15 degrees
Average rainfall: 12 days
Average sunshine hours: 6 hours
June
Summer officially starts in June, with brighter skies and much less rainfall. This calls for a road trip around the city's top sights, and what better way to do this than in a quintessentially French Citroen 2CV. A Go Paris pass includes a super fun trip around Montmartre in these cars, giving you the chance to see one of the chicest parts of the city while gaining vintage style points in the process. June is also a great time to branch out a bit to sample some of the city's stunning surroundings. A trip to the breathtaking Palace of Versailles on the city's outskirts will undoubtedly leave you in awe as you stroll around intricately landscaped gardens while marveling at the stately architecture of this world-famous royal pleasure ground.
Average temperature: 16 degrees
Average rainfall: 11 days
Average sunshine hours: 6 hours
July
July is one of the hottest months of the year in Paris, so why not head to an outdoor pool if the heat is on, where you can sunbathe and swim as if you were lounging on a beach in the French Riviera. While local Parisians flock to the busy coastlines of the country at this time, the city's outdoor places and pools feel pleasantly calm and peaceful in their absence, leaving you free to relax in the sun without any distraction. Simply choose your pool and jump in. We recommend giving the Joséphine Baker Pool a whirl for its waterside River Seine views, or the Centre Aquatique de Neuilly-sur-Seine for its amazing facilities, which feature three pools, a spa, saunas, sunbathing areas and an obligatory poolside bar. Who needs Nice?
Average temperature: 20 degrees
Average rainfall: 11 days
Average sunshine hours: 8 hours
August
August temperatures can be blissfully balmy, so it really is the perfect month to take in as many amazing city sights as you can. First, create your own ultimate Paris bucket list depending on what interests you. Want to snap classic photos at world-famous landmarks? Then head straight to the Arc de Triomphe and Notre Dame. Art enthusiast? Then don't miss the striking Musée D'Orsay, a 19th-century mansion filled with palatial antiques and priceless artworks from the likes of Cézanne and Van Gogh. Or perhaps you want to chill with a picnic in picturesque surroundings? Then the gardens of the Trocadéro should suffice with their spectacular views of the Champs de Mars and Eiffel Tower. If you want to do it all while the sun is beating down, then a Go Paris hop-on, hop-off bus pass is your choice ticket.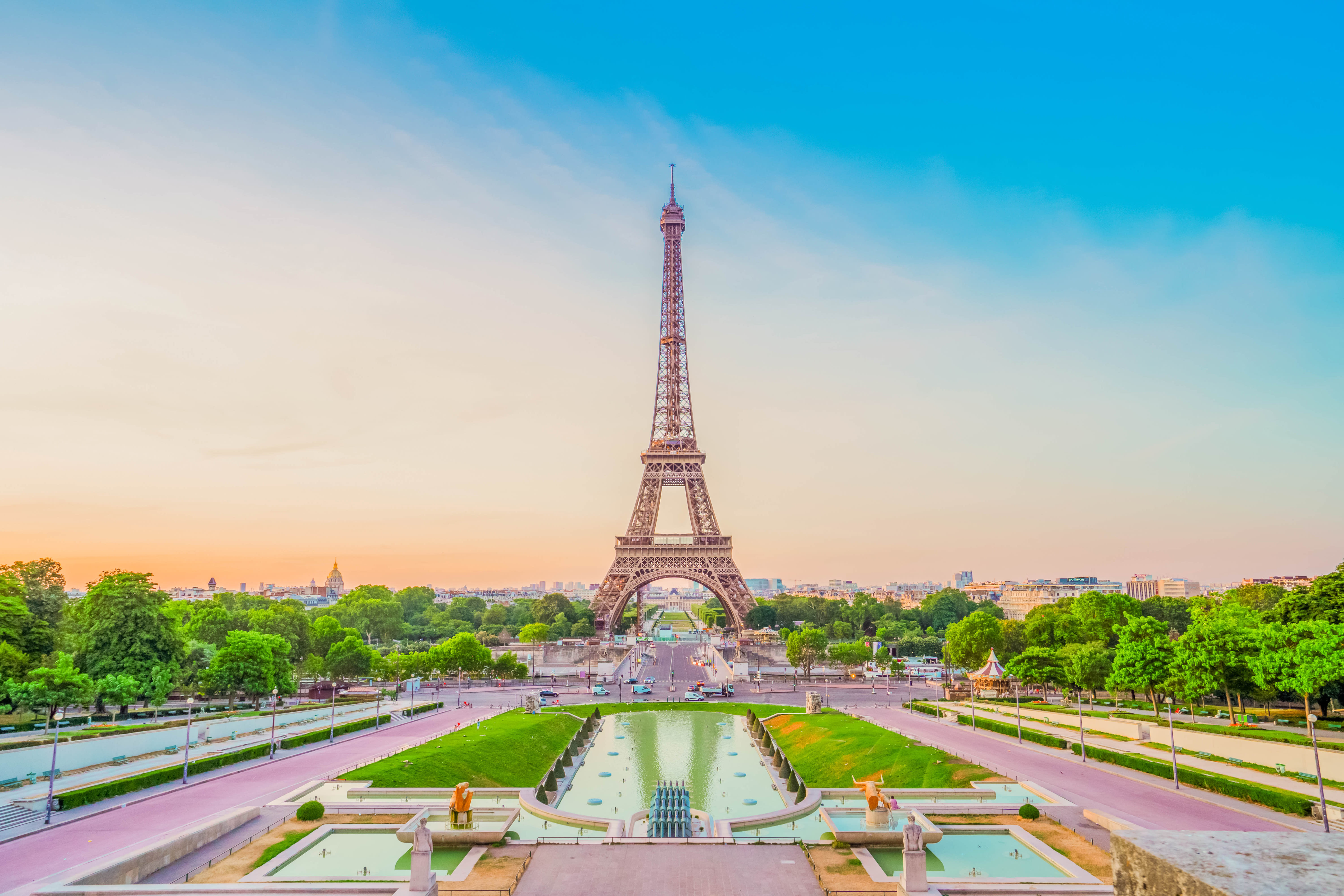 Average temperature: 20 degrees
Average rainfall: 10 days
Average sunshine hours: 8 hours
September
Make the most of the last days of summer in September by perusing Paris at a relaxed pace. Spend your days sipping coffee and delighting in the pleasures of French pastries and macarons at the many gorgeous open-terrace cafés that dot the city, or seek out tranquil hidden slices of Paris with a unique walking tour. A Paris attraction pass offers several, but one of the most intriguing is the walking tour through the city's covered passages, where you can discover eye-catching boutiques in gloriously designed arcades. Think patterned tiled floors, gracefully decorative storefronts and quirky architectural features everywhere you look. Another great option is the Bohemian walking tour that meanders through the ultra-hip districts of Saint-Germain and Saint-Michel, where the likes of Ernest Hemingway and Jim Morrison used to hang.
Average temperature: 16 degrees
Average rainfall: 11 days
Average sunshine hours: 8 hours
October
Autumn days see darker evenings and dropping temperatures, so give the city's endless gastronomic treats a try by spending lazy days hopping from farmer's markets to luxe restaurants in the city's world-leading dining scene. France dominates when it comes to Michelin-starred dining, having more restaurants of this type than any other country in the world, and Paris is home to a quarter of this, so if you want to splurge and dine like royalty, then this is the place to do it. But good food options are everywhere you look, so no need to splash the cash if you don't want to. Try out a delicious range of delicacies at the market stalls opposite Notre Dame Cathedral for example, or find subdued eateries serving avant-garde dishes in the Latin Quarter or Saint-Germain. You'll be totally spoilt for choice.
Average temperature: 12 degrees
Average rainfall: 13 days
Average sunshine Hours: 5 hours
November
You simply can't visit Paris without sampling some of the city's fine wines. During the Beaujolais Noveau Day on the third Thursday of November, you can do just this at a brilliant festival that celebrates France's annual grape harvest with music, fireworks and endless bouts of wine tasting. If you miss the day, then why not book yourself up for a cozy wine and cheese tasting session, where you can try the best cheeses and wines that France has to offer. Our passes include a tempting one at the Ô Château Wine Bar, where you can sample over 50 different wines by the glass while trying creamy French cheeses and charcuteries.
Get me there: this fabulous tasting session can be booked as part of your Go City Paris All-Inclusive or Explorer pass.
Average temperature: 7 degrees
Average rainfall: 15 days
Average sunshine hours: 2 hours
December
The final month of the year is a cold one, with average temperatures around 5 degrees. But don't let this put you off your trip. The City of Lights perhaps shines at its brightest during this festive time of year, when the city streets are dripping in psychedelic Christmas decorations. Get into the festive spirit by ice skating with a spectacular view at one of the dedicated ice rinks, set up in front of many key Parisian landmarks including the Eiffel Tower and the Grand Palais. Then head to one of the many atmospheric Christmas markets on offer across the city to indulge in the best festive fare, from mulled wine to roasted chestnuts and more. Happy holidays!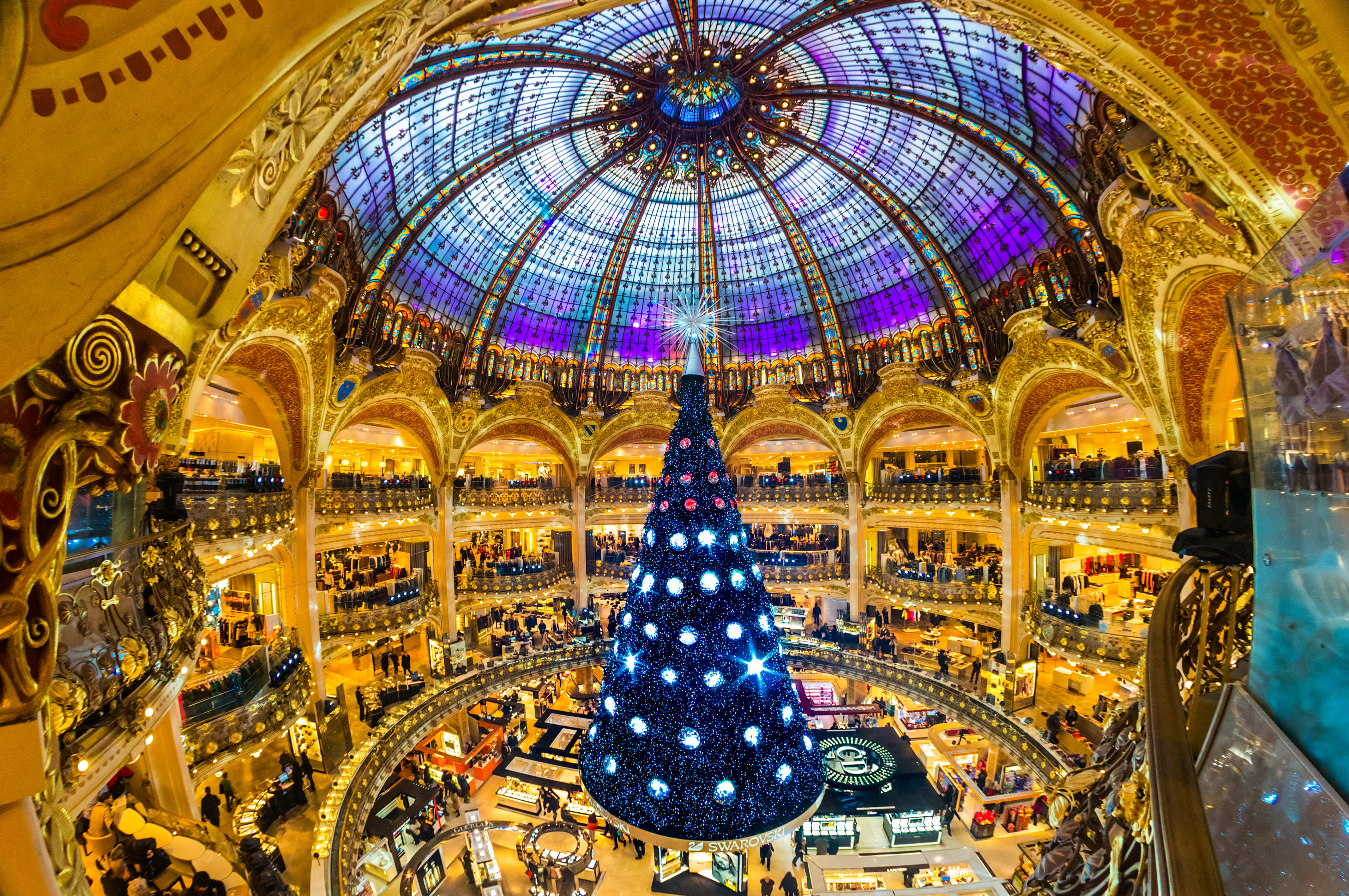 Average temperature: 5 degrees
Average rainfall: 15 days
Average sunshine hours: 2 hours
Save on admission to top Paris attractions
Explore a wealth of amazing things to do when you're in Paris with the Go Paris pass. Select from top attractions with our All-Inclusive and Explorer passes, where you'll enjoy access to must-see museums, exciting river cruises, fun tours, and much more.
Share Your Adventure with Us
Tag us at @GoCity on your travel photos to keep us up to date with your vacation!