Trip inspiration
Family friendly
Katie Sagal
San Antonio Memorial Day Weekend - 10+ Fun Things to Do in May
Spend a delightful Memorial Day Weekend in sunny San Antonio. This wonderful city is filled with plenty of outdoor activities that are just perfect to usher in the start of summer.
If you're looking for San Antonio Memorial Day Weekend ideas, check out some of these local activities and fun things to do in San Antonio in May, including...
Six Flags Fiesta Texas
SeaWorld® San Antonio
Rio San Antonio Cruise
San Antonio Zoo
Tower of Americas
Memorial Day Artisan River Walk Show
and more!
Six Flags Fiesta Texas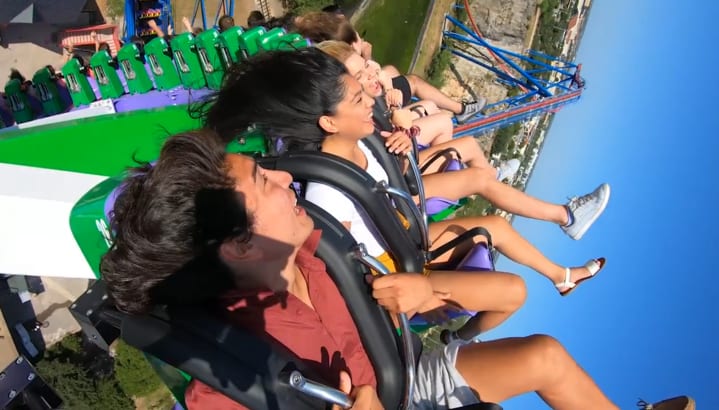 Filled with rides, slides, bumper cars, and more, Six Flags Fiesta Texas is your top theme park destination in the San Antonio area.
Divided into six themed areas – Los Festivales, Crackaxle Canyon, Spassburg, Rockville, Fiesta Bay Boardwalk, and KIDZOPOLIS – the park offers different styles of fun to suit every taste. Highlights of the park include BATMAN: The Ride, the iconic Bahama Blaster, and the terrifying Boomerang.
San Antonio Zoo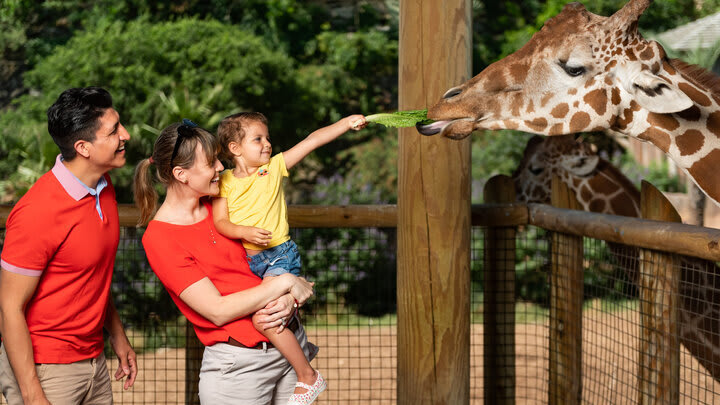 Another one for the animal lovers is the San Antonio Zoo Nestled in Brackenridge Park, it's a small but diverse zoo that houses many of your favorite critters from alligators to zebras. In fact, there are a fantastic 750 species that call the zoo home. A popular springtime / early summertime exhibit is the Butterfly Garden, where you can actually walk among hatching butterflies!
SeaWorld® San Antonio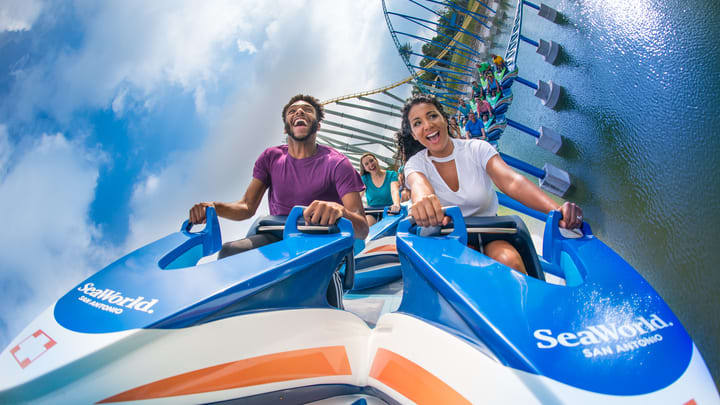 Come immerse yourself in the wonders of the sea at SeaWorld® San Antonio. Experience up-close sea life interactions and dive into the world beneath the waves. Enjoy awe-inspiring shows like the beautiful and powerful One Ocean®, featuring Shamu®, or laugh along at the comical Pets Ahoy, featuring locally rescued animals.
Don't miss one-of-a-kind attractions like Sesame Street® Bay of Play® and rides like the Great White® coaster. Or, have a nose-to-nose interaction with a dolphin and experience amazing underwater viewings at Discovery Point.
Texas Hill Country & LBJ Ranch Tour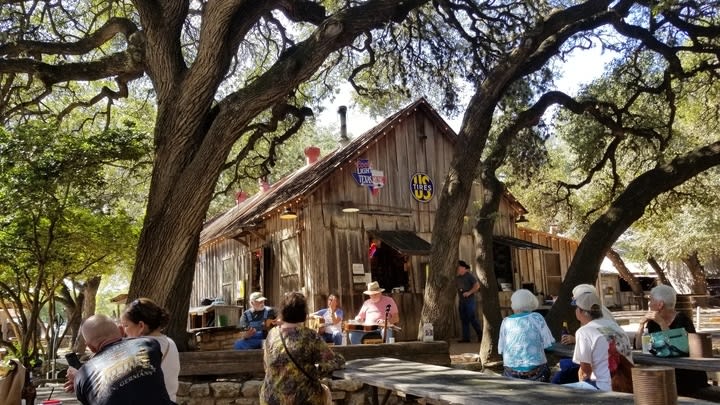 History buffs and nature fans alike will enjoy a chance to explore the lovely Texas Hill Country. Join up with a full-day excursion into the scenic Texas countryside, and learn all about the history and heritage of the iconic Texas cowboy.
Then, stop at Lyndon B. Johnson's childhood home, as well as the LBJ Ranch (aka the Texas White House), and find out more about the life of the 36th president.
Finally, explore the culture and history of the region further with a pause in the towns of Luckenbach (home of many musical greats) and Fredericksburg (where you'll find German culture galore).
Hop-on Hop-off San Antonio Bus Tour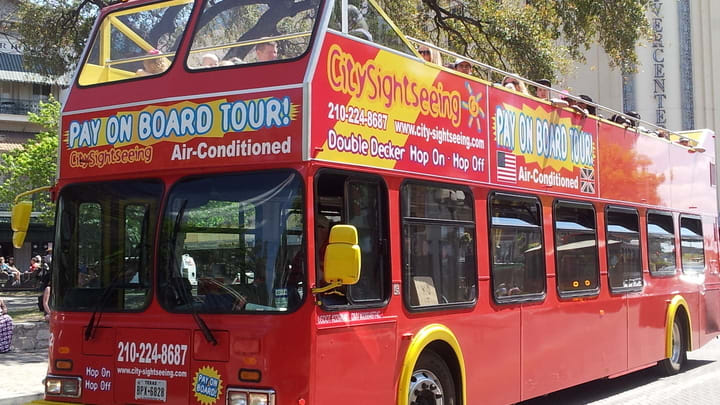 A thorough and thoroughly enjoyable tour is the Hop-on Hop-off San Antonio Bus Tour from City Sightseeing San Antonio. It's both flexible and fun, allowing you the freedom to disembark as you choose anywhere on their expansive route, from Northtown to Southtown.
If you stay on for the entire route, some of the top landmarks and sights you'll see include the iconic Alamo, Market Square, The Pearl Brewery, River Walk, King William Historic District, Yanaguana Garden, and more.
Rio San Antonio Cruise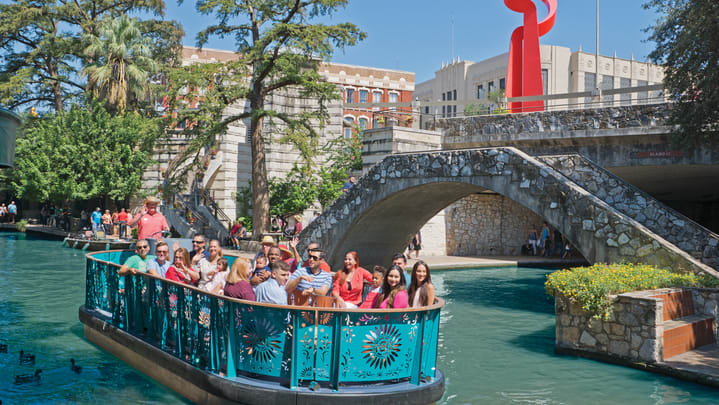 Given that the weather is pretty lovely this time of year, a river cruise just sounds like a perfect option. A Rio San Antonio Cruise allows you to explore the city from the comfort of your convenient tour vessel. You'll get excellent views of the River Walk neighborhood, which makes for some perfect photo opportunities. Just don't forget the sunblock!
Tower of the Americas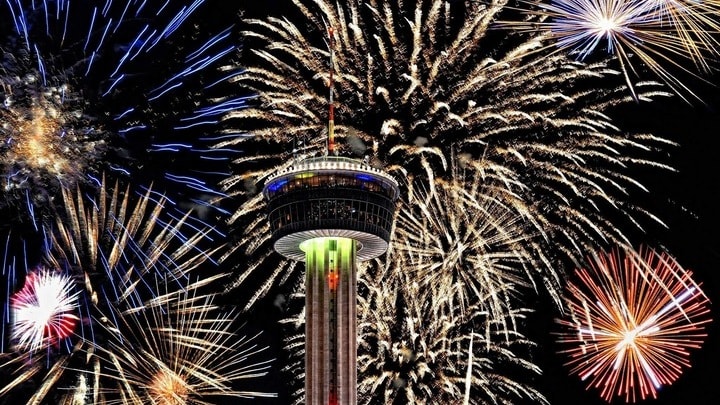 San Antonio's tallest building, the awesome Tower of the Americas, is an attraction in its own right, offering amazing panoramic views alongside exciting attractions. From the Flags Over Texas Observation Deck, you'll get 360-degree views of the city below and get to explore historic photographs that explore San Antonio's history.
Then, hop on the Skies Over Texas 4-D Theater Ride, an astonishing 4-D ride that simulates a helicopter tour of the city's top sites. When you're done, be sure to explore the Tower of Americas Plaza for more fun.
Fiesta Noche Del Rio
San Antonio's annual iconic cultural performance begins in June and runs through the end of August. Taking place at the Arneson River Theatre, visitors will be treated to beautiful sights and sounds that make San Antonio the great city it is. The Fiesta takes place every Friday and Saturday, so there are tons of chances for you to really experience San Antonio.
Memorial Day Artisan River Walk Show
If you're looking for that perfect souvenir or a unique work of art, then a visit to the Memorial Day Artisan River Walk Show is in order. Taking place typically over the final weekend of May, this show features dozens of artists and craft-makers set up along the River Walk displaying their wares. It varies day to day, but you should expect to find a wide variety of offerings from paintings and sculptures to jewelry and pottery.
Armed Forces River Parade
Get into the spirit of the Memorial Day season with the Armed Forces River Parade along the San Antonio River Walk. Dedicated to the men and women who have served and who continue to serve, this parade features patriotic floats and music. It's sure to be a festive atmosphere on the River Walk all day, too!

Save on Admission to Popular Attractions
There you go - plenty of fun ideas for things to do in San Antonio in May to help you plan your Memorial Day weekend itinerary. Regular admission to a number of these attractions are available with a pass by Go City.
Choose as you go from a bunch of San Antonio attractions and activities and make great savings on combined admission vs paying at the gate. Please note, some of these special May and Memorial Day weekend events may be separately ticketed and not included on the pass.