Las Vegas can be an incredibly romantic city, with many great activities that are perfect for couples to enjoy, whether it's for Valentine's Day or a special date night. While they are certainly options, it's not all about gaming or shopping – there's plenty more to appeal to a diversity of couples who may find Vegas an unexpected but delightful destination.
If you're looking for romantic things to do in Las Vegas for Valentine's Day, or maybe for just a romantic evening, check out a few of our suggested activities.
View the Strip From Above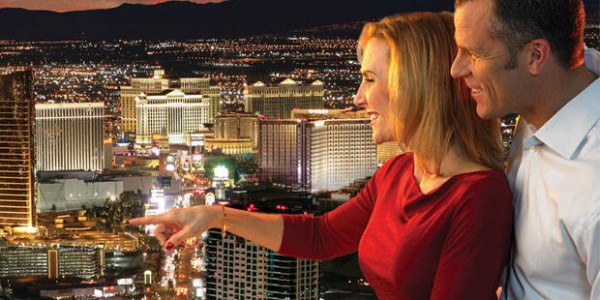 Love is in the air…literally.
See the beauty of the Vegas Strip above all the hustle and bustle from one of the many great observation centers in the city. The High Roller Observation Wheel is one of the world's tallest observation wheels, offering 360-degree views of the city. While you're in the area, be sure to explore the LINQ shopping, dining, and entertainment complex at the base of the High Roller.
Another fantastic option for those aerial views is the Stratosphere Observation Deck, which is delightful, but not for the faint of heart. With both indoor and outdoor observation decks, the Stratosphere provides the full experience. Both of these sites offer unparalleled photo opportunities for you to make the most of your bird's eye view of Vegas.
Take in the Breathtaking Beauty of Nature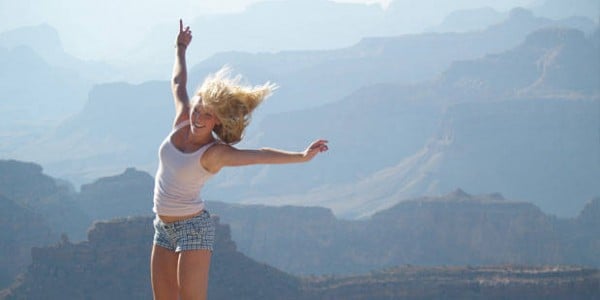 If you really want to get to know Las Vegas, you have to appreciate the desert around it. One of the most visited regions of the country for those looking to enjoy the great outdoors, the American Southwest has a multitude of National Recreation Areas, National Parks, and major landmarks.
The Grand Canyon's South Rim is a must-see destination for any Vegas visitor, and the Hoover Dam is another ever-popular site. Both are quick day trip-length jaunts out of Vegas, and you can often find bus tours that take you there and back.
If you head out there by car, feel free to hike, bike, or stroll around to make the most of your time in the great outdoors. It almost goes without saying – don't forget your camera and get snap-happy. These are ideal activities for outdoorsy couples.
See the City By Night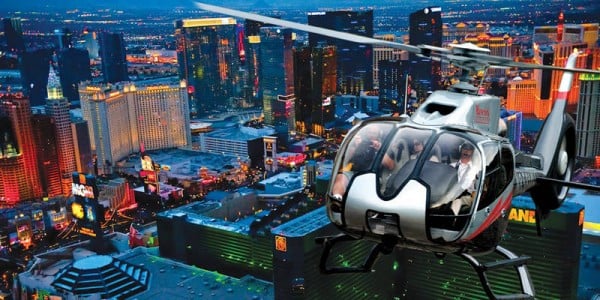 There are few things as exciting and romantic as a helicopter flight. For Valentine's Day, up the ante and go on a Las Vegas Strip Helicopter Tour over the Las Vegas Strip. For this brief but exhilarating experience, you'll soar over the glitz and glam of the iconic Las Vegas Strip.
Enjoy unbeatable views of the city below, including downtown Las Vegas and the many signature spots on the Strip. What better way to work a little something super special into your romantic Vegas getaway?
Hit Up the Clubs
Want to get your dance on with your significant other? Choose this exclusive five-hour Rockstar Nightclub Tour that escorts you between a number of the city's most popular clubs in style – in a VIP limo bus, that is!
You'll get an open bar on the VIP Party Bus, and all cover charges are included. Plus, you get VIP entrance privileges at all venues. It's a fun way to be romantic with your partner, or, alternatively, a great bachelor/bachelorette party idea for those of you looking to have fun before the ultimate romantic event.
Indulge Your Love of Pop Culture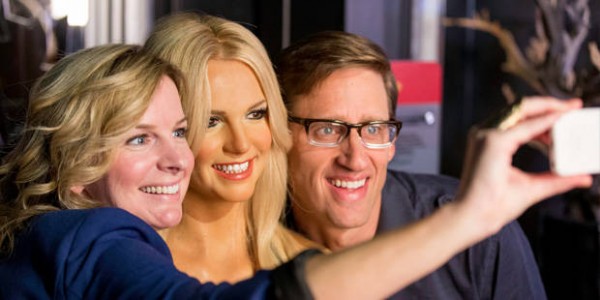 When your favorite shared activity is a Netflix night, then you've got to make the trip to Madame Tussauds. It's a distinctive collection of wax figures that surpasses your traditional definitions of a "wax museum" and becomes a fascinating collection of stories about important historical figures.
Here is where you'll see your most beloved actors, musicians, and pop culture icons brought to life in amazing wax replicas, with everyone from Will Smith to Lady Gaga and beyond. Each area of the attraction features different themes – such as sports, music icons, "Viva Las Vegas," and more.  Plus, it's probably your best shot at meeting a celebrity outside of Hollywood!
Take in a Show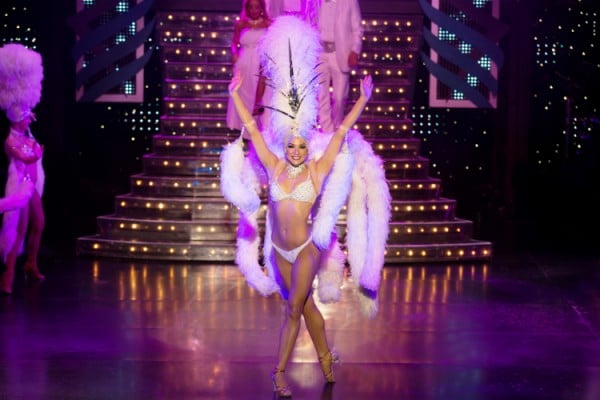 If you didn't come to Vegas just for the gaming, then it's highly likely that you came for the amazing theater scene. From burlesque to ballet, Cirque de Soleil and beyond, there is a show for every style and every budget on practically every night in Vegas. In fact, you could fill every night of your vacation with a trip to the theater!
A great option for those looking for something that can't be found elsewhere is the V Theater, which offers a variety of shows nightly, ranging from music and comedy to dance and variety shows. This is the perfect date night opportunity to enjoy your adult time away from the kids.
Get Swept Away to Paris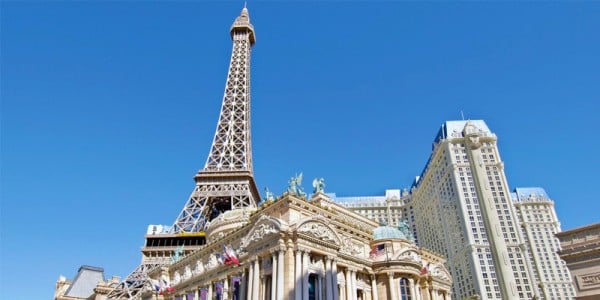 Well, sort of. If you don't have the time or the resources to spend a romantic weekend in France, then a visit to the version of Paris that inhabits the Las Vegas Strip is a great alternative. This recreated version of the French capital includes all the major landmarks of Paris, like the Louvre, the L'Arc de Triomphe, and of course, the Eiffel Tower.
With the Eiffel Tower Experience, you'll get the opportunity to ride up to the Observation Deck of their Eiffel Tower copy – at 460 feet in the air, it's another top option for seeing the city from above. Guides located at the top will even point out and identify major landmarks that you'll be able to see below. Combine a visit here with a romantic dinner, and it's practically like a weekend in Paris without the expense.
Enjoy a Delicious Meal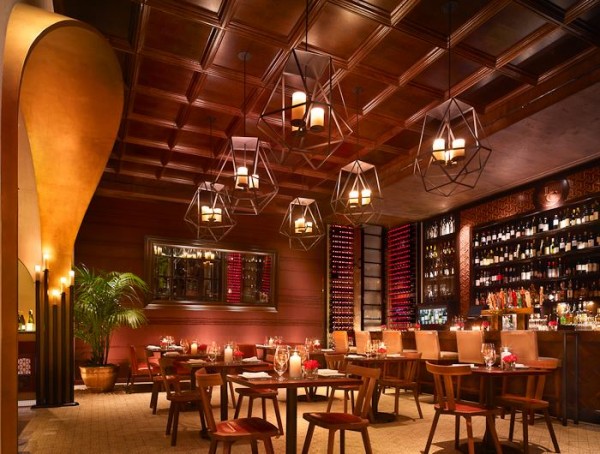 Another great reason to enjoy a romantic getaway in Las Vegas is the dining scene. From world-class buffets to indie restaurants serving up creative cuisine, there's something to suit every taste in this town. Do keep in mind that many of the most well-regarded restaurants will be quite pricey -- especially near the casinos.
While the Strip offers plenty of choices (especially in areas around the LINQ Hotel and Casino), don't be afraid to venture elsewhere in the city! Fremont Street is another great destination, which also offers plenty of sightseeing opportunities. If you're planning for a special dinner on Valentine's Day itself, you'll want to be sure to make reservations early as tables will fill up fast!
Stroll the Hip Areas of the City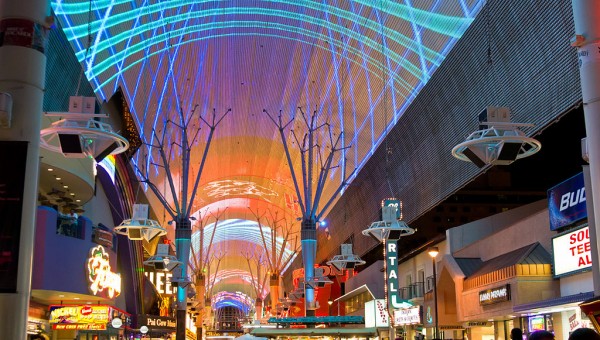 If you and your partner are looking to see more of the city than just the Strip, then perhaps a walking tour of the hip downtown area is in order. Explore the fun Fremont Street neighborhood, where you'll find everything from vintage Las Vegas sites to the incredibly popular Downtown Container Park.
It's a rapidly revitalizing area and has a lot of new construction, so you can get a glimpse of where this area is headed in the next few years. Your two-hour walking tour is a great introduction to the neighborhood and may inspire you to come back for a romantic dinner or some drinks.
 
Remember to Save on Attraction Admission
So there you have it. Our list of some romantic things to do in Las Vegas, just in time for Valentine's Day. Remember, some of these great options are included on the Go Las Vegas pass, where you can save on combined admission vs paying at the gate. Please note, the special events taking place at some of these attractions may be separately ticketed and not included with a pass for Las Vegas by Go City.