Think summer's the best time to visit London? Think again! If you happen to be in this enigmatic city as the days get colder and the nights get longer, you'll notice a proliferation of twinkly lights that can only mean one thing – Christmas markets have appeared! There are plenty to choose from, each with their own charm – some are in grand, industrial-looking steel and glass constructions, in others you'll find endless lanes of wooden chalet-style stalls more reminiscent of an open-air market in Germany. Whichever your preference, you're bound to come away with some festive spirit, because nothing cheers up a dreary winter like fairy lights, mulled wine and some retail therapy! Some of London's best include:
Winter Wonderland in Hyde Park

Covent Garden Christmas Village

Leicester Square

Southbank

Maltby Street

King's Cross

Greenwich

Hampton Court
Winter Wonderland in Hyde Park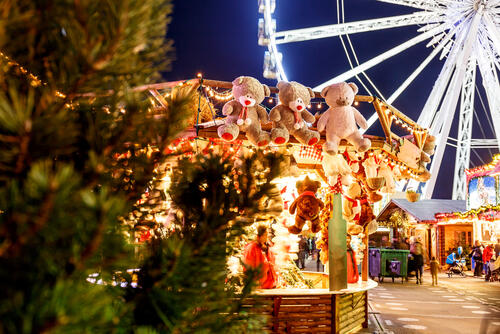 The biggest (and most famous) of London's markets, Hyde Park comes to life every year from the end of November to the beginning of January with this theme park-like open air market. Taking up most of the park between Wellington Arch, Marble Arch and Kensington Palace, you'll find stalls selling all manner of handmade gifts, from traditional gingerbread hearts to candles, suncatchers and personalized Christmas decorations. It's not just about the shopping, though – you'll also find Bavarian-style chalets serving beer and oompah music, an ice rink, ice sculptures and rides and games for the whole family.
Covent Garden Christmas Village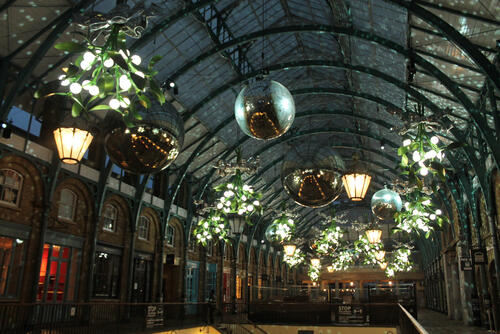 Covent Garden market is lively at any time of year, but it gets an extra sprinkling of magic dust at Christmas. A giant tree adorns the square and the roof of the South Hall in the main building is transformed into a colorful Christmas canopy. There's a pop-up Christmas village, and all the regular stall holders get into the spirit with decorations and Christmas gift offerings. To add to the festivities, there are always plenty of buskers plying their trade in the square, so find a good spot to watch and soak up the Christmas cheer, whatever time of day you're there.
Leicester Square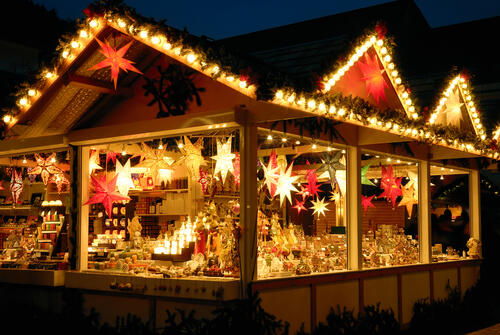 Not far from Covent Garden is Leicester Square, famous for film premieres and M&M World – except at Christmas, when this modest plaza is packed to the edges with Christmas attractions. It's free to explore, so warm your hands with a hot drink, wander through the maze of stalls and entertainers and perhaps indulge your inner child with a carousel ride. It's quite compact, so you can easily see it all before or after your evening's entertainment, or you could stay and enjoy a show here at the specially constructed Spiegeltent.
The South Bank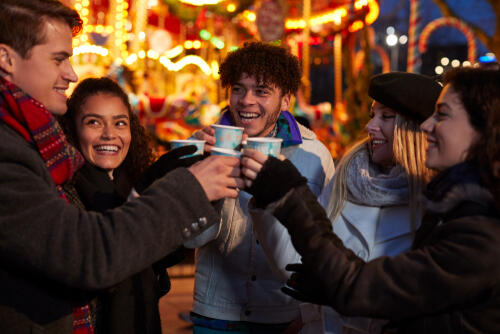 There's just something special about a market on a riverbank. Perhaps it's the gentle sound of lapping water, the skyline views up and down the river or the reflection of thousands of fairy lights – either way, the Southbank Markets in London are not to be missed! As well as gifts and trinkets you'll find plenty to keep you warm, from burgers and bratwurst to waffles and fondue. The Southbank Center always puts on a good show – it'll be busy, though, so if you find a good spot to sit, grab it straight away and settle in for an evening of live carol singing, street entertainers and people-watching. If it's too much, head along the river past Shakespeare's Globe Theater, and you'll find the less-touristy but just as charming Borough Markets.
Maltby Street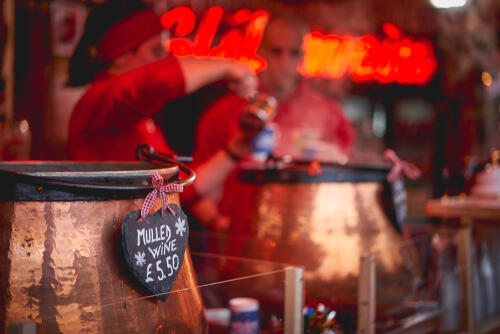 Nestled under the main railroad line at London Bridge are the Maltby Street markets, which turn into a kind of grown-up street party every Friday night in December. Explore the labyrinth of narrow streets and lanes, with stalls and shops tucked neatly under railroad arches, and stroll up the main alley, known as Rope Walk. This is mainly a street food affair, so get stuck into such culinary delights as tapas, steak, cheese, patisserie or waffles – there's also plenty to wash it down with, including mulled wine and craft gin. If you fancy sitting outdoors there's always live entertainment and craft demonstrations, but if things are feeling a little nippy, pop into the nearby Bierkeller in Bermondsey for a warming meal and hearty atmosphere.
King's Cross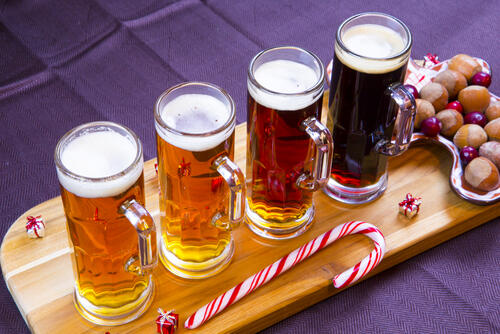 If you prefer your Christmas markets with a Dickensian feel, head for the indoor delights of the Canopy Christmas Market at King's Cross in Coal Drops Yard. This curiously-named building has a large Victorian roof, which adds its own charm as well as keeping the weather out. Here you'll find plenty of artisan craft and produce to take home, but while you're there you might as well enjoy a tasting or two, along with live entertainment and various cooking masterclasses. There's also one weekend each December dedicated to Vegan produce, so be sure to look it up for animal-free food, clothes, homewares and cosmetics. 
Greenwich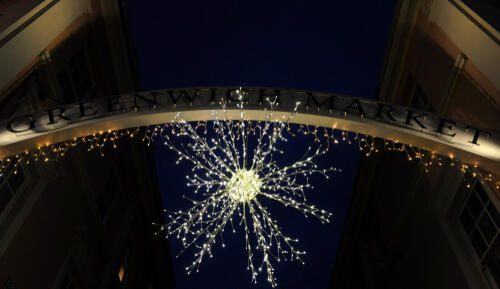 Head east down the river a bit and you'll find the maritime borough of Greenwich, famous for the National Maritime Museum, Royal Naval College and Royal Observatory (you might also recognize it from its appearance in Thor: The Dark World). There's also a regency-period undercover market, which is lively all year but is especially good at Christmas, when evening opening hours are extended and Santa makes an appearance in his special grotto. Add to the adventure by getting there via the river, and  be sure to try a bit of ice skating or climb aboard the Cutty Sark.
Hampton Court Palace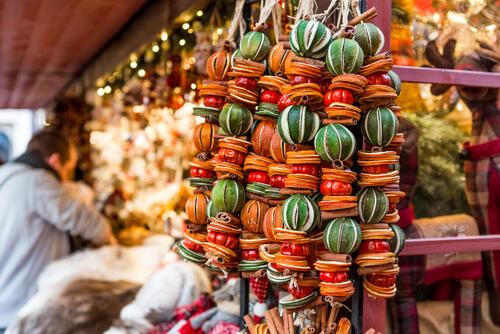 If you need to get out of the city for a day, head south-west and in less than an hour you'll be at Hampton Court Palace, Henry VIII's favorite country escape. If you visit on the right weekend in December, even better, because you'll be able to enjoy its Festive Fayre, complete with ye olde castle background and (somewhat more modern) ice rink and street food. Just for the weekend there are special carol services held in the Chapel Royal, and since you're there you might as well explore the vast rooms and grounds of Hampton Court, which will be fully decked out in the season's best finery. Highlights include the vast kitchens, the sumptuous banqueting hall and the yew hedge maze.
Celebrate the silly season with Go City
Warm up this winter with some retail therapy at London's best Christmas markets. Be sure to have your Go City Explorer Pass handy, so you'll save on all the city's hottest attractions as well!