"To walk alone in London is the greatest rest," proclaimed Virginia Woolf in her 1927 essay Street Haunting. It's hard to disagree: a stroll through London's streets nourishes the soul. Here you'll find all the familiar landmarks, and there unexpected marvels: parks that materialize as if from nowhere, quirky museums, hidden alleyways that lead… where? 
Ask a local to recommend the best walk in London and you'll get a different answer every time, such are the endless possibilities of this great city. Here, though, are four of our favorites.
Soho stroll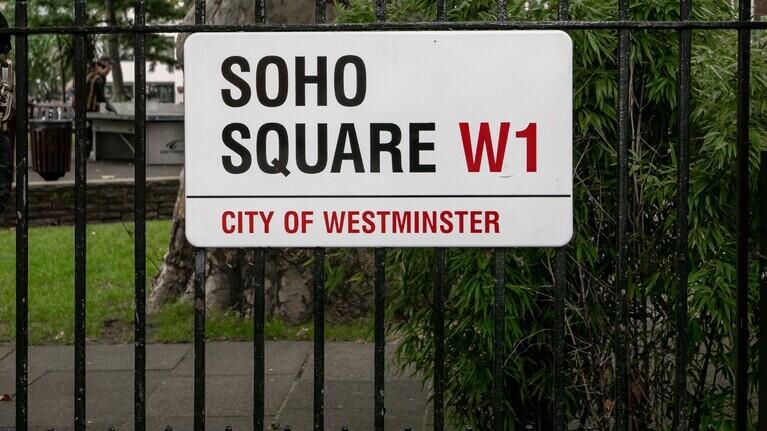 It doesn't get much more London than a saunter through the streets of Soho. Once the epicenter of London's – shall we say – seamier entertainments, the district has shaken off much of its reputation to re-emerge as a bohemian mini metropolis, awash with cute cafés, independent stores and sizzling street food.
Arriving at Leicester Square station, take the Charing Cross Road East exit to emerge opposite this thoroughfare's venerable second-hand bookstores, their Harry Potter-esque shopfronts stacked high with dusty leather-bound tomes, colorful pulp novels and weighty reference books. Pause for a selfie, then follow your nose to Chinatown. Here, red-and-gold lanterns sway above the street and tantalizing aromas of hoi-sin duck, plump dim sum and crispy chili beef provide a feast for the senses.
One block north of Chinatown brings you to Shaftesbury Avenue, a broad and bustling boulevard at the very heart of London's west end, where acting legends tread the boards at theaters including (deep breath) the Lyric, the Gielgud, the Sondheim, the Apollo and the Palace. Wander up Dean Street to enter Soho proper and pause for un petit verre at The French House. This diminutive gallic stalwart has been here since the late 19th-century, lubricating art-and-literature aristocracy including Dylan Thomas, Salvador Dali and Francis Bacon down the years.
Swing right onto Old Compton Street then left at the Prince Edward Theatre to join Greek Street. Keep your eyes peeled for blue plaques that commemorate some of the street's most celebrated former residents, from Thomas de Quincy to Peter Cook. Greek Street is also home to Maison Bertaux – at over 150 years old, quite probably the longest-established French patisserie in London – as well as whisky store Milroy's. Intrepid visitors to this Scotch specialist should seek out the cocktail bar in the cellar, its entrance cunningly concealed behind a bookcase at the back of the shop.
Take the weight off for a moment in Soho Square, a small public garden with a statue of Charles II and an eye-catching mini mock-tudor building at its center, before heading a couple of blocks west to Berwick Street. Packed with vinyl record stores, clothes boutiques, haberdashers and traditional London boozers, it's perhaps most famous for its centuries-old street market (now a foodie mecca) and for featuring on an Oasis record sleeve in the 90s. Linger awhile to soak up the boho atmosphere then disappear into the surrounding streets…
Regent's Park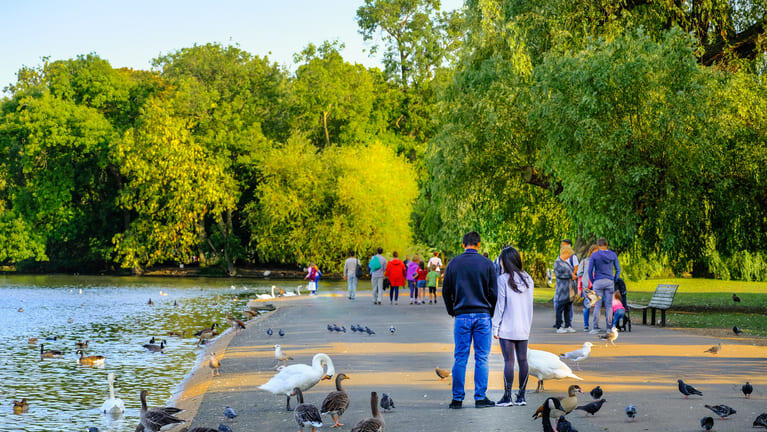 With pristine white stucco terraces, manicured gardens galore, an ornamental lake and much more spread across its 400 acres, Regent's Park has plenty to keep even the most seasoned stroller happy for hours. Enter by Regent's Park station, and bear left towards the superb boating lake, where you can hire small row boats and pedalos from spring through fall. The banks make an ideal spot for picnicking, but expect some attention from the resident ducks, swans and geese. Look out for the vast copper dome of the Central London Mosque on the opposite bank.
Follow the path to the bandstand and into the Inner Circle to seek out Queen Mary's Gardens, the park's finest. Pause to smell the roses (take your time: there are thousands!) and linger in the tranquility of the Japanese-style garden with its babbling brooks, miniature waterfalls and weeping willows. At the top of the circle, you'll find an open-air theater with performances of Shakespeare plays, kids' shows and more during the summer months.
The distant sound of shrieking gibbons and roaring lions draws you northwards to ZSL London Zoo. Established nearly two centuries ago, it's the world's oldest and now houses over 750 species and nearly 20,000 critters, from tigers to tarantulas, okapis to otters. From here, cross the canal footbridge to climb Primrose Hill for far-reaching views of London's skyline, or follow the meandering towpath west to Little Venice, where cute barges (including the UK's only floating puppet theater!) bob gently in the lagoon.
The East End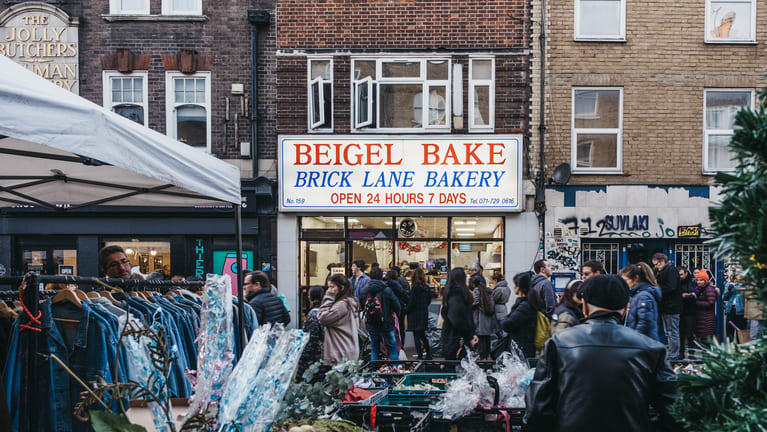 Perhaps best known for its darker associations with Jack The Ripper, London's East End has ushered in the modern while retaining the best of its Victorian character. Exit Liverpool Street station, head along Bishopsgate and right onto Folgate Street, where Dennis Severs' House, a mesmerizing throwback to a bygone era, is worth an hour of anyone's time. Continue to Commercial Street, past sprawling Spitalfields Market, and pause for refreshment at the Ten Bells. This cozy pub stands in the shadow of Christ Church – an imposing 18th-century Hawksmoor masterpiece – and was once frequented by victims of Jack The Ripper.
A couple of blocks east is Brick Lane, where Bangladeshi and Jewish influences still happily prevail in spite of the area's ongoing gentrification. It's here you'll find the finest bagels and curries in all of London. Try both: you won't regret it. Brick Lane is also home to the landmark Truman Brewery building. Once a beer-making powerhouse, now an office block, it retains a convivial cobbled courtyard with a bar and live music in summer.
This is also the place to cram shopping bags full of vintage fashions, vinyl records and, of course, fresh spices and exotic fruits – no trip to Brick Lane would be complete without a visit to the legendary Taj Stores. Finish your tour at the bottom of the street where modern art exhibitions and installations are free to enter at the wonderful Whitechapel Gallery.
South Bank to the Tower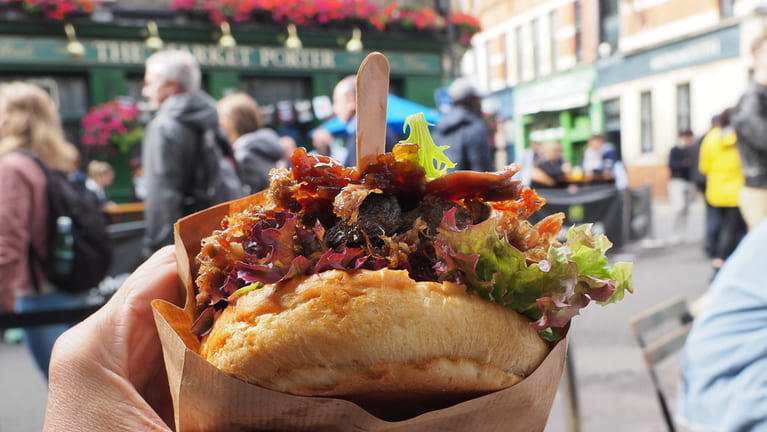 Stretch your legs a little on this three-mile route that takes in bustling markets, Shakespearean theaters, royal palaces, and some of the finest river views you're likely to encounter in London. Emerging at Embankment station, climb the stairs onto the Hungerford footbridge. Buskers perform for your entertainment as you cross, but they're fighting a losing battle against the captivating views: St Paul's Cathedral, The Shard, Big Ben, the London Eye… to name just a few.
Stroll through the South Bank's cultural heart, home to the Royal Festival Hall and National Film Theatre. Beneath these fantastic examples of brutalist architecture, kids show off their moves in the graffiti'd skatepark and a cavalcade of street entertainers vie for your attention (and cash).
Follow the river past the landmark Oxo Tower to the Tate Modern and onwards to the Globe Theater, a stunning replica of the Elizabethan playhouse for which Shakespeare wrote his plays. Completed in the mid-1990s, this authentic timber-framed reconstruction boasts the only thatched roof permitted in London since the Great Fire of 1666.
Your walk continues east to the atmospheric cobbled lanes around Southwark and London Bridge, where you'll encounter the infamous Clink Prison and a faithful reproduction of Sir Francis Drake's Golden Hind galleon. Railway bridges rumble overhead as you follow your nose into Borough Market, where restaurant-quality fast food will fortify you for the final leg of your adventure. Here, every palate is catered for. Grab a halloumi burger or smoked salmon bagel, try melt-in-the-mouth confit duck or make a mess with delicious, oozing cheese raclette. The leafy grounds of medieval Southwark Cathedral, right next to the market, provide a tranquil setting to savor your meal and watch the world go by.
We challenge you not to hum the famous nursery rhyme as you cross London Bridge and join the Thames Path east to the Tower of London: awe-inspiring fortress, royal palace, notorious prison, and home of the Crown Jewels. It's here, among the resident ravens and the Yeoman Guards in their smart red-and navy livery, that your journey concludes.
Save on things to do in London
Save on admission to London attractions with Go City. Check out @GoCity on Instagram and Facebook for the latest top tips and attraction info.