First time visitor to Miami? Or have you been before, but only seen the beach and your hotel? Hop aboard Big Bus Miami for the perfect introduction (or re-introduction) to the diverse architecture, bountiful museums, natural beauty, and must-see landmarks in sunny Southern Florida. These open-top, double-decker buses offer hop on and off flexibility, plus expert tour guide narration along your journey. It's the ideal sightseeing tour that combines the freedom to board and disembark at places that interest you with the convenience of a relaxing bus ride.
Looking for Big Bus Miami Discount Tickets?
We've got you covered – Hop On Hop Off Big Bus Miami admission is available with the below money saving options, so you can choose the attraction pass that's right for you: 1. All-Inclusive Pass – All you can do. Includes admission to dozens of attractions. 2. Miami & The Keys Explorer Pass – Choose as you go. Includes admission of up to 5 attractions. 3. Build Your Own Pass – Select the attractions you want to visit prior to visiting. See all available passes, attractions & prices – Learn more.
Tips for Visiting Big Bus Miami
Like many bus tours, there are a few things you should keep in mind before boarding the Big Bus. There are also a few special insider tips to keep in mind on this particular attraction.
There are actually two loops available to you on your ticket: the Beach Loop and the City Loop.
The full tour (both loops) takes about 3 hours, should you choose not to disembark at any point.
Big Bus offers live English commentary or recorded commentary in 11 other languages for your convenience.
Consult a stop list for the most detailed information about your options for getting on and off. It may be helpful to plan your stops in advance.
If you're more of a visual person, check out the map online or print out a copy for yourself.
Save on admission to Big Bus Miami with the all-inclusive Go Miami® Card.
When to Visit
The buses run every 30 minutes all day, so it should be painless to hop on when you'd like.
What to Bring
A camera or other recording device.
Good walking shoes for when you disembark.
A hat and some sunscreen to avoid the sultry Miami sun.
A route map.
What You Will See
Big Bus Miami is the ideal introduction to all the most famous landmarks, institutions, and sights of Miami's beaches and urban streets. Here are a few of the many highlights you'll enjoy on your tour.
South Beach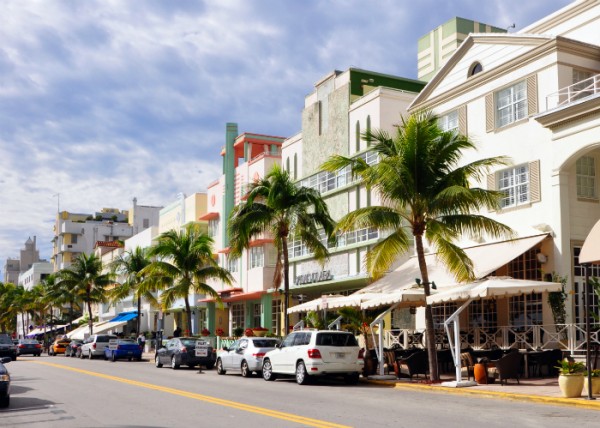 Who hasn't heard of this most famous of beaches? Enjoy the sights and sounds of one of the richest neighborhoods in the country alongside some stunning natural beauty. It's a great place to tour even if you're been to the beaches themselves, as it provides some stunning photographic opportunities.
MacArthur Causeway
Connecting mainland Miami to South Beach and other adjacent islands, this historic causeway (now much expanded, of course), provides perfect angles for those beautiful skyline photos you're dying to get.
Downtown Miami
Filled with big industry and small business, downtown Miami is the epitome of local culture. In addition to some amazing restaurants and shops, you'll also find the famed Bicentennial Park, American Airlines Arena (home to the NBA's Miami Heat), the Freedom Tower, and the Challenger Memorial, among many others.
Little Havana
Miami has long been a rich source of Cuban culture in America (not to mention cuisine!), and Little Havana is where it all comes from. If you decide to hop off, take a stroll down the Walkway of Stars, featuring exclusively Cuban celebrities. Keep an eye out for the numerous arts and culture festivals that pop up in the neighborhood, too!
Coconut Grove
This artsy district is actually one of the oldest in the city – it was founded way before Miami in 1825. Enjoy top notch open-air dining and some great shopping (there are two largish shopping centers), in addition to the funky creative vibe. Don't forget to explore the Kampong Botanical Garden.
Coral Gables
Located south west of downtown Miami, Coral Gables is a historic neighborhood of the city that's reminiscent of the area's big building boom in the 1920s. Some of the sites you'll see in Coral Gables include the famed Biltmore Hotel, the Venetian Pool (the largest freshwater pool in the country), the Fairchild Tropical Botanical Garden, and more.
The Art Deco District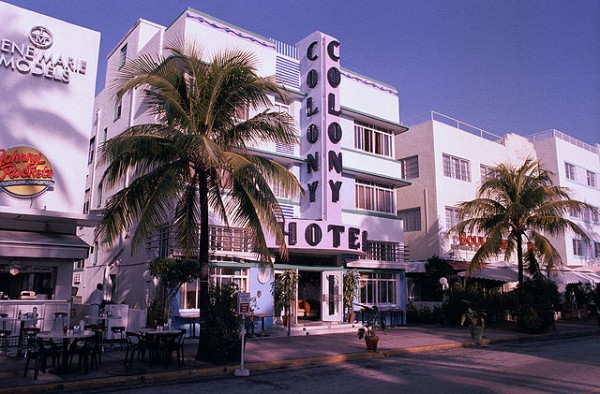 One of the most famous neighborhoods in all of Miami, the Art Deco district is also the largest concentration of Art Deco era buildings in the entire country. Enjoy the striking beauty and unique geometric characteristics of this famed architectural school, found in hotels, skyscrapers, theatres, and even a post office.
Vizcaya Museum and Gardens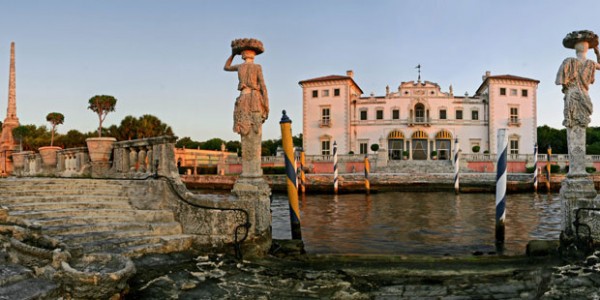 Located in Coconut Grove, the Villa Vizcaya is a gorgeous, intricately detailed recreation of a sixteenth century Italian villa, commissioned by American entrepreneur James Deering. Today it serves as a museum not only for early modern Italian culture and art, but also for the Gilded Age of America. Don't miss the lush tropical gardens outside!
Nearby Attractions
Since the Big Bus takes you all throughout Miami, there are tons of great attractions either right on the route or within an easy distance of a stop. Here are a few of our favorites.
Places to Eat Nearby
Miami is just full to bursting with delicious, inventive cuisine, so you're bound to find something good wherever you go. If you're looking for suggestions, check out one or more of these great dining destinations.
Hard Rock Café Miami is a local spin on a classic favorite.
Tuyo Restaurant offers creative American fare alongside unbeatable skyline views.
Garcia's Seafood Grille and Fish Market is a hidden gem, featuring unpretentious and delicious seafood on an open patio.
News Café features simple yet tasty fare with beachfront views.
Big Pink is a fun option with a wide array of tvs for you sports fans.
Camila's Restaurants Miami offers a sumptuous taste of Brazil.
For more dining options, check out our family restaurants guide.
Need to Know
Hours
Daily, 8:30 am – 5:30 pm. Buses depart every 30 minutes.
Address & Directions
Big Bus Miami Central Station: Stop #1 Bayfront Park, 301 Biscayne Boulevard Miami, FL 33132 For more information, visit the Big Bus Miami website.
Save on Admission
So if you're looking for that perfect overview of all that South Beach has to offer visitors, this is the tour for you. And remember, with the Go Miami® Card you can save up to 55% on combined admission to a Hop On Hop Off Big Bus Miami tour, plus dozens more top Miami area attractions.