Mardi Gras, flavor-packed bowls of gumbo, lively jazz clubs… there are plenty of reasons to love New Orleans. But despite The Big Easy's many endearing qualities, NL also has a reputation for being a fairly dangerous city. With a crime rate higher than the average US city, it's understandable that you may be wondering, is it actually safe for you to visit New Orleans? 
Lucky for you, we're here to answer that very question. 
Here's our take on the Big Easy and our tips for staying safe during your trip to New Orleans. 
Firstly, yes - New Orleans is safe to visit
Although it is true that the city does, unfortunately, suffer from a high crime rate, for tourists looking to explore this buzzy town, it's fairly unlikely you'll be involved in any sort of major incident. Serious crimes, for the most part, tend to involve parties who know each other and it is rare for a tourist or even a local to be targeted. 
In fact, most serious incidents happen in neighborhoods that tourists would be highly unlikely to visit. However, as with any major city, it always helps to remain vigilant, particularly when it comes to petty crime. 
To cover your bases, here are the main things to consider when planning your trip to New Orleans...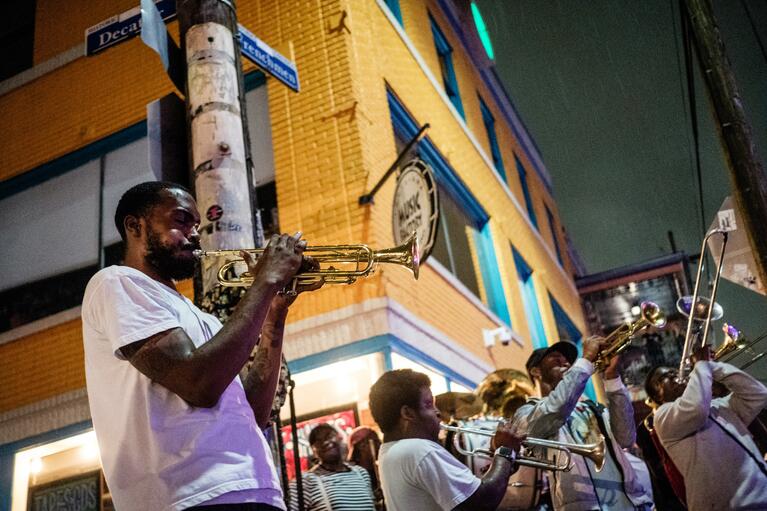 What to be aware of when visiting New Orleans
Stay and play in a safe neighborhood
As previously mentioned, the well-trodden tourist tracks of New Orleans are, for the most part, perfectly safe for visitors. Areas such as Uptown, the Garden District and the very popular French Quarter, all have low crime rates and are close to the main attractions. Other residential neighborhoods such as Black Pearl, Lakeview and Lakewood are also worth considering if you're looking for somewhere peaceful to stay.
As with any large city, there are of course areas that are best avoided. Neighborhoods that have a particularly high crime rate include Desire, Florida, Viavant-Venetian Isles, Fischer Dev, Tulane-Gravier, West Lake Forest, Dixon, Pines Village, the Lower 9th Ward, Treme Lafitte and St. Claude. Reports of burglaries, robberies and assaults are much higher in these areas than the rest of the city, and you are therefore more likely to run into trouble if you venture into these neighborhoods, especially after dark
Is public transport in New Orleans safe?
Public transportation is regarded as safe in New Orleans and the city's historic Streetcars make for a fun way to see the city if you need a break from exploring on foot. There are four main lines that take in the city's historic sites, with the St Charles Line being a popular tourist attraction in itself. It's worth downloading the NORTA GoMobile app, which gives you up-to-date timetables, helps you to plan your route in advance and will allow you to purchase tickets before you head out to explore the city. 
At night, it's advisable to book an Uber or Lyft to travel to and from your accommodation, rather than walk  - especially if you are on your own.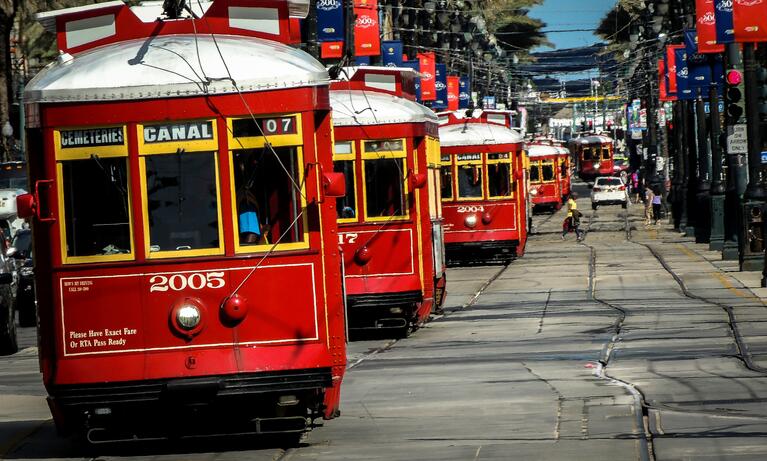 Watch out for petty crime
Given that the French Quarter is one of the most popular areas of the city for tourists, it also happens to be where the majority of opportunist thieves operate and therefore where most petty crime takes place. Purse-snatching and pickpocketing does occur, so it is advised to take extra precautions when visiting this area. That being said, there's no need to become a paranoid, front-backpack wearing mess. Keep a hold of your purse and don't have your wallet hanging out your back pocket, and you should be just fine.
Con artists have also been reported to operate in this part of the city. Fake betting is the most commonly described con, whereby you'll be approached by someone trying to place an obvious bet with you before demanding money. Fake petitioners are also known to operate here. As a rule of thumb, politely say you're running late and don't have time to stop and make sure you've got an eye on your belongings if someone stops you on the street. 
Be aware that natural disasters can occur
Memories of the aftermath of Hurricane Katrina may have you questioning whether New Orleans is a safe destination at certain times of the year. It is still true that New Orleans is one of the most at-risk cities in the United States when it comes to severe weather, so it's worth staying informed and checking the weather ahead of your trip if you plan to visit during the hurricane season, which lasts from July to October.
Stay safe during Mardi Gras
Everything turns up to 11 when the famous Mardi Gras Festival commences in New Orleans. You may be lulled into a false sense of security during the festivities but the normal dangers of any large city still remain. It's worth remembering that with the huge influx of revelers, boozy street parties, and general mayhem, you'll need to be being extra alert when it comes to petty crimes like pickpocketing. And of course, don't walk home alone at night, watch how much you drink, stay on the main streets and you should be absolutely fine.
Save on attraction admission during your visit
With just a little background knowledge and sticking to the popular areas of the city, New Orleans can be an extremely safe and rewarding place for visitors.
If you're planning a trip to New Orleans, be sure to visit the cities top attractions with a Go New Orleans pass. It includes admissions to some of the city's best attractions, tours, and experiences.