Planning a trip to New York City? We've put together a handful of the top attractions, places to see, and which neighborhoods in New York to visit during your vacation.
Downtown
Financial District (a.k.a. Wall Street)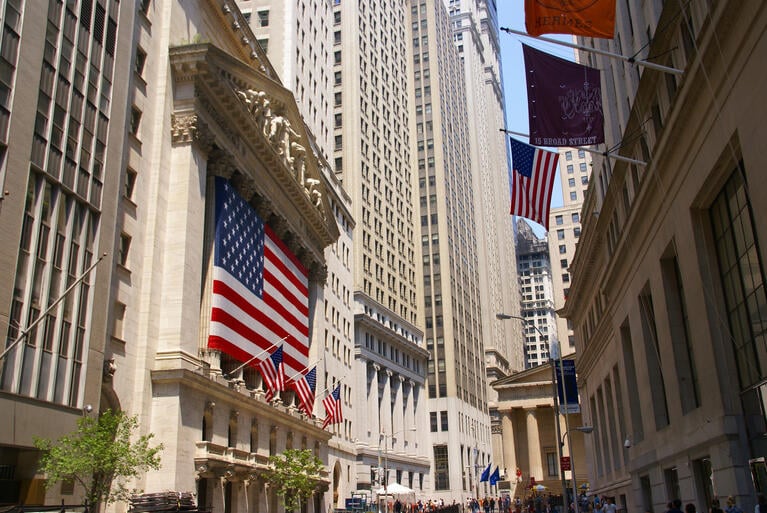 Better known as Wall Street, the financial district encompasses the entire southern tip of Manhattan and is considered the economic capital of the country. Below are a few suggestions for fun activities. For more, check out our post on things to do in Lower Manhattan.
Things to Do in the Financial District
Head to Battery Park at the southern tip of Manhattan for a stroll through flower gardens and waterfront landscape. Catch a ferry to the Statue of Liberty and Ellis Island to learn about immigration to the United States through NYC.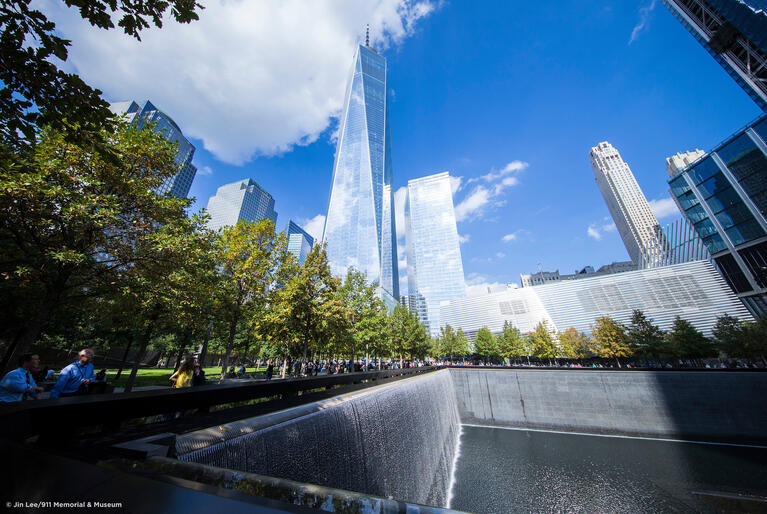 Explore the moving 9/11 Memorial & Museum, located on the former site of the World Trade Center. Here you'll find a monument to the lives lost in 1993 and 2001, and learn about the brave history of those who lived through the tragedy and helped to rebuild this iconic part of NYC.
Experience the excitement at the headquarters of the New York Stock Exchange. Stop by the impressive Federal Hall building and be sure not to miss 40 Wall Street, the "Crown Jewel of Wall Street." 
Take a picture with the famous Charging Bull Statue on Bowling Green, which optimistically symbolizes a bull market (constantly rising). A guided walking tour of Wall Street is one of the best ways to make the most of your visit to the area.
Head to the Manhattan side of the iconic Brooklyn Bridge and rent a bike for a cycling tour to some of New York City's most notable sights.
Explore the harbor on a speedboat thrill ride, a nighttime water taxi statue cruise, or an express Statue of Liberty cruise.
Little Italy & Chinatown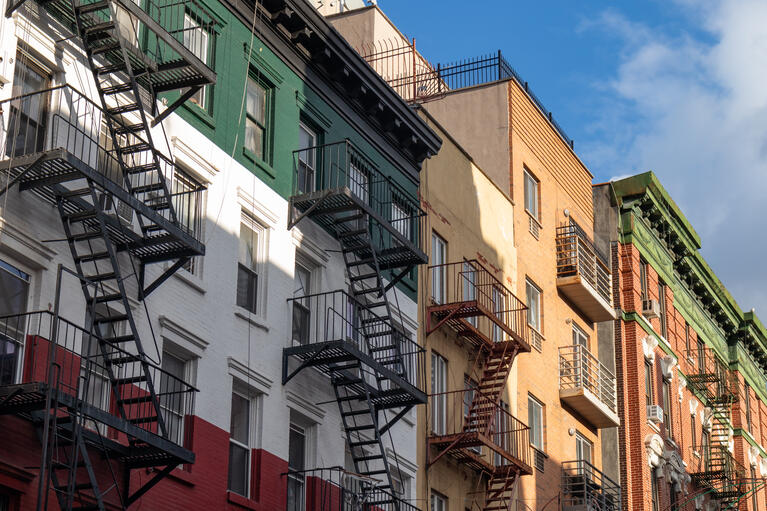 Little Italy and Chinatown are two distinct neighborhoods representing two different cultures with an emphasis on one common thing: delicious, ethnic food. Make the most of your time in this neighborhood and let the pros show you around on a SoHo, Little Italy, and Chinatown Walking Tour.
Things to Do in Chinatown
Check out Mott and Grand Streets for exotic food stands, busy markets, and little shops.
For a little cultural perspective and for a better understanding of Chinatown, the world's largest Chinatown outside of Asia, visit the Museum of Chinese in America.
Stop by Canal Street, famous for knock-offs, bargain souvenirs, and cheap merchandise.
Things to Do in Little Italy
Check out the boutique shopping scene in NoLIta (North of Little Italy).
Taste your way through the rich Italian culture at any of the popular restaurants along Mulberry Street and poke around the specialty shops to see all the imported Italian treats.
Head to the Italian American Museum for a cultural account of Italian immigration to the United States.
Visiting New York in September? Be sure to check out the Annual Feast of San Gennaro, an 11-day festival celebrating the Patron Saint of Naples.
Tribeca
If you know the meaning of this neighborhood's name, you'll be able to find its location; the Triangle Below Canal Street. Tribeca is home to many celebrities who now live in Tribeca's renovated factories and warehouses and plays host to the famous annual Tribeca Film Festival.
SoHo
SoHo, or South of Houston Street, is an impressively fashionable, well-known neighborhood of cobbled streets, narrow sidewalks, restored buildings, trendy restaurants, and even trendier boutiques.
Lower East Side
The Lower East Side has a truly American history, home to a melting pot of immigrants, from the early Eastern European Jews, to the more recent Latino and Asian immigrants. Although trendy restaurants and shops have begun popping up in the area, the Lower East Side Tenement Museum is a popular attraction dedicated to preserving the neighborhood's history, immigrant culture, and more.
Greenwich Village (East and West)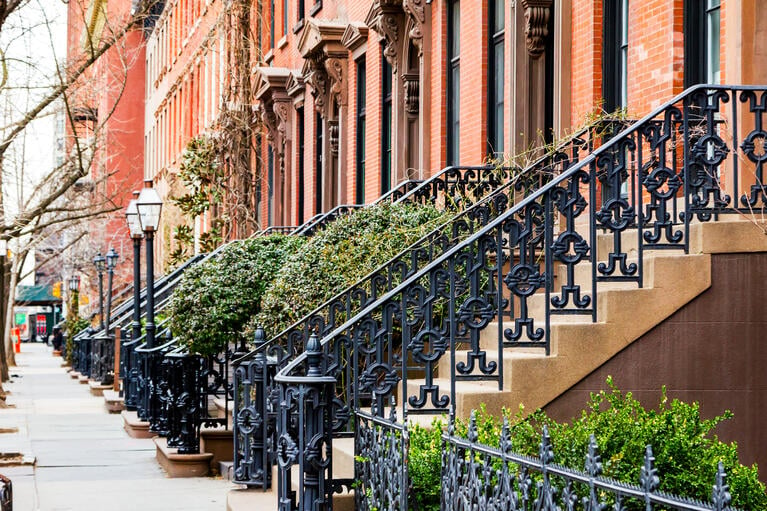 In Greenwich Village (both east and west) you'll find New York's thriving counterculture of writers, artists, activists, musicians, and bohemians. Allen Ginsberg resided in East Village in his day, and the Beat poets began their revolutionary art in West Village coffee houses. Expect everything to have a proud, independent vibe in this part of town.
Things to Do in Greenwich Village (East and West)
Visit the 9/11 Tribute Center and see exhibits that showcase personal accounts of grave losses, bravery, survival, hope, and patriotism associated with 9/11. Guided tours are led by 9/11 family members who lost loved ones, rescue and recovery workers, civilian volunteers, lower Manhattan residents, and 9/11 survivors who escaped from the towers.
Visit the storied Washington Square Park, the heart of New York University's "campus" and view the iconic Washington Square Arch.
Explore diverse collections of contemporary creative works (with a particular focus on American artists) at the Whitney Museum of Art.
Midtown
Flatiron District
This district takes its name from its architectural centerpiece, the historic Flatiron Building, an iconic triangular-shaped skyscraper. Head here for designer shopping and to check out Union Square, the center stage for many political rallies.
Chelsea
Although formerly a working-class district, this area now boasts a vibrant art scene and has recently been attracting a large gay population. With the influx of artistic pursuit, the neighborhood is now host to many chic restaurants, galleries, theaters, and shops.
Things to Do in Chelsea
Browse through the trendy Chelsea Market for some good eats and local-artisan shopping before taking a stroll on the High Line, a beautifully landscaped, elevated path through Manhattan's West Side.
Catch a comedy show at the famed Upright Citizens Brigade Theater.
The Garment District
NYC's Garment District sets the trends for America's billion-dollar fashion industry. It's the designers here who decide what you'll most likely be coveting in seasons to come. Most of the actual clothing production no longer happens in Manhattan, but you'll still find New York's famous Macy's, the largest department store in the world.
Hell's Kitchen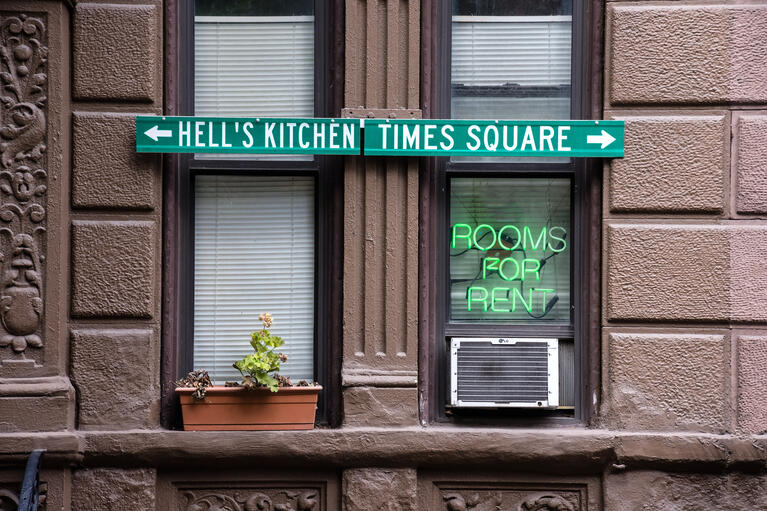 Generations ago, Hell's Kitchen was predominantly a residential area inhabited by Irish immigrants and notorious for being a rough area. In the past few decades however, gentrification and an influx of upscale bars, restaurants, and nightclubs have helped this neighborhood flourish.
Things to Do in Hell's Kitchen
Head to Pier 86 to experience all things sea, air, and space at the Intrepid Sea, Air & Space Museum.
Go on a cruise starting in the Hudson River for a unique view of the city's top sights: the Best of NYC Cruise. 
Broadway & Times Square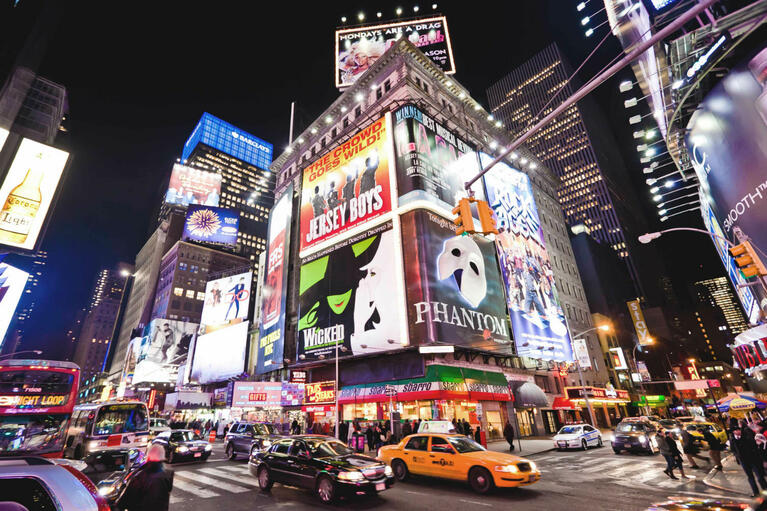 The focal point of Broadway and Times Square is the entertainment business. Glitzy, and full of flashing lights, Times Square is home to tons of music studios, record labels, and production companies. Over 20 theatrical stages can be found on Broadway Street alone. Times Square is the world's most visited tourist attraction, with well over 300,000 people passing through daily. Here are some ideas on what to do there. If you want some more suggestions then check out our post on things to do in Times Square during your trip.
Things to Do in Broadway & Times Square
No trip to NYC is complete without catching a Broadway show. Insider tip: head to the large TKTS booth right in Times Square to see which Broadway and Off-Broadway musicals, plays, and dance productions are offering same-day discounted tickets. 
Explore all things weird and abnormal at Ripley's Believe It or Not!
Rub shoulders with the celebs at Madame Tussauds New York, a fascinating collection of hyperrealistic wax sculptures. 
Feel like a giant at the unique Gulliver's Gate, a lovingly recreated display of miniaturized attractions from all over the world, including many iconic spots in NYC.
Get above all the action and check out the impressive views of Central Park, the Empire State Building, and more from the Top of the Rock. Visitors can also go on a tour of Rockefeller Center, the "hub of Manhattan."
Visit the greatest collection of modern art in the world and experience the New York museum scene at the Museum of Modern Art.
Fifth Avenue
Fifth Avenue is Manhattan's shopping mecca lined with high-end shops, many of which provide excellent opportunities for window-shopping (or, if your budget allows, a special purchase). Although the avenue is much longer, the destination shopping is concentrated in the area of Fifth Avenue between Bryant Park on its southern end and Central Park on its northern end.
Things to Do on Fifth Avenue
Shop 'til you drop! Fifth Avenue is host to world-famous brands such as Bergdorfs, Van Cleef & Arpels, Henri Bendels, Louis Vuitton, Gucci, Emilio Pucci, and some more affordable brands such as Gap, Zara, UNIQLO, Banana Republic, and more.
If you're beginning at the lower end of the shopping district, you can also snap a photo of the famous stone lions of the New York Public Library's Stephen A. Schwarzman Building (or pop inside to see the gorgeous reading rooms).
One block west is Sixth Avenue, where many attractions in the Times Square area are.
Uptown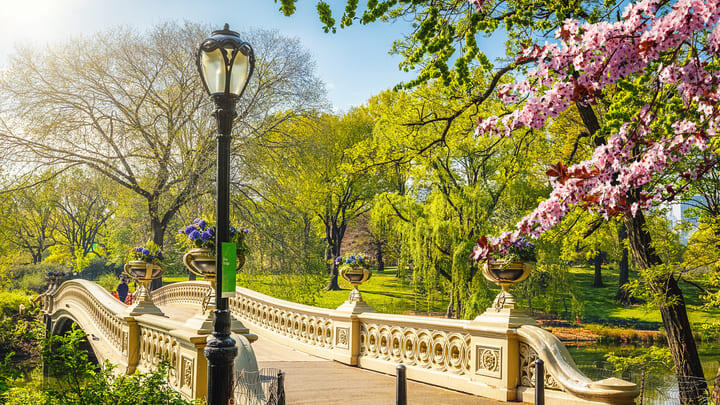 Central Park
At the heart of Manhattan is Central Park, an 843-acre historic park. Central Park is complete with beautiful landscaping, wide open green space, an expansive playground, a children's zoo, boathouse, seasonal ice skating rink, and more.
Things to Do in Central Park (from North to South)
Check out the Conservatory Garden, a formal garden that represents three distinct European garden styles.
Pack a picnic and head to the Great Lawn in the heart of Central Park for some lazy day lounging and people watching.
Take a quick hike up to the Belvedere Castle for a lookout on some of the best views of the park and the city skyline that surrounds it.
Browse through art and grab a light bite to eat and a cocktail at the Metropolitan Museum of Art's roof garden café and martini bar for sweeping city skyline views.
For more artistic inspiration, head to the Frank Lloyd Wright-designed Guggenheim Museum.
Visit the American Museum of Natural History, one of the largest museums in the world, famous for its expansive collection of dinosaur fossils and skeletons.
Rent a model sailboat and race a friend at the Model Boat Sailing pond.
Grab a friend and sign up for an hour row boat rental on the Lake at the Loeb Boathouse.
Check out the wildlife at the famous Central Park Zoo, an activity that's fun for all ages.
Rent a bike and make your own itinerary or follow a bike tour to see the best of Central Park and beyond.
That's a pretty fun list right there if you ask me. Want even more? Then head over to our list of popular things to do in Central Park and nearby areas.
Upper East & West Sides
The Upper East Side and the Upper West Side (bordering Central Park on opposite sides) boast luxurious apartments inhabited by some of the city's most affluent residents and many of the city's museums and most-visited attractions.
Things to Do in the Upper West Side
Just south of the Upper West Side is Lincoln Center, the world's most famous performing arts venue. Go on a tour and learn all about New York's music and dance scene.
Spend a little time exploring history specific to NYC at the New York Historical Society Museum and then head over to the iconic American Museum of Natural History. The two attractions are conveniently located next door to each other.
Things to Do in the Upper East Side
Visit Museum Mile and check out the Met and the Guggenheim Museum.
Explore the outdoor art scene in the Bronx on the Hunts Point Street Art Walking Tour.
Harlem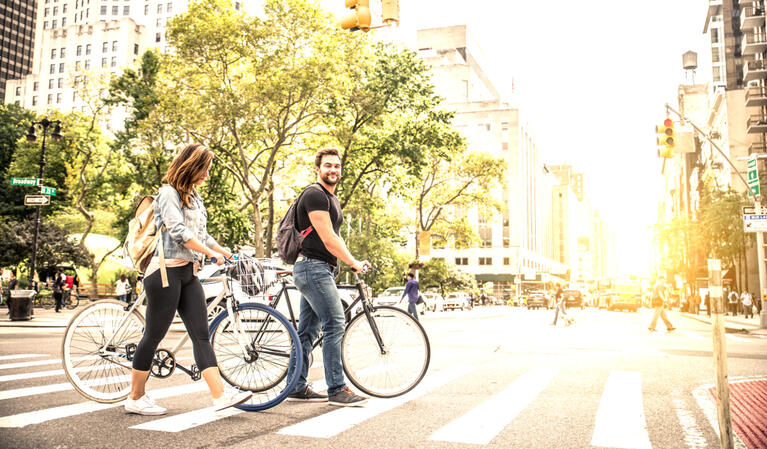 Renowned as a hub of African American culture and history, including the Harlem Renaissance of the '20s and '30s, Harlem gave the world such icons as Zora Neale Hurston and Langston Hughes. Browse through rows of beautiful brownstones and a plethora of churches.
Things to Do in Harlem
Learn about graffiti and street art on a 2 ½ hour walking tour around Harlem. You'll discover a new appreciation for the role Harlem has played in the history and evolution of hip hop culture.
Catch a show at the legendary Apollo Theatre performance hall, one of Harlem's most famous icons.
Save on Attraction Admission in New York City Neighborhoods
If you're exploring New York neighborhoods, you're bound to do a little NYC sightseeing - make the most of your time and save on admission to popular attractions, tours, museums, cruises, and more with The New York City Explorer Pass. Many of the great activities and attractions mentioned in this post are available on our New York attractions passes, where you can save up to 50% on combined admission vs. paying at the gate.