Planning vacations with activities that interest adolescents can be difficult, but there are plenty of things to do that will be fun for them and for the whole family. If you're looking for things to do in NYC with teens, check out our list of the top attractions and activities, including...
Empire State Building Observatory
Edge
Fashion Windows Walking Tour
Madame Tussauds New York
Rockefeller Center
NYC Movie & TV Tours
9/11 Memorial & Museum
Luna Park at Coney Island
Yankee Stadium: Classic Tour
American Museum of Natural History + more museums
Ripley's Believe It or Not! Times Square
and more...
1. See the City From Above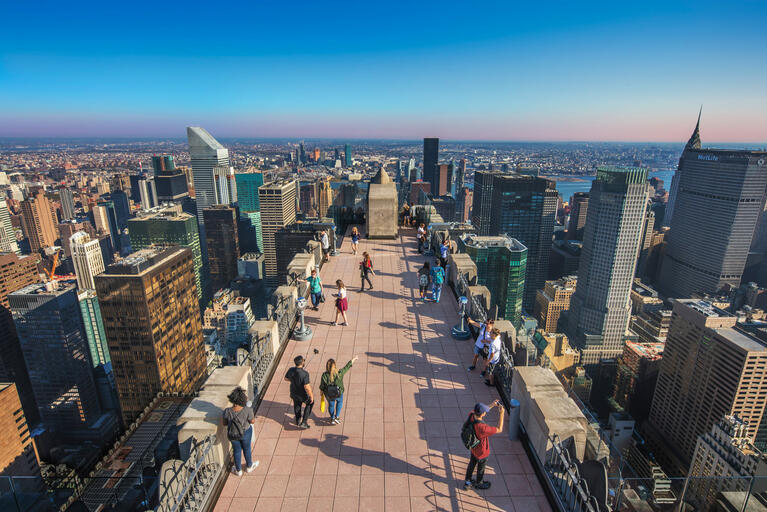 Guests of all ages love visiting the Empire State Building, one of the nation's most famous landmarks. As long as your teen doesn't have a fear of heights, you can travel right up towards the top of the building and see New York City like never before. The building is open to visitors from 8:00 am to 2:00 am daily, so you should plan to go around when it opens or when it closes to avoid crowds and lines.
The evening views provide especially compelling sights of the city skyline all lit up, so consider a late-night visit, too. For another great aerial view of the city (one with arguably clearer views), check out the Top of the Rock Observatory. This beautiful art deco skyscraper is a must for anyone looking for that perfect Instagram shot of the city below. Want more info? Compare Top of the Rock vs Empire State Building.
2. Don't look down!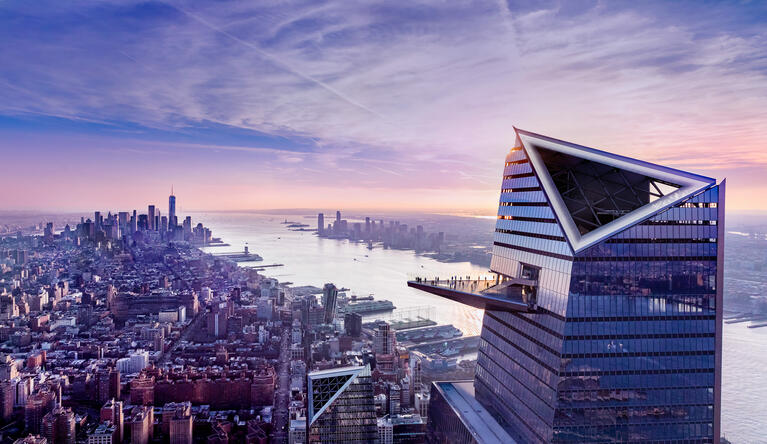 If the Empire State Building and Top of the Rock didn't totally satisfy your needs for terrifying heights, then Edge certainly will.
Soaring into the heavens at 1,100 feet, you can step out on this open-air viewing deck and look down 100 stories through the glass floor to the city below! You can even lean out over the skyline on angled glass, or drink in the views with champagne in hand for that truly out of this world experience.
This is not one for the faint-hearted, that's for sure.
3. Explore the World of New York City High Fashion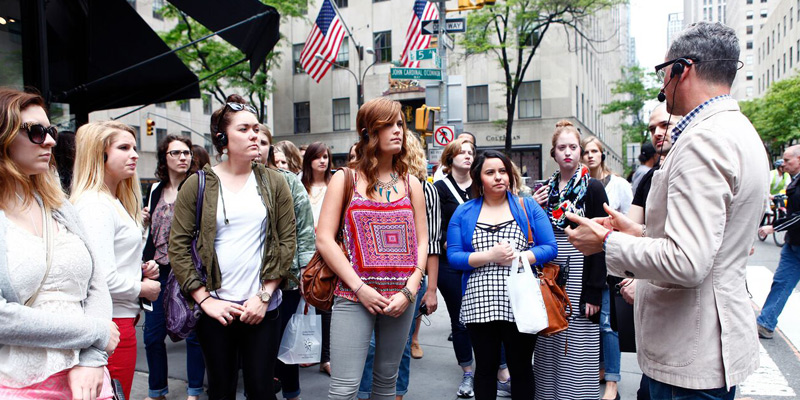 If your teen has been hanging on every new episode of Project Runway, knows all the latest designs from Marc Jacobs, and has their heart set on the hottest new sneaker, then this walking tour should be right up their alley. A two-hour jaunt along Fifth Avenue that highlights the iconic windows of NYC's most significant brands and fashion outposts, the NYC Fashion Windows Walking Tour is a must for fashion-obsessed teens.
It's also a good way to get some context on the history of Fifth Avenue and the legendary stores that have called this stretch of pricey real estate home for decades. And while your teens may not be able to splurge on that coveted handbag, they can certainly snap all the photos they want for fashion inspiration later!
4. Hang with Your Favorite Celebrities at Madame Tussauds
Madame Tussauds New York is a huge hit with teenagers. With over 200 life-like wax figures of their favorite celebrities, movie stars, TV and movie characters, pop-cultural icons, athletes, and more.
You should also plan to spend some time at Madame Tussauds' immersive exhibits, such as Kong: Skull Island - where you'll travel deep into the island's tropical environment and be challenged to find artifacts from Kong: Skull Island the film alongside the 18-foot multi-sensory animatronic Kong and a wax figure of Captain James Conrad. It's also located right in Times Square, making it an attractive destination for teens altogether.
Let them explore this attraction, then roam the neighborhood a bit to soak up the zany Times Square vibes.
5. See Where Their Favorite TV Show Was Filmed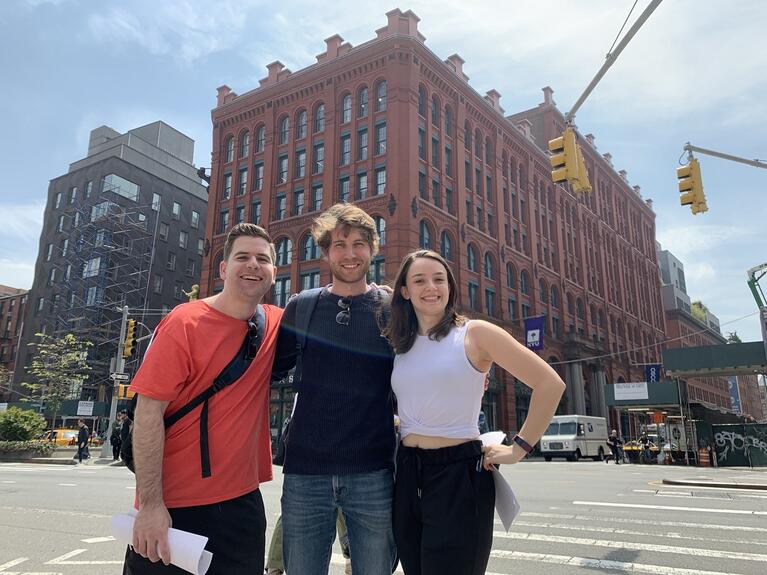 If you're looking for some more guaranteed interest from your teens, then something that engages their love of media is a smart bet. Your best option is On Location Tours, which offers exciting tours to thousands of people every week. They're the city's only official movie/television location tour and have tons of options to choose from. One of our favorites is the wide-ranging NYC TV and Movie Sites bus tour. Other specialty tours include focuses on "Gossip Girl," "Seinfeld," and "The Sopranos."
6. Rockefeller Center Tour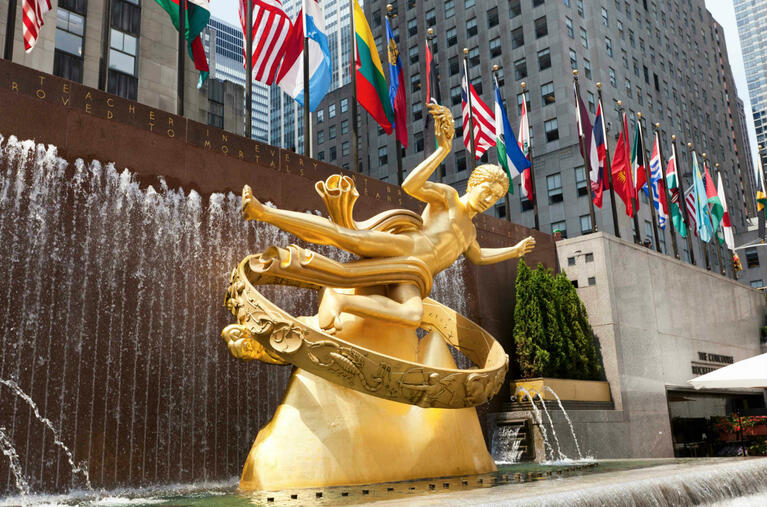 Speaking of TV, a trip to the legendary "30 Rock" (30 Rockefeller Center, home of NBC Studios and Radio City Music Hall) is another great idea for traveling with teens.
Though the 67th and 69th floors have outdoor terraces, the 70th floor of the building has an open air 360-degree view. There are GPS-activated audio/visual guides to tell you the names of the places you see. 30 Rock also has many shops and restaurants for before or after your visit. Take a tour of Rockefeller Center to learn all about this historic building and the legendary television that's been filmed there.
7. Learn About History at the 9/11 Memorial and Museum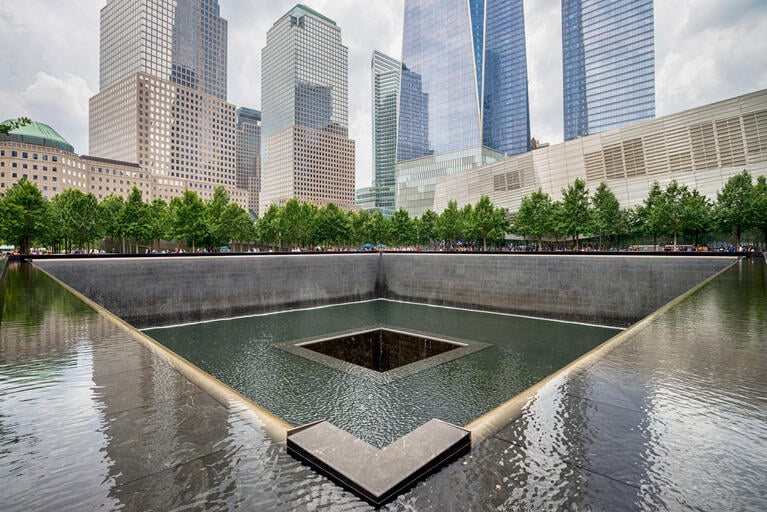 While your teens are too young to remember the horrific events of the September 11, 2001 attacks on the World Trade Center, the cultural legacy of this tragedy will still certainly resonate. A visit to the 9/11 Memorial is an opportunity for them to learn more about this terrible moment in United States history in a way that will surely strike more of a chord than their history textbooks. See relics that remained from the 2001 attacks - including the resilient Survivor Tree -- and learn about the lives lost in both the 1993 bombings and the 2001 attacks. It's sure to both enlighten and move your teens.
8. Visit Coney Island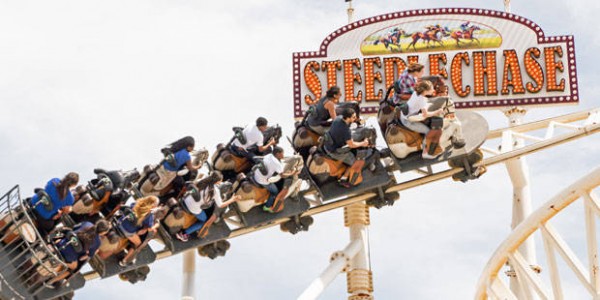 An afternoon spent at historic Coney Island is a must for any traveler to NYC, regardless of age. Head to Luna Park on Coney Island for a delightful afternoon of classic rides and thrilling experiences. While younger kids will probably get the most out of the traditional rides like the animal carousel, teens will appreciate the old-school vibe and will certainly love the boardwalk feel. Get an all-day wristband for Luna Park and let them all go wild on the rides, slides, and fun attractions. Don't forget the cotton candy and boardwalk hot dogs!
9. Enjoy Engaging Tours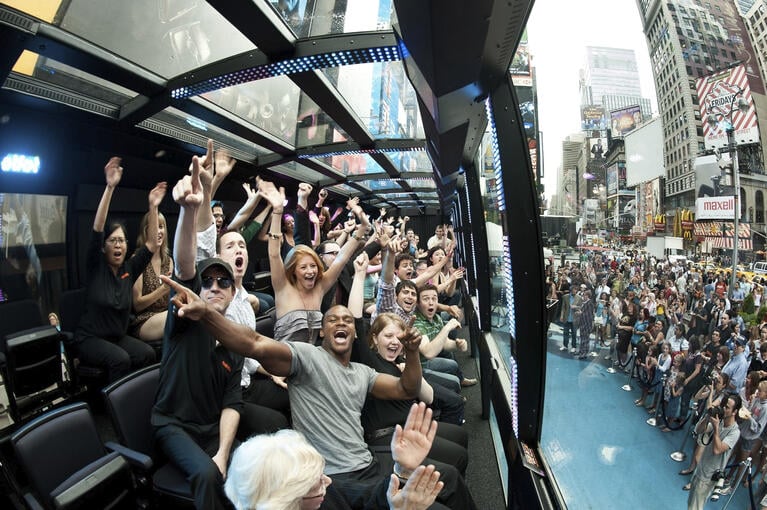 Popular tours that will be fun for teenagers include an in-depth look at the iconic Madison Square Garden, home to innumerable concerts and sporting events. This all-access tour is a great way to go behind the scenes and learn more about the legendary franchises of the New York Knicks, New York Liberty, and New York Rangers. For more generalized tours, bus options can be really fun.
One of the most unique tours in all of New York City is THE RIDE - the only tour that's part tour, part comedy theater. Cruise the city in a fully-equipped bus and enjoy performances by your amazing tour guides, who will entertain and inform you with everything from comedy routines to trivia to karaoke.
Any sports fan should consider a visit to and tour of Yankee Stadium. Gain a new appreciation for the New York Yankee franchise and baseball history on a guided tour of legendary Yankee Stadium.
10. Check Out the Weird Stuff at Ripley's Believe it or Not!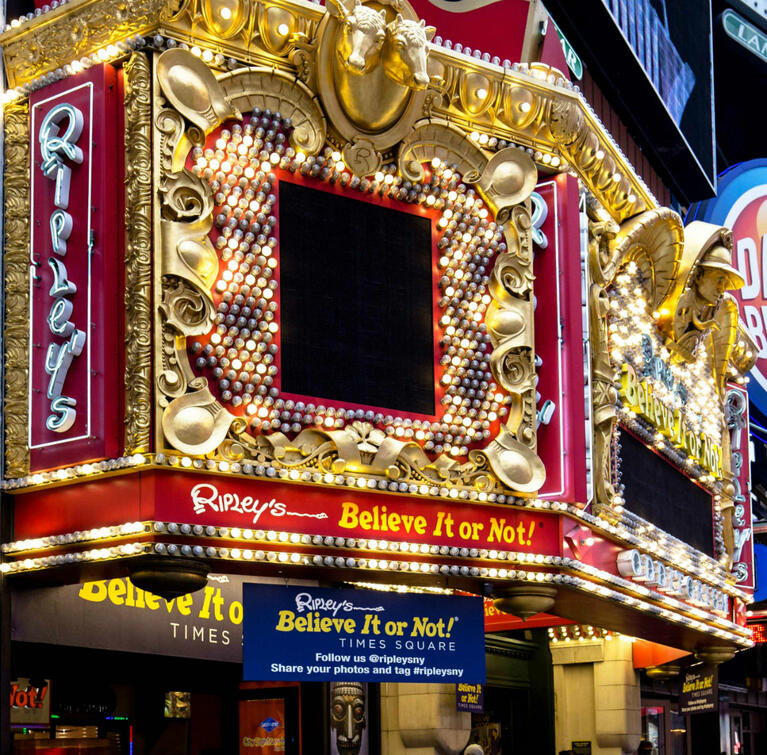 Ripley's Times Square is a must-visit destination for teens who love all things weird and wonderful. From quirky exhibits of real-life artifacts and natural wonders to the really cool "Little Apple" exhibit which showcases NYC in miniature, there's plenty of neat stuff to go around at Ripley's Believe it or Not! For the really active kids, there's also the Impossible LaseRace -- a great opportunity to challenge siblings and friends to see who can make it through the most successfully!
11. Wander Central Park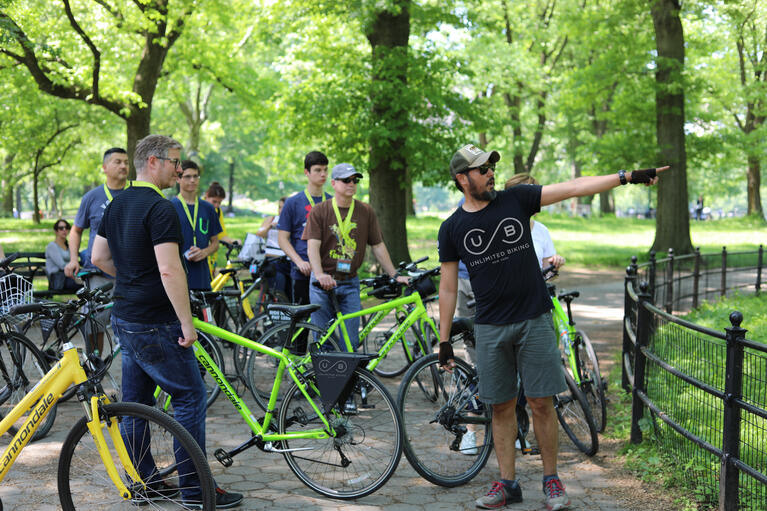 Central Park is the heart of NYC. This urban paradise is acres upon acres of ponds, trails, picnic spots, baseball diamonds, statues, forests -- they've got it all (there's even a zoo!). For a fun, stress-free way for your teens to enjoy their Central Park meanderings, scope out a bike rental. It allows them to cover more ground and burn off some of that extra energy and is an easy way to get some exercise, some fresh air, and keep all the kids happy.
12. Explore Fun Museums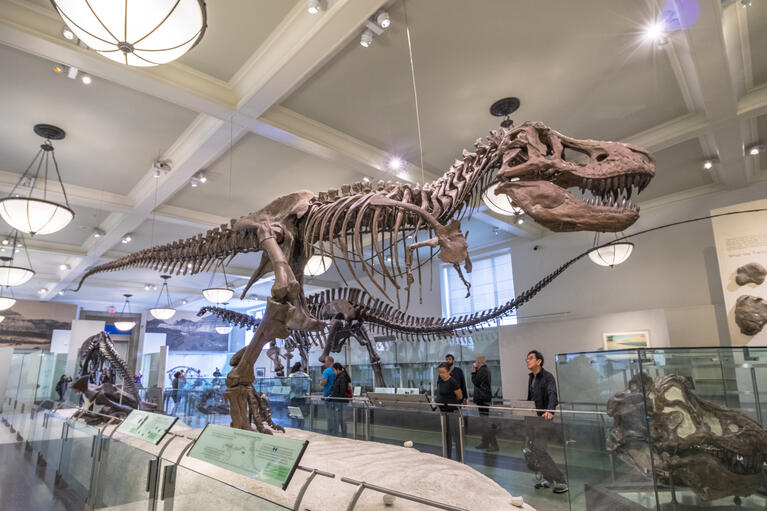 For your artsy teens or those who love history, there are plenty of world-class museum options to explore. With everything from one of the world's foremost art museums to the nation's favorite natural history museum, there is a museum for every teen in NYC. The Museum of Modern Art, or MoMa, features works by Picasso, Van Gogh, and Warhol. Even the most reluctant teens will be impressed by the works on display there.
The American Museum of Natural History includes a Planetarium, amazing dinosaur skeletons, fascinating exhibits on the human brain, and more. You can catch an IMAX movie, see a space show and shop at the Museum store. On your way out, take a stroll through neighboring Central Park to enjoy the city scenery.
Scientifically-inclined teens will also love a visit to the USS Intrepid, an iconic aircraft carrier that is now a museum. It's a great place to explore your interest in all things aviation, and military history as well. Be sure to also pay a visit to the Space Shuttle Pavilion for a truly exciting experience.
For more information on popular NYC museums, check out our post that covers a bunch more of the top museums in new york.
13. Roam Times Square
Credit: Javier Gutierrez Acedo (license)
For teens who love pop culture, make sure you take a trip to the famous Times Square. The area is filled with shops, restaurants and incredible glowing signs. Your teenager will certainly love seeing MTV Studios, the location of the New Years Eve ball drop and the New York Hard Rock Café! Check out our post on things to do in Times Square for more fun ideas in the area. Spend a few hours in Times Square -- grab a bite to eat at Planet Hollywood, shop in the massive Forever 21 and (if you're lucky) snag a photo with the Naked Cowboy.

Save on Admission to Attractions Teens Will Love
Many of these teen-friendly New York attractions are available on the Go New York pass. Choose as you go from dozens of top attractions and save on combined admission vs. paying at the gate. See all available passes, attractions & prices – Learn more. Consider adding a few of these teen friendly options to your vacation itinerary. Enjoy!