Heading to Oahu this year and hoping to hit the beach, but sick and tired of the unwashed mass clogging up your lounging space? Don't worry; we get you. Check out our list of the best hidden beaches in Oahu, and beat them all to the top spots!
Including:
Are there any secluded beaches in Oahu?
Is it legal to sleep on the beach in Oahu?
Are Hawaii beaches clothing optional?
The best hidden beaches in Oahu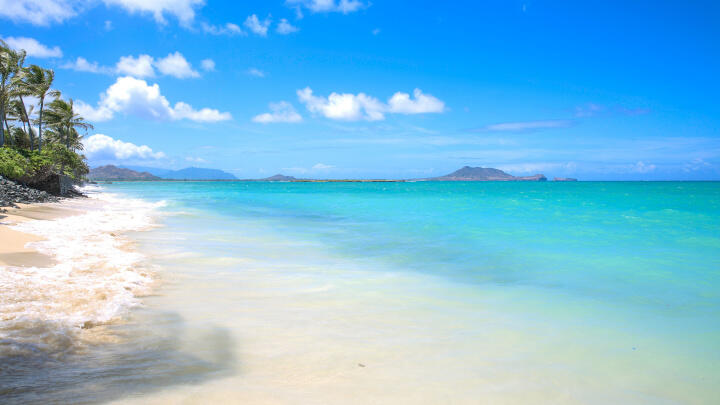 Are there any secluded beaches in Oahu?
Hawaii is a mysterious place full of magic, mystery, and plenty of pineapple-topped food. But what does that have to do with the question?
Nothing.
However, you'll be pleased to know that, yes, Oahu does offer a number of secluded beaches for you to explore. But what are they, and where are they? Patience; we'll get there.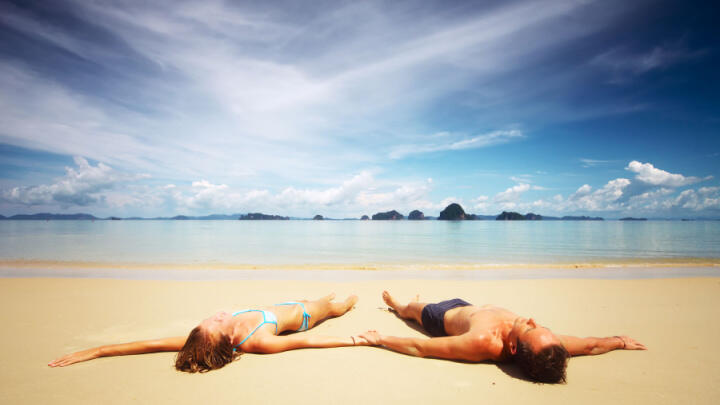 Is it legal to sleep on the beach in Oahu?
Hawaii is known to be a relaxing destination for many Americans looking to escape the hustle and bustle of their home cities. It's so relaxing that you may well find yourself nodding off on its pearly white beaches. But is it legal? 
Well, no one's going to slap the cuffs on you for catching a few z's in the middle of the day. After all, everybody needs their beauty sleep. But you can't just go to bed on the beach - you'll need a camping permit for that. 
Are Hawaii beaches clothing optional?
Those of you with a longing to bare all should take heed. There are practically no beaches in Hawaii that allow one to disrobe. Best keep your delicates on, then. 
Now that all of your burning questions are out of the way, let's explore the best hidden beaches in Oahu!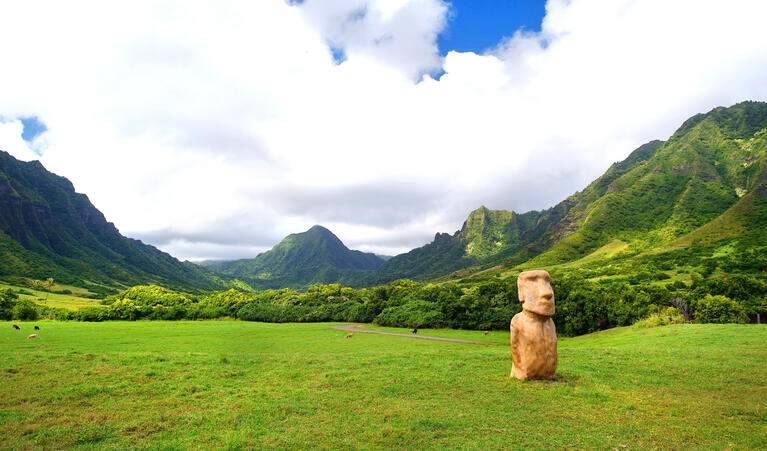 While all of the beaches on this list are hidden gems, Kualoa Ranch is the only private one. Have you ever enjoyed your own private beach? If not, you're in for a treat. Head to Secret Island - the clue's in the name - and get ready for three hours of fun.
With sweeping views of Kaneohe Bay and Mokolii Island before you, you're free to use all of the island's facilities. Activity seekers are well served, with kayaking, canoeing, stand-up paddleboarding, swimming, volleyball, and ping-pong some of the many things to actually do. For everyone else? Well, it's a private beach; make the most of it by relaxing to the max. Take a leisurely swim in the sea, stretch out in a hammock, or pitch a towel on the sand. Then, when you're done, shower off and change back into your civies. 
Just make sure to bring snacks and sunscreen.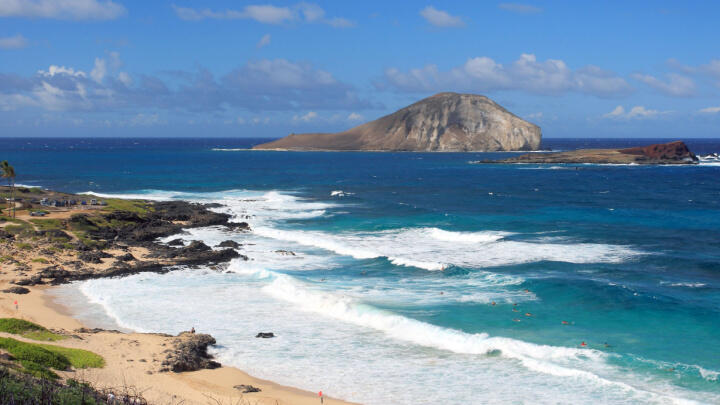 If you're looking for breathtaking hidden beaches in Oahu, it doesn't get much better than Makapuu. Overlooked by the famous Makapuu Lighthouse, Makapuu Beach offers visitors sparkly white sand as far as the eye can see. 
A local favorite, it's played host to surfing competitions for well over 50 years. That means that while the water is great for extreme sports, it's not so great for casual surfing. You may want to stay out of the water entirely and simply enjoy the beach-going experience. Oh, and if people are surfing, gaze upon their wonderfulness and only wish you could achieve it.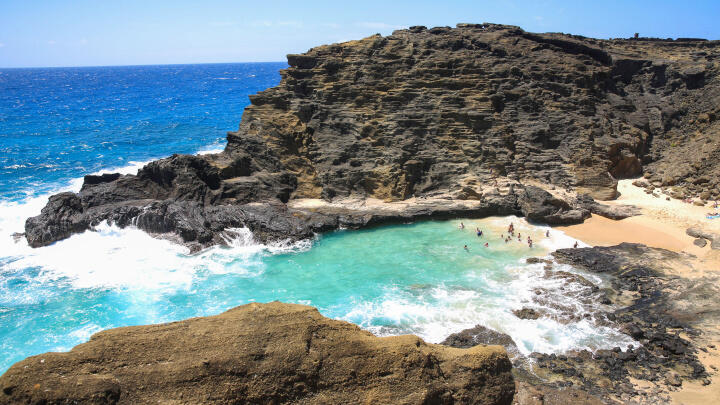 Fancy a trek during your visit to one of the hidden beaches in Oahu? You'll need to if you want to visit Halona Cove. But don't worry; it's worth it. 
Found betwixt Halona Blowhole and Halona Point is an unassuming stretch of sand that's so gobsmackingly beautiful that you may never want to leave. It's so freaking stunning that it's actually been the backdrop for many blockbuster movie scenes. Films such as Pirates of the Caribbean and 50 First Dates have shot on the location at Halona Cove, so you're in good company.
Yet for all its celluloid fame, it remains a hidden gem in Oahu's beach crown, so make the most of it before other people read this blog! If you're lucky, you may even spy humpback whales emerging from the sea.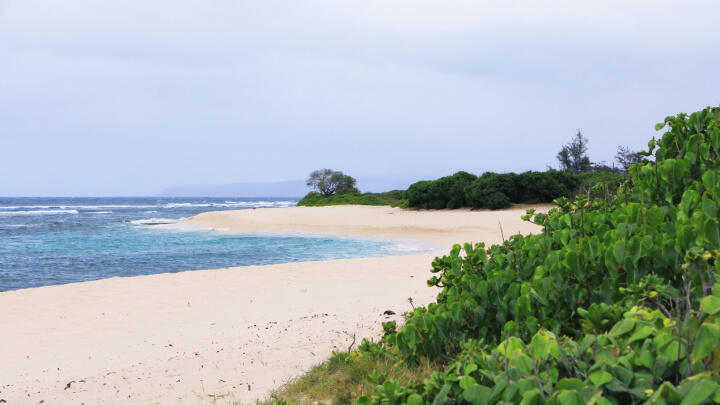 Oahu's North Shore is a bit of a gamble. Some beach spots along this stretch of coast are normally heaving with both locals and tourists alike. But we're not talking about Pipeline or Waimea here; we're talking about Mokule'ia Beach. And thankfully for you, it remains one of the best hidden beaches in Oahu!
You may well luck out and get the entire beach to yourself. That's how secluded it is. But if not, you're only likely to share it with a handful of revelers, and maybe even a snorkeler or surfer.
And fellow Lost enthusiasts are well served here, as Mokule'ia Beach just so happens to be the very spot where Flight 815 crashed back in season 1 of the hit TV show. So, if you want to step on sand that once graced Jack, Kate, Sawyer, and the rest of the cast, go right ahead.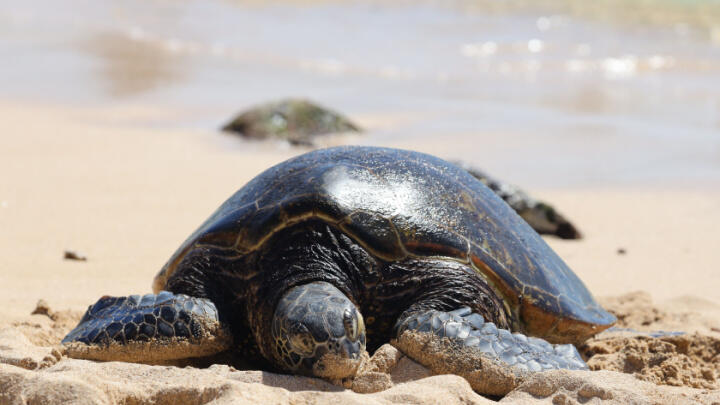 And finally, if your idea of the perfect beach getaway is miles of empty, white sand, and the opportunity to pitch your beach towel wherever you please, Kahuku Beach might just be one of the best hidden beaches in Oahu. 
Not even extreme sports enjoyers tend to visit. If anything, the only signs of life you'll see on the shore are fishermen, who tend to keep to themselves and focus on their whole "livelihood" thing. Since it's a great fishing spot, it also makes sense that it isn't exactly the ideal location for a dip, as fish tend to congregate in less forgiving terrain such as rocky outcrops. As such, best stick to the sand.
But if all you want to do is relax in silence, then Kahuku Beach is the perfect crowd-free getaway. 
And those are our picks of the best hidden beaches in Oahu! However, vacations aren't all about beaches. So, if you want some ideas on how to fill out the rest of your itinerary, try Go City! With our All-Inclusive Pass, you can see all of Oahu's best bits for one low price!