San Francisco's sprawling Chinatown covers no less than 24 square blocks, measuring around a half mile north to south and a quarter mile east to west and forming part of the busy Downtown neighborhood. It's also the oldest Chinatown in North America, established here way back in 1848 when it blew Western minds with that first life-changing taste of aromatic Chinese dumplings. 
There's more than enough to see and do within this historic enclave's storied streets and alleyways to fill an entire day, allowing you time to soak up the unique atmosphere and experience a slice of San Francisco as it used to be. So what are you waiting for? Pass through the Dragon Gate and join us on our stroll through the best things to do in Chinatown San Francisco. 
Enter the Dragon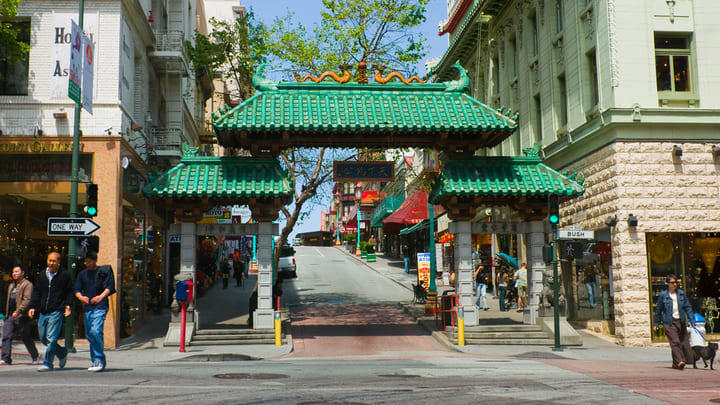 There are two distinct sides to Chinatown: the touristy and the non-touristy. You're a tourist though, right? So that seems like the logical place to start. Of the two major thoroughfares running north to south through Chinatown, Grant Street is the one you're looking for – specifically the much-photographed Dragon Gate – the imposing southern entrance with its three gates in traditional pailou style and its duo of fearsome Chinese lions. Wait your turn for the essential Chinatown selfie before stepping through to begin your Chinese adventure proper.
Immediately you'll find yourself transported to a different world, a world where red and gold paper lanterns sway overhead, ornate street lamps line the sidewalks, and the intoxicating scents of sizzling Szechuan shrimp and hoisin roast duck (more about the food later, snack fans!) fill the air. Soak it up as you wander along Grant Avenue, camera in hand, to the intersection of Grant and California. Here, to the clang and clatter of San Francisco's iconic cable cars, is where you'll find Chinatown's other most-photographed structures: Sing Chong and Sing Fat, a pair of towering pagoda-style buildings facing off across the street, and Old St Mary's Church which bears an ominous ALL CAPS warning beneath its grand clock: "SON, OBSERVE THE TIME AND FLY FROM EVIL"
Avenues and Alleyways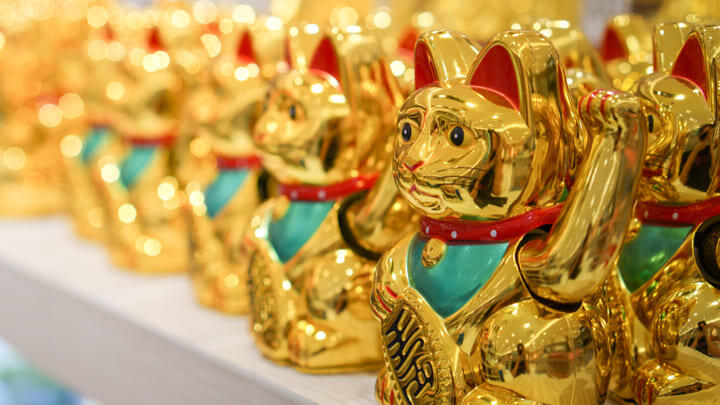 But the real magic happens when you get off the main drag and begin to explore the other side of Chinatown. Even the second major thoroughfare, Stockton Street, has a more authentic feel. So once you've bagged your souvenirs – waving lucky cat, paper lantern, bamboo backscratcher – from the gift shops on Grant, head over to the colorful markets on Stockton for a real taste of China. And we mean that literally: the produce markets here hawk everything edible, from dried fruit to live crabs and great bundles of bok choy. 
Wander into the side streets and back alleys and you'll discover a whole world of Chinese culture. Think tiny mah jong parlors, laundry strewn window to window on makeshift washing lines above the street, bakeries crammed with egg custard tarts and Chinese donuts, and cute old-fashioned shops selling all manner of snacks, trinkets and esoteric Chinoiserie. 
Me Want Cooooookies!
Discover what your future holds at the tiny Golden Gate Fortune Cookie Factory on Ross Alley. Here, you can watch the crack cookie team in action as they assemble thousands of the crunchy fortune-telling treats by hand every single day. Photos are permitted for a small fee, and you can buy bags of cookies in a variety of flavors to take away. Go green tea for maximum authenticity, or chocolate-coated for the ultimate cookie indulgence. But be warned: there may well be an expanding waistline in your future.
Nearby Waverly Place was once home to two notorious brothels. Now the most colorful thing here is the buildings, rows of Insta-perfect shops and dwellings painted in a rainbow of garish greens, baby pinks and turmeric yellows, complete with elaborate balconies. It's also where you'll find the Tin How Temple. Founded way back in 1852, it's the oldest Taoist temple in the United States. Intrepid explorers can visit by locating number 125 Waverly Place and climbing the steps to the third floor. Inside, incense burns, candles flicker in the gloom, paper lanterns hover overhead and dozens of small statues of Chinese deities crowd the space. Worshippers pray silently and leave offerings of fruit and bread at Tin How's shrine.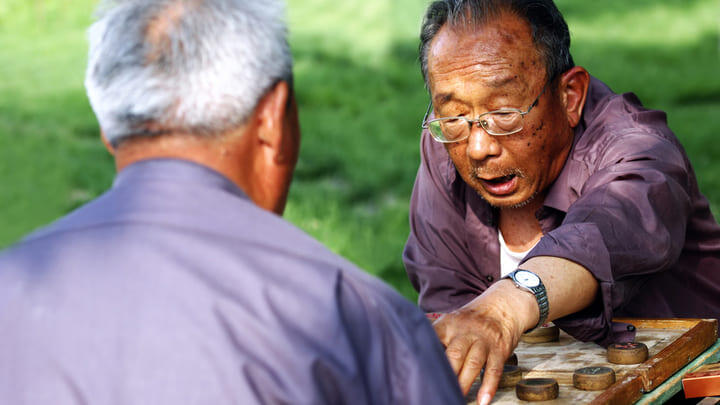 Next, head round the corner for a snap in front of the Old Chinese Telephone Exchange, a beautifully overstated red, green and gold pagoda-style building on Washington Street, now staffed by bank employees who gaze on with bemusement at the constant flow of selfie-takers on their doorstep. Then onwards to Portsmouth Square: this rather nondescript place is nevertheless the heart of Chinatown, and it's here you can pause to watch the world go by and see elderly locals indulge in good old-fashioned pursuits like t'ai chi and Chinese chess. 
Food, glorious food!
Confucius say: he who comes to Chinatown and does not eat the food did not really come to Chinatown. Ok ok, so we made that quote up, but it's a truth universally acknowledged that the best dim sum in the States is to be found in the narrow lanes of this thriving San Francisco neighborhood. Our advice? Dive in!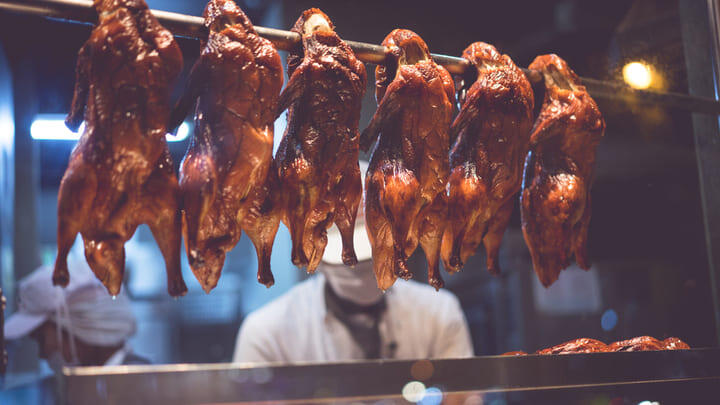 There are a number of hole-in-the-wall takeaway joints as well as (usually) tiny, cramped premises for those who want the full authentic Chinatown experience. These are the places for life-altering culinary experiences, where you can gorge on delicate shrimp and chive gyoza, fluffy BBQ pork dumplings and crispy sesame balls to your heart's content. The food is so good and the prices so cheap that there's every chance you'll stick around for seconds. And probably thirds. Just don't expect the 'have a nice day' level of attention you'll be used to from elsewhere in San Francisco. Service here often feels brusque and impatient, but lean into it at eateries like the City View Restaurant and Chinatown stalwart the Hang Ah Tea Room and you'll soon discover it's all part of the charm, and easily one of the most fun things to do in San Francisco's Chinatown.
Save on things to do in Chinatown San Francisco 
Save on admission to San Francisco attractions with Go City. Check out @GoCity on Instagram and Facebook for the latest top tips and attraction info.