Located just south of Downtown, San Francisco's Mission district – or just plain Mission for short – is a colorful and eclectic neighborhood that's brimful of vibrant murals, fantastic Mexican-inspired cuisine and epic party zones like Valencia Street, with its buzzing bars and clubs. It also happens to be home to the oldest surviving structure in town, the beautiful 18th-century Misión San Francisco de Asís, aka Mission Dolores. Join us as we take a journey through the best things to do in the Mission San Francisco.
Check Out the Mission Murals
One of the very first things you'll notice on a visit to the Mission is the colorful street art that adorns nearly every available surface. Some of the best and most Instagrammable examples can be found in Clarion Alley, a narrow lane with countless murals by local artists, many with political themes, as well as fine tributes to the likes of Prince (Rest in Purple). You'll find other thought-provoking and often controversial pieces in Balmy Alley, where homages to Frida Kahlo and Georgia O'Keeffe are among the 40-odd pieces.
Visit San Francisco's Oldest Building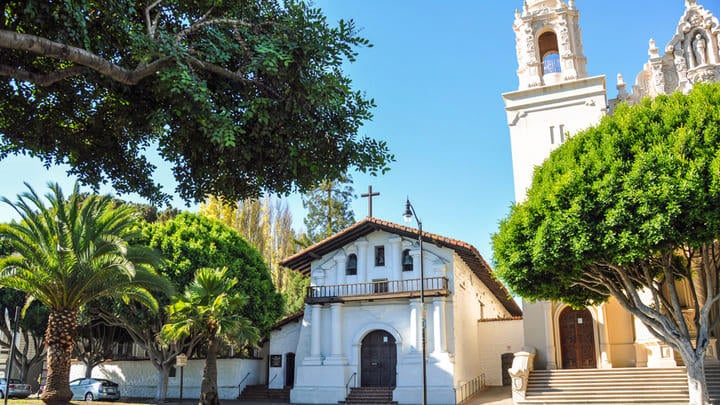 Some might consider the survival of Mission Dolores for well over 200 years to be the act of some higher power. It has, after all, remained standing relatively unscathed through the devastating earthquakes of 1906 and 1989. Next to the adobe mission – a small sugar-white church with a colonnaded facade that has remained largely unchanged since the late 1700s – stands the comparatively youthful Mission Dolores Basilica. It's an elaborate confection, built in 1918 in the California Churrigueresque style and cuts a striking figure next to its diminutive sibling.
Catch Some Rays in Dolores Park
A couple of blocks south of Mission Dolores, its namesake park is a lush oasis on a typically steep San Francisco gradient that makes for quite excellent views over Downtown and the bay. It's a lovely place  for picnics and people-watching that's often one of the sunniest spots in town, thanks to the Mission's unique microclimate. There are tennis courts and soccer fields should you be that way inclined, as well as a kids' playground to keep the little uns entertained.
Go Shopping on Valencia Street
Valencia Street's eclectic medley of (mostly) independent stores makes for a fun wallet workout. Here, thrift stores toting one-off vintage fashions rub shoulders with high-end designer boutiques, and you can pick up a bargain used Kerouac or Ginsberg at Dog Eared Books or find that elusive vinyl LP from legendary local bands like Faith No More and Sly and the Family Stone in Stranded Records. It truly is a street that caters for all needs, as evidenced by the Pirate Supply Store, a non-profit organization that furnishes Jack Sparrow types with eye patches, scurvy medication, whale feed and a dazzling array of seafaring apparel.
Get Stuck into a Mission Burrito
Thanks to its large Mexican community, the Mission is your number one destination in SF for the best tacos and tortillas in town. The Mission Burrito is renowned California-wide for its farm-fresh ingredients and steamed flour tortilla – a method of baking that give the wraps greater flexibility to contain their frankly obscene amounts of filling. Crammed to bursting point with beans, rice, meat, salsa, cheese, sour cream, guacamole and shredded lettuce, this belly-busting beast would stop King Kong in his tracks. Get yours from legendary local Mexican restaurants including Taqueria La Cumbre and Taqueria El Faro, both of which claim to have invented the monster snack back in the 1960s.
I Scream, You Scream…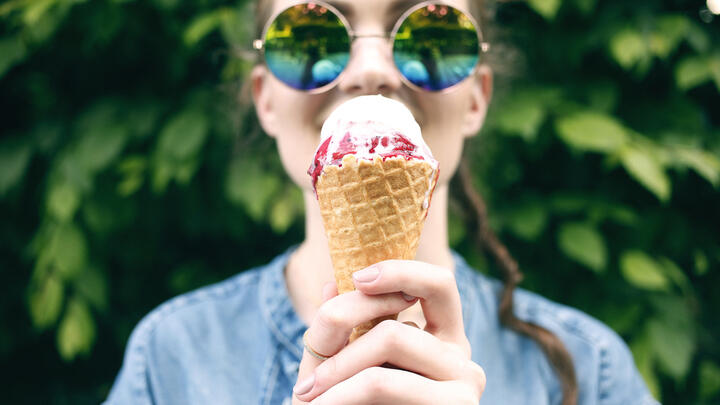 Whaddya mean you're still hungry? Well, we guess even after devouring a burrito the size of Dwayne Johnson's bicep there's always room for ice cream… For the coldest, sweetest treat in the neighborhood, make for the Bi-Rite Creamery on 18th, right next to Dolores Park. This cute little cafe was founded by a pair of pro-bakers so you can be sure your handmade, small-batch ice-cream will contain the squishiest snickerdoodles and crunchiest peanut brittle, as well as using seasonal local fruits and honey. Signature flavors include Japanese black sesame with Bay Area Bee Company honey and a dairy-free pina colada rum with caramelized pineapple pieces. Yum.
Catch a Show at The Chapel
It's not difficult to see why California Home+Design named The Chapel as one of its 10 most beautiful music venues in the entire state. This century-old former funeral home boasts soaring vaulted ceilings with original beams and a chapel-like interior that looks every bit as good as the acoustics sound. It's a smallish place with a capacity of around 750, so expect up-and-coming local bands as well as touring indie outfits and jazz and bluegrass collectives. Previous big-name acts to grace this heavenly stage include Kate Nash, Public Image Ltd. and local-boy-done-good Mike Patton.
Get the Party Started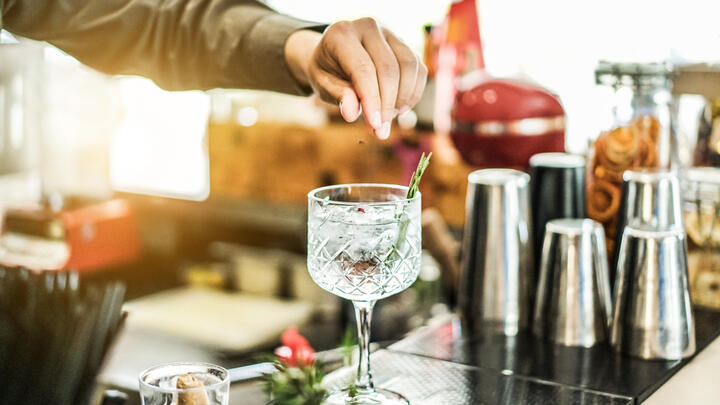 Party animal? You've come to the right place. The Mission is one of San Francisco's hottest spots for entertainment after dark. The area around Valencia Street in particular is cocktail central, with upscale joints serving up a vast range of expertly mixed drinks. Put some pep in your step with a spicy La Botana cocktail at ABV, lay a fruity Hungry Ghost to rest at Trick Dog and savor a rye whisky and chocolate stout-laced Friend of the Devil at quirky Dalva. Dive bars also proliferate throughout the neighborhood. The Knockout with its eclectic mix of karaoke, DJ parties and live bands is a highlight. Or mosey over to Shotwell's for a traditional saloon bar complete with (real) bullet holes and fab craft beers.
Go to a Festival 
Every Memorial Day weekend, the neighborhood bursts into life as the Carnaval Festival and Parade rolls into town. This riot of color and sound celebrates the arts and traditions of Latin America and the Caribbean meaning you can expect flamboyant costumes, lively street performances, unique crafts and some of the best street food this side of the Mexican border: it's truly one of the most enjoyable things to do in the Mission. San Francisco also honors its substantial Mexican community with colorful Day of the Dead processions and celebrations in the Mission's Garfield Park on November 2.
Save on things to do in The Mission San Francisco 
Save on admission to San Francisco attractions with Go City. Check out @GoCity on Instagram and Facebook for the latest top tips and attraction info.