Hot, steamy and sticky, June sees Singapore's peak season get into full, glorious swing. The streets teem with sightseeing vacationers, the summer shopping season peaks during the Great Singapore Sale and hotel prices rise more sharply than the midday mercury. In short, it's an expensive but fun time to visit, assuming you can stand the heat. Here's our expert guide to what to expect when vacationing in Singapore in June.
Visiting Singapore in June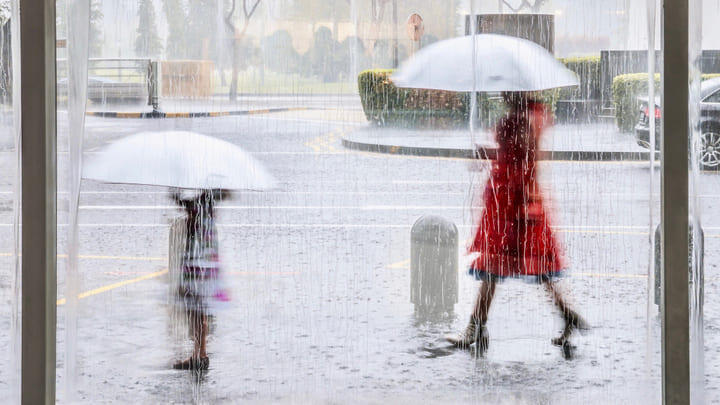 Temperature: 75–88°F • Average Rainfall: 19 days/month • Average Sunshine: 8 hours/day
If you remember to pack just one thing for your June break in Singapore, make sure it's sunscreen. The sun is hot and relentless at this time of year, even when there's cloud cover. So do yourself a favor and slap on the factor 50 to avoid the shame (and discomfort) of a 'Singapore tan'. The heat and humidity also encourage the wearing of light, loose-fitting cotton or linen clothes and broad-brimmed hats. Heck, maybe even stuff a parasol in your backpack along with the water bottle and city map, just to be on the safe side.
You'll also want a proper umbrella: June sees the start of the southwest monsoon season, with regular afternoon downpours that increase in intensity, frequency and duration as the month progresses. Nicknamed the 'Sumatra squalls' these sudden, heavy downpours are usually heralded by strong gusty winds and peals of thunder. If you spot the signs in time, we'd advise ducking into the nearest café or mall until the rain passes because, frankly, no umbrella is going to keep you completely dry when torrents of accumulated water begin gushing around your feet, like a miniature version of The River Wild.
Hotel prices do also increase at this time, but not crazily so. As always, we advise booking your accommodation as far in advance as possible to lock in the best deals.
Things to do in Singapore in June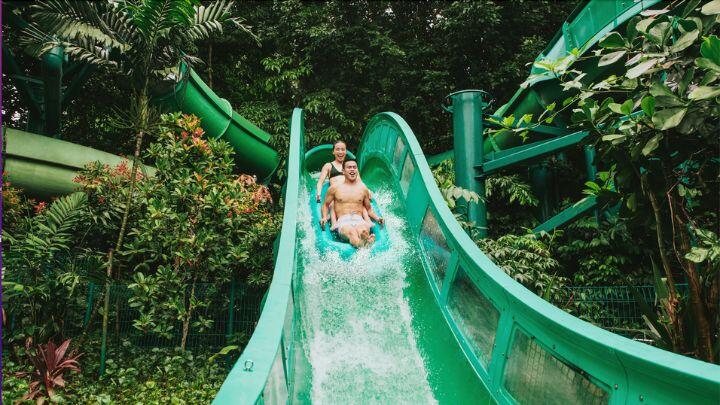 It's just too damn hot to do most anything other than meandering gently down a lazy river in a giant donut, right? Right! Good news! Singapore is just a hop and a skip from its tiny island sibling of Sentosa, reachable via road, monorail, pedestrian bridge or (hands down the most fun and scenic option) cable car. Once there, you have access to a veritable playground of sunny day activities including, yep, the biggest and best water park in Singapore. Hit up Adventure Cove for the aforementioned lazy river, with 14 different zones that include a verdant jungle garden, a secluded grotto, and a spectacularly trippy underwater tunnel teeming with tropical marine life. Hop over to the park's Rainbow Reef, where another 20,000 or so watery critters are waiting to say hello to snorkeling tourists. There are fun wave pools for the kids as well as, inevitably, a handful of heart-pounding high-octane flumes for adults. Ever wanted to know what it feels like to be flushed down the loo? The Riptide Rocket and Spiral Washout rides have your name written all over them!
Adventure Cove is part of Sentosa's enormous Resorts World complex, where there are more drinking and dining options than you can shake a stick at, as well as an aquarium, the awesome Universal Studios Singapore theme park, and more.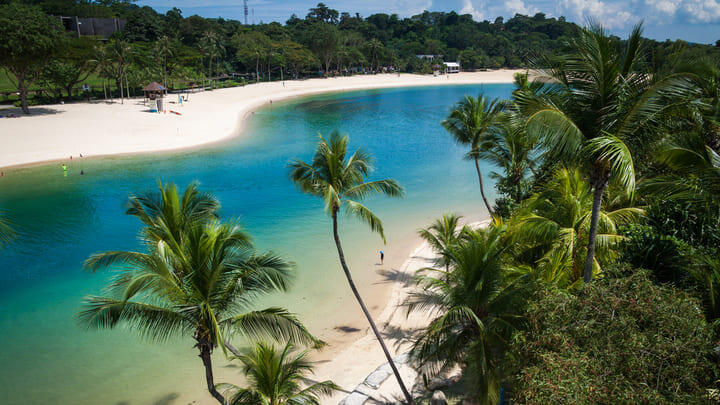 Want beaches? Sentosa has those, too. Whether a history buff, an adrenaline fiend or, you know, simply in the market for sipping cocktails beneath the shady fronds of a coconut palm, the island's man-made trio of sandy beaches will have something for you. Stroll the elevated walkway through the treetops to Fort Siloso, soar high over Siloso Beach on a giant swing, or strap on your snorkel and flippers for a spot of marine sightseeing in the emerald-green waters that lap the shore. A free shuttle operates along the southwest coast, linking the three beaches.
There are plenty more activities to keep outdoor types occupied in Singapore in June. Take to the waters in a kayak around the coastal waters and mangrove forests of Pulau Ubin, a  boomerang-shaped island just off the northeast coast. Slap on the sunscreen and hit the 26 kilometers of lush cycling trails around the Northern Eastern Riverine Loop, pausing for breath in wetlands, woodlands and beach parks along the way. Commune with nature at the MacRitchie Reservoir, or meet the ferociously cute inhabitants of the sprawling Singapore Zoo.
And if the June heat doesn't have you scurrying for the nearest air-conditioned building, the afternoon downpours surely will. In fact, they're as good an excuse as any to while away a few hours browsing the vast collection of Singaporean and Asian art in the National Gallery or indulging in a traditional tea ceremony in Singapore's biggest and oldest traditional teahouse, a venue once visited by Queen Elizabeth II, no less. And if it's good enough for Her Majesty…
What's on in Singapore in June?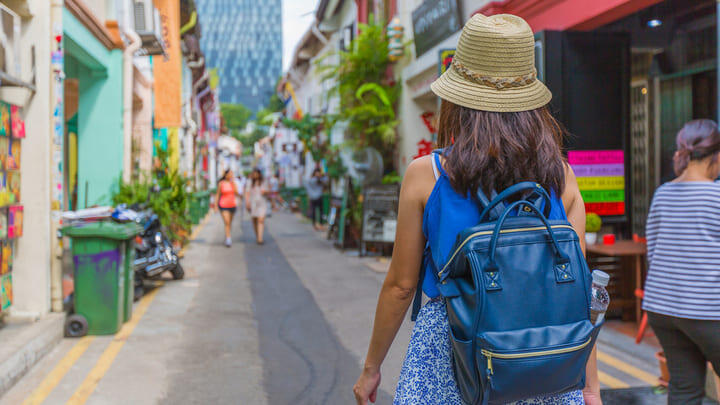 You'll also want to spend time in the malls. Regardless of what the weather's doing outside, June is prime time for picking up a bargain as the annual Great Singapore Sale gets into full swing. You might want to pack an empty suitcase for this one, because it's a whopper. We're talking hundreds of participating stores offering unheard-of discounts of up to 70% on designer goods, big-brand electronic gadgets, homeware and more. Head to the famous malls along Orchard Street for some of the most sensational bargains in town and a veritable festival atmosphere amongst feverish shopaholics. You'll also find some fine bargains in and around the atmospheric lanes of Kampong Glam (pictured above), where even the independent boutiques and souvenir stores are getting in on the action.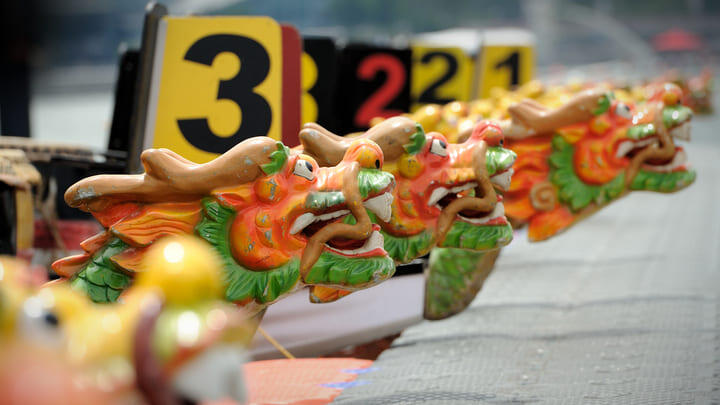 Easily June's most enjoyable Singapore spectacle, the Dragon Boat Festival has its roots in a tale about ancient Chinese poet Qu Yuan. It's said that when he threw himself into a river in despair after being banished by the king, locals beat the water with oars and threw in rice dumplings to prevent fish from devouring his body. Weird, right? Anyhoo, this annual festival commemorates that legendary event by way of colorful dragon boat races along the island's rivers, accompanied by a loud beating of drums and the sound of millions of Singaporean's tucking into those delectable little dumplings – glutinous, sticky blobs of rice warped around any number of delectable sweet and savory fillings. Yum.
Save on attractions

and activities in Singapore
Save on admission to Singapore attractions with Go City. Check out @GoCity on Instagram for the latest top tips and attraction info.