Spending a long weekend in Washington, DC and looking for ways to fill your time? While there is plenty to do in our amazing capital city, it can be hard for first-time visitors (or even returning travelers!) to decide what to do in a limited amount of time. We've put together a great 3 Days in Washington DC itinerary to give you a plan, a starting point, or even just some ideas. From tours and cruises to museums and monuments, we've got it covered. Plus, many of these popular attractions are either free to visit or included with the Go Washington DC pass. Enjoy! This 3 day itinerary includes:
Hop-on Hop-off Big Bus Washington DC Tour
The Smithsonian National Air & Space Museum
Newseum
Stroll the Ellipse
Washington Monuments Cruise
Georgetown
Biking the National Mall
The Smithsonian National Museum of American History
George Washington's Mount Vernon
Old Town Alexandria
National Harbor, MD
Only have one day in DC? We've also put together a sample 1 day Washington DC itinerary.
Save on Attraction Admission
The Washington DC Explorer Pass® gives you the flexibility to create your own itinerary, so you can choose from top attractions and create a vacation tailored to your interests.
Day 1
Stop #1: Big Bus Sightseeing Tour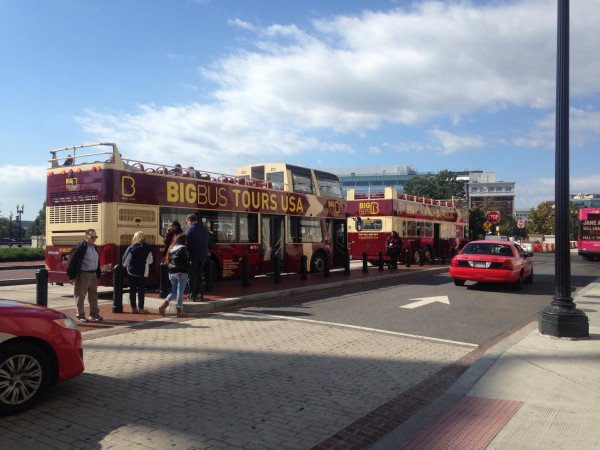 This comprehensive DC bus tour is a perfect introduction to the city. This tour is an excellent way to get a good overview of the city's top attractions, and to learn about DC's history and significance. The many fascinating and historical sights you'll see on your tour include the US Capitol and Botanical Garden, Air & Space Museum, Jefferson Memorial, the White House, and many more. There are more than 25 stops along the way, so it's perfect for customizing your own adventures. If you choose to remain on board for the entire loop, it should take about two hours. However, you are free to disembark and board as many times as you like. Be sure to read our Hop-On Hop-Off guide to help plan your trip. Getting In: Hop On Hop Off Big Bus DC Bus Tour tickets are available on the Washington DC Explorer Pass.
Stop #2: The Smithsonian National Air & Space Museum
Disembark when you get to the National Mall and make a beeline for the National Air & Space Museum. It's one of the most-visited of all the Smithsonian Institution museums and is incredibly popular with kids. Inside, you'll find a wide selection of interactive exhibits and educational videos. Additionally, there are collections of real items and artifacts from the history of flight, and a truly impressive collection of real, restored aircraft. You'll find everything from early biplanes to Soviet rockets to lunar landers. Keep in mind that Smithsonian museums tend to get busy fast, so it's best to pop in before lunch. You should also save some time (and spending money) for the gift shop – they have excellent souvenirs ranging from from books and toys to clothing and commemorative objects.
Getting In:
Admission to the Air and Space Museum is free.
Stop #3: Newseum
For your next activity, head north of the National Mall to the Newseum. One of the more unique museums in the city, it's an institution dedicated entirely the history of international mass media. Peruse world newspaper covers and marvel at interactive exhibits. Stand in awe of poignant artifacts like wreckage from the Twin Towers or a piece of the Berlin Wall. For history fans, there are also plenty of documents and newspaper clippings from important events in American history, often featured in amazing special exhibits. Your admission to the Newseum includes a two-day ticket, so feel free to come back tomorrow if you feel like you haven't seen enough! They also have frequent special exhibits featuring themes like past presidents, events of national significance, political movements, and more. Whatever you're interested in, you're sure to learn something new at the Newseum. Check out our
guide to the Newseum
before your visit to make the most of your trip.
Getting In:
Newseum tickets
 are available on the Washington DC Explorer Pass.
Stop #4: Stroll the Ellipse & Photograph the White House
Your final stop of the day is going to be a super exciting one. Head back west (parallel with the National Mall) for a few blocks until you reach the Ellipse, an expansive and well-groomed lawn adjacent to the South Lawn of the White House. It's where you'll find the National Christmas Tree each year, if you're in town during the holiday season. It's also a place where locals have snowball fights, toss Frisbees, picnic, and more. Plus, you'll get a great opportunity to snap photos of the White House! You can't visit DC without visiting the White House – this has to be on your itinerary.
Insider Tip: 
You can also get great photos from the Pennsylvania Avenue side, if you want to wander through Lafayette Square and look at the statues and monuments there, too.
Getting In:
Although you can't actually tour the White House without prior arrangements, you can easily get great photos from the area.
Day 2
Stop #1: Washington Monuments Cruise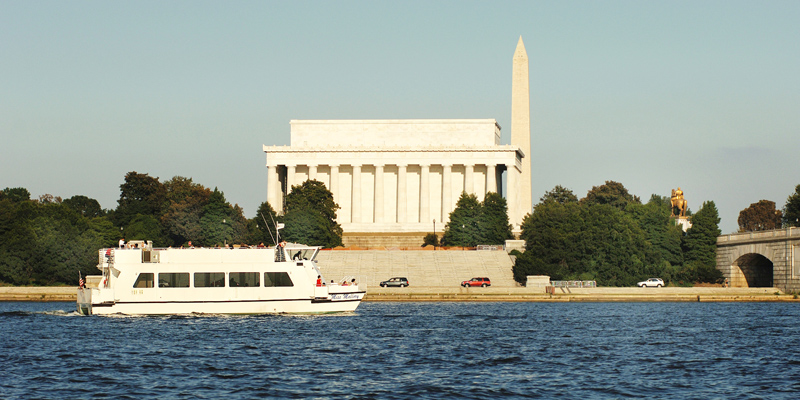 To start your next day off right, head down to the Georgetown Waterfront to pick up the Washington Monuments Cruise. This relaxing sightseeing cruise is another great way to see DC from a whole new perspective! Head down the Potomac River past famous monuments, landmarks, historic buildings, and plenty of natural beauty. Sit back, relax, and learn all about DC's top spots. Some of the top sights are the Kennedy Center for the Performing Arts, the Lincoln Memorial, the Washington Monument, Arlington National Cemetery, and more. Cameras at the ready! Be sure to present your Explorer Pass at the ticket booth prior to boarding your cruise. Remember to arrive at least 30 minutes prior to your desired sail time. Getting In: Washington DC River Cruise tickets are available on the Washington DC Explorer Pass.
Stop #2: Georgetown
Take this opportunity to explore the classic Georgetown neighborhood. Got kids looking into colleges? Stroll the grounds of Georgetown University or the urban streets of the George Washington University. Love shopping? You'll find Georgetown to be a shopper's paradise. There are also plenty of historic sights in the Georgetown area, too. It's been the host of a number of films, so check out a few cinematic sights like the Exorcist stairs at the end of M street. Or, pay a visit to the Old Stone House, one of the only intact pre-Revolutionary War buildings in the area. Whatever you choose to do, Georgetown is a wonderful neighborhood and definitely worth a visit.
Insider Tip:
 Georgetown is best seen on foot, since it's only a few blocks, but if you do need a bit of a lift the Circulator can take you up and down M street.
Stop #3: Bike the National Mall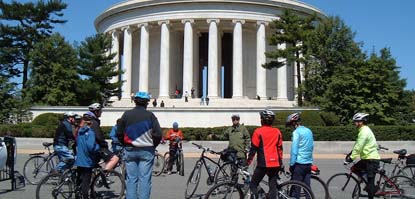 If you've visited in the warmer months (which in DC is a large part of the year), it's time to get a little exercise along with your fresh air. Rent a bike down on the National Mall and take a bit of time to explore the natural and architectural beauty of Washington, DC. With an included map, it's pretty easy to find your way around the Mall as a family. And if you're interested in ranging further afield, don't worry – DC is a very bike-friendly city. Your bike rental is good for three hours, so feel free to spend a large part of the afternoon biking. Need more time? Just check with the Bike and Roll staff for information on upgrade fees. Cycling is a great way to see the city. Go at your own pace, choose where you want to visit, and make the most of the lovely weather. Getting In: DC Bike rentals by Bike and Roll DC are available on the Washington DC Explorer Pass.
Stop #4: Smithsonian National Museum of American History
Close out your sightseeing with a visit to another DC icon– the Museum of American History. This field trip darling has long been a family favorite for its extensive collections, interactive exhibits, and one-of-a-kind artifacts on display. Some popular items from the museum's collections include the original Star-Spangled Banner, the ruby slippers from The Wizard of Oz, the original Kermit the Frog puppet, and much more. You'll also find themed collections on Women's History, Disability History, the history of technology, and others. You're bound to find something to interest the whole family – no matter what they're interested in. Plan to spend a few hours here, or until they close. Closing hours vary seasonally – check their website before your visit. Getting In: Admission to the National Museum of American History is free.
Day 3
Stop #1: George Washington's Mount Vernon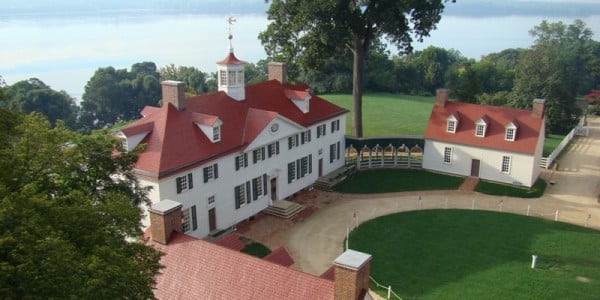 If you've got a car, this is the time to head to George Washington's Mount Vernon. It's among the most beautiful sights in the entire DC area, and is well worth the trip for fans of American history, the history of farming and agriculture, or even people who just like cool old buildings. This is your chance to see how America's first President lived in the late eighteenth century. It's comprised of a number of historic buildings, including a beautifully restored main house, exquisite gardens, mini-museums, memorials, and more. Read our guide to visiting Mount Vernon for top tips! Insider Tip: If you're not renting a car during your visit, consider taking a round-trip cruise to Mount Vernon, which gives you four hours to explore Mount Vernon itself before returning. This cruise departs from and returns to Alexandria, VA (easily reachable by Metro). Getting In: George Washington's Mount Vernon tickets are available on the Washington DC Explorer Pass.
Stop #2: Explore Old Town Alexandria (free!)
Since you're already out in Virginia, another great touring option for those looking for the true DMV  (DC, Maryland, Virginia) experience is to explore the charming Old Town Alexandria. This historic neighborhood is filled with boutique shops, cute little restaurants, and some impressive historic buildings and monuments. For culture buffs, the Torpedo Factory Art Center is very popular, and the Market Square Museums are great little hidden gems, too. Old Town also often hosts frequent community events, so be sure to consult an events calendar before your trip to see if there might be anything going on (especially if you're visiting on a weekend).
Getting In: 
If you're already got your car, it's a 20 minute drive or so north to Old Town Alexandria, but if you're coming from the city it's also easily accessible via Metro.
Stop #3: Explore the National Harbor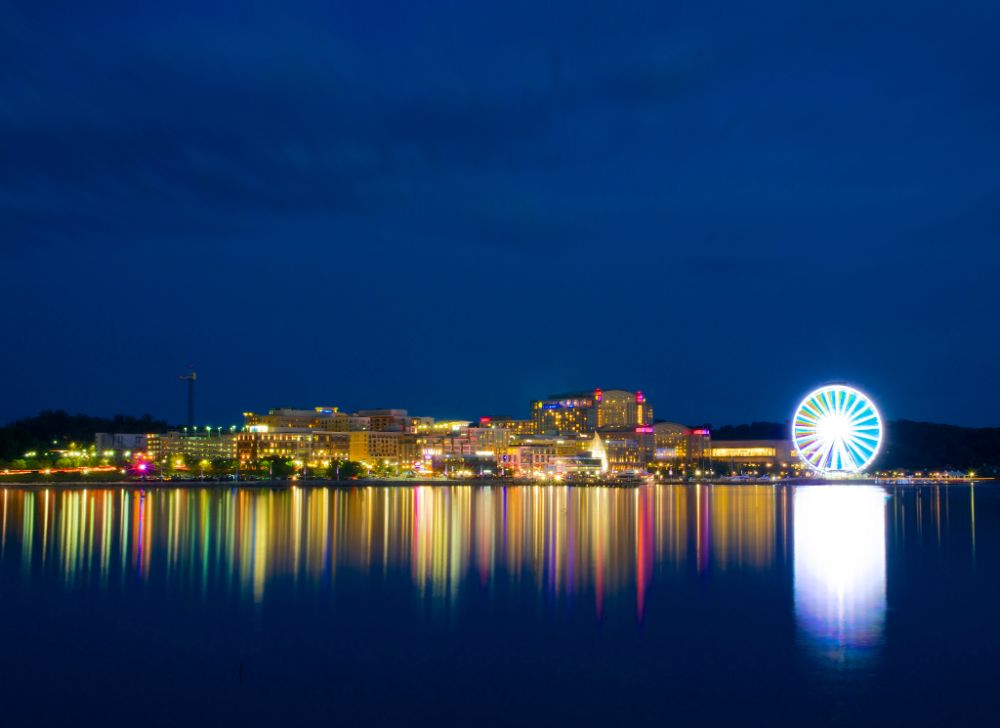 This booming waterfront neighborhood is just across the river from Old Town, and is the perfect next step in your day. Offering an eclectic selection of over 150 different shops and more than 30 restaurants, this is a shopper's paradise. Explore the Tanger Outlets 'til you run out of steam, and then enjoy a leisurely waterfront meal. If you prefer being active, you can also rent kayaks, paddle boats, and more right from the National Harbor waterfront. Traveling with children? Don't forget about the popular Carousel. The whole family will love the Capital Wheel, too, which provides a perfect vista of the harbor and the city beyond. Getting In: Exploring the National Harbor is free, but some attractions may charge admission. The Washington DC Explorer Pass includes admission to the Capital Wheel as one of its options.
Let's Recap
So if you're looking for great things to during 3 days in Washington, DC, we hope this itinerary helps. It's full of a great variety of activities, appealing to different tastes and styles of travel. Enjoy a hop-on hop-off bus, Newseum, a monument cruise, George Washington's Mount Vernon, and a leisurely bike ride with the 5-Choice Washington DC Explorer Pass® and save up to 47% on combined admission. Happy travels!