Is Bangkok expensive to visit
Bangkok on a Budget: Unlocking the Secrets to Affordable Adventures
by Mia Russell
The bustling streets of Bangkok are like nowhere else in the world, with vibrant markets, mouthwatering street food, and awe-inspiring temples. If you're a traveler on a budget, you might be wondering if this city of endless wonders is affordable, but happily, Bangkok is not just for the deep-pocketed jet setters!
From navigating the city's efficient public transportation system to uncovering hidden gems off the beaten path, there are plenty of ways to make the most of your hard-earned money while immersing yourself in the captivating charm of Bangkok. Savor authentic Thai cuisine, marvel at intricate temples, and dance the night away without blowing your budget.
Whether you're a backpacker, a budget-conscious traveler, or simply someone who wants to make every penny count, here is the ultimate guide to exploring Bangkok's vibrant and enchanting city on a budget.
Where to Stay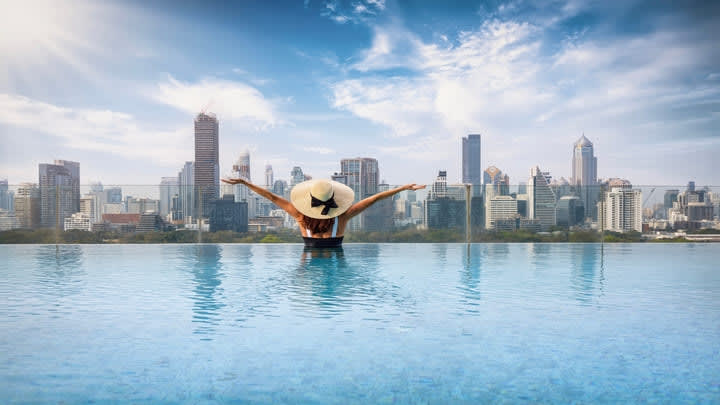 Bangkok offers a wide range of options to suit every budget. From luxurious five-star hotels to cozy guesthouses and budget-friendly hostels, you can easily find a place that fits your wallet. If you're willing to venture beyond the main tourist areas, you'll discover even more affordable options that won't put a dent in your savings.
Budget-Friendly Dens
If you're all about saving those precious bahts, Bangkok has many budget-friendly accommodations that won't make your wallet cry. From cozy guesthouses and no-frills hostels to pocket-friendly hotels, you'll have no problem finding the right spot.
Places like NapPark Hostel at Khao San, Chan Cha La 99 Hostel, and Loftel 22 Hostel are popular with budget travelers. You can find affordable dormitory beds or private rooms, giving you a comfortable place to crash without emptying your pockets.
Mid-Range Comforts
Bangkok has got you covered with its mid-range accommodation options. These places offer more amenities and often have a cozy atmosphere that allows you to relax after a day of exploration. Look at options like the SSIP Boutique Dhevej Bangkok, Centre Point Silom Hotel, and the Centre Point Hotel Chidlom for a comfortable stay without breaking the bank. These hotels typically offer spacious rooms, Wi-Fi access, and sometimes even a pool or fitness center to make your visit more enjoyable.
Luxury Indulgences
If you're ready to indulge in a touch of luxury, Bangkok won't disappoint. The city has some of the most opulent and extravagant accommodations imaginable. From world-class hotels to stunning boutique resorts, the choices are endless. Consider pampering yourself with a stay at the iconic Mandarin Oriental Bangkok, The Siam Hotel, or The Peninsula Bangkok. These luxurious havens offer top-notch service, exquisite rooms, and a range of amenities that make you feel like royalty.
Remember to consider the location of your accommodation as well. Areas like Sukhumvit, Silom, and Siam are popular among travelers due to their proximity to major attractions, shopping malls, and vibrant nightlife. However, if you're seeking a more local and cultural experience, exploring the neighborhoods of Chinatown, or Thonburi might be right up your alley.
Bangkok is a city of contrasts regardless of the type of accommodation you choose. You can find affordable guesthouses just a stone's throw away from high-end hotels. Whether you're counting every baht or ready to splurge, there's a place for you in the vibrant city of Bangkok.
Getting Around
Getting around Bangkok is surprisingly affordable. The city boasts an extensive public transportation system, including the famous BTS Skytrain, MRT subway, and a vast network of buses. These options are efficient and reasonably priced, making it easy to explore different parts of the city without spending a fortune on transportation.
BTS and MRT tickets start from 15 baht and offer an inexpensive way to travel around the city; however, they don't go to all areas and attractions. If you don't mind the chaos of the roads and the occasional traffic jam, taxis are a good option, with fares starting at 35 baht. River and khlong boats are also a cheap and fun way to get around areas along the river.
A fantastic way to see the sights and sounds of Bangkok is on Bangkok Canal Tour by Longtail Boat. Use your pass to enjoy a guided trip on a longtail speedboat around the city's crisscrossing network of khlongs (canals).
If you prefer to explore in your own time, use your pass to navigate the city on a Chao Phraya River Hop-on Hop-off Boat Tour. See the Thai capital in all its glory, from the bustling river that courses through its center as you hop on and hop off as desired.
Delicious Delights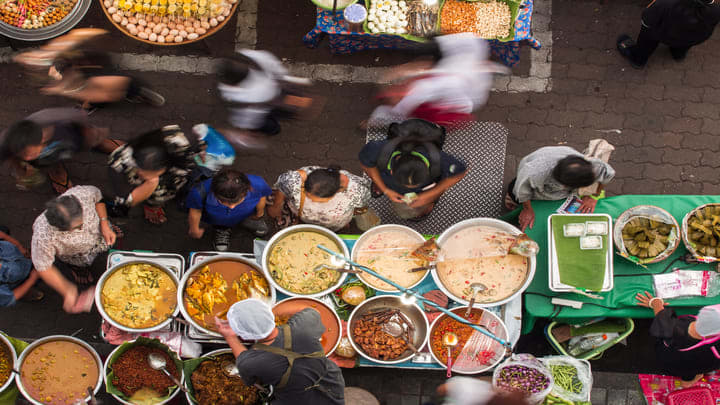 Bangkok is a foodie paradise and one of Asia's best cities for cheap and tasty fare. From aromatic bowls of steaming noodles to tantalizing grilled skewers and delectable tropical fruits, you'll find diverse flavors that won't burn a hole in your pocket.
Budget Bites
Street food stalls and local eateries offer incredibly affordable meals, allowing you to indulge in Thai cuisine without blowing your budget. Head to Chinatown's Yaowarat Road or the iconic Khao San Road for a street food feast. Dive into plates of pad Thai, slurp on flavorful bowls of boat noodles, and snack on crispy pork skewers and sticky mango rice, all for a fraction of the price you'd pay at a restaurant.
Mid-Range Restaurants
If you're looking for a balance between affordability and a comfortable dining experience, Bangkok has plenty of mid-range restaurants to satisfy your cravings. These places offer a diverse range of Thai and international cuisines, with prices that won't break the bank. Consider checking out spots like Somtum Der, Cabbages and Condoms, or Nara Cuisine for a delightful meal without blowing your budget. These restaurants often offer a cozy atmosphere, friendly service, and a menu with delectable dishes that will leave you wanting more.
Salivating Splurges
If you want to splurge and treat yourself to a lavish dining experience, Bangkok has many upscale restaurants that will make your taste buds dance with joy. Indulge in gastronomic wonders and impeccable service at renowned establishments like Gaggan Anand, Nahm, or Le Du.
Don't forget to explore the local markets like Damnoen Saduak Market and Maeklong Railway Market for affordable yet delicious street food and local specialties.
And if you're feeling adventurous, use your pass to join a food tour or a Thai cooking class to immerse yourself in the flavors and culture of Bangkok's culinary scene.
Whether you're devouring street food on a plastic stool, enjoying a comforting meal in a cozy restaurant, or savoring a luxurious feast in a world-class establishment, Bangkok has something for every food lover.
Shop Until You Drop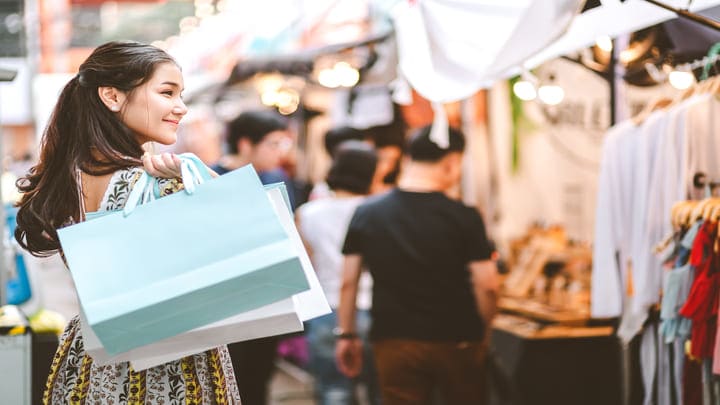 Bangkok is a shopper's paradise with everything from budget-friendly street markets to high-end malls. If you're all about hunting for the best deals and scoring budget-friendly finds, Bangkok's street markets are the place to shop.
Bangkok is renowned for its vibrant markets, where you can haggle your way to some incredible deals. From the iconic Chatuchak Weekend Market, with its sprawling maze of stalls, to the bustling street markets of Pratunam and the night markets of Patpong, you'll find an abundance of affordable clothing, accessories, souvenirs, and more. Don't forget to sharpen your haggling skills and negotiate for even better prices.
For a balance between affordability and a more comfortable shopping experience, modern shopping malls like Siam Paragon, CentralWorld, or Central Village are perfect for a dose of retail therapy in air-conditioned comfort. Here, you'll find a mix of local and international brands and a wide range of dining options to refuel in between shopping sprees.
Check out luxury shopping destinations like Siam Paragon's Designer Gallery, Emporium, or Central Embassy for designer labels, luxury brands, and high-end fashion.
What To See and Do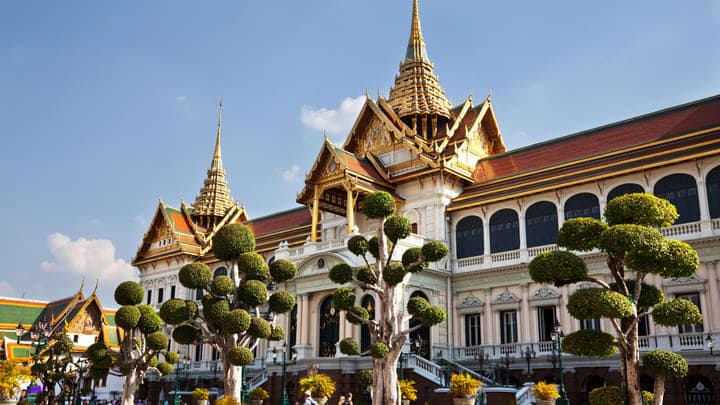 When it comes to attractions, Bangkok offers a plethora of free attractions for budget-conscious travelers. Visit the Grand Palace and Wat Phra Kaew. While there is an entrance fee to visit the interiors, you can explore the outer areas of the Grand Palace and marvel at the beautiful architecture and intricate details of Wat Phra Kaew, the Temple of the Emerald Buddha, without charge.
If you want to explore the complex further, your best bet is to use your pass to enjoy a walking tour of the Grand Palace and the Temple of the Emerald Buddha.
Escape the hustle and bustle of the city at Lumphini Park, a tranquil oasis in the heart of Bangkok. Take a stroll, enjoy a picnic, or watch locals practicing Tai Chi or feeding the resident monitor lizards. The park is free to enter and offers a refreshing retreat.
Immerse yourself in the vibrant atmosphere of Bangkok's Chinatown. Explore the bustling streets, soak up the lively ambiance, and sample delicious street food. You can wander around this bustling neighborhood without spending a dime. You can also use your pass to enjoy a three-hour guided walking tour of Chinatown and explore all its major attractions.
Explore the vibrant and fragrant Pak Khlong Talat, Bangkok's famous flower market. Witness the bustling flower trade, admire the incredible floral displays, and immerse yourself in the vibrant colors. Entry to the market is free, and visiting in the early morning is best.
Nightlife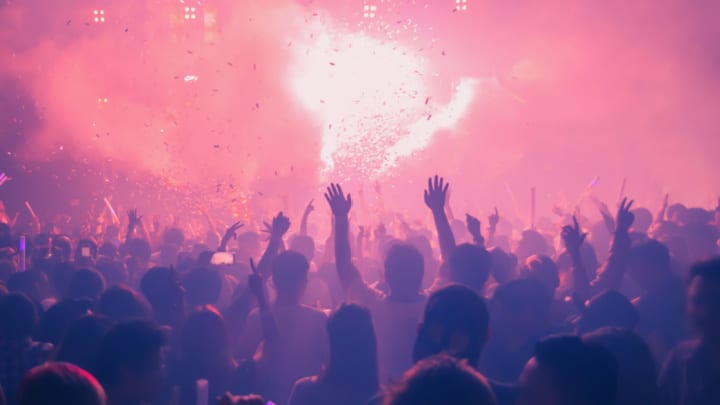 Bangkok's nightlife scene is legendary, offering various entertainment options for night owls. From trendy rooftop bars with spectacular city views to vibrant nightclubs and lively street-side bars, you'll find something to suit your taste.
Head to the Zoom Rooftop Bar on the 40th floor of the JC Kevin Sathorn Hotel and enjoy a complimentary drink and spectacular views with your pass.
Head out on the town with a party guide on a Bangkok Bar Crawl and use your pass to enjoy free shots and discounted drinks.
Final Thoughts
So, is Bangkok expensive or not? It's safe to say that Bangkok offers something for everyone. From budget-friendly street food to affordable accommodations and inexpensive transportation options, Bangkok caters to the frugal traveler.
You can find luxury hotels, high-end dining, and upscale shopping experiences if you're willing to splurge, but the beauty of Bangkok lies in its accessibility for all types of travelers. You can enjoy mouthwatering street food, explore beautiful temples, visit bustling markets, and immerse yourself in the rich culture without breaking the bank.
Whether you're a backpacker on a tight budget, a mid-range traveler seeking comfort and affordability, or a luxury seeker looking for indulgence, Bangkok has options to suit your style. It's a city where you can enjoy a satisfying meal for a few dollars or treat yourself to a sumptuous feast at a fancy restaurant.
So, pack your bags, plan your budget, and prepare for an unforgettable adventure in this incredible city! Bangkok welcomes you with open arms, regardless of the size of your wallet. Happy travels!