Best Markets in Barcelona
Travelers! Welcome to Barcelona, the beautiful city that has it all. If you're looking for a warm, bright city to spend your vacation, you've found the perfect place. But if you're staying in your own accommodation, looking to trim your spending on eating out, or want some authentic souvenirs to bring back home, why not try Barcelona's bustling market scene? But which are the best markets? Well, these are. These one's right down below. Check out our picks for the best markets in Barcelona!
Including:
Mercat de la Boquería
Mercat de Sant Antoni
Mercat de la Concepcio
Mercadillo de la Plaça de Sant Josep
Fira de Santa Llucia
and more!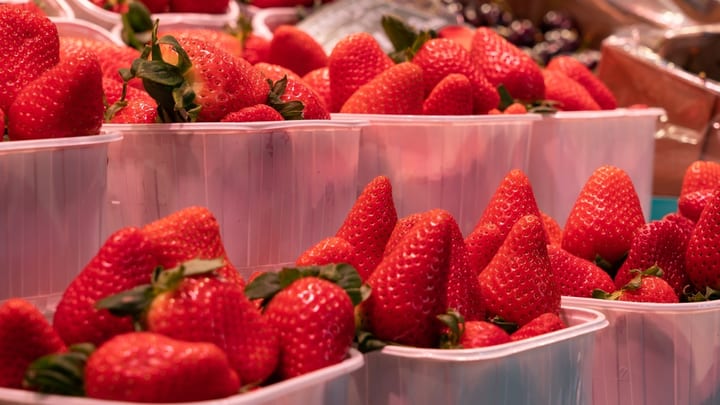 Mercat de la Boquería
Mercat de la Boquería, known locally as La Boquería, is arguably the biggest and best market in Barcelona. At least 800 years old at this point, it's been a bustling market ever since. So much so that it's become one of the de facto tourist spots for people visiting the city on vacation.
This metropolis of a market has pretty much every food imaginable on offer, with rows of fruit and veg stalls, as well as areas dedicated to fish, meat, and everything else in between. It's got everything you'll need to cook up a mean dish back at your Airbnb.
But wait, there's more! Not only does it offer fresh food to buy, but you can also sit down to eat at one of the market's many makeshift restaurants and food trucks. So even if you're not looking for groceries, it's a worthwhile visit to try many of the country's tasty delicacies!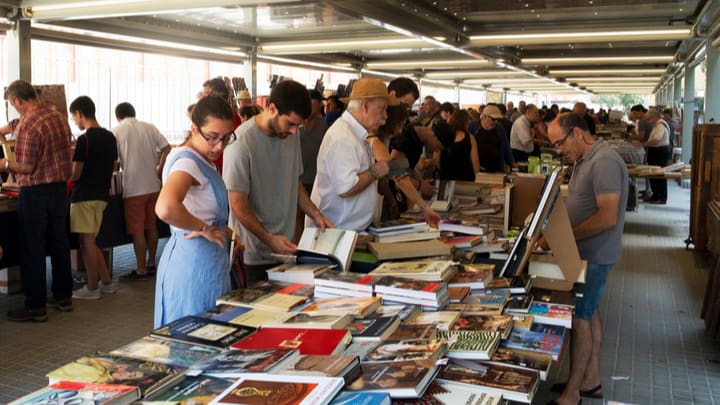 Image courtesy of nito/Shutterstock
Mercat de Sant Antoni
A younger and more low-key version of La Boquería, Mercat de Sant Antoni caters to a wider variety of shoppers too. While you'll find plenty of fresh groceries to purchase, there's also a book market on Sundays, as well as second-hand clothing, hand-crafted jewelry, and home ornaments that would make the perfect gift for a loved one back home.
Or, if you need a little Catalan style in your house, forget them and keep it all to yourself!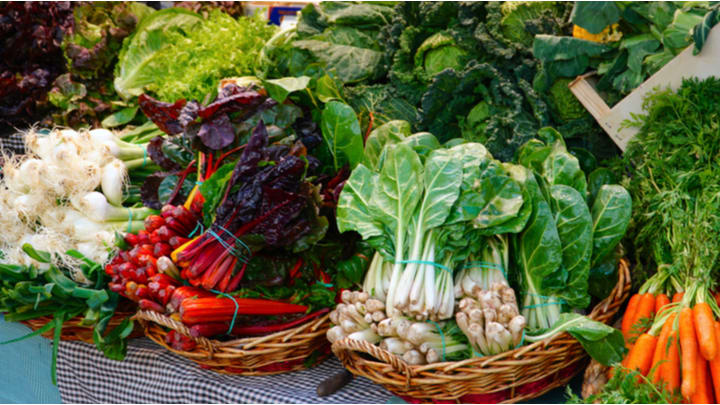 Mercat de la Concepcio
A stone's throw from the legendary Sagrada Familia, Mercat de la Concepcio sits in one of the city's oldest districts. You can pick up fresh fruit and vegetables here, but the market's real selling point is its abundance of flowers, plants, and other flora that welcome visitors like a veritable rainbow!
Because of this, many locals flock to the market to pick up seeds, garden utensils, or a bouquet or two to dazzle their loved ones. And, while you may want to hold off transporting a bouquet across the Atlantic, why not pick up some seeds and offer them as a tribute to the ones you left behind? Maybe they'll forgive the lack of invite.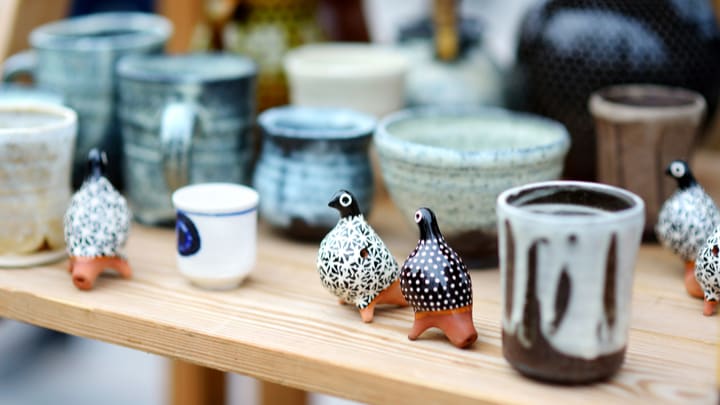 Mercadillo De La Plaça De Sant Josep
If you're in the...market...for some art to take back home with you, then Mercadillo de la Plaça de Sant Josep is your go-to marketplace. Over the weekend, local artists set up shop and offer their works to potential customers.
You'll find all types of art styles and techniques here, from classic watercolor paintings to sculptures and everything in between. So, no matter your preference, you're bound to find something that'll brighten up that mantlepiece.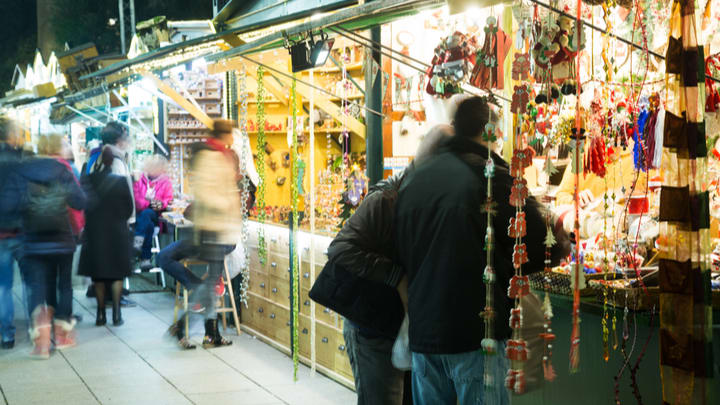 Fira De Santa Llucia
Fira de Santa Llucia is Barcelona's answer to the classic Christmas market. Only open over the season, it's a feast of red, white, and everything else Christmas. But unlike your typical Christmas market, you won't find any mulled wine here. Instead, expect a more Catholic-style affair, with hand-crafted nativity pieces, wreaths, and other miscellaneous items that lean on the Christian side of the holidays.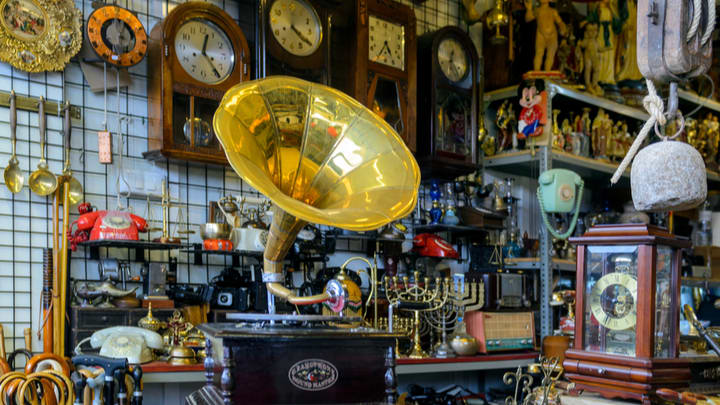 Image courtesy of andysavchenko/Shutterstock
Mercat Del Encants
Do you like your markets sprinkled with a touch of chaos? Are you in the market for weird and wonderful oddities you never knew you needed? Then Mercat Del Encants will be one of the best markets in Barcelona for you!
Step into this ramshackle collection of residential peddlers, and you'll find Barcelona's biggest flea market. Old books, vintage clothing, decades-old toys, and plenty of other curiosities are on display every day. Like La Boquería, this is one of the city's most popular markets, so we recommend you head there early to make sure you don't miss out on any of the weird and wonderful things! The early bird catches the rare 1997 Furby, or something.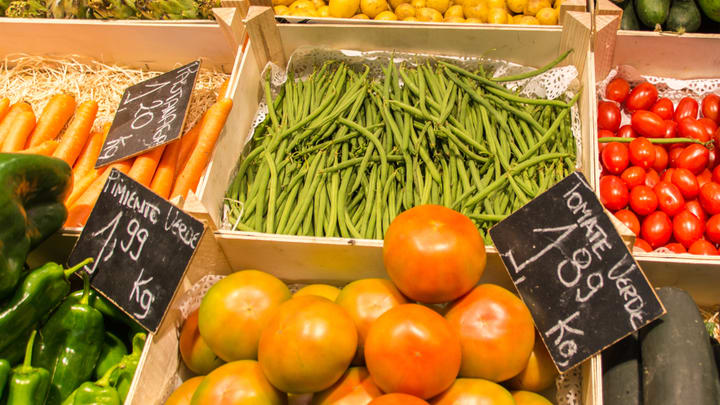 Mercat de Santa Caterina
Another less hectic version of La Boquería, Mercat de Santa Caterina is a delightful food market that's visited by many locals and tourists who are picking up their daily essentials.
The colorful rooftop, designed by architect Enric Miralles as part of a 2005 renovation, is a reflection of the colorful fruit, veg, and other foods available beneath. Delightful.
Mercat de Sant Andreu
Located in the charming district of Sant Andreu, Mercat de Sant Andreu offers plenty of fresh produce, meat, and fish to locals and visitors alike.
On top of the usual market affair, the snug market also has florists, bakers, and chocolate makers that'll satisfy that sweet tooth. On a particularly warm summer's day, why not grab yourself an ice cream to cool off as you browse the market's offerings?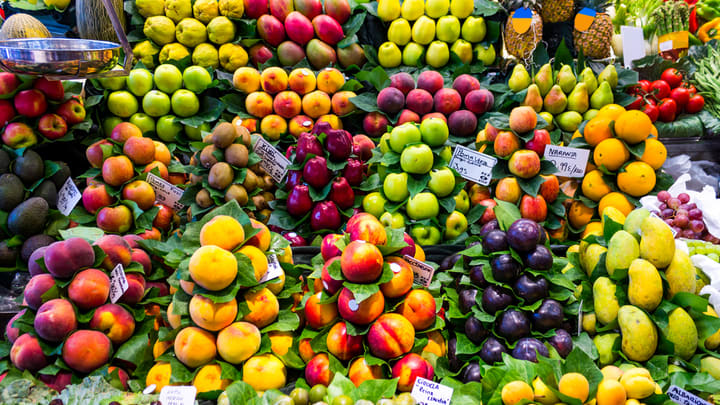 Mercat del Ninot
Recently revamped, Mercat del Ninot is one of the city's most modern markets. Sheltered by a steel and glass roof, it can be a bit of a respite from the older, more open, and less protected markets that dot the city.
Inside, you'll find a more modernized, organized setup too, with plenty of space between food stalls for wannabe shoppers to peruse the market's delicious wares. There are also makeshift cafes and restaurants, where you can tuck into some tasty tapas too!
And those are our picks for the best markets in Barcelona! Looking for other tips for your vacation? Check out our guides to the city's best beaches. Hoping to explore outside the city? We've collected the best day trips from Barcelona just for you. Want to see and learn more about the city? Try a walking tour. Until next time!