Family friendly
Trip inspiration
Food and drink
History, art and culture
Shows and events
Casey Makovich
Things to Do in the Cancun Hotel Zone
Visit the Cancun Hotel Zone and see why so many tourists come each year to this exciting vacation destination. From enjoying nature walks to big adventures, it's time to see what you can do for fun in Cancun within the surrounding hotel zone.
Xcaret Park
Moonlight Bioluminescence Snorkeling Tour
Underwater Museum
Columbus Lobster Dinner Cruise
and many more
Xcaret Park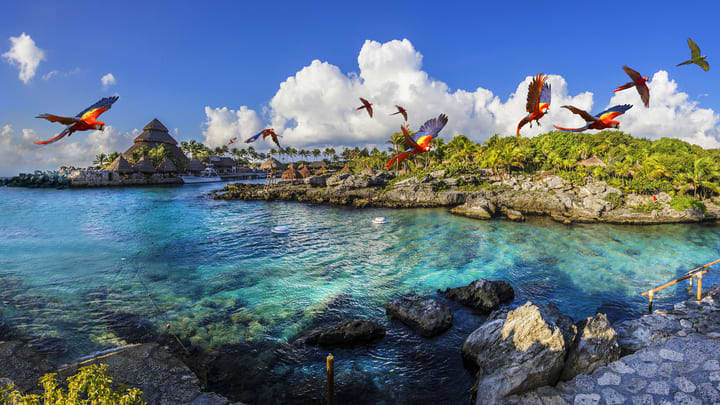 With crystal clear water, infinity pools and all the natural beauty Cancun has to offer, Xcaret Park is an oasis you don't want to miss on your visit. The park has 40 different attractions, including a Mayan Village and Old Mayan Temples. Visitors to the park receive roundtrip transportation to get to the park and back, and complete access to all attractions.
Moonlight Bioluminescence Snorkeling Tour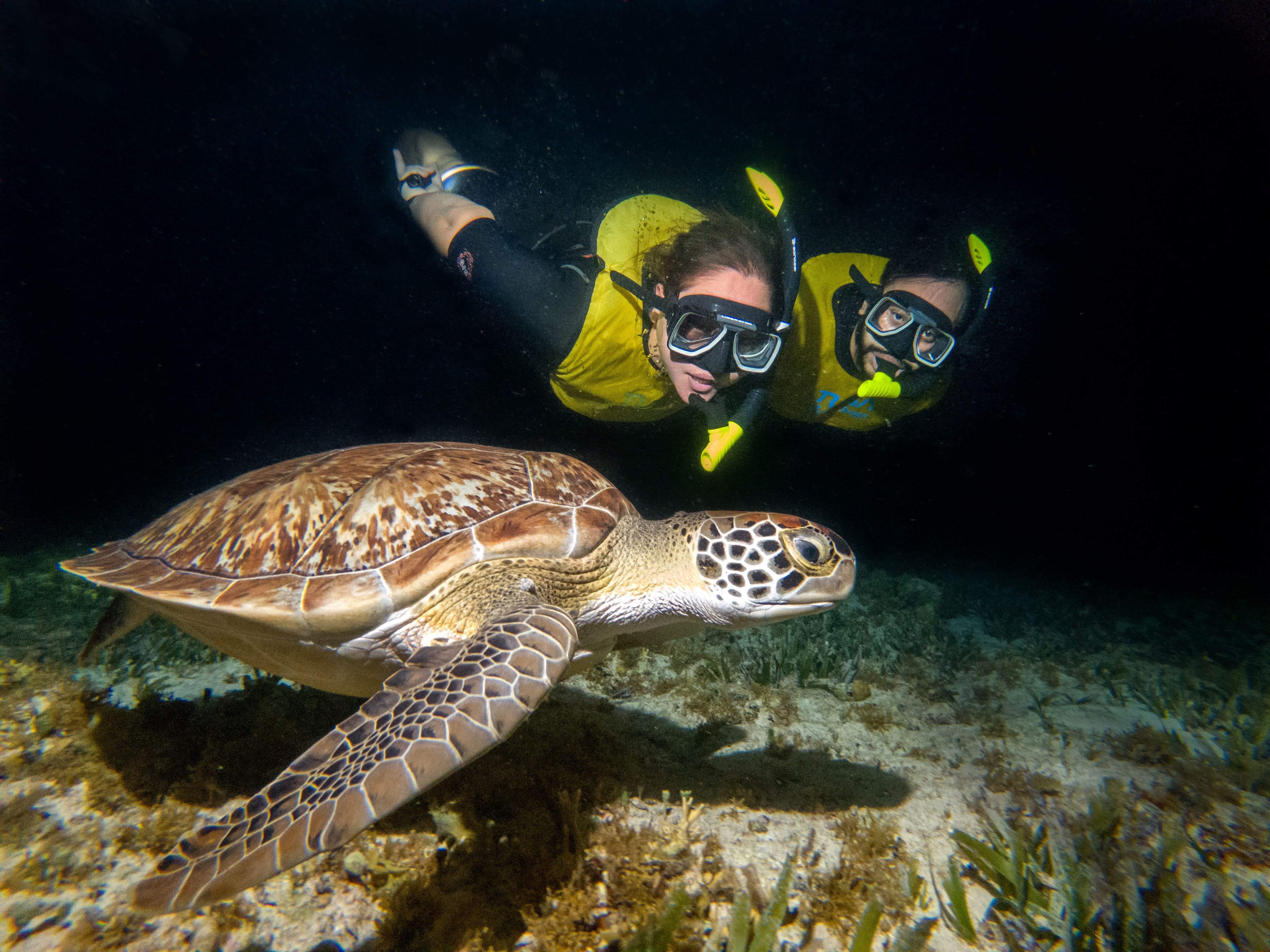 Check out three various coral reefs for an exciting 1.5 hours with a guide who will show you the basics on a Moonlight Bioluminescence Snorkeling Tour. Look around for sea turtles, and enjoy the sites of the three different swimming areas. Area 1 is a coral reef with squids, eels, lobsters, and crabs, while area 2 you have a strong chance of swimming with a sea turtle and area three is where you'll experience the full bioluminescence with small particles lighting up all around you.
Underwater Museum Snorkel at Paraiso Nizuc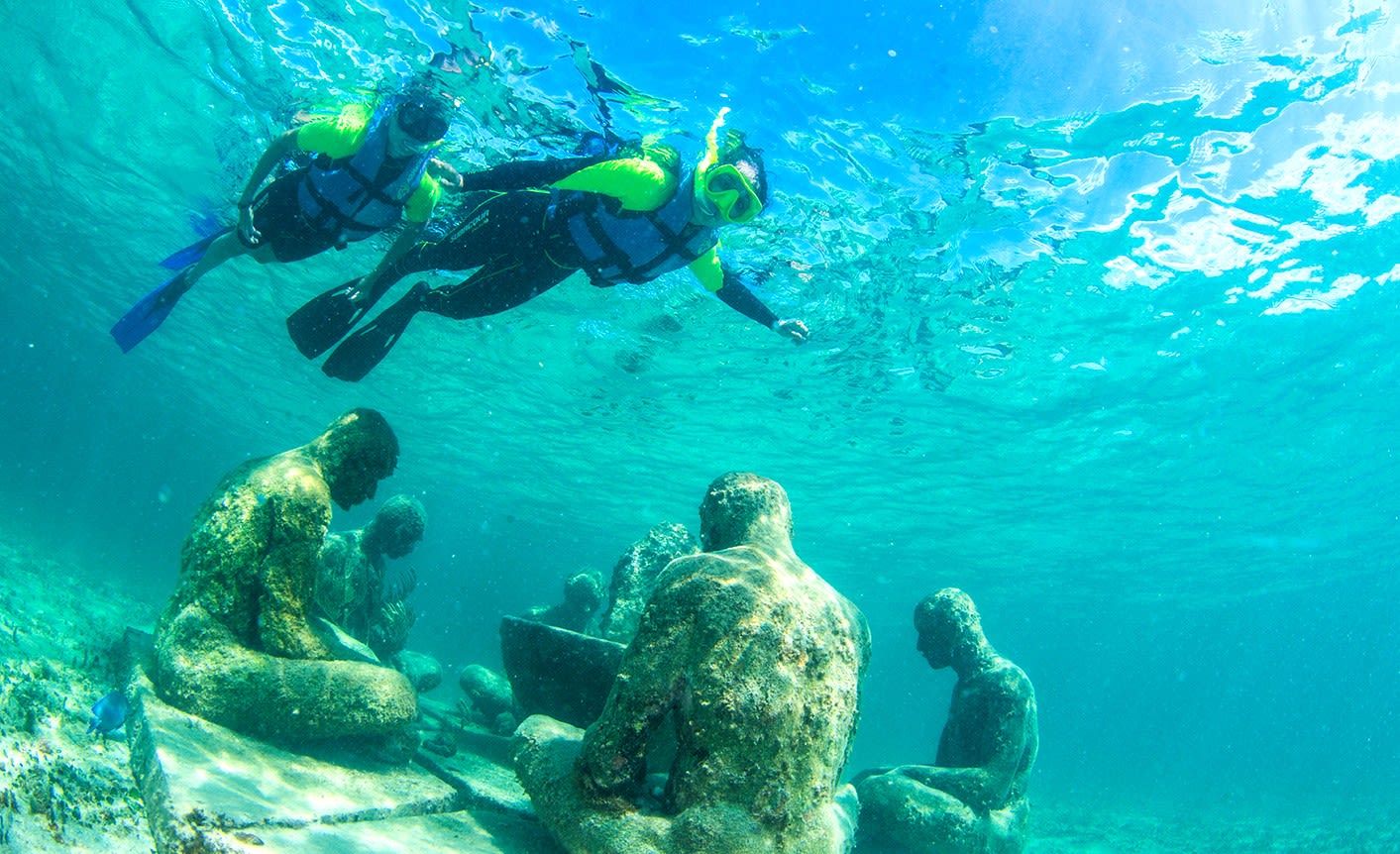 Take some time to go snorkeling in the crystal blue waters of Paraiso Nizuc. You'll get the chance to take a motorboat ride to Punta Nizuc reef and visit the floating platform that offers beer and snacks. Where you snorkel depends on your hotel location, and then you will be granted access to the Underwater Museum at Paraiso Nizuc.
Parasailing Adventure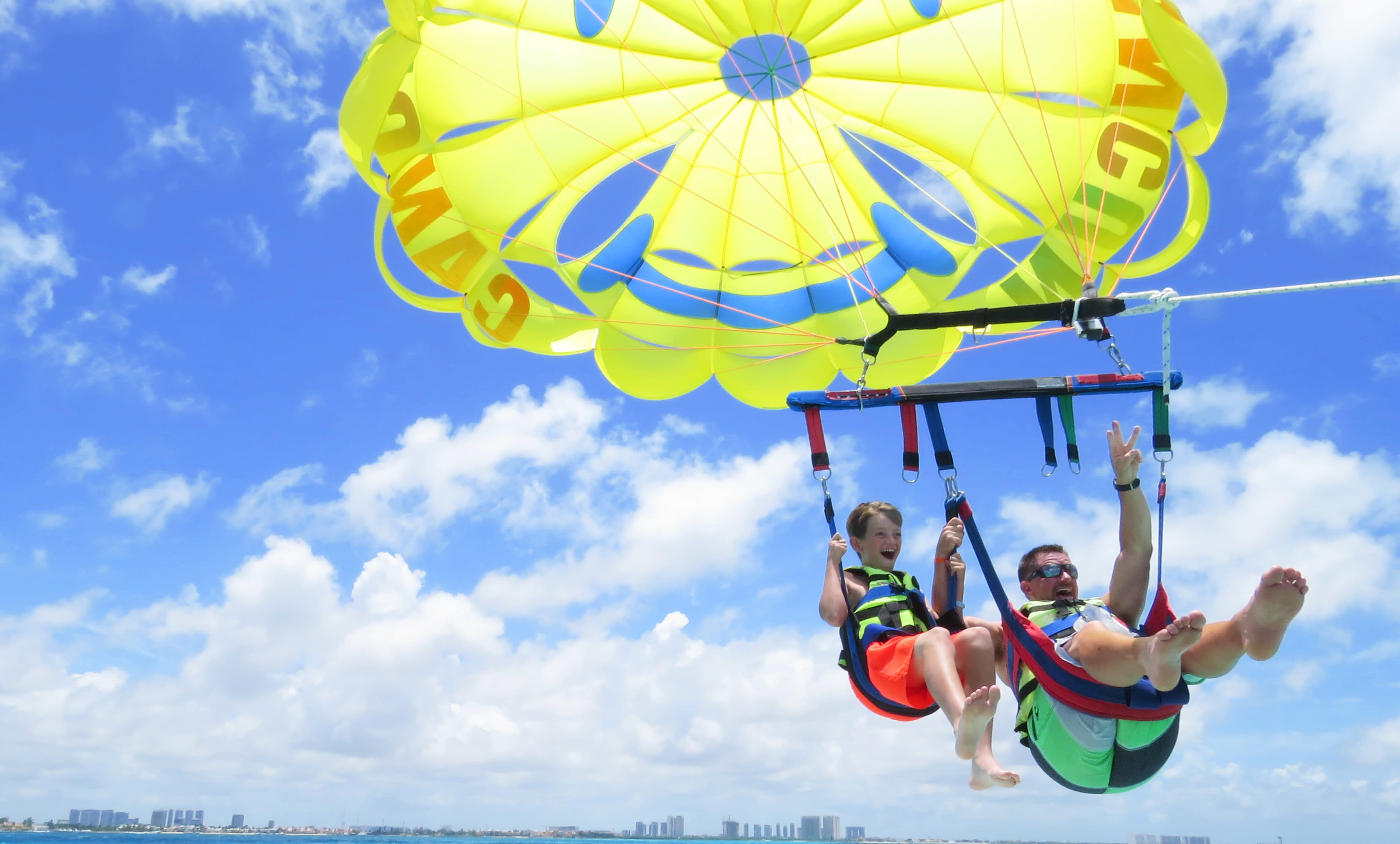 If you have ever wanted to try parasailing, it's time to check out Cancun's Parasailing Adventure. You'll get 10-12 minutes of time up in the sky. During your flight, you'll have a walkie talkie and you will be able to talk with the people on the boat. You'll get to decide how high your flight goes, and all you need to do is sit back and enjoy the 3-mile ride along the beach. While in the air you will see Isla Mujeres, Nichupte Lagoon and the Cancun Hotel Zone.
"Get Up and GO" Catamaran Sail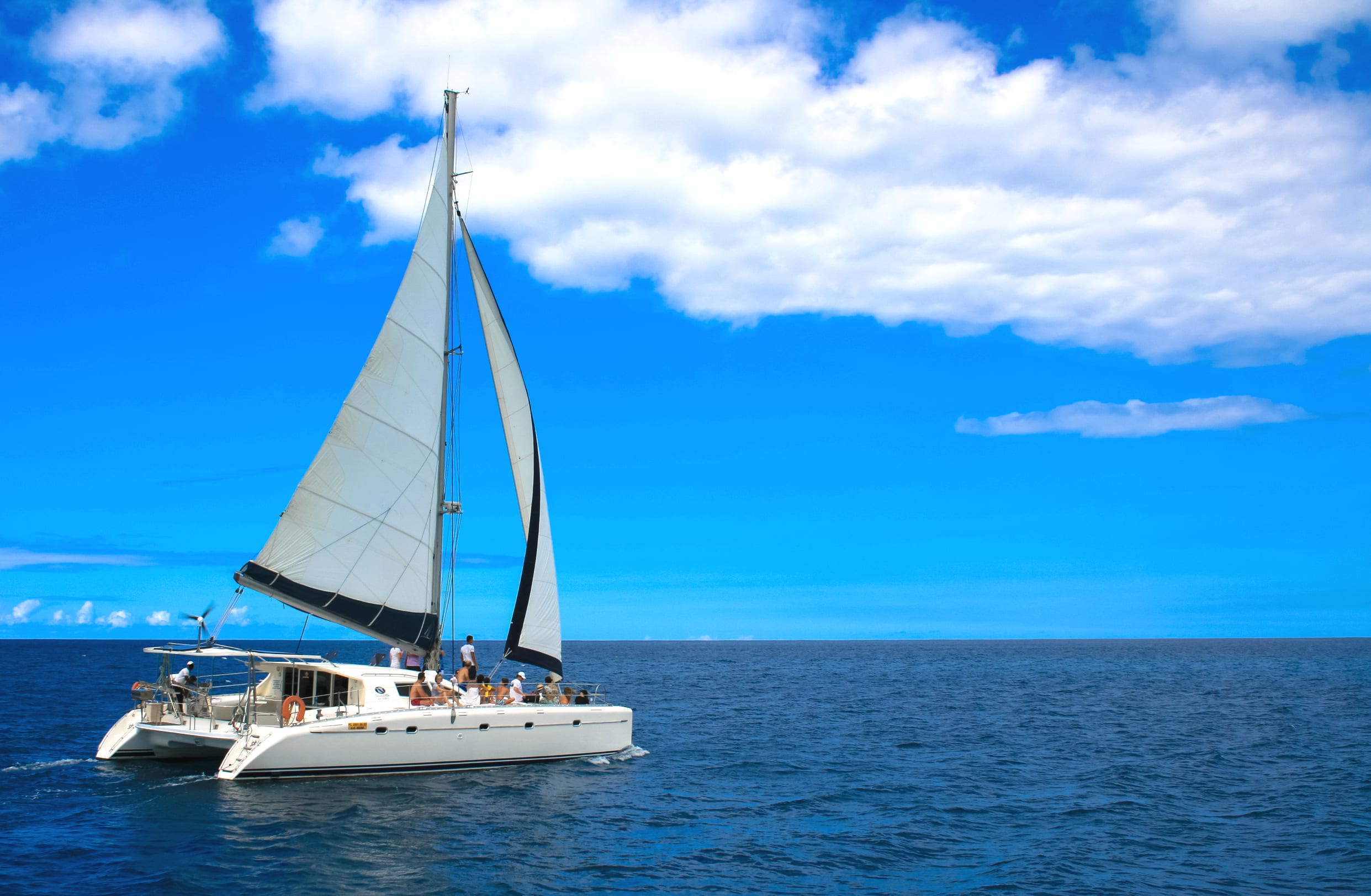 Check out the Albatros Luxury Catamaran "Get Up and Go" Catamaran Sail that brings you from Cancun and Isla Mujeres on the clear ble water. You'll get the chance to snorkel on the El Farito reef and then be brought to downtown Isla Mujeres where you will have time to explore. During the sailing tour, you'll also get a buffet-style lunch and a domestic bar. Your tickets include access to the Isla Mujeres Beach Club.
Columbus Lobster Dinner Cruise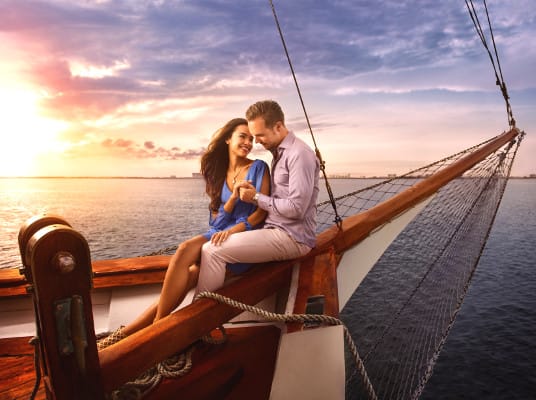 Enjoy 2.5 hours of relaxation, great views, and amazing food on the Columbus Dinner Cruise. You will listen to the music provided by a live saxophone band, enjoy appetizers, and take in the beautiful sights of the island. You'll have the choice of steak or vegetarian-friendly dishes and there is an open bar available for all during the cruise. Dessert is also included.
An amazing sunset, plus an excellent dinner aboard a yacht? What could be better?!
Extreme Adventure Puerto Morelos Snorkel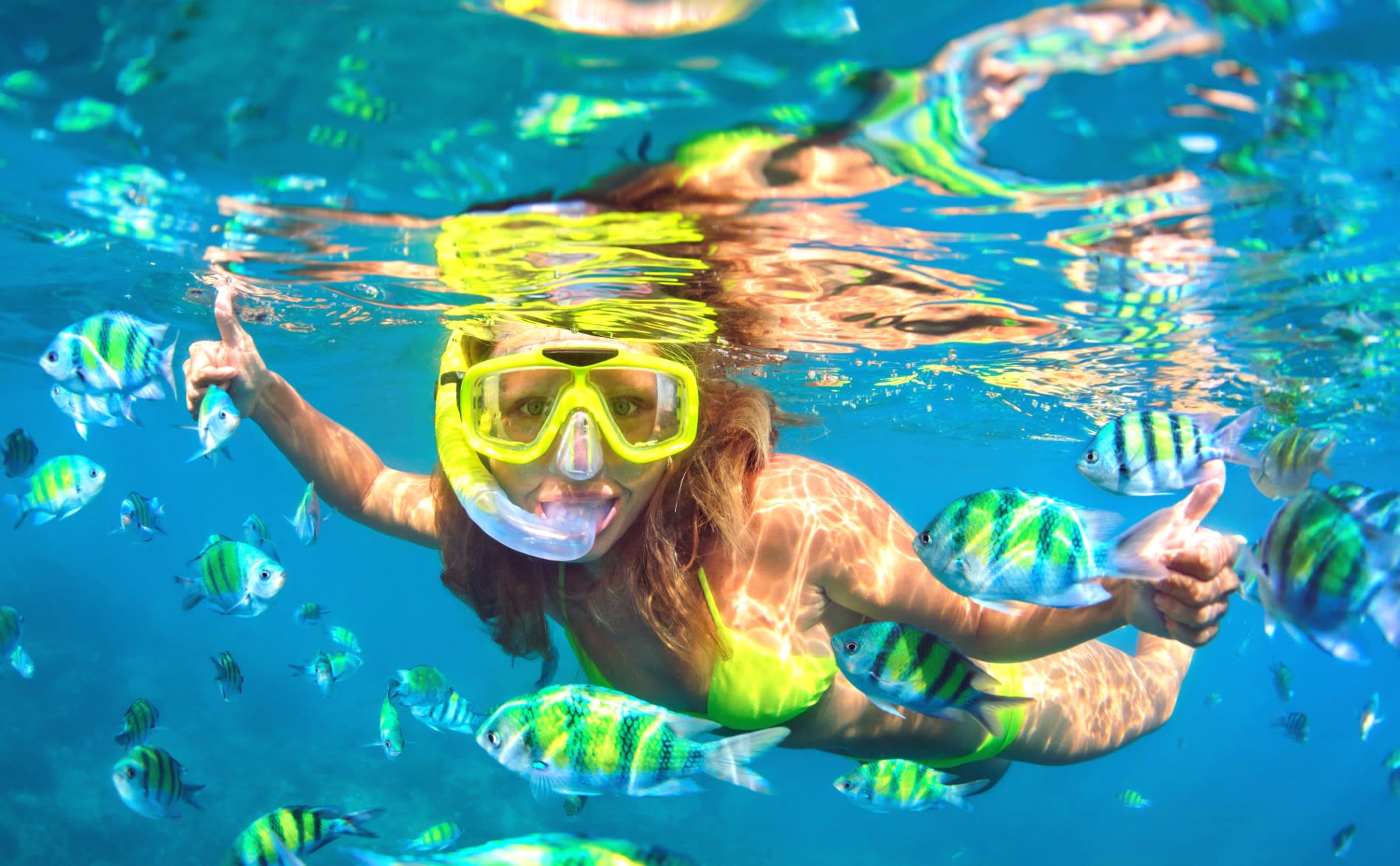 Explore the second-largest barrier reef in the world right off the coast at Puerto Morelos. It's a popular surfing destination and people come from all over the world to check out the barrier reef and surfing. Marine life is extensive on the barrier reef, home to sea turtles, brightly colored fish, and various marine life.
You'll have the chance to snorkel in two locations and get to ride an ATV between the two areas. This adventure includes almost two hours of snorkeling. Before you leave Puerto Morelos you'll have the opportunity to have a local meal or check out the beach. Complete snorkeling gear is provided.
Reef, Turtle and Shipwreck Snorkeling Tour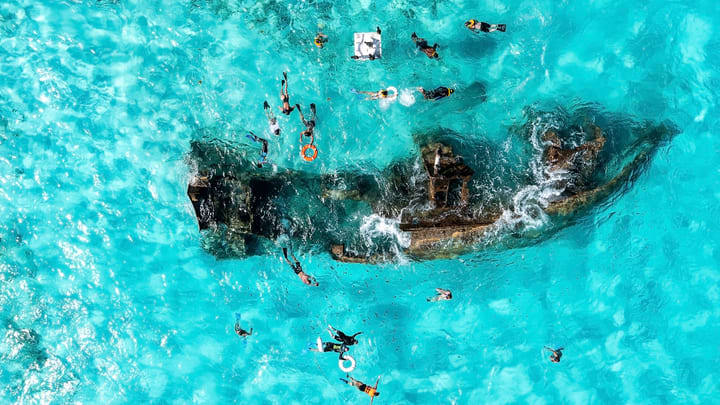 With roundtrip transportation provided from any hotel in Cancun, enjoy a four-stop Reef, Turtle and Shipwreck Snorkeling Tour with bilingual guides and snorkeling equipment included. Visit part of the Great Mayan Reef at the first stop and see many different schools of fish. At stop number two, 98% of visitors are able to see a sea turtle. Visit the MUSA Underwater Museum at stop number three, and explore the coral ridden shipwreck with plenty of fish and other marine life.
90-Minute Surf Lesson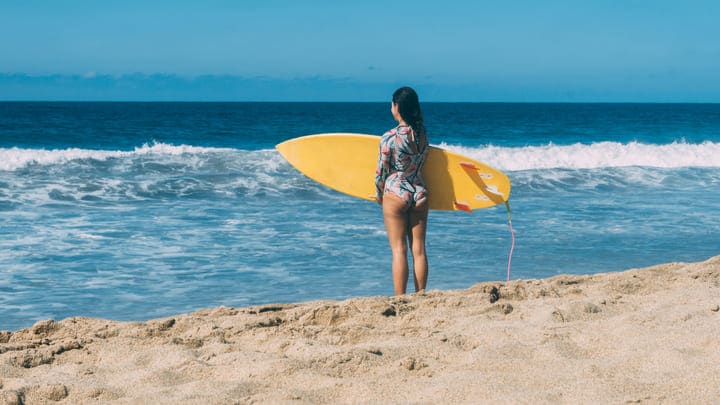 If you have ever wanted to learn how to surf, here is your chance. Your 90-Minute Surf Lesson includes all that you need to learn how to surf from some of the best instructors around. You'll be able to choose a board and use a Lycra top that includes UV protection. Water or juice is provided during your lesson. You'll learn about safety equipment and head out to the waves for your first lesson. Assistant instructors are out in the water to help you stay safe and enjoy yourself.
Paradise SubSee Excursion at Paraiso Nizuc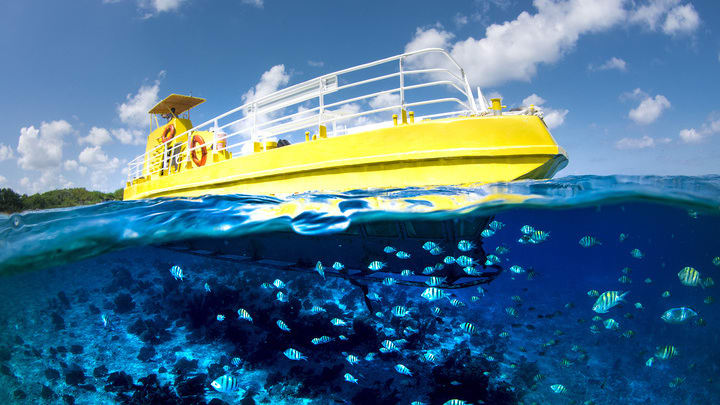 The Aquaworld Paradise SubSee gives you a full view of the ocean floor as a submarine-like vessel that includes a cabin below deck that is lined with glass. Be in the water without having to snorkel and get a full view of the coral formations, see the Cancun Underwater Museum statues, and view the colorful sea life. The boat is air-conditioned and your tour will be narrated. Beer and soft drinks are available on the boat.
Snorkel in Musa Nizuc Plus Subsee Experience Tickets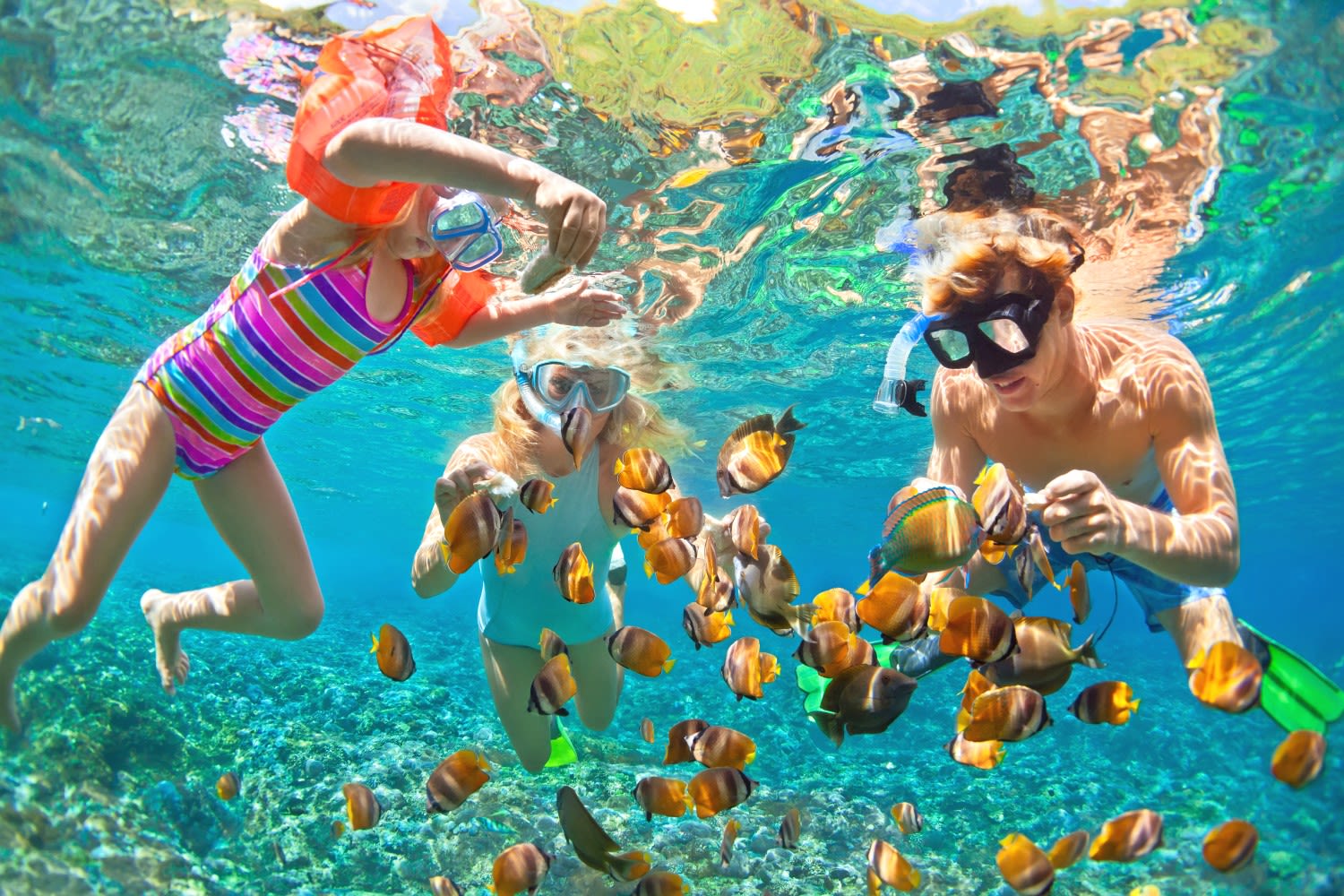 Enjoy a day snorkeling by starting out on the Aquaworld SubSee Explorer and stop around Punta Nizuc to snorkel among all types of aquatic creatures. Take the 30-minute ride on the Subsee Experience to see the underwater views, sit back and relax with a drink. At your destination of Paradise Platform, check out the 16 different statues in your snorkeling gear. Stay close to guides for your best shot at seeing a sea turtle.
Jungle Tour Speedboat Adventure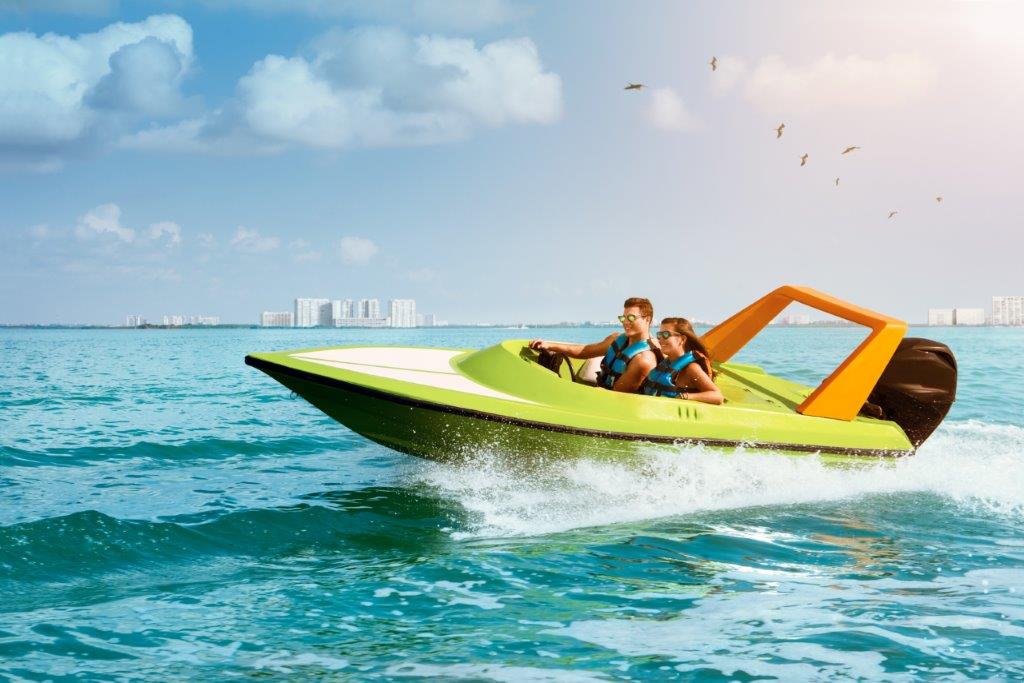 Become the captain of your own ship with a two-person Jungle Tour Speedboat Adventure. You'll get snorkeling gear and a new snorkel to keep. You will have the chance to explore the area channels with 2.5 hours of speedboat time. Use the snorkeling gear to dive below the water and see the aquatic plant life. Talk with the experienced guides to see where you should head for your exploration.
Dancer Cruise Cancun with Snorkeling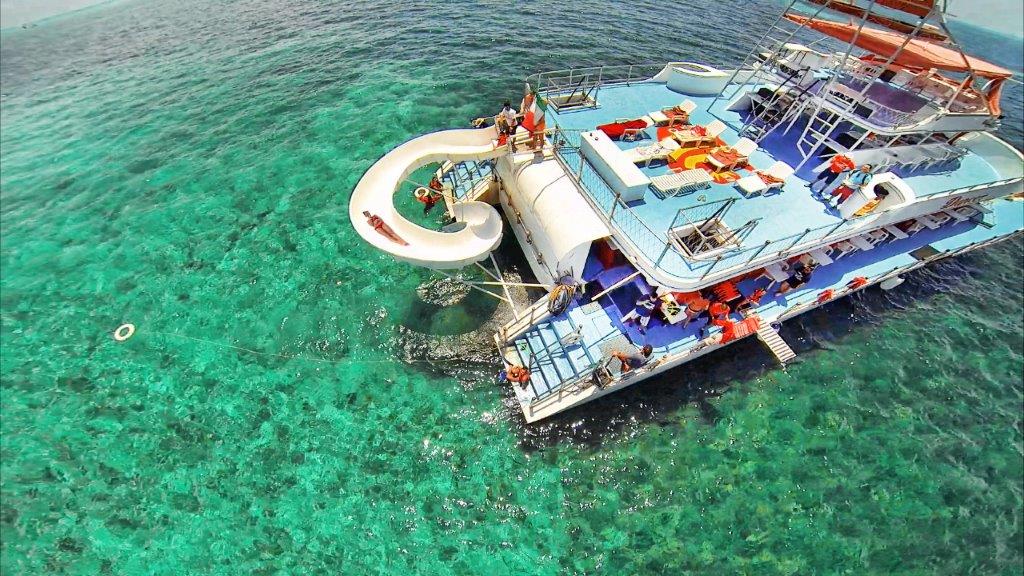 Music, singing, dancing and fun can be found on the Dancer Cruise Cancun with Snorkeling. Onboard you'll have food and beverages, dance lessons, contests and activities. The double-decker catamaran sails between Cancun and Isla Mujeres. You'll have three opportunities to jump in the water as the boat stops and you get the chance to explore the area.
Stop one is the Meco Reef, stop two is in an area with calm waters to give everyone a chance to swim, and the last stop is at Isla Mujeres. The boat includes a waterslide and diving board. While at Isla Mujeres, you have two hours to check out the island. On the way back to Cancun, have fun dancing with the DJ, have a few drinks and relax.
Royal Garrafon Natural Reef Park Adventure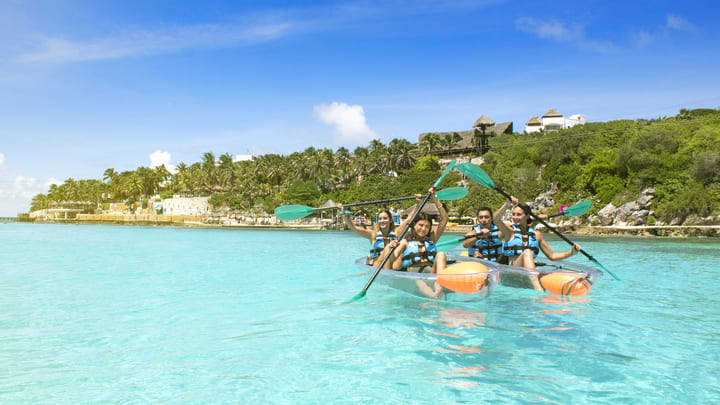 The Royal Garrafon Natural Reef Park Adventure includes roundtrip transportation from Cancun to Isla Mujeres and back. The boat ride is 30 minutes and includes a continental breakfast on the way to Isla Mujeres. You'll have access to the Beach Club and you can swim in the pool.
Check out the Pre-Hispanic Steam Bath on the island and head back to the Beach Club for a buffet-style lunch. While at the island, you can kayak or snorkel in the bright blue water. Enjoy a guided walking tour on the coast of Punta Sur.
Flowrider "ride the wave" experience of Aquaworld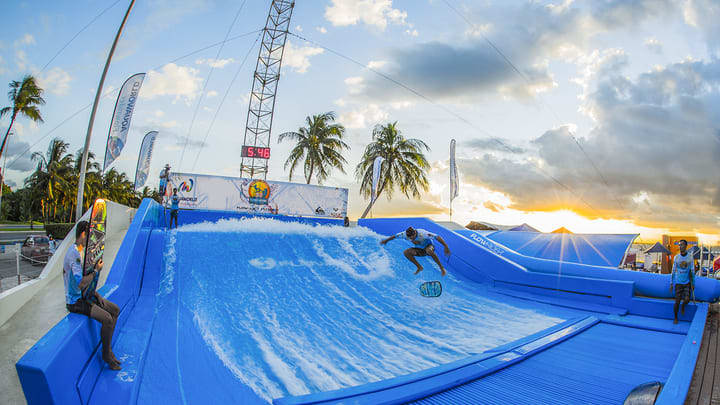 If you have ever wanted to try surfing but you aren't ready for the open ocean, the Flowrider "ride the wave" experience of Aquaworld can't be missed. You'll be able to catch a wave with the help of an instructor. The surface is soft, much like a trampoline. No matter what your surfing capability, you'll have fun on the FlowRider. It's a great opportunity for experience surfers to try out new tricks in a controlled environment.
2-Hour Open Bar at Señor Frogs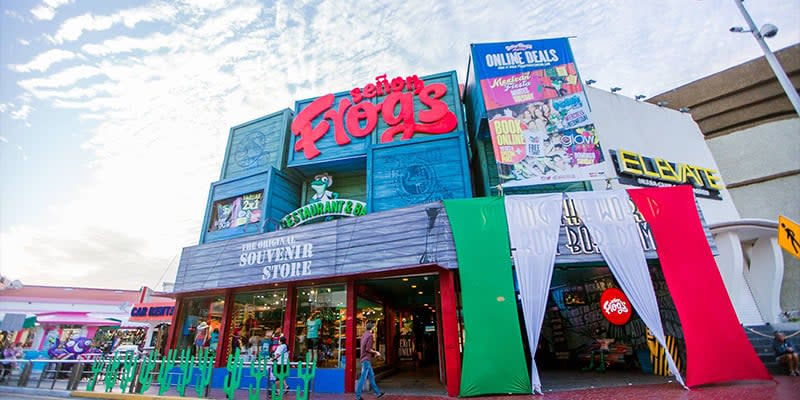 Right in the heart of Cancun is the popular bar Señor Frogs. With great energy and entertainment no matter what time you visit, enjoy a 2-Hour open bar adventure and have some fun dancing. The bar includes all of your favorite drinks, and live music is always playing. The service at Senor Frogs is exemplary and this is an experience you are not going to forget during your vacation to Cancun.
Shopping Tour in Playa del Carmen with hotel pickup include
On this awesome Shopping Tour, you'll get picked up from your hotel and spend the next hour in air-conditioned comfort on your way to one of the best beach towns in Mexico, Playa del Carmen. An English-speaking tour guide is on the bus to give you background, and you'll have access to complimentary ice-cold water on the trip.
In Playa del Carmen, it's time to start shopping. There are many locally-owned boutiques and also name-brand stores. No matter what you are looking for, you can find it shopping in Playa del Carmen. You'll have plenty of choices when it comes to restaurants, and the chance to check out a wide variety of street performers and artists.

Save on Admission to Things to Do in the Cancun Hotel Zone
With a Go City® attraction pass for Cancun, you can visit these exciting attractions and save on combined admission fees to these and other great Cancun attractions. The Cancun buses are pretty convenient, so visiting all the attractions is very possible.
Of course, the attractions suggested in this post are only some of many ways to enjoy your limited time in Cancun. Go City® gives you the flexibility to totally customize your vacation – just pick and choose what you want to see during your one day in Cancun and save on admission. It's that easy!