Adventurous Activities in Hong Kong
Looking for the best adventurous activities in Hong Kong? Check out our picks and prepare for some adrenaline-fueled fun!
Including:
What are adventure activities?
What is an adventurous tourist?
What attracts people to adventure tourism?
Adventurous Activities in Hong Kong

What are adventure activities?
It really depends on what you consider adventurous! For some, it can be as simple as exploring a new place they've never been before, immersing yourself in its culture and history. For others, it can mean pushing yourself in an extreme sport. We're all different, after all!
What is an adventurous tourist?
Typically, an adventurous tourist will partake in some or both of the above activities. As we already mentioned, it's really up to the person what they find adventurous and what they want to do. Don't let anyone tell you you're not an adventurous tourist just because you didn't want to skydive!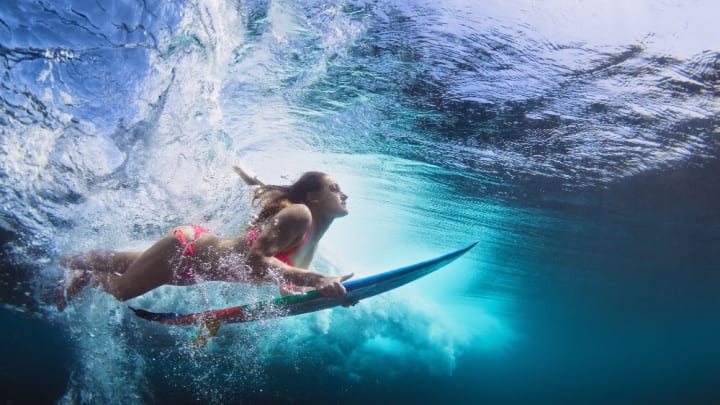 What attracts people to adventure tourism?
What Attracts People to Adventure Tourism? Adventure tourism's popularity can be attributed to its unique ability to ignite the spirit of exploration and curiosity. The thrill of pushing boundaries, conquering fears, and embracing new challenges resonates deeply with modern travelers.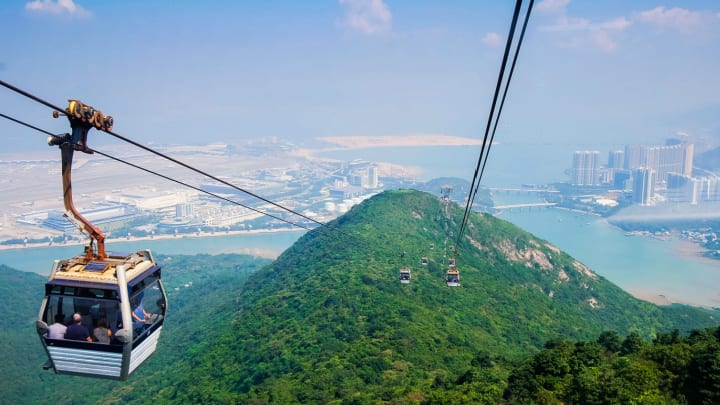 If exploring new places, riding a stunning cable car, and immersing yourself in local culture sound adventurous to you, this trip up to Ngong Ping should be on top of your itinerary.
On the journey up, you'll see the most stunning views of the whole area, stretching as far as the airport. Make sure to snap some pictures on your phone or camera to show off back home! Then, when you reach your destination, you can explore at your own pace. Make sure to hit up Ngong Ping village, walk the Wisdom Path, browse Po Lin Monastery, and - most importantly - get a good look at the Tian Tan Buddha - one of the largest sitting Buddha statues in the world!
Then, when you're all tuckered out, take the cable car back down to the city and go to bed! Now that's what we call adventure!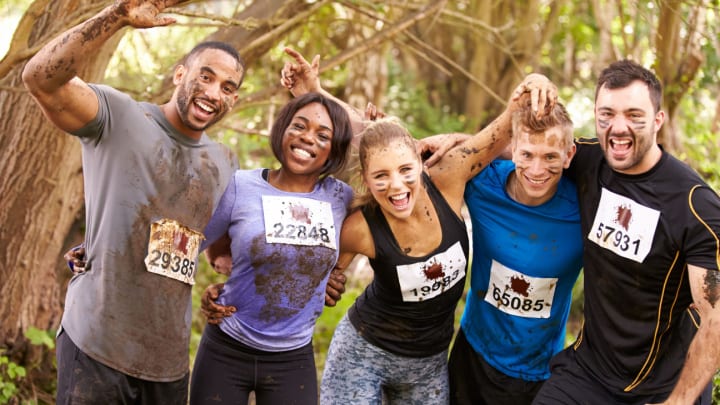 On the flip side to Ngong Ping, we have something like Ninja Force, Hong Kong's premier outdoor extreme fitness arena. If you want to push yourself to your limits, you won't find many better places to do so.
Inside this expansive facility, which covers more than 18,000 square feet, you'll find three distinct courses tailored to various skill levels – including Playground Games, Physical Competitions, and Top Competitions. Each course presents a collection of up to 20 thrilling challenges meticulously crafted to assess your strength, balance, and agility.
Perfect for grown adults all the way down to 8-year-old kids, Ninja Force offers 90-minute sessions and classes to cater to all fitness enthusiasts.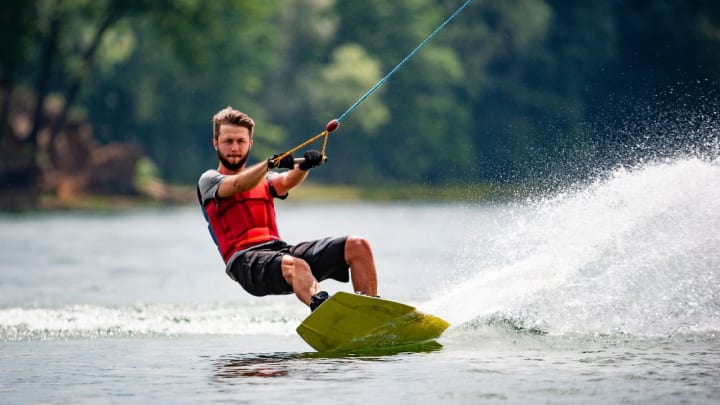 Adventurous Activities in Hong Kong: Wakeboarding and wake surfing
If you've never tried your hand at wakeboarding or wake surfing, where better to start than on your adventurous Hong Kong vacation? Grab lessons from a private tutor and hit the waves with confidence.
You'll pick up the basics from your qualified instructor and maybe even learn some cool tricks before hitting the waves and strutting your stuff. There's not much more to it, really. Go with a friend and take turns on the boat to see who's the best at carving up some sweet waves, bro!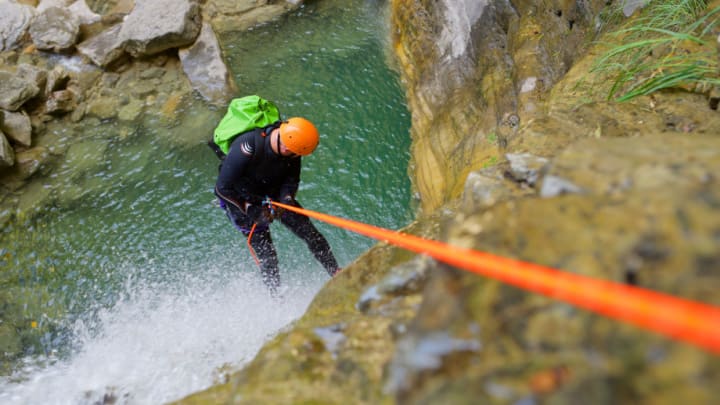 Adventurous Activities in Hong Kong: Canyoning
If you're not familiar with canyoning, it's the practice of hiking to and then traversing canyons. If you have the will and aren't afraid of heights, it's one of the most adventurous activities in Hong Kong!
But don't worry; you won't be risking life and limb. You'll be kitted out in a ton of safety gear, including hard-hat helmets, wetsuits, tough boots, and a whole host of harnesses, ropes, and anchors.
Be warned - canyoning is a pretty demanding activity. You'll regularly need to swim, climb, and set up anchors in often difficult places. So make sure you're in good shape and always listen to the instructor! Trust us; they know what they're doing.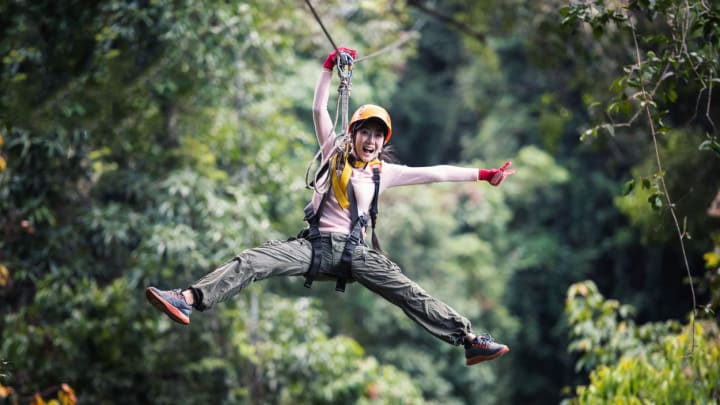 Adventurous Activities in Hong Kong: Ziplining
Ziplining has become a pretty hot activity over the past few years, with centers popping up in plenty of major cities offering up some urban zip experiences. But nothing beats a rustic zip across a beautiful, natural landscape. So, hop on a ferry to Tung Lung Island and see for yourself!
In no time at all, you'll be zipping between cliffs and canyons, with myriad trees passing beneath your feet. Sounds pretty adventurous to us!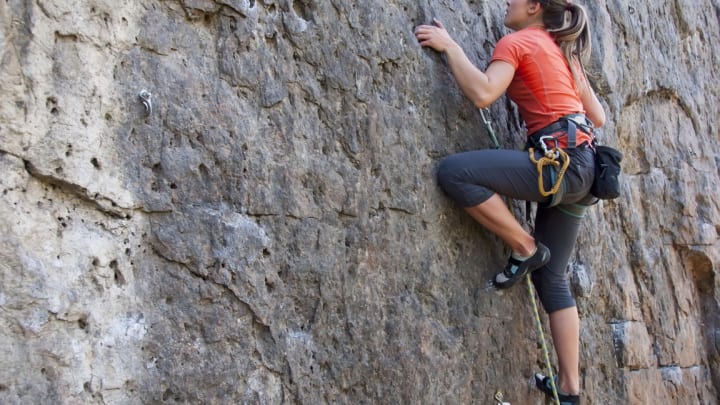 Adventurous Activities in Hong Kong: Rock climbing
Hong Kong is chock full of natural mountains and cliffs, so it's no surprise that many take up rock climbing when they visit. Do you dare to join them?
There are plenty of places offering rock climbing in Hong Kong, so pick whichever suits your fitness and experience, and get out there and enjoy it. New climbers can start slow, with introductory courses available, while seasoned vets can get to scaling the toughest surfaces from the get-go.
If you've ever wanted to mimic Tom Cruise's heroics in Mission Impossible 2, you know what to do.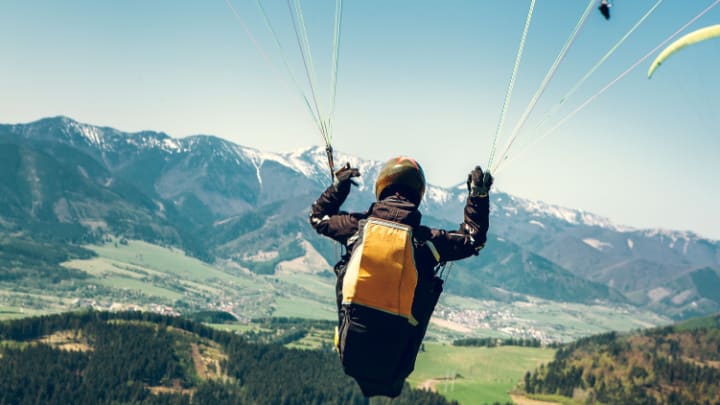 Adventurous Activities in Hong Kong: Paragliding
If you yearn to touch the sky like Icarus, just without the whole falling back to Earth business, then paragliding should be on your itinerary.
But challenging gravity is no laughing matter, so it pays to go with the pros.
That's why you should check in with the Hong Kong Paragliding Association to find the best, safe, licensed providers, and feel free to ask them any burning questions before booking. Easy peasy.
And those were our picks of the best adventurous activities in Hong Kong. Be safe, be happy, and be extreme! Of course, life isn't all about adventure, so if you want to sprinkle some less adrenaline-fueled activities into your Hong Kong itinerary, check out Go City! With our All-Inclusive Pass and Explorer Pass, you can see all of the city's best bits for one low price!