There's no place that caters more to its audience than Las Vegas, and the food scene is no different. With so many great restaurants in Las Vegas, dining out is one of the most fun things to do while in Las Vegas--even with the kids. We asked a Las Vegas local to give us a low-down on the best spots to hit for good eats and good times with the family and these were her top picks for food quality, fun, and family-friendly atmosphere:
Vegas wouldn't be Vegas if you and the family didn't check out at least one Vegas buffet, and the Wicked Spoon should be at the top of your list of must-try smorgasbords. The cooks behind this diverse spread of goodies have taken all-you-can-eat dining to a whole new level. Forget about heaping piles of mashed potatoes and dried out roast beef; food here is either carved to order or plated individually in miniature bowls, cocottes, or fancy spoons. Try a little of everything or a lot of one thing, and save room for the gelato bar. Insider tip: sign up for the Cosmopolitan's player's card as it often offers members specials like buy one/get one buffet deals.
Regardless of whether your family is actually Italian, you'll feel like you're eating grub straight from Nona's kitchen when you book the gang into Maggiano's Little Italy at the Fashion Show Mall. Yes it's a chain, but it's a chain with good quality food and dishes are served family style which is always comforting and adds to the fun. Insider tip: this is one of the few
family friendly restaurants
that overlooks the Las Vegas Strip so be sure and request window seating when you make your reservation.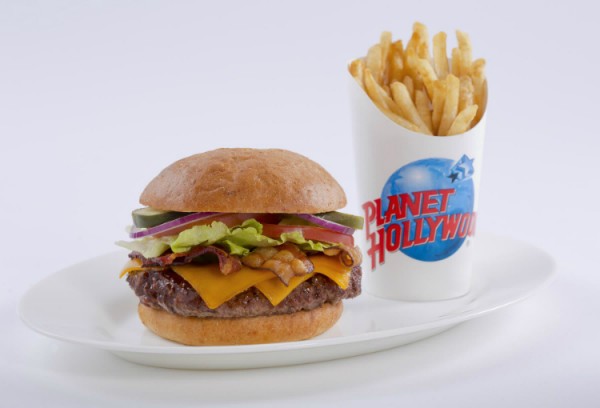 This novelty chain is a classic fan-favorite for kids. The movie-themed atmosphere complete with memorabilia, flat screens, music, and more is sure to keep the kids entertained until the food arrives. Order some apps to split like the famous Chicken Crunch, chicken tenders coated with sweet crunchy crumbs, Tex-Mex Egg Rolls, or Nachos Grande. Insider tip: save on a meal at Planet Hollywood and other fun attraction along the Strip with a Las Vegas Explorer Pass.
Downtown Las Vegas is home to some of the most family-friendly restaurants in the city, and this delicious pizzeria is definitely included on that list. The restaurant itself is fun and welcoming, with hip décor and a soundtrack full of rock songs to add to the energetic vibe. Toppings are creative and combos push the boundaries of traditional flavors, but it's all delicious.
Insider tip:
try the fried green beans followed by The Ogden, a white pie topped with Sicilian olives, goat cheese, fresh dill, endive, agave nectar, Calabrese sausage, crushed red pepper, and mozzarella. Yowza! There's a reason this place has been voted Best of Las Vegas.
Younger kids might freak at the mere sight of these Lousiana mud bugs, but older kids and adults alike will love the mouthwatering spice combinations coupled with the fact that the menu here basically demands that patrons play with their food. Order crawfish, shrimp, crab, or other crustacean offerings by the pound (price depends on seasonality as does availability), pick a seasoning, and then pick a spice level. Wear an old shirt and leave your manners behind – when a big bag of juicy crawfish hits your table, it's no time to be polite!
Tournament of Kings Dining Show
Head to Excalibur Hotel & Casino for an unforgettable live-action dining experience the kids can get excited about. The show, adapted from the tale of King Arthur, features action-packed period specific portrayal of centuries past complete with valiant knights riding might steeds, jousting, and more. For more information and to buy tickets,
check their website
.
Highlight:
kids will love that they're encouraged to eat entirely with their hands with this three-course, no-utensil meal.
Downtown Container Park
Although kids (under 18 years of age) are not allowed on the premise after 9:00 pm,
Container Park
, located downtown, is a fun destination for families with small kids. Head there earlier in the evening so the kids can play and run around in the Children's Tree House and Play Zone and get out a little extra energy before dinner. Check out the list of
restaurants and sweet shops
online to plan your visit.
Looking for other family-friendly things to do in Las Vegas?
Be sure to check out some of our top picks for
things to do with kids
 and remember, with a
Go City Card Las Vegas Explorer Pass
you can save up to 55% off combined admission to top Las Vegas attractions, tours, museums, and more.