Most people leave Vegas a little lighter than they came - financially speaking that is. But it doesn't necessarily have to be that way. If you take advantage of sweet deals like the Las Vegas pass, and include some of our picks for free things to do in Las Vegas in your itinerary, you can experience all the fun and excitement of this incredible city without breaking the bank in the process.
Our local experts have put together a list of some of the best free things to do in Las Vegas, that'll help to round out your vacation itinerary. Whether you arrived on a tight budget or your luck suddenly took a turn for the worse at the casino, here's a look at some great free things you can do to enjoy Sin City without spending a dime.
A Way to Save on Ticketed Las Vegas Attractions
We know that this blog post is about listing the free things to do in Las Vegas, but, are you looking to visit a few of the ticketed attractions during your vacation? Consider using a Go Las Vegas Pass - which includes admission to dozens of the area's most popular attractions - all for one low price.
Check out all available Las Vegas attractions, passes, and prices.
Fountains at Bellagio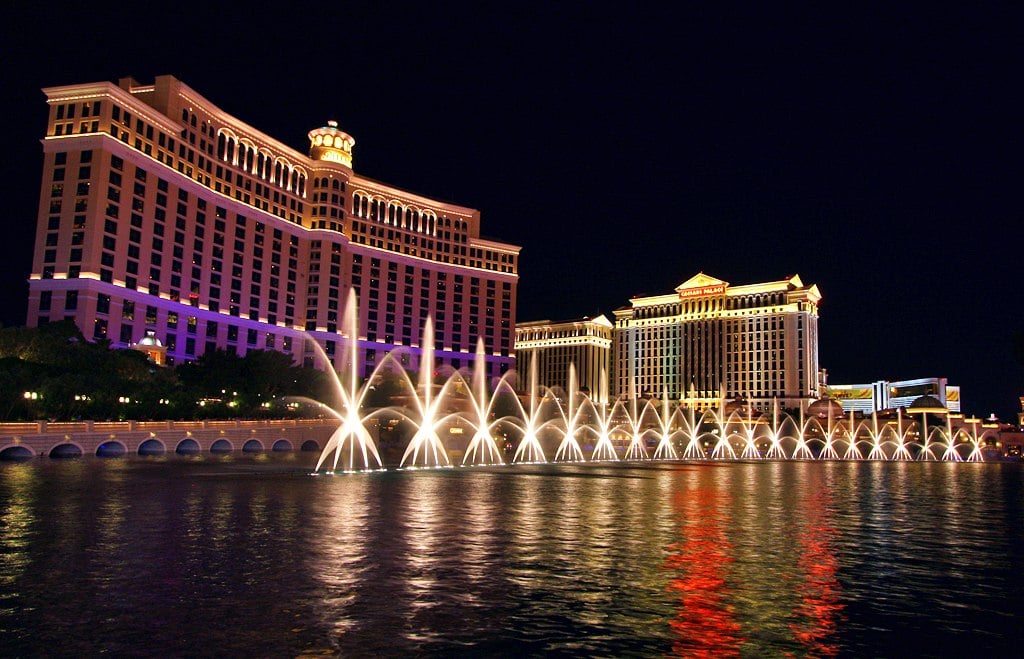 By Photographersnature [CC BY-SA 3.0], from Wikimedia Commons
The artistry of the Fountains at Bellagio is seriously inspiring – they put a whole lot of time into synching up those water spouts to the sounds of popular tunes, and it has absolutely paid off. Plus, there are tons of fun sideshows on display too. From busking musicians to costumed characters to the inevitable lakeside proposals, the people-watching here is epic.
Learn How to Win Big - For Free
Did you know that many hotels and casinos in Vegas offer free lessons on classic casino games? Learn the basics, the standard etiquette, and even some strategies before you hit the casino floor and increase your odds of going home with more than you came with. Ask your hotel concierge when and where you can go! This is the perfect way to start your trip if you're hoping to win big.
Fremont Street Experience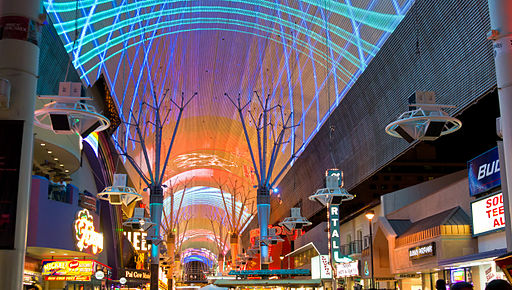 Speaking of people watching, it doesn't get much more entertaining than the variety of people that drift through downtown Las Vegas's Fremont Street area. Sure, you'll see miniature Kiss and more street artists than you can shake a glow-in-the-dark stick at, but the main draw is a little more organized.
The 1,500-foot-long ceiling of this pedestrian-only street has been studded with more than 12.5 million lights and a state-of-the-art sound system to display themed light shows that'll leave you gawking every hour on the hour – all you have to do is look up.
For Go Las Vegas pass holders, guided Las Vegas Downtown - Fremont St. Walking Tour tickets are included on your pass.
The Backyard at Gold Spike
Gold Spike's Official Facebook Page[/caption]
For a casual setting complete with lawn games and fire pits, head to the backyard at the Gold Spike located in downtown Las Vegas. Visitors can join in on games such as cornhole (or "bag toss"), Jenga, beer pong, chess, shuffleboard, ping pong, and more.
Bellagio Conservatory & Botanical Gardens
Even the most jaded Las Vegas locals will trek to the Bellagio Conservatory & Botanical Gardens to check out the incredible seasonal displays. A team of 140 horticulturists transforms the Bellagio's conservatory into a tribute to Chinese New Year, summer, spring, Christmas, or whatever event or holiday happens to inspire them.
The explosion of colorful flowers and greenery spills over water features and gazebos, and the result is nothing short of mesmerizing. You might even get to catch a free musical performance while you're there!
Pinball Hall of Fame
The Pinball Hall of Fame displays the world's largest publically available pinball collection. This non-profit is home to games from the 1950s through the 1990s. Located just off the Strip, it's a fun and different way to experience something totally unique to Las Vegas, and it's a feel-good activity as all profits go to non-denominational charities.
Mirage Volcano
Be sure to see the iconic Mirage Volcano erupt one of the nights you're in Las Vegas. This exciting five-minute show is packed with fireballs, exploding "lava", flames, and shooting water. It's set to a soundtrack which was exclusively created by the Grateful Dead drummer Mickey Hart. Stand close to the action to feel the heat! Check the schedule online to be sure you don't miss out.
Take a Picture with the "Welcome to Fabulous Las Vegas" Sign
If there's one free thing you visit in Vegas, it should probably be this world-famous Las Vegas landmark, designed by Betty Willis and located on the southern end of the Strip. Snapping a picture with the sign as a backdrop is a must-do.
Friday Art Walk
Check out the downtown festival on the first Friday of each month and take some time to appreciate and support the local Las Vegas artists (great souvenir and gift shopping can be found here!). In addition to seeing some great art, sampling delicious food, and catching some live performances, you'll get a feel for the Las Vegas local community.
Ethel M Chocolate Factory and Botanical Cactus Garden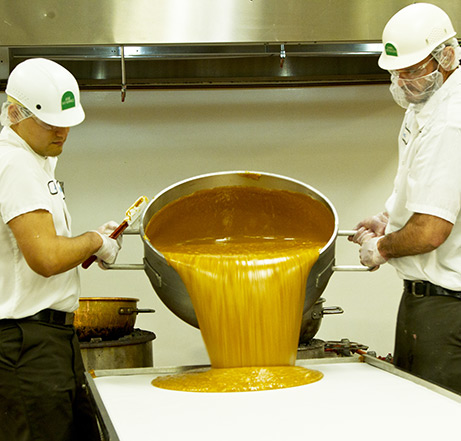 Photo credit: Ethel M Chocolate Factory[/caption] 
This sweet experience includes a free self-guided viewing aisle where you'll have a chance to see chocolatiers and machines churning out delicious bite-sized pieces of perfection (we love chocolate, ok?). You might even get to see inside the kitchen where the famous peanut brittle is made by hand every day. You can tour the factory and gardens between 8:30AM and 4:30PM Monday through Thursday, and the factory is just a 15-minute drive from the strip.
Fun fact: Visit from November until New Year's and you'll get to see the gardens lit with a half-million beautiful lights.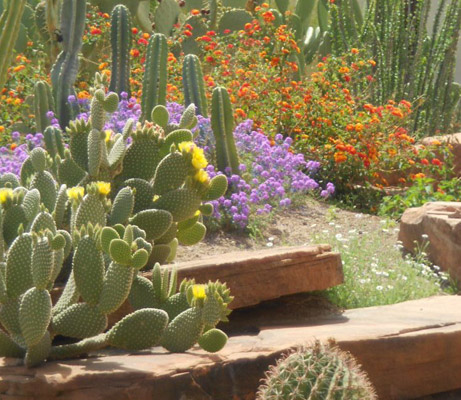 Photo credit: Ethel M Chocolate Factory[/caption]
Located at Ethel M Chocolate Factory is one of the world's largest collections of cacti and other succulents native to the American Southwest, Australia, and South America. With over 400 acres and over 300 species of these drought-tolerant plants, there will be a lot to see.
Circus Acts at Circus-Circus
The world's largest permanent circus is free! Head to the Circus-Circus hotel and casino right on the Strip for daily shows featuring death-defying acts by talented performers from around the world. Check online for more information and hours of operation.
Visit the Wildlife at Flamingo Las Vegas Hotel & Casino
Nature lovers will love the Wildlife Habitat at the Flamingo Las Vegas where they can see exotic birds, fish, and turtles. Be sure to bring a camera - the scenery is beautiful.
Check Out the World's Largest Golden Nugget
If you've never seen a golden nugget, you'll want to drop in and check out the world's largest one, known as the Hand of Faith. It's located in the Golden Nugget lobby and weighs an incredible 61 pounds. Not only will you get to view this huge nugget free of charge, but you can also check out a large collection of Alaskan gold nuggets as well.
Silverton's Saltwater Aquarium
Silverton offers a 117,000-gallon saltwater aquarium that's free to visit, featuring over 4,000 tropical fish. Interactive feeding shows take place daily, and mermaid swims can be viewed free of charge as well (yep, you read that right).
Marjorie Barrick Museum of Natural History
If you're a history buff, you'll love getting free entry into the Marjorie Barrick Museum of Natural History, which explore the history of various American Indian cultures, Mexican history, and desert life. Although it's free to enter, donations to keep the museum going are appreciated. You'll find the museum on the Las Vegas campus of the University of Nevada. 
Anderson Dairy Tour
For kids, the Anderson Dairy offers colored lights, animatronic animals, and farm scenery, helping to teach kids about the history of Las Vegas and the dairy. While you'll need to schedule your tour in advance, it's free of charge.
Clark County Wetlands Park
Check out local wetlands and the animals and plants living there by visiting the Clark County Wetlands Park. It offers bird viewing blinds, scenic views, hiking trails, ponds, and more. 
Hershey's Chocolate World
Indulge your sweet tooth and discover more about Hershey's Chocolate when you visit Hershey's Chocolate World. It's a two-story area that includes an 800-pound Statue of Liberty made completely with chocolate. While there's no cost to get in, you may end up spending a bit of money on the Hershey's chocolate products or at the bakery counter that stocked with plenty of sweet treats.
Carroll Shelby Museum and Factory Tours
The Carroll Shelby Museum is located near the Las Vegas Speedway and it's packed with incredible cars that are sure to make any car enthusiast excited. Tours of the production facilities are also available. You can visit the museum or you can go on the free tour for a more in-depth look at the cars and the production facility.
Let's Recap on How to Visit Las Vegas for Cheap
So there are some fun ideas for free things to do in Las Vegas. Remember, if you want to add some attractions to your itinerary that normally cost money, consider purchasing a Go Las Vegas Pass. With the Go Las Vegas Pass, you get admission to dozens of attractions all for the one low price of the pass. You can save on combined admission costs vs paying at the gate. Enjoy!