Famous enough to have a movie named after it, west London's Notting Hill has become one of the capital's most respectable neighborhoods and forms part of the Royal Borough of Kensington and Chelsea.
But that wasn't always the case. It was once an area of piggeries and potteries, and went through various incarnations before becoming the attractive neighborhood for families it was always intended to be. Both cosmopolitan and multicultural, things to do in Notting Hill London are as varied as the shades that don the homes of Lonsdale Road and Westbourne Grove.
These colorful townhouses have been the backdrop for several blockbusters, alongside a selection of markets, galleries and a world-renowned carnival that will have you coming back for more. We're sure of it!
Party time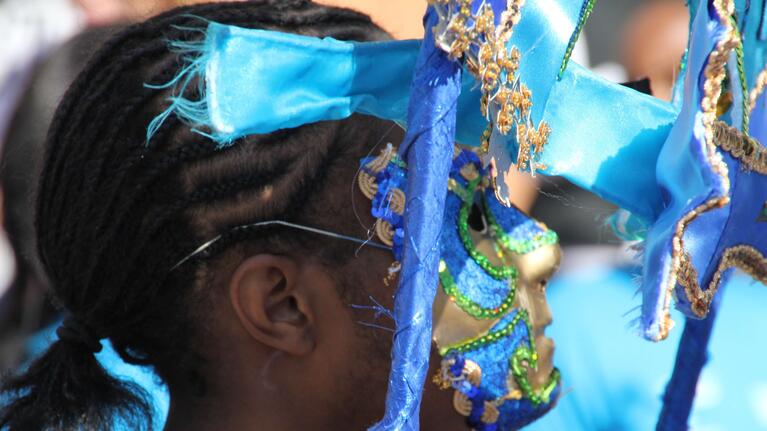 Europe's largest street festival, the Notting Hill Carnival has been dazzling the crowds since 1965. Taking place over the Sunday and following Monday bank holiday in late August it is led by the neighborhood's British West Indian community, who club together to create floats and costumes which wow year after year.
Ringing with the sound of steel drums and samba come rain or shine, there's also plenty of Caribbean-inspired food and drink available throughout the two days of the event.
At other times of year you can get your fill of the latest beats at the Shepherd's Bush Empire. Where once Charlie Chaplin performed you'll now find listings that include emerging talent and household names despite its relatively limited capacity of 2000. Pearl Jam and the Rolling Stones have both hit the Empire stage at the height of their success.
Bag a bargain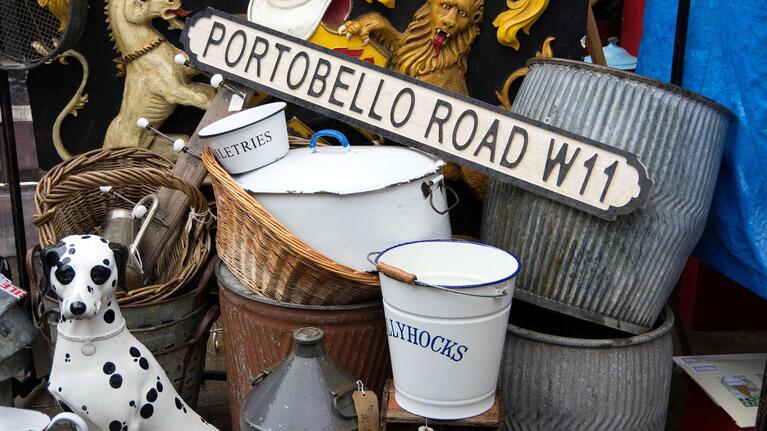 A great introduction to Notting Hill since it runs on a north-south axis for almost the entire length of the neighborhood, Portobello Road has become synonymous with its market. At its peak on Saturdays, its stalls run for close to one kilometer, which together with shop fronts packed with goodies makes it as stimulating visually as it is culturally and historically.
Saturdays sees the antiques stalls joined by a traditional fruit and vegetable market, fashion, vintage items and household essentials, which share a roster of appearances the rest of the week.
The closest Notting Hill – and London more generally – gets to a shopping mall is White City's Westfield. Situated opposite BBC Television Centre it is one of Europe's largest covered shopping centers, spanning the buyingg experience from the cheap and cheerful fashion of Primark to the high-end couture of Versace and Gucci.
Feel the grass beneath your feet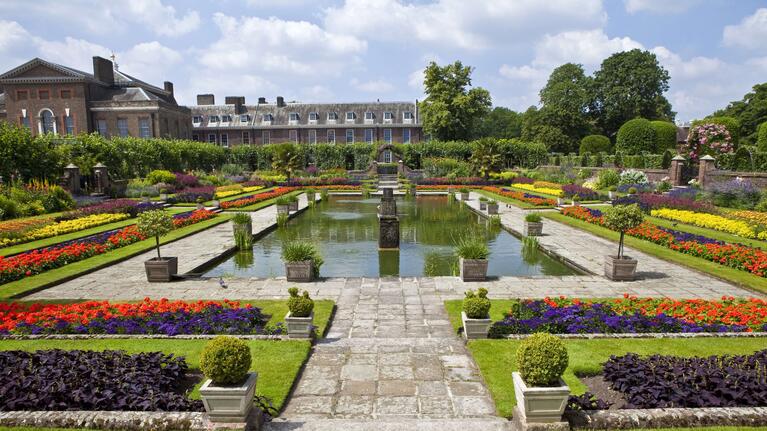 Although many of Notting Hill's homes face out onto small communal gardens – sometimes reserved for residents alone – the neighborhood also includes two publicly accessible green spaces. The first is Holland Park, once the grounds of a Jacobean castle. A mix of landscapes, birds including peacocks delight in its dappled woodland, formal gardens look towards the remnants of Holland House and the Japanese Kyoto Garden adds another layer of interest.
The second is Kensington Gardens not far to the east. One of London's key green spaces, with a children's playground, statues and duck pond, it is also the location of Kensington Palace. Open to the public since 1899 and a functioning royal palace to this day, it was the birthplace of Queen Victoria and has also provided a home for Princess Diana and Prince William.
A design for life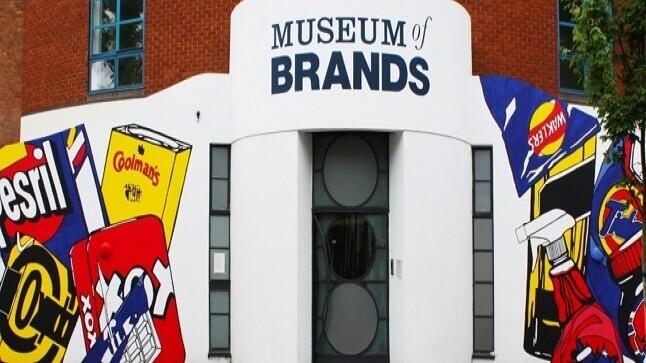 It's worth staying a little longer in Holland Park though, since the Design Museum sits on its southern boundary. Founded by designer Sir Terence Conran in 1989, it reopened in its present location in 2016.
A hyperbolic paraboloid roof acts as a further object of wonder beyond the museum's collection of 'everyday' items in its permanent collection, whilst the lower floors are used to host temporary exhibitions on a broad range of design themes.
Taking a look at design over the ages from an alternative viewpoint is the Museum of Brands, Packaging and Advertising. Starting in Victorian times – which began in 1837 – the museum explores how consumer culture has changed through displays totaling 12,000 individual items. If you've ever wondered how a box of Corn Flakes has altered over the ages, or how Cadbury purple came into being, you know where to head!
Let your hair down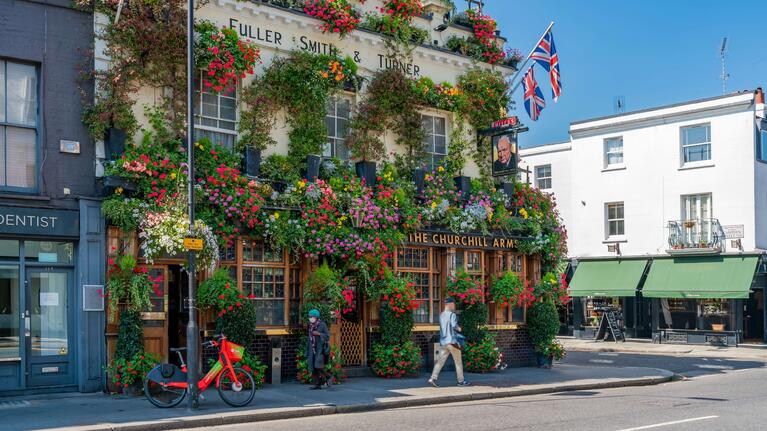 When it's in full bloom, The Churchill Arms on Campden Street does a very good impression of the Hanging Gardens of Babylon, whilst the festive season results in a look normally only possible after an explosion in a Christmas decoration factory.
Unstoppably colorful, its pumps are also a good shout for sampling traditional British warm beer. Consider a pint of London Pride – named after a wildflower that appeared on the rubble of the Blitz.
Surviving equally unscathed was the Electric Cinema, so named because it was one of Notting Hill's first electrically lit and powered buildings. First opening in 1910, it is also one of the UK's first purpose-built movie theaters, making it one of the most evocative places in the capital to take in a screening.
Discover the best art around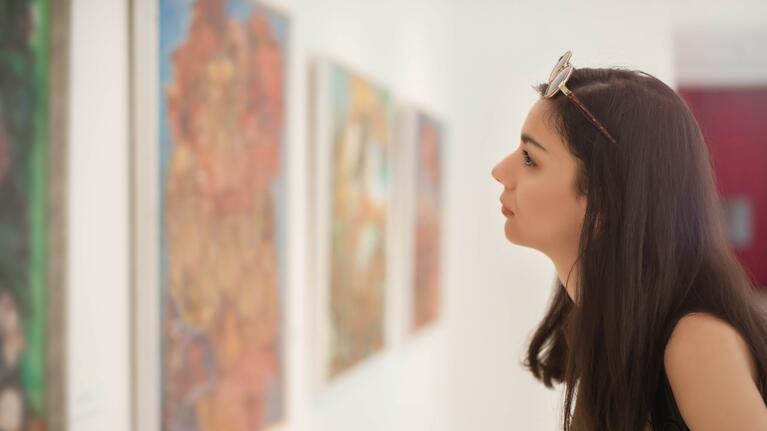 A one minute walk from Portobello Road, the spelling of Graffik Gallery tells you all you need to know about the sort of art establishment this place is – individual, contemporary and just a little bit edgy.
Specializing in high-end street art, its walls display some of the best graffiti artists of the moment – including Banksy. Should the world of the spray can grab you, they regularly host graffiti workshops and private masterclasses.
Westbourne Grove's Maddox Gallery has been successful enough that it's expanded internationally, though it all started right here in Notting Hill. They too have their finger in the Banksy pie, alongside works by Damien Hirst and Jean-Michel Basquiat, despite only being founded in 2015.
Visit the real Notting Hill with Go City
You probably won't find Hugh Grant throwing an orange juice over you as in Notting Hill. Whilst this fictionalized version of the neighborhood has some truth to it – including the upper-class British accents – the only way to untangle fact from fiction is by visiting Notting Hill for yourself.
Travel with Go City and uncover the huge range of things to do in Notting Hill London and save big at the same time. From design museums to market banter, Notting Hill has it all.