Planning to visit the Empire State Building? It's one of the most recognizable and iconic landmarks in the world. Check out our helpful guide, packed full of ways to save on admission, tips for visiting, places to eat nearby, and much more.
How to buy Empire State Building discount tickets?
We've got you covered – Empire State Building admission is available with Go City, so add it to your pass to make incredible savings.
Now you can take your vacation to new heights - 1,050 feet high to be exact! Whether you're visiting New York for its architecture, its history, or its romance, you should not leave The Big Apple without visiting an iconic venue that combines all three.
What to do at the Empire State Building?
The Empire State Building Observation Decks provide unobstructed 360-degree views of New York City. The top of the skyline should undoubtedly top your list of attractions to visit. Don't miss your chance to stroll through one of the most iconic New York buildings, including the different areas detailed below.
Lobby
The lobby, which has been designated a historical landmark, is truly a sight to see on its own. Marvel at the marble-clad lobby with features of the original 1930s Art Deco glamor of the ceilings, wall panels, and chandeliers. It's certainly not your typical skyscraper business lobby!
2nd Floor Visitors' Center
The new second floor Visitor's Center is where visitors can get their Empire State Building tickets. After passing through security you will get your free multi-media handheld device that you will be able to use throughout your visit. Even those of you who have visited before will learn something new.
Sustainability Exhibit
The Sustainability Exhibit is located on the 2nd floor. Here you will learn about the sustainability and preservation efforts of the Empire State Building which have made it one of the most energy-efficient buildings in the nation. Your personal audio device teaches you the story of the renovation process in a fun, comprehensible way, which uses a combination of digital displays, sculptures, and actual building materials.
Dare to Dream Exhibit & Empire: The Store
Take the elevator to the 80th floor to the Dare to Dream Exhibit, which showcases the planning and the construction of the Empire State Building. Here you will learn of the building's history and engineering. Take a peek at original documents such as authentic period photographs, construction notes, and more.
The 80th floor is also home to 3,000 square foot, Empire: The Store, which features plenty of great gifts and mementos to help you remember your trip to New York. Here you can find something for everyone, from upscale gifts, children's toys, coffee table books, and much more.
86th Floor Main Observation Deck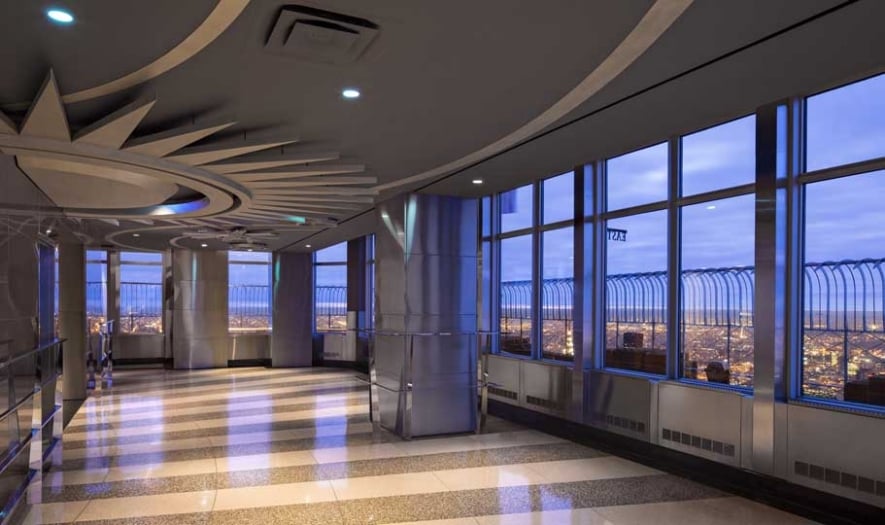 Up on the 86th floor you will arrive at the Main Observation Deck, which is New York City's highest open air observatory. From here you can enjoy stunning 360-degree views of the city, which features both indoor and outdoor promenades. Check out Central Park, the Hudson River and East River, the Brooklyn Bridge, Times Square, the Statue of Liberty, and so much more.
You may remember this 86th-floor observation deck from its appearances in movies like An Affair to Remember, Love Affair, I Love Lucy, and Sleepless in Seattle.
102nd Floor Top Observation Deck
Traveling up the Top Observation Deck will give you even more great views. On clear days, you catch a glimpse of New Jersey, Connecticut, Massachusetts, and Pennsylvania. 
Tower Lights
Beginning in 1976, the lights at the top of the building would often be illuminated with floodlights in recognition of various holidays, occasions and organizations. In 2012 a LED light system was installed that is capable of displaying 16 million colors. Wow! Below is just one example of a beautiful light and music show atop the building.
Empire State Building Run-Up
You've heard of the New York City Marathon, but you may not be familiar with the Annual Empire State Building Run-Up. It's been a unique athletic tradition since the first running in 1978, which began with a few local athletes and has since spread across the globe. Each year, runners from around the world race up the 1,576 steps (approximately 1/5th of a mile) from the ground floor to the 86th floor Observatory, with the fastest clocking in around 10 minutes. Spectators can watch the race from the street.
When to Visit the Empire State Building?
The Empire State Building is open every day, including all holidays, 365 days a year, rain or shine from 8AM to 2AM. Just remember, the last elevator up to the Observation Deck is at 1:15 AM.
Should I visit the Empire State Building at night or during the day?
There are pros to visiting the Empire State Building at night and during the day: During the day, (early in the morning, in fact) is best if you want daytimes views of Manhattan while avoiding the crowds. Head to the Observation Deck during the day to take photos of the cityscape up high, especially if it's a bright and clear day. However, visiting at night is a whole other experience. Heading up to the top of the Empire State Building at night is your chance to see the city lit up, which is truly amazing to see. If you decide to go at night, visiting after 10:00pm is best for avoiding crowds. If you can't decide, why not plan to go around sunset? Not only will you get to see the sun setting over the NYC, but you'll get both day time and night time views of the city.
Tips for Visiting the Empire State Building
Here are some tips for making the most of your visit to the Empire State Building:
How to avoid crowds at the Empire State Building? A good way to avoid the mobs of visitors and super long lines is to plan your visit for either early in the morning (8:00am – 11:00am) or later at night (after 10:00pm, the night views are spectacular!).
How to see the sunset at the Empire State Building?

It seems simple enough, but the best way we know is to head up in advance and stick around to wait for that gorgeous view.

Take in the view before heading out on the town

. Head up to the deck after 10 PM, when its way less crowded. A late night visit will open up a whole new side of NYC, complete with an aerial view of the most famous skyline in the country.

Kids under six are free. You are allowed to bring a stroller, but just be sure you are able to fold it before entering the elevator.
Plan your breaks. If you need to use the restrooms, they are located on the second floor before getting in line for the elevators.
Planning to pop the big question? Head up to the Observation Deck Thursday-Saturday nights between 9PM and 1AM when they have a talented saxophonist playing that helps set the mood. Enjoy live original and classic music as you take in the sweeping city vista below. You can even request a special song for your romantic moments! After you've had your fill of music and magic, you can unwind at the Empire Room on the 33rd floor, an Art Deco style lounge with classy cocktails and upscale bar snacks.They also have a yearly Facebook contest where the winner gets to tie the knot on Valentine's Day.
Share your experience with friends! Tag your photos with #EmpireStateBuilding and they could end up shared across their extensive social channels.
Prepare for the security line. We know, waiting in security lines just isn't fun. Hopefully, by timing your trip carefully, you'll be able to avoid waiting for too long. It's important to know what you can and can't bring up to the observatory, because there is no coat/bag check in the lobby. You are permitted only one carry-on size bag and while camcorders and cameras are allowed, tripods are prohibited. Glass and bottles are also prohibited. However, you might want to bring a few snacks and some small toys or coloring supplies to keep kids entertained while they wait in line. Just make sure these can fit in your carry-on!
Plan what other attractions you'll see that day. Since a visit to the Empire State Building takes a good chunk of time out of your day (plan for a minimum of 2-3 hours), you'll want to have the rest of your day roughly planned out so you can get some more sightseeing in. One idea is to plan on spending the day in the vicinity to make things easier.
Add the Top of the Rock to your itinerary. Compare the spectacular views of both the Empire State Building vs Top of the Rock. The view from the top of the infamous "30 Rock" building rivals that of the Empire State Building. If you love the views from above or you want to determine for yourself which building has the better view, add a Top of the Rock visit to your itinerary. Remember, the Top of the Rock has one thing that can't be beat: a bird's eye view of the Empire State Building!
Find the uniformed personnel on the sidewalk in front of the Empire State Building if you have any questions. Of course, you can always ask them inside as well.
When was the Empire State Building built?
The Empire State Building was part of a Great Depression-era competition to construct the world's tallest building, and was the first structure ever to consist of more than 100 floors, topping the record height with an extra two floors. Construction started in 1930 and it was officially opened in 1931 by President Herbert Hoover. President Hoover turned on the building's lights remotely by pushing a button in Washington, D.C. The Empire State Building is instantly recognizable thanks to its art deco design, which, in addition to its impressive height, sets it apart from neighboring skyscrapers.
It has more than 100 floors, 6,500 windows, 73 elevators, stands 1,454 feet at its highest point (including the tip of the broadcast tower), weighs 365,000 tons and was built out of approximately 10 million bricks. It's often considered among the Seven Wonders of the Modern World. Although it functions today primarily as an office building, it attracts a staggering four million visitors per year – making it one of the most popular tourist destinations in one of the most popular cities in America.
From enduring the wrath of King Kong to standing ominously in Andy Warhol's silent film Empire, the Empire State Building is also famous for its many popular culture representations and appearances.
What attractions are near the Empire State Building?
To help maximize your time in NYC, be sure you schedule in a few other attractions and activities to visit either before or after your trip to the Empire State Building. Here are a few nearby attractions that are a great addition to anyone's vacation itinerary. Some local attractions include the Madison Square Garden Tour , the New York Public Library, as well as departure points for several themed tours.
Want to include even more New York City favorites? Check out the Rockefeller Center Tour, the Metropolitan Museum of Art, and the Statue of Liberty Cruise. With your pass you can take up to 60 days to visit your chosen attractions, and save with special discounts. Simplify your vacation, and see all your target attractions for one low price!

Save on Admission
Remember, with Go City you can save on admission to the Empire State Building Observation Deck, plus many more top New York attractions. Don't leave New York City without checking out this legendary tower that represents American ingenuity, perseverance, and triumph in times of hardship. A ride up to the Empire State Building Observatory is a legitimate feel-good trip that will join you in solidarity with other visitors as you marvel at the magnificence of old New York.