Heading to the Big Apple? We put together a quick guide with information for getting around New York, including getting to and from the airport. With a long list of public transportation and bright yellow taxis wherever you turn, navigating around the City That Never Sleeps is easier than you think.
Whether you're staying within mainland Manhattan or traveling to the burrows and beyond, there are tons of subways, buses, taxis, trains, and ride-sharing services that can get you where you need to go. Planning to see lots of New York City attractions?
Check out the pass for New York by Go City® – the more you do the more you save.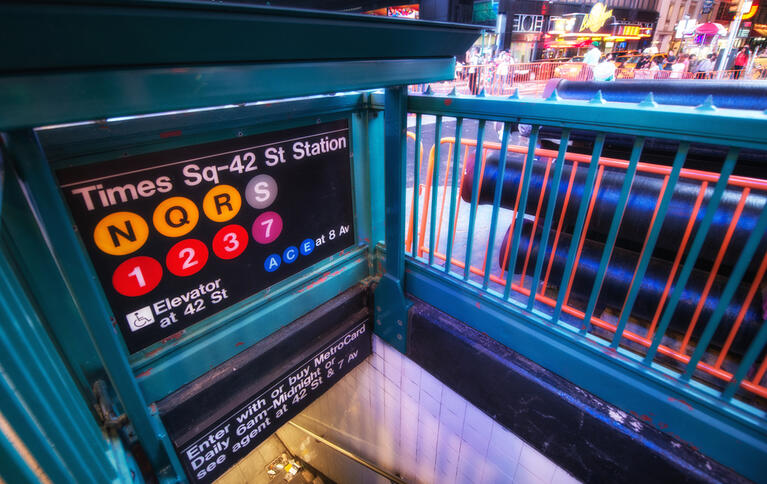 New York Public Transportation
The Metropolitan Transportation Authority (MTA) is New York City's public transportation system which consists of subways, buses, and ferries with most lines operating 24 hours a day.
The subway system has 24 lines, identified by either letters (A, B, C, etc.) or numbers (1, 2, 3, etc.). These routes serve Manhattan, the Bronx, Brooklyn, and Queens. They connect the upper and lower halves of Manhattan, with stops covering almost anywhere you need to go.
The MTA bus system has 253 local routes and 71 express bus routes in NYC's five boroughs. Bus stops are located at street corners and have a tall, round sign with a bus emblem and route number. Most stops also include a "Guide-A-Ride", a sign displaying the route map and bus schedule.
If you are looking to get even further than the boroughs, the MTA also offers daily trains that run between NYC and Long Island, Westchester, the Hudson Valley, and even Connecticut. For more information regarding the NYC transit system and schedules, visit the MTA website.
Purchasing train, bus, and subway tickets is super simple. Head to any public transit station, look for an MTA Ticket Booth or machine, and select the pass that works best for you. You can purchase MTA cards for single rides, unlimited rides, or you can figure out how much you think you'll be using the MTA and load on an exact amount of cash to your card.
Make sure to keep your MTA card for the duration of your trip, as you'll be able to re-load them if needed free of charge!
Hop-On Hop-off Sightseeing Tours
A hop-on hop-off sightseeing tour by Big Bus New York is one of the best ways to start your trip! Get to know the city's layout and top attractions so you can plan your itinerary and make the most of your time.
Enjoy the Classic Route for a complete New York City experience. You'll have the flexibility to hop-on or off at any of the 25+ included stops along the route so you can explore an area by foot or visit popular attractions.
The best part? It combines the need to get around with a fun and informative guided tour past New York's most famous landmarks.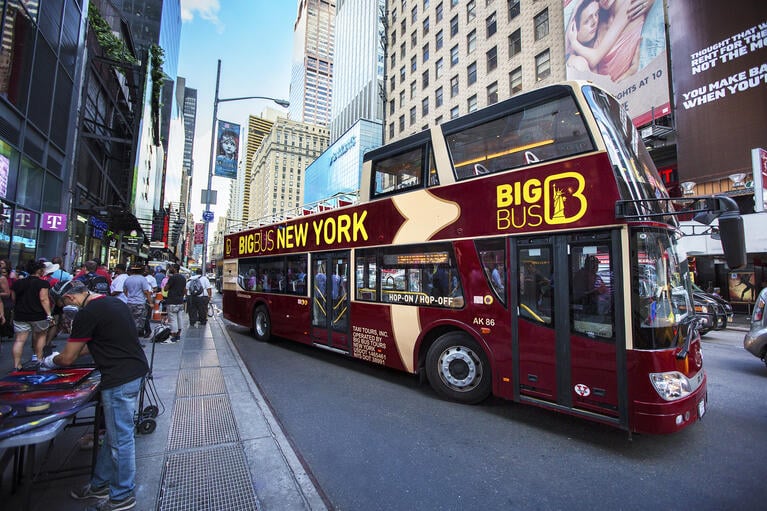 Walking & Biking
Walking and biking are great ways to get around and see the sights. Explore New York City by neighborhood and you'll find that many attractions are in close proximity to one another.
Consider renting a bike for a day as a fun and memorable way to get around the city. Explore Brooklyn and its famous bridge, bike around to all the sights in Central Park, or check out the many miles of New York's waterfront paths. You'll find that Manhattan is a very pedestrian-friendly city. Here are some of our favorite rentals and bike tours, all included on the pass.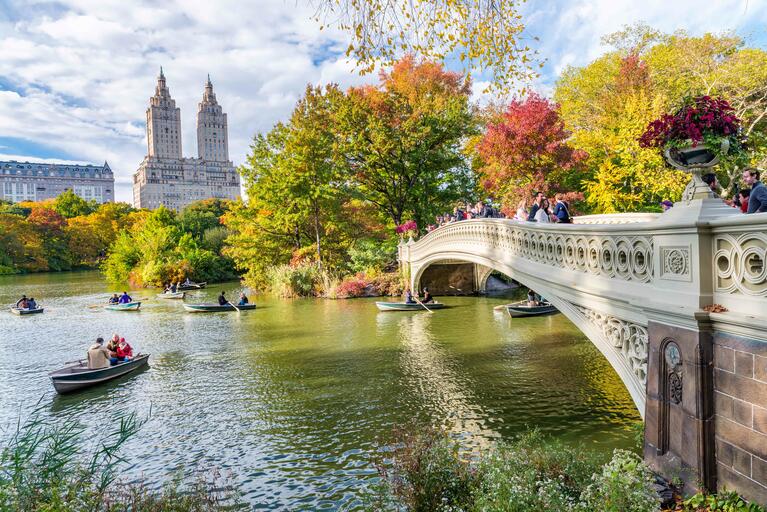 If you're looking to walk with a purpose, try a guided tour through some of the most historic districts of the city. Some of our favorites include
Inside Broadway Walking Tour - this immersive tour lifts the curtain and gives you a behind-the-scenes tour of the reality of New York City's famous Broadway shows.
Secrets of the Statue of Liberty & Ellis Island Walking Tour - no trip to New York is complete without a visit to the iconic Lady Liberty. Learn the secrets of the gorgeous structure and explore the history of Ellis Island on foot.
Central Park Walking Tour - Central Park may seem like a lot to conquer when it's got 1.3 acres of land to explore. Go on a guided walking tour - you're guaranteed to hit the most famous and picturesque spots.
High Line, Chelsea, Meatpacking District Walking Tour - learn all about the history of Chelsea Market, the Meatpacking District, and explore the unique railroad-turned-public-park that is the High Line.
Soho, Little Italy, Chinatown Walking Tour - immerse yourself in old Italian culture as you walk the streets of Little Italy. Smell the aroma of fresh pasta, sauce, and cheese. Make sure you grab a bite to eat!
Brooklyn Bridge and DUMBO Walking Tour - travel across the water to Brooklyn over the iconic Brooklyn Bridge. Snap photos and learn about the bridge's history and construction.
All of these walking tours and more are included on the pass.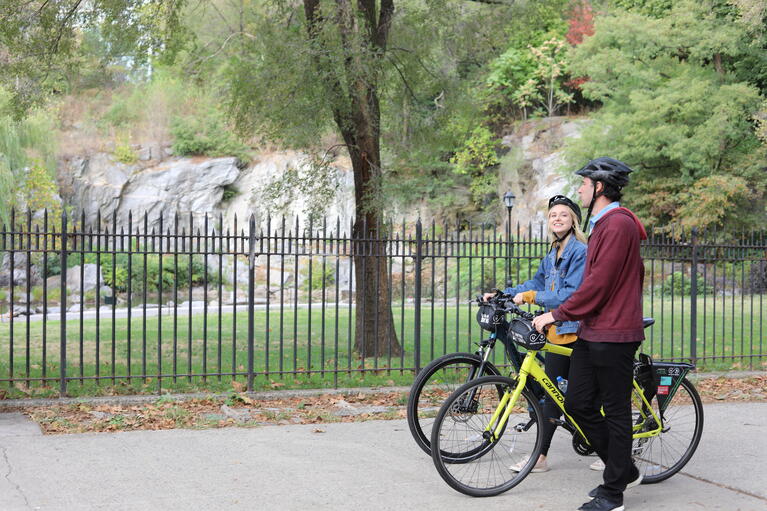 Taxis
New York City's famous yellow taxis are widely available throughout the city and relatively easy to hail. Keep in mind that some taxis only accept cash and be sure to account for any tolls that you may pass through when estimating your fare.
Avoid rush hour as traffic can be bad and make your ride pricey. In addition to yellow taxis, many popular ridesharing services are also available in New York and are easy to use; simply download an app on your phone.
Getting to New York City
By Plane
John F. Kennedy International Airport (JFK), located in Queens, is about 15 miles from midtown Manhattan, which is about a 1-hour taxi ride. Use public transportation to avoid the hefty cab prices. Take the AirTrain, the airport's public transit line to connect with New York City's subways, buses, and rails. Public transportation is the most affordable way to get to downtown and may be the fastest with traffic.
Newark-Liberty International Airport, located in New Jersey, Newark might be your best option if Manhattan is your destination. It is 16 miles from midtown, but the cab ride is shorter than the ride from JFK. Although the ride is quicker, there are toll fares to get to Manhattan so the price of a taxi is comparable to one from JFK.
LaGuardia Airport LaGuardia, also in Queens but only 8 miles from Manhattan, is the closest airport to Manhattan. The airport is accessible via public transportation and a cab ride to midtown will take about 20-40 minutes.
By Train
Amtrak runs frequent service to NYC's Penn Station from most major cities in Amtrak's Northeast Corridor such as Boston, Philadelphia, and Washington D.C. From Penn Station, located on Seventh Avenue between 31st and 33rd streets, you'll easily be able to grab a taxi or hop on public transportation.
By Bus
Taking a bus to and from NYC can often be the most inexpensive way to get to Manhattan. Some popular bus company names are Megabus, Boltbus, and Greyhound and most bus companies will drop passengers off at major landmarks.