Cruising over crystal clear waters under a never-ending summer sky is a must-do on your trip to Oahu, and Makani Catamaran offers one of the best afternoon sailing trips on the island. Hop aboard Makani Catamaran for an afternoon cruise and see Oahu's South Shore from a different angle. From the boat, Oahu's south shore spreads out in a breathtaking vista that includes beautiful Diamond Head, world-famous Waikiki Beach, and historical landmarks like the Rainbow Tower. Get close to some of Hawaii's native ocean wildlife and let the sea breeze through your hair as you soak up rays on Makani's deck, or settle in the shaded pilot house and admire the colorful views without a care in the world. Check out our helpful guide for taking a beautiful Oahu catamaran cruise by Makani, packed full of ways to save on admission, tips for visiting, other nearby attractions, and much more.
Looking for Oahu Catamaran Cruise Discount Tickets?
We've got you covered – 
Makani Catamaran Sail admission
 is available with the below money saving options, so you can choose the attraction pass that's right for you: 1. 
All-Inclusive Pass
 – All you can do. Includes admission to dozens of attractions. 2. 
Build Your Own Pass
 – Select the attractions you want to visit prior to visiting. See all available passes, attractions & prices – 
Learn more
.
Tips for Enjoying the Makani Catamaran Sail
Reservations are required. Call at least a few days in advance to ensure there is room for you and your crew on the day of your choice.
Arrive at 12:30 PM to check in.
Wear waterproof sunscreen! Even if you don't typically burn, the sun on a Hawaiian sailing trip can be twice as strong as normal conditions: first, the sun is closer to the earth near the equator and second, the sun reflects off the waves back onto your skin, doubling its intensity.
Have lunch or brunch prior to your cruise, and bring some snacks if you think you may get hungry, especially if you're bringing kids that might get cranky.  Makani's afternoon sail doesn't include food, although potato chips and a wide variety of beverages are available.
Wear light clothing, but bring a jacket or sweater. It's Hawaii, and the weather is quite warm, even hot, but the breeze on the boat or the sun going behind some clouds can cool you down. It's nice to be prepared, since you won't have access to anything you don't bring on the boat for the duration of your trip.
Wear a swimsuit, especially if you plan on lounging on the deck, as you may get slightly wet from sea-spray.
Don't forget your sunglasses and/or a shady hat! It gets pretty bright out on the sparkling sea, and polarized lenses are the best for peering into the deep blue. Protect your eyes and face from the glare.
If you're drinking cocktails, upgrade to the Makani cup. Everyone gets one free drink ticket before boarding the boat, but you may want to enjoy others during your sail. Buy the blue Makani cup and get more than twice as much bang for your buck for the entire trip. $8 plus your free drink ticket gets the cup filled up the first time, and each beverage you purchase after that gets poured into the big cup, rather than the typical shorty.
Bring your camera to capture ocean wildlife, amazing vistas, and your own smiling selfies so you can look back fondly on those splendid summery moments any time of the year.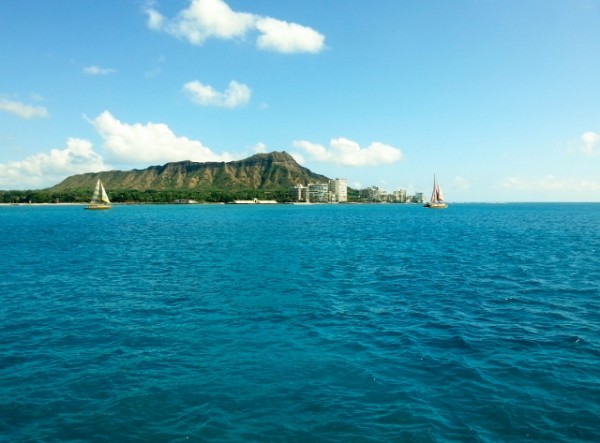 When to Sail Makani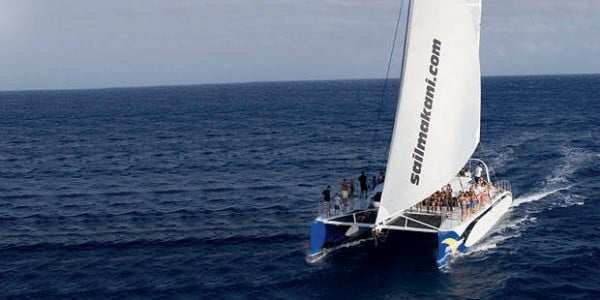 The "Fun in the Sun" sail departs at 1:00 pm from Kelawo Basin and lasts for around 2 hours. Summer tends to be busier than the rest of the year in Oahu, so expect your cruise to be a little more social from late June to August. Summer trade winds blowing along the south side of Oahu stir up the waves and make sailing a bit more adventurous in the summer months, while wintertime typically brings calmer seas and humpback whales who migrate to Hawaii and give birth in the warm, shallow waters before returning to their colder Alaskan feeding grounds mid-spring.
Catamaran Sail Highlights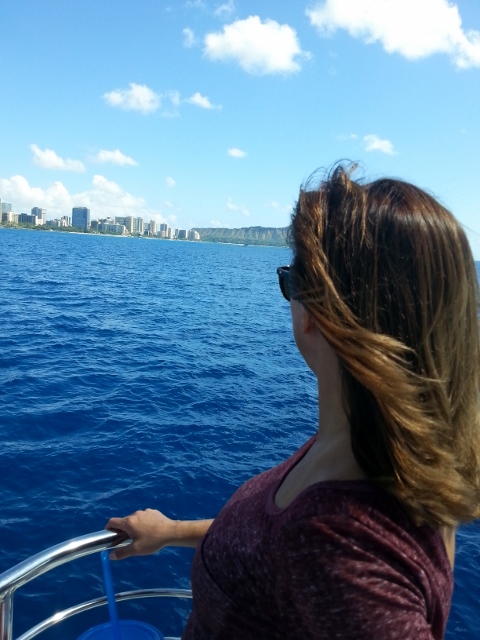 The Makani is a 65-foot-long fiberglass sailing catamaran with a 70-foot tall mast that can power through the water at a swift 30 knots at full sail and 13 knots under twin turbo engine power. Makani Catamaran holds up to 80 people, with sunbathing net areas in the bow (front) and bench seating in the stern (back), as well as bench and booth seating and tables in the shaded pilothouse, where the bar is located.
Services
A captain, first mate and bartender crew the vessel while entertaining guests with witty, seafaring humor, friendly aloha and refreshing beverages of your choice. With a full bar stocked with water, sodas, juice, beer, wine, and liquor, the bartender can concoct pretty much anything you like. Two freshwater bathrooms belowdecks ensure your continued comfort.
Safety
The layout of Makani's decks allow the opportunity to lean into one of the two front prow railings and have your own
Titanic
moment with the wind in your face and shout, "I'm the King of the World!" (If you don't, someone will.) You won't have to worry about a true Titanic moment on this boat, though. Certified by the U.S. Coast Guard, Makani is the safest sea-going vessel of its kind. Just in case, 80 lifejackets provide peace of mind.
Entertainment
Equipped with a Bose surround sound system and LCD TV, Makani provides plenty of entertainment to satisfy even the most multi-tasking individuals. Makani slows her roll at a turtle town where you can admire green sea turtles in their native habitat, watch schools of black triggerfish skim the reef below, and maybe catch a glimpse of the colorful Humuhumunukunukuapua'a reef triggerfish (Hawaii's state fish). Dolphins may play alongside when the sail is up and the engine is quiet, and colorful parachutes hang in the sky above passing motorboats carrying adrenaline-seeking parasailers.
Whales
From December to April, thousands of humpback whales visit Hawaii to give birth to baby whales and teach their young neat tricks like blowing, tail slapping, and everyone's favorite, full-on breaching. There's nothing quite like watching a 40-foot-long, 40-ton whale throw itself out of the water into the air and land on its side with a giant splash a mere football-field's length from your barely-bigger boat. In Hawaii, whales are called Kohola, meaning wisdom, and they are revered by Hawaiian locals and visitors alike for their size, gentleness, beauty, and haunting songs.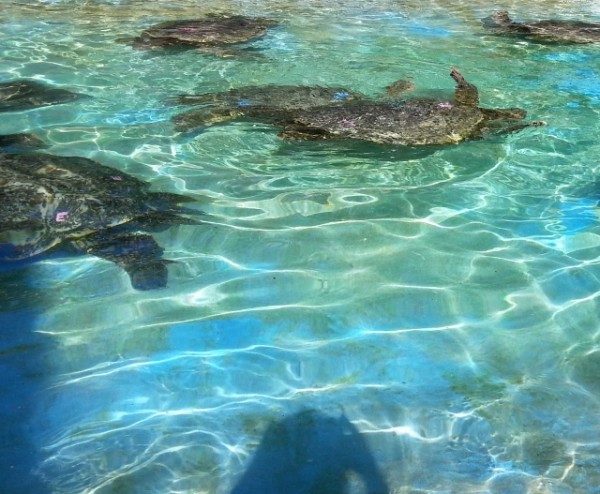 Nearby Attractions
There are plenty of other great attractions located nearby. Here are a few we suggest adding to your itinerary...
Ala Moana Beach Park is a free, public park located right next to Kelawo Basin where the Makani is docked. The park includes a children's jungle gym, restrooms, showers, grassy picnic areas with banyan trees and picnic tables, concession stands, a music pavilion, and a wide stretch of golden sandy beach. If you want to get in the water after cruising over it, this park's protective reef makes it a perfect place to relax in calm waters and it's ideal for kids.
Ala Moana Center is the largest outdoor shopping mall in the world. Boutiques, brand name stores, specialty shops, and upscale department stores fill four levels of shopping paradise.
Magic Island is a man-made peninsula with a park that's popular with locals for its great views, and people often gather for frisbee, picnics, and occasional festivals and performances.
Kids will get a kick out of Children's Discovery Park, less than 1/2 a mile from the harbor on Ohe Street. Children get to explore and imagine through hands-on exhibits like Rainforest Adventures, Your Town, and Hawaiian Rainbows.
Nearby Iolani Palace has been completely remodeled in historic fashion, breathing new life into the traditional seat of Hawaiian royalty in ages past. Explore sumptuous furnishings, traditional art, and historical tales in the palace where the last Hawaiian royal ruler, Queen Lili'uokalani, made her last stand against the U.S. government's acquisition of Hawaii.
Places to Eat Nearby
Just four minutes away from Makani's dock, Ala Moana shopping center houses a number of restaurants ranging from upscale to casual, along with several cafes, snack stands, and a huge food court located on the second level.
Honolulu Beerworks, at 328 Cooke Street, is a warehouse-style microbrewery serving up a nice selection of house-brewed beers including stouts and ales plus a variety of classic and island-style pub food.
ABC stores are located near everything on the island, and they're great places to purchase ready-made items for a beach-park picnic or grab some snacks for the sailing trip.
Need to Know
Hours
1:00 pm-3:00 pm Afternoon Sail. Check In at 12:30 pm. All sails are subject to availability.
Reservations Required. 24 hour notice required for cancellation or re-scheduling without fee. Other cruises available for an additional fee.
Open 365 days a year. Weather permitting. All holiday hours are subject to change without notice.
Directions & Address
1009 Ala Moana Blvd. Kewalo Basin (Slip F-1) at the corner of Ala Moana Blvd. and Ward Ave. in front of Fisherman's Wharf Restaurant. Honolulu, HI 96814
Public Transportation:
Bus: #19, #20, or #42 West from Waikiki and exit at Ward Warehouse (on the N.E. corner of Ala Moana Blvd. and Ward Ave.)h.
Save on Tickets with a Go Oahu Card
Remember, the 
Go Oahu® Card
 is the best choice for maximum savings and flexibility, which
includes Makani Catamarn Sail tickets
, plus admission to your choice of other top attractions. Save up to 55% on top museums, tours, and activities vs. paying at the gate. Visit multiple attractions for one low price.