We can hardly think of a better place for a romantic getaway than Oahu. The beaches, the sun, the gorgeous natural paradise, the food, you name it – everything is perfectly calibrated for that ideal vacation. If you're looking for romantic things to do in Oahu,  for Valentine's Day or simply for a romantic outing any time of year, check out a few of our suggested activities. 
Our list of things to on Oahu for couples includes...
A sunset catamaran sail
Relax on the beach
Hike or bike 
Watersports (kayaking, SUP, snorkeling)
Visit museums
Take a surf lesson
Enjoy a Sunset Sail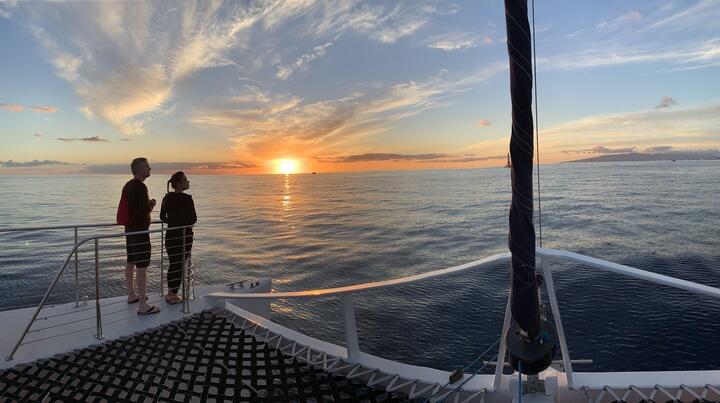 If spending time on the water appeals to you, but you're looking to kick it up a notch for Valentine's Day, then the Makani Sunset Sail is your must-do activity.
Set sail just before sunset, as your captain will ensure you get to enjoy the most striking scenes of fading light over the gorgeous waves of the Pacific Ocean. Once aboard, you can enjoy a delicious, refreshing drink that's sure to get your romantic vibes going. And of course, don't forget to keep an eye out for local ocean life, from whales (in season) to dolphins, turtles, and more. 
Swim with the Turtles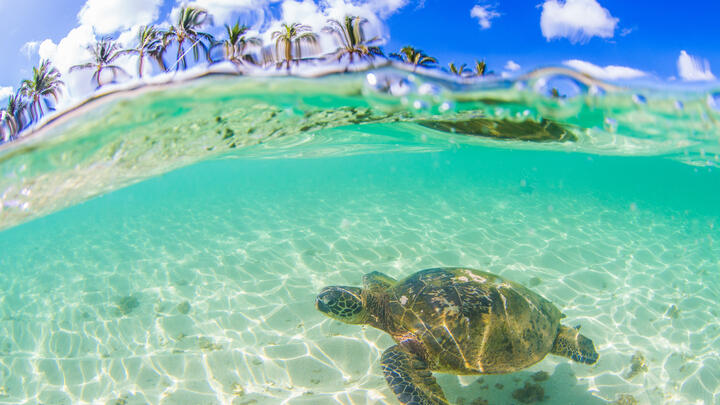 For those of you looking to indulge in something that reminds you of your tropical honeymoon, a chance to snorkel with Hawaiian green sea turtles should be on your must-do list in Oahu.
Discover Hawaii's underwater residents on a Waikiki Turtle Canyon Cruise and Snorkeling adventure. Sail to the south shore of Oahu and dive into the crystal blue waters – a pretty unforgettable Valentine's Day treat!
Relax on the Beautiful Beaches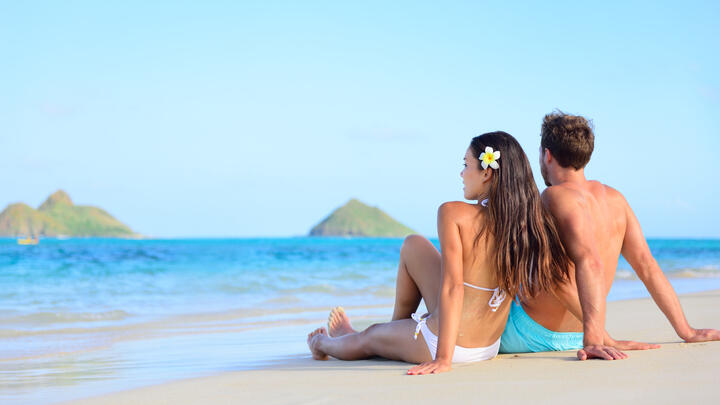 There's nothing more romantic than a sunset stroll along the water's edge – fortunately, Oahu is full of amazing beaches with beautiful views. Whether you want to stick close to home with the beaches in Waikiki or venture out to the North Shore, there are plenty of options to choose from.
If you're looking for something a little bit wilder, Secret Island Beach offers stunning ocean views with the beautiful accompanying landscapes. Part of the larger group of attractions at Kualoa Ranch, Secret Island Beach also features a number of fun activities for the active couples to enjoy, like beach volleyball. 
Hike, Bike, or Stroll Breathtaking Trails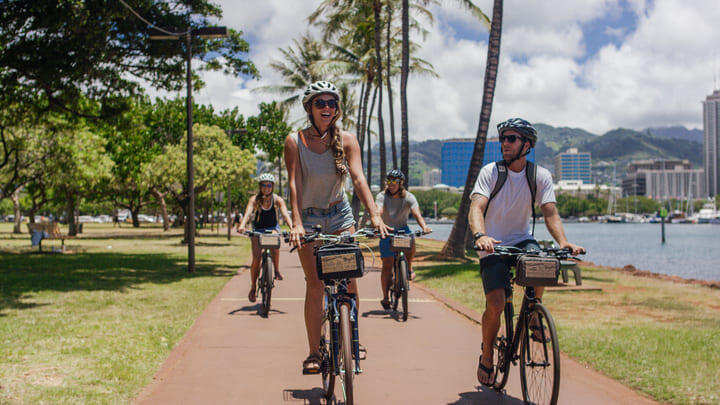 Outdoorsy couples will love the wealth of activity to be found in Oahu, especially during the winter months. The weather will be mellower than it typically is during the heart of summer, but you'll still easily enjoy healthy amounts of sunshine.
Jump on a bike and pedal through the streets of Oahu at your leisurem taking in the breathtaking mountain views and coastal scenery. Whether you want to cruise around the streets of Honolulu to visit popular attractions or go off the beaten path and take on a more challenging terrain – the choice is yours with a full-day bike rental!
Or, if you don't fancy two wheels, take a hike to a historic lighthouse at Makapu'u Point, or along the famed extinct volcanic crater known as Diamond Head. Both of these trails offer exciting but relatively easy (to moderate) hikes that can be tackled by everyone from hiking newbies to experienced trail blazers.
Want to take a stroll through nature without the exertion of a hike? Try a leisurely walk through the Lyon Arboretum, a beautiful garden in a tropical rainforest. 
Try Your Hand at Water Sports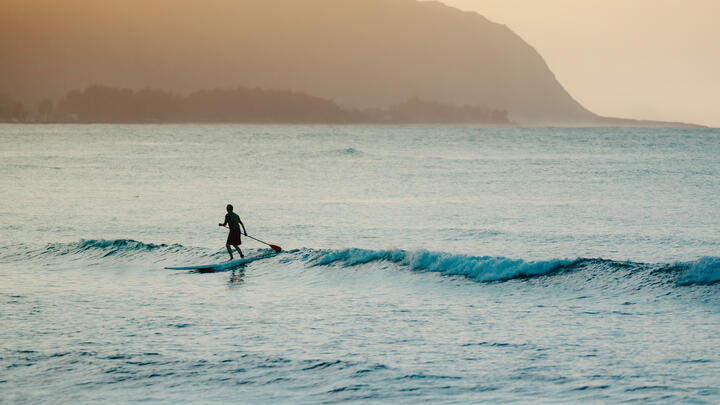 You name it, you can try it in Oahu when it comes to outdoor adventures.
You've always wanted to try that Stand-Up Paddleboarding trend – we've got that. It's a fun activity, and it's also some great exercise for your core muscles, so you're basically working out while having fun.
Or, perhaps you're dying to see the amazing Hawaiian sea life on a snorkeling adventure – no problem. Be sure to bring a camera that can take photos underwater, as you won't believe the stunning sights you'll see under the waves. And it doesn't take a professional hand to get some great shots, either!
If all you really want is to kayak around the island to your heart's content, we've got that covered, too. Just remember a swimsuit, sunscreen, and perhaps some water shoes. 
Explore Museums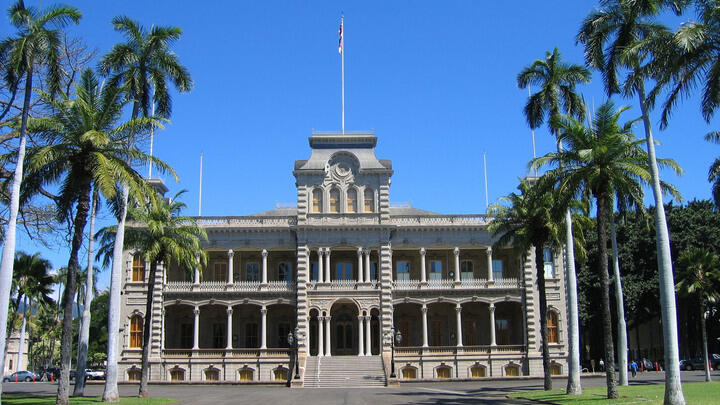 If you're the kind of couple who likes to explore the cultural side of things wherever you go, there are a number of small museums and other cultural institutions to explore to help you learn the most about Hawaiian heritage and art.
Those looking specifically for art will love the Honolulu Museum of Art, which is the best fine arts museum in Hawaii. While it's best known for its astonishing collection of Asian art and artifacts, the museum also features an impressive collection of Western art, photography, textiles, and more.
Love architecture and historic furniture? Then perhaps a visit to the nearby Iolani Palace or the Queen Emma Summer Palace might be the right choice. They're stunning buildings with fascinating historical significance and visit to either one of these sites is sure to be rewarding to the culture buff.
Learn About the Natural World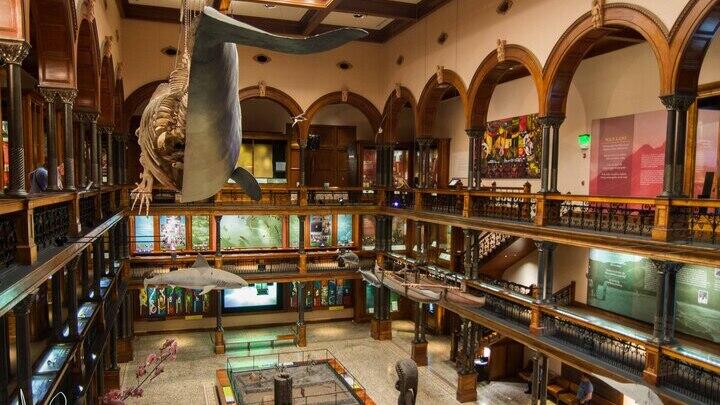 If your passion for exploring the globe extends to the natural world, then a visit to the Bishop Museum is in order. This fantastic institution is both Hawaii's largest museum and its most comprehensive: featuring everything from art and artifacts of Polynesian culture to millions upon millions of plant and animal specimens, this is one of the finest natural history museums around.
Plus, a visit here is a nice complement to the art museums listed above and truly showcases the extent of Oahu's cultural scene. It's also very family-friendly, should you be celebrating Valentine's Day with the kids tagging along. 
Bring Your Love of Movies to Life
When your favorite shared activity is a good bout of Netflix and popcorn, you know you have to make a point of enjoying a movie sites tour while you're in Oahu. Who knows, some of your favorite movies and shows may have been filmed on location on this lush tropical island, like Lost or the Hunger Games franchise.
Along the way, you can also enjoy the gorgeous rainforest setting, complete with picturesque waterfalls, exotic plant life, and plenty of great photo ops for that perfect Instagram to prove you were there. 
Enjoy Island Cuisine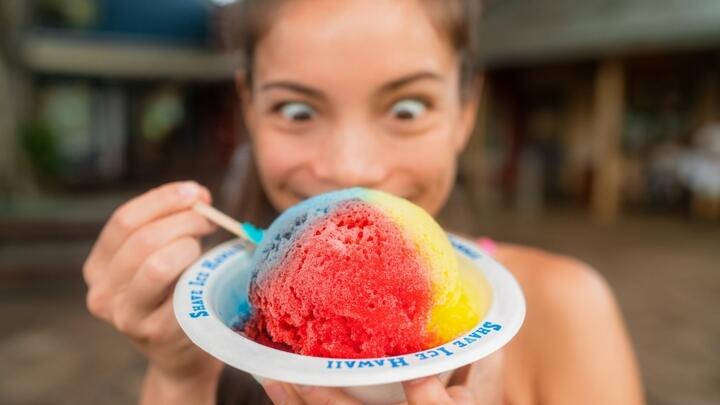 Of course, there are few things as romantic as a nice dinner. When you're in Oahu, that often means enjoying the delicious options island cuisine has to offer, whether you want to go all out at an amazing luau or are just looking for some classic shaved ice.
If you prefer something more traditional (i.e., in a restaurant), Honolulu offers world-class dining with a Hawaiian twist. Expect a lot of seafood and a lot of Asian-influenced cuisine, and be sure to make reservations in advance if you're planning on dining on Valentine's Day itself. 
Meditate on Nature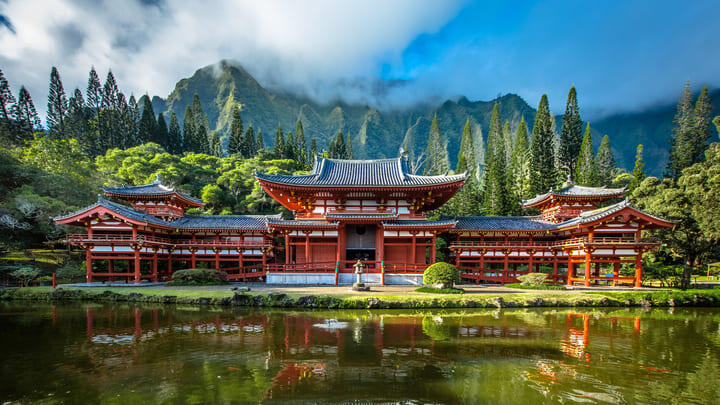 This is one for the couple that loves Sunday yoga classes together. Head to the peaceful Byodo-In Temple at the very edge of the Ko'olau Mountains. There, you can spend some time with your loved one meditating on the joys of life together, or just serenely watching the koi flit around their pond.
Take a Surf Lesson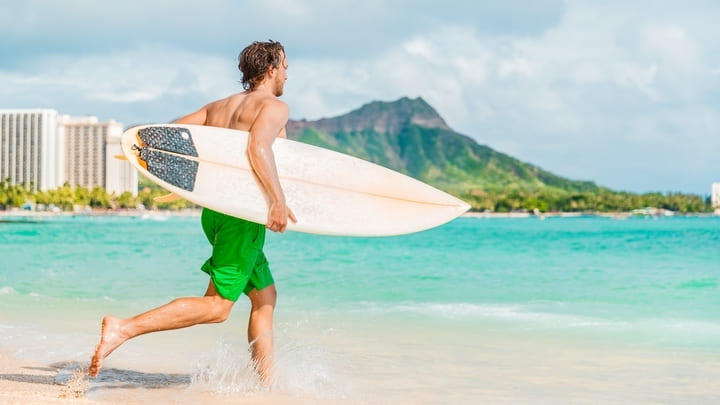 Another one for the athletic couples, a surf lesson is sure to be a great new adventure. This 2-hour private lesson will be an excellent opportunity for you both to experiment with this exhilarating local sport. And don't worry if you're got zero experience in the surfing game – this opportunity comes with basic training, safety instructions, and personalized attention from your trainers.
You'll get plenty of time out in the ocean, too, so it's a great chance to enjoy this iconic Hawaiian sport, get some exercise, try something new, and have a blast!
Save on Admission
So there you have it. Our list of plenty of romantic things to do on Oahu, just in time for Valentine's Day. From sandy beaches to cool museums to vibrant luaus, Oahu has it all. So when you're thinking of destinations for your romantic vacation, Hawaii has got to be on your list.
Remember, some of these great options are included with Go City,  where you can save on combined admission vs paying at the gate.