The birthplace of Impressionism, Paris is a veritable paradise for artists and art lovers. It's a city that has inspired and produced a disproportionate number of household names over the centuries – think Matisse, Modigliani, Manet and Toulouse-Lautrec. It's no surprise then that Paris is where you'll find some of the world's finest galleries and museums as well as, of course, arguably the most recognizable (and certainly the most visited) painting on the planet. Read on to be inspired by our selection of some of the best art galleries in Paris.
The Big Hitters
The Louvre Museum
Of course, no visit to Paris would be complete without passing through the Louvre's iconic glass pyramid and entering its multi-level labyrinth of galleries, corridors, stairways and escalators. With nearly 40,000 works of art on display at any given time, covering painting, sculpture, antiquities and much more, the Louvre is the world's most-visited museum and contains many of its greatest and most famous artistic treasures. Come for the Mona Lisa and Venus de Milo, stay for the ancient Great Sphinx of Tanis, French crown jewels and the decadent pastries and fancies served in the museum's Café Richelieu Angelina, where the Mont Blanc – a grand confection of meringue, whipped cream and chocolate shavings – is something of a work of art in itself.
Musée d'Orsay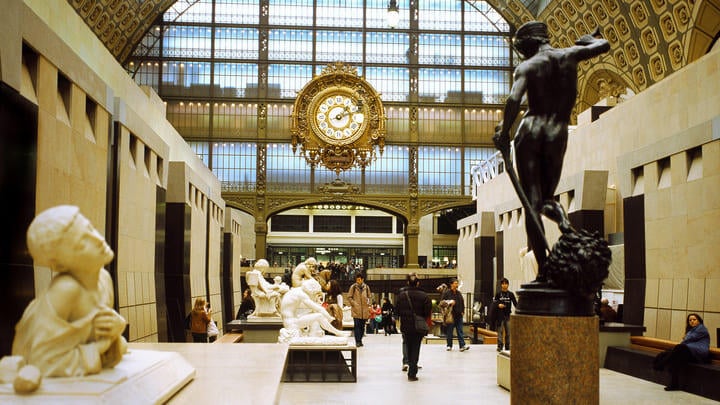 More compact, easier to navigate and significantly less crowded than the Louvre, the Musée d'Orsay's collection of 19th and 20th-century art packs a real punch. Here, in what used to be the Gare d'Orsay train station, you can view world-class pieces including Van Gogh's mesmerizing Starry Night over the Rhône and Self Portrait, perhaps the greatest selfie of them all. French Impressionism and Post-Impressionism is particularly well represented here, with a great variety of Toulouse-Lautrec's Moulin Rouge-inspired pieces and many Monet masterpieces, including one from his Water Lilies series. Don't miss the original station clock, which hangs in the impressive main hall, and head to fifth-floor Café Campana by the Impressionist Gallery, where a giant clock-face window affords enchanting views across the Seine to the Louvre and Sacré-Cœur Basilica.
Musée de Montmartre
Montmartre's cobbled streets, bohemian vibe and awe-inspiring views across Paris have attracted a great many artists over the years, among them – deep breath – Renoir, Manet, Toulouse-Lautrec, Van Gogh, Picasso, Miró and Modigliani, many of whom are represented here at the Musée de Montmartre. Housed in one of the district's oldest buildings, the Musée de Montmartre was once a mansion containing artists' studios used by the likes of Renoir, Charles Camoin and Suzanne Valadon. The peaceful surrounding gardens are named in memory of Renoir, who painted several of his greatest masterpieces when he lived here in the 1870s, including the Bal du moulin de la Galette and Jardin de la rue Cortot, depicting this very garden.
Top Paris Museums for Kids
Centre Pompidou
Paris has stacks of fab museums that children will love with many, including big hitters like the Louvre and Musée d'Orsay, offering free entry for under 18s. The huge Centre Pompidou has an entire floor dedicated to kids aged from 2-16, offering informative tours, exhibitions, hands-on workshops and bags of interactive fun. Better still, workshops for kids aged nine and over don't require parental supervision, leaving you free to explore the center's National Museum of Modern Art, which boasts a collection including Picasso, Pollock, Warhol and many more, that's rivaled only by MoMA in NYC in terms of its variety, scope and quality.
Musée du Quai Branly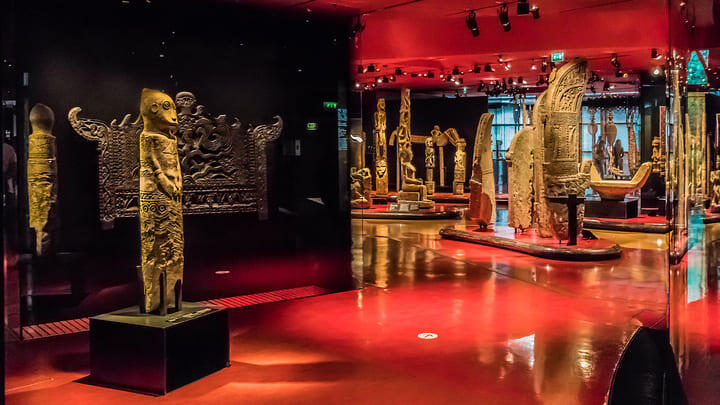 Kids will adore the Musée du Quai Branly's quirky exterior: a towering green wall of foliage that looks like a giant garden flipped on its side. Inside, there's much for bright young minds to discover among the vast collection of indigineous art from around the world. Highlights that are sure to entertain include dramatic ceremonial masks from India and Africa, Aboriginal tree-bark paintings, a brightly mosaiced Volkswagen Beetle from Mexico and a massive medieval Moai head from Easter Island. Kids here can also shrug off uncool parents and fly solo in fun arty workshops for ages 6-12.
Single Artist Museums
Musée Rodin
Arguably France's greatest ever sculptor, Auguste Rodin is celebrated here in a fine collection that also includes a few paintings by fellow Gallic luminaries such as Renoir and Monet. Indisputable star of the show here though is the sedate seven-acre sculpture garden, where many of Rodin's best-loved creations – including The Thinker, Monument to the Burghers of Calais and The Gates of Hell – can be found scattered among perfectly sculpted box hedges and ornamental pools.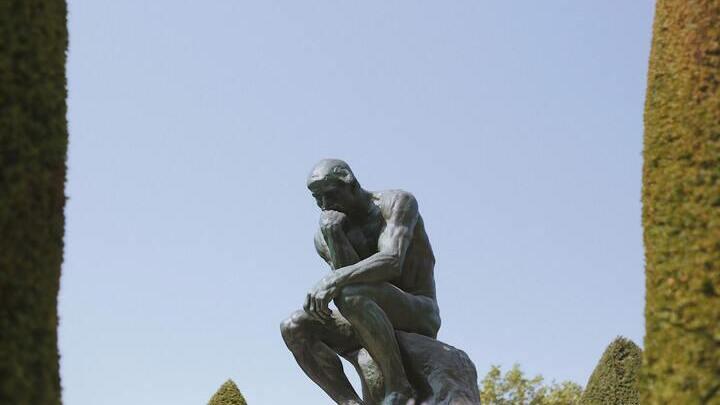 Musée Picasso-Paris
This collection of over 5,000 works by the father of Cubism is among the world's finest. His offbeat and unsettling world is represented here by around 700 paintings and surreal sculptures, plus thousands of drawings, notebooks, photos, engravings and other ephemera. Explore the four stories of this delightful 17th-century palace to discover pieces including his Self-Portrait and La Celestina, painted during Picasso's Blue Period, as well as later works from his Cubist phase and works depicting scenes from the Spanish Civil War from his harrowing war paintings series.
Musée National Gustave Moreau
Dedicated to the life and works of 19th-century Symbolist painter Gustave Moreau, this fascinating museum was the Moreau family home until the artist's death in 1898. Among its many highlights are a quite extraordinary spiral staircase and some fairly out-there compositions featuring unicorns and other mythical creatures, hallucinatory visions, bizarre plants and more. Printed guides containing extensive and often rambling commentaries from the man himself are available to take around the museum with you, and you can even visit his old studio and top-floor apartment.
Save on the best art galleries in Paris
Save on admission to Paris attractions with Go City. Check out @GoCity on Instagram and Facebook for the latest top tips and attraction info.