Come and enjoy the magic and wonder at one of the world's greatest theme parks, Disneyland® Paris!
Pick up a 3, 4, 5 or 7-choice Explorer Pass with Go City and you'll get a Disneyland® Paris - 1 Day 1 Park Ticket as one of your attraction choices!
Your pass gives you access to one of the two parks within Disneyland - Disneyland® Park OR Walt Disney Studios® Park - but how do you decide which one to visit?
Well, we've done the hard work so you don't have to! Take a look at our guide to Disneyland® Paris parks right here.
This comprehensive guide includes answers to all your questions:
What's the difference between the two parks?

What are the dining options?

What to bring?

What to wear?

What about COVID-19?
Disneyland® Paris celebrates its 30th anniversary in 2022, and throughout the year there's a whole host of exciting and unmissable events, shows and festivities!
The parks will feature exclusive new decorations and music, themed gardens in the Central Plaza, stunning light displays by night and fabulous new costumes worn by your favorite characters. Spot them roaming around the park ready to welcome photo opportunities as you explore!
What's the difference between Disneyland® Park and Walt Disney Studios® Park?
Disneyland® Park
Home to five magical lands, the Disneyland Park is characterized by its striking central feature, the pretty-in-pink Sleeping Beauty Castle, recognized the world over from every Disney animation's opening credits.
Little faces will light up at first sight of this stunning castle, the grand landmark that welcomes you to the land where dreams come true!
Attractions
Pirates of the Caribbean – set sail with the infamous characters of the movies as you join Captain Jack Sparrow on a quest to find his hidden treasure.
Big Thunder Mountain – hang on tight aboard this rollercoaster thrill-ride that sends you speeding around a haunted mountain in a rattling mine cart along a track littered with dynamite!
Indiana Jones™ and the Temple of Peril – you'll need the nerve and bravery of Indiana Jones to set off speeding around jungle ruins on this hair-raising rollercoaster ride!
Star Wars Hyperspace Mountain – launch yourself into the world of Star Wars for a thrilling takeover of a classic space attraction. 
Phantom Manor – set foot inside this imposing haunted manor filled with scary surprises and ghoulish mystique.
Mickey's Philharmagic – prepare to be blown away by this fantastic 4D musical experience that transports you to the world of Disney's original characters, Mickey Mouse and gang.
Buzz Lightyear Laser Blast – blast off into space and help Buzz defeat Zurg in this intergalactic laser-shooting gallery.
Peter Pan's Flight – float through the sky in a magic ship over starlit London on the way to Never Land, where mermaids, Indians and pirates await…
And so much more!..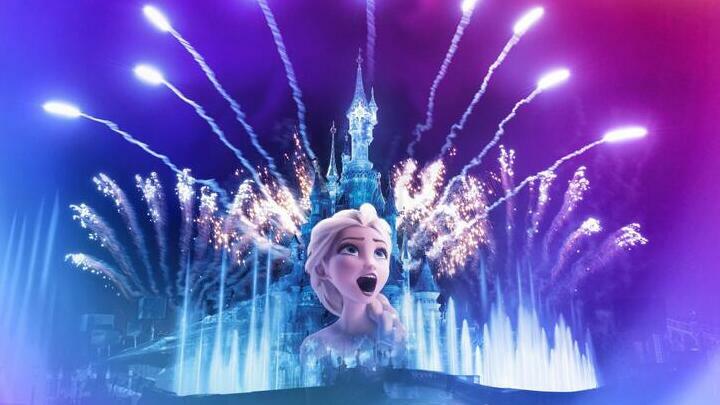 Shows
Disney Illuminations – in celebration of Disneyland Paris' 30th anniversary, this awe-inspiring night-time spectacular will end your day of adventure with an incredible firework show. What's more, the kaleidoscope of sparkles will light up the sky alongside epic soundtracks of Disney's most loved creations, from The Lion King and Star Wars to Pirates of the Caribbean and Frozen!
The Lion King: Rhythms of the Pride Land – relive the very best iconic moments from one of the most adored films of all time at this all-singing all-dancing exclusive musical show! (Anyone with an entry ticket can attend, but spaces can be limited.)
Disney Stars on Parade – you'll feel the magic in the air as this world-famous parade passes through Disneyland Park! Admire the characters on their colorful floats against a backdrop of enchanting music.
Walt Disney Studios® Park
This is where you will dive into the heart of the action! Here, you become the star of the show in a theme park that focuses on Disney's animations – you feel you're not watching movies, you're living them!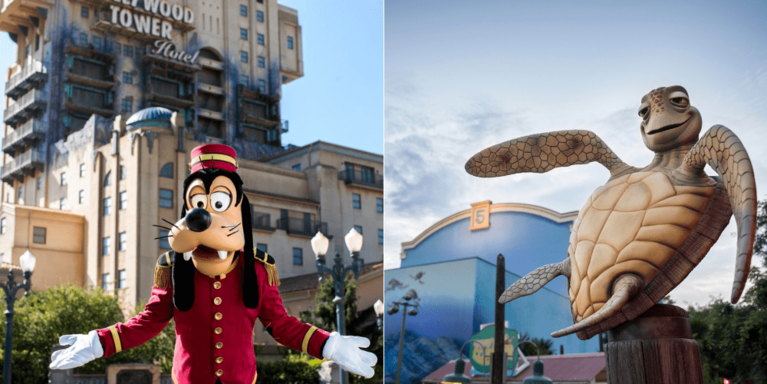 Attractions
Disney Studio 1 – waltz down Hollywood Boulevard and experience this stunning reimagination of the Tinseltown studios that bring all the world-renowned characters to life.
Crush's Coaster – get swept up in the whirlpool ride that is this awesome recreation of the fun-filled scene from Finding Nemo™.
The Twilight Zone Tower of Terror – prepare to scream yourself silly at the Twilight Zone's 3 hair-raising horrors: The Malevolent Machine, The Shaft Creatures and The 5th Dimension.
Animation Academy – little ones will love the opportunity to flex their creativity and learn how to draw their favorite characters.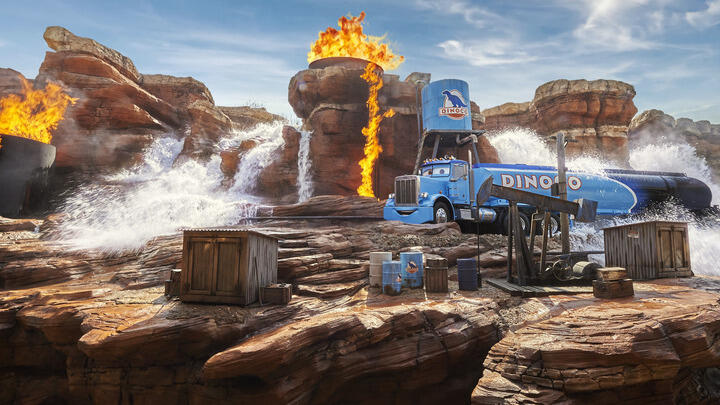 Worlds of Pixar
Pixar's magnificent animations come to life in this colorful world full of attractions and shows featuring your favorite characters from Toy Story, Finding Nemo, Cars, The Incredibles and more.
Cars ROAD TRIP – relax on this tree-lined cruise down the legendary highway from Cars™ and enjoy the lush scenery en route.
Ratatouille: The Adventure – shrink down to the size of Remy and duck, dive, dodge and scurry to safety in a dazzling chase across a gigantic kitchen.
Toy Soldiers Parachute Drop – join the Toy Story recruits and hold on to your hats on this heartstopping parachute drop behind enemy lines!
Selfie Spots – snap some pics at these designated areas within Toon Plaza with your favorite characters in incredible costumes.
And so much more!..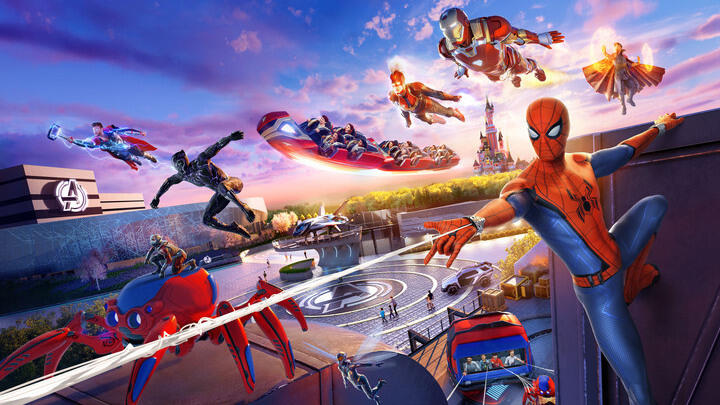 MARVEL Universe (coming Summer 2022)
Calling all heroes! Get ready for an epic new land opening at Disneyland® Paris complete with thrilling rides, immersive experiences and incredible, futuristic sets inspired by the global franchise.
Whichever of the two parks you decide to revel in, you're sure to have the most epic day of fun! The only hard part is deciding which…
Traveling with kids? Are classic characters and timeless rides more your style? Then we say, go with Disneyland® Park. 
More teens and adults in your party? Love to get to know the behind-the-scenes stuff, futuristic animated scenes and blockbuster figures? Walt Disney Studios® Park is the one to head to for older thrill-seekers.
What to eat
A day of animated adventures is sure to work up an appetite. Happily, throughout both the parks, you'll find something for everyone to refuel on. 
Disneyland® Park
Pizzeria Bella Notte

Market House Deli

Cable Car Bakery

The Gibson Girl Ice Cream Parlor
What Disney Studios® Park
Bistrot Chez Rémy (French cuisine)

Restaurant en Coulisse (a huge food hall dedicated to fast food and cheap eats)

Specialty Ice Cream
And you can find all your classics such as McDonald's, Five Guys, Starbucks, New York Style Sandwiches, Ben & Jerry's and a whole bunch more choices.
What (and what not) to bring?
When you enter the park, you will go through security and bag check. It's airport style, so don't bring any sharp objects, large containers of liquids or anything else security are likely to confiscate.
Money for souvenirs – there are gift shops galore all over the park, and no doubt you'll want to take home a memento from your trip.
A camera – that's a pretty obvious one, but judging by the images on this post, you're certain to want to snap your own shots of an awesome day of wonder.
What to wear
It probably goes without saying that you'll want to wear comfy shoes while you venture around the theme park. There can be fairly long walks between rides and attractions, and on peak visiting days, lines can get long.
In summer months, Paris will bask in long warm days with plenty of sunshine, but always be prepared by packing a jacket too – this is northern Europe after all...
In winter it gets pretty chilly in France, so tog up with a warm coat – you can wear your big fluffy coat on most rides and rollercoasters, but maybe store your hat and anything else that could fly off at speed in one of the provided lockers!
What about COVID-19?
You can get all the latest travel advice for France from the government website, which includes information on COVID-19, vaccination requirements, Green Passes and more.
It is recommended to wear face coverings throughout the parks, particularly when going indoors, to maximize your protection.
Check out our very own Paris Travel Updates page for more information.
(All information is correct at the time of publication of this article.)
 
Save on attraction admission
So there you have it – our guide to making the most of enjoying the magic and wonder that Disneyland Paris has in store!
Your Explorer Pass for Paris with Go City® gives you access to Disneyland® Paris and dozens of other top attractions in and around the French capital.
You'll make huge savings on combined admission to a whole host of attractions. Check out our Explorer Pass and All-inclusive Pass to see what other awesome Parisian landmarks you can cross off your travel bucket list!
Remember, Disneyland® Paris is only available on the Explorer Pass.