Planning a holiday in Paris? First off: lucky you! Secondly, although a week may seem like a lot for a city break, there's just so much to see and do in Paris that, in fact, seven days is just about the right length of time needed to see the sights and fall in love with the place. Remember that time spent traveling between and queueing for some of the more popular attractions adds up. So, decide which are your must-sees, remember that skip the line tickets are your friend and dive into our suggested itinerary for a week in the City of Love.
Day 1: Seeing the Sights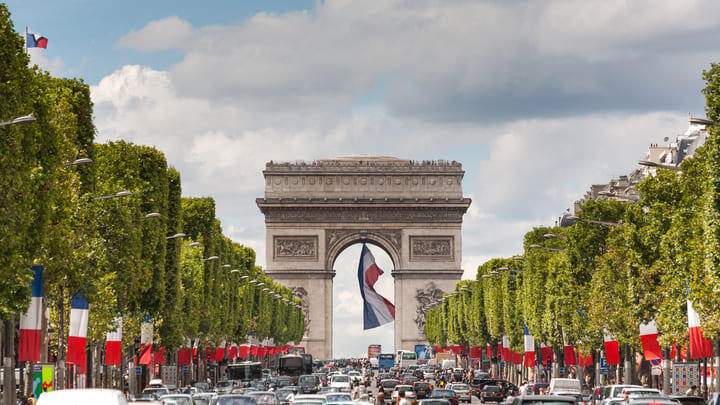 Start your break with a bang by ticking off some of the biggest hitters in town. A trip up the Eiffel Tower is essential on any visit to Paris and, with a whole week to spare, you really have no excuse not to. Climb the steps (all 674 of them!) to the second floor for one of the world's most unforgettable workouts, or take it easy and cruise up in the great glass elevator. 
Afterwards, head across elegant Pont d'Iéna to the Jardins du Trocadéro with their eye-catching fountain display, then onwards to the Arc de Triomphe, where committed climbers can again take the stairs to the viewing platform up top – 284 this time, fact fans. From here, the view along the Champs-Élysées, with the Luxor Obelisk, Jardin des Tuileries and the Louvre's glass pyramid all perfectly aligned is nothing short of remarkable.
Day 2: Art and Culture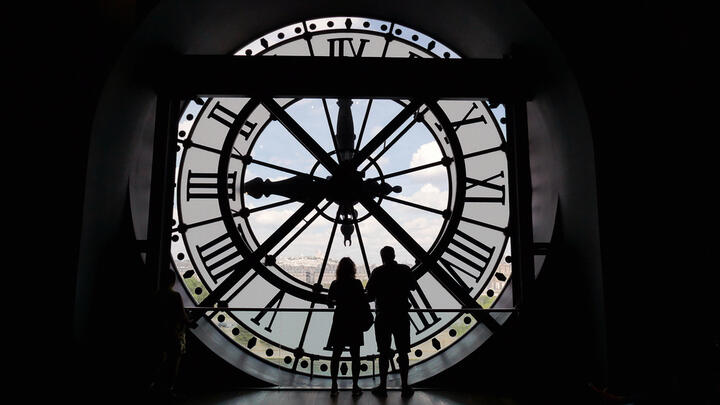 We recommend picking one or other of the Louvre and Musée d'Orsay and spending an entire day in your chosen museum. These, after all, contain some of the finest art on the planet, so there's no sense in rushing. The Louvre, with its distinctive pyramid is huuuuge – it's estimated that it would take around 200 days to see every piece of its 35,000-strong collection so, again, it's important to plan your must-see masterpieces (Mona Lisa, anyone?) before you go.
The relatively bitesize Musée d'Orsay is set inside the beautiful former Gare d'Orsay railway station and contains some huge original station clocks as well as the world's largest collection of Impressionist and Post-Impressionist art, including Monet, Manet, Degas and Renoir.
If you do find yourself with time on your hands afterward, there's plenty to do within strolling distance of both museums. Take a wander into the stunning Jardin des Tuileries by the Louvre and relax by the lakes or ride the old-fashioned carousel there. From Musée d'Orsay wander east along the Seine to shop the riverside book stalls and pause for a coffee and pastry in the boho Latin Quarter.
Day 3: Gently Does It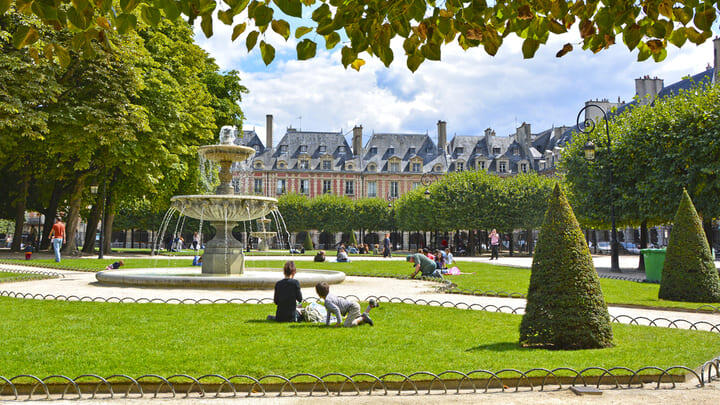 After two days of serious sightseeing it's time to kick back and slow the pace a little. Take a gentle amble through the authentic cobbled lanes of the Marais district, with its cute independent boutiques, delightful sidewalk cafés and – at the Marché des Enfants Rouges – some of the best street food in town. People-watch with a picnic in the gardens of the 17th-century Place des Vosges and while away an hour or two admiring the paintings and sculptures in the Picasso Museum.
Cross one of the picturesque arched bridges to Île de la Cité. This tiny island in the middle of the Seine packs in an impressive number of big-hitting attractions including Notre-Dame Cathedral, the Conciergerie and medieval Saint-Chapelle with its extraordinary stained-glass windows. Pick up some fresh blooms at the daily flower market (which magically transforms into a bird market on weekends) and cool down with some of the best ice cream in Paris at the Berthillon store.
Day 4: Shopping!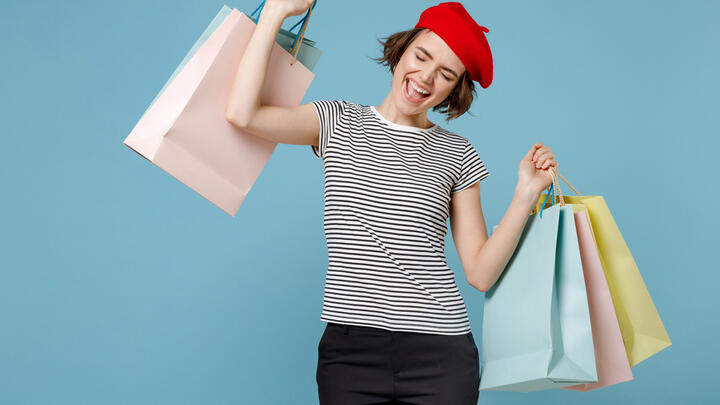 Paris is an absolute mecca for shoppers, from the luxury designer names that line the broad Champs-Élysées boulevard to bargain antiques and knick knacks at the world's biggest flea market in Saint-Ouen, just north of the 18th arrondissement.
You'll find historic 19th-century shopping arcades scattered throughout the city center. Inside, beneath elegant glass-and-iron canopies, you'll find everything from chic fashion boutiques to watchmakers, wine cellars and old-fashioned antique stores selling unique period pieces. Passage du Jouffroy in the 9th arrondissement is one of the most popular, and features Instagram-tastic geometric tiling, an ornate stucco clock and even a tiny 150-year-old wax museum!
Head to Galeries Lafayette Haussmann for high-end department store shopping beneath opulent galleries and a soaring stained-glass dome. This landmark Paris mega-mall has around 65,000 square meters of big-name boutiques to explore, plus a Decléor spa and more than 20 cafés and restaurants. 
Day 5: Rest and Relaxation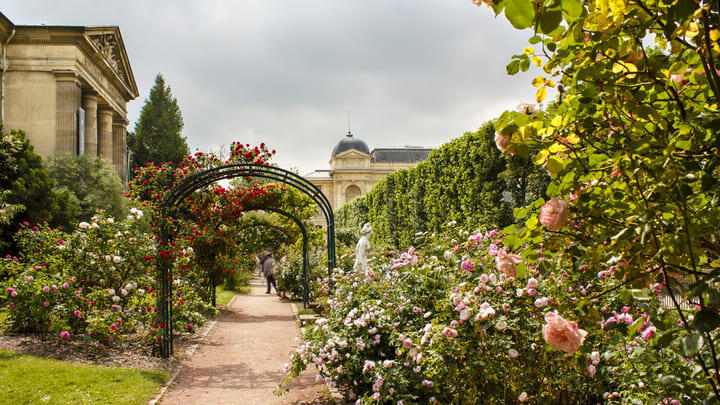 Holidays are all about relaxing, right? And green spaces are some of the most relaxing places on the planet, yes? Great news: Paris has over 400 public parks and gardens to explore, many within short walking distance of the city's premier attractions.
Pick up a picnic from the local boulangerie and make for the Jardin du Luxembourg, where you can sit and idly watch kids sailing toy boats on the lake in front of the Palais and see locals competing on the pétanque courts. Or stroll the flower-filled gardens of nearby Jardin des Plantes, which also contains a small zoo and natural history museum. Further afield in the 16th arrondissement, you can take an old-fashioned rowboat onto the lake in Bois du Boulogne, where a forest trail and botanical garden will also help you recharge.
Not relaxed enough yet? Paris also boasts dozens of excellent spas, with facilities to be found in the likes of ultra-luxe La Réserve Paris as well as the Latin Quarter's exquisite Mosquée de Paris, with its beautiful byzantine-style hammam and leafy courtyard. Keep it zen with a champagne cruise along the Seine in the evening, admiring the city sights as the sun goes down.
Day 6: Highs and Lows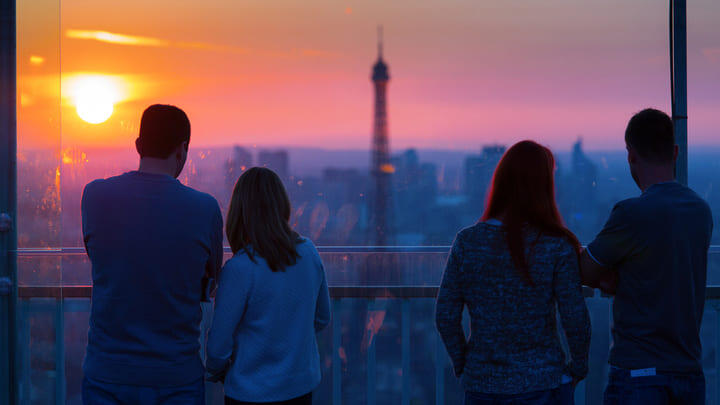 The Paris Catacombs surely rank as one of Paris's most interesting – and most macabre – attractions. Here, deep beneath the unassuming streets of the 14th arrondissement lies a labyrinth of tunnels, where curious souls can come face to skull with some six million long-dead Parisians, their mortal remains displaced here from overflowing Paris cemeteries in the 18th and 19th centuries. Take the 1.5-kilometer walking route through these hushed and dimly lit tunnels for a bone-freezing experience you'll never forget.
Afterwards, shake off the chill with a quick whiz up the nearby Montparnasse Tower, where the uninterrupted 56th-floor views across Paris are considered some of the best in town. You'll find locals to be especially effusive about these views because it's one of few vantage points in the city where you can't see the Montparnasse Tower itself – it's considered to be a bit of a blight on the skyline!
Day 7: Montmartre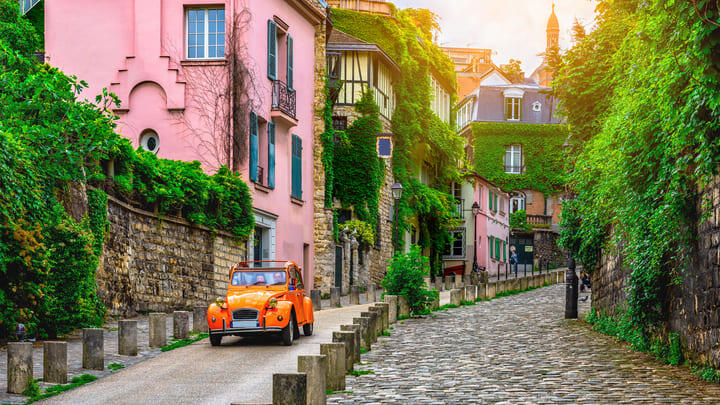 No trip to Paris would be complete without a visit to Montmartre. You can easily spend a day here, exploring the maze of cobbled streets that are home to world-famous attractions including the Moulin Rouge cabaret and Sacré-Cœur Basilica. Save your legs by taking the funicular up the steep butte (hill), then find your bearings on a walking tour of the main sights.
Afterwards, grab lunch in one of the adorable cafés or splash out on famous restaurants such as the Café des Deux Moulins of Amélie fame and Moulin de la Galette, part of the famous windmill immortalized in art by both van Gogh and Renoir. Then keep the arty theme going with a stroll to the Place du Tertre to have your portrait painted in the shadow of the basilica by one of the resident artists.
Stroll the picture-perfect Rue des Abbesses – great for people-watching and home to the Sunday flea market where you can pick up antique bits and bobs as well as jewelry and art from local designers. And don't miss sunset from the basilica steps where, as the sky turns pink and orange and a carousel wheels into motion below, you'll truly feel like you saved the best for last.
Save on top attractions during your week in Paris
Save on admission to Paris attractions with Go City. Check out @GoCity on Instagram and Facebook for the latest top tips and attraction info.