San Francisco is a city to get lost in and the best way to achieve that is on foot. Sure, its many hills make for some steep climbs and descents, but you just know it's going to be worth it for those views: of the Downtown skyline, the glittering Bay, the soaring Twin Peaks, the majestic Golden Gate Bridge shrouded in summer fog. Former resident Jack Kerouac perhaps said it best in On The Road, when he waxed lyrical about 'the city of San Francisco on her eleven mystic hills with the blue Pacific and its advancing wall of potato-patch fog beyond'. Step into your sensible shoes and take a stroll through the Golden City with us as we reveal our pick of the best walks in San Francisco.
Haight Ashbury and Golden Gate Park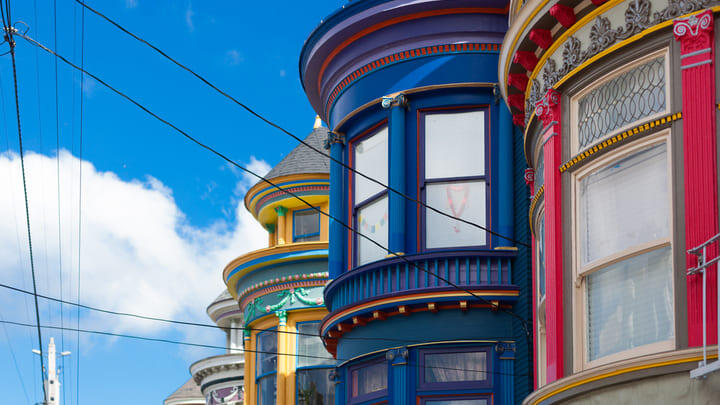 Start your day with a (literally) breathtaking climb to the summit of Buena Vista Park. Enter from the south side and, as you crest this really rather steep hill, your efforts will be rewarded with the awe-inspiring views that gave the park its name. Pause here for a well-earned rest as you take in that buena vista of the Golden Gate Bridge and its namesake park. Afterwards, amble down into the Haight Ashbury district, where the bohemian spirit of the '69 summer of love can still be felt in the colorful wall murals and laidback coffee joints. Spend some time meandering around Haight and Central, where rows of Victorian houses in flamboyant hues – cornflower blue, flamingo pink, mellow yellow – make for perfect Instagram eye candy.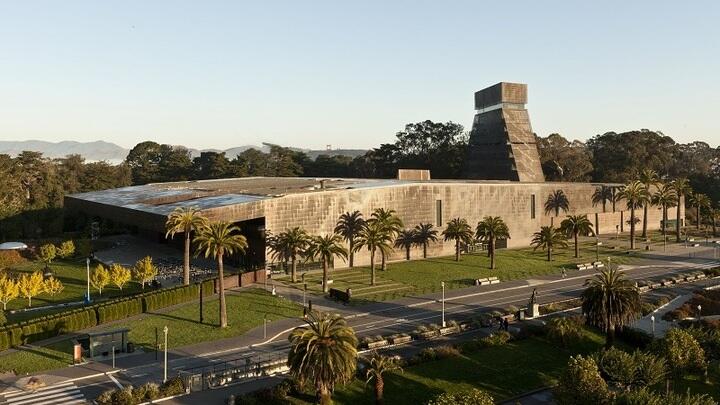 Onwards to Golden Gate Park, where strolling in more or less any direction will reveal untold wonders. It's here you'll find some of the city's best museums: the majestic de Young fine art museum with its eye-catching burnished copper skin and soaring tower, and the huge California Academy of the Sciences, which houses an aquarium, planetarium, rainforest and natural history museum beneath the rolling green hills of its living roof. Visit the Japanese Tea Garden where gently winding paths, tranquil ponds and a splendid five-tiered pagoda make for a lovely stroll. Dedicated walkers can skirt the shimmering Stow Lake and make for the far end of the park, where bison roam their paddock and the traditional Dutch Windmill is one of the park's most photographed attractions.
Lombard Street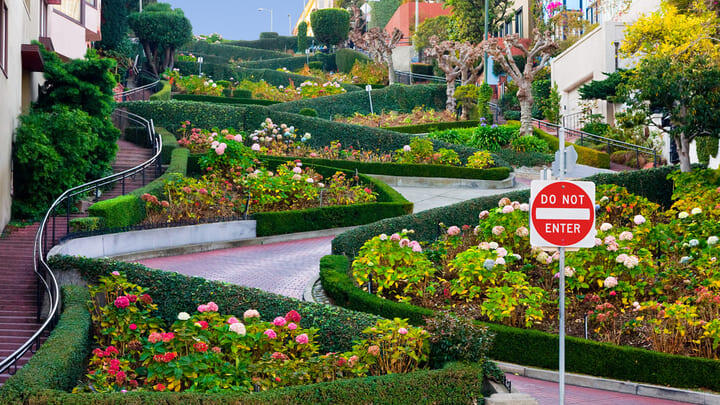 A short one, to be sure, but no list of the best places to walk in San Francisco would be complete without mentioning the most photographed street in the city. The steep, one-block section of Lombard that lies between Hyde and Leavenworth on Russian Hill is a rollercoaster ride of eight hairpin bends that's said to resemble a playground slide. Stairs along both sides allow you to take your sweet time, admiring the street's vibrant floral borders and quirky architecture and flooding your Instagram with as many snaps as you can. 
Chinatown and North Beach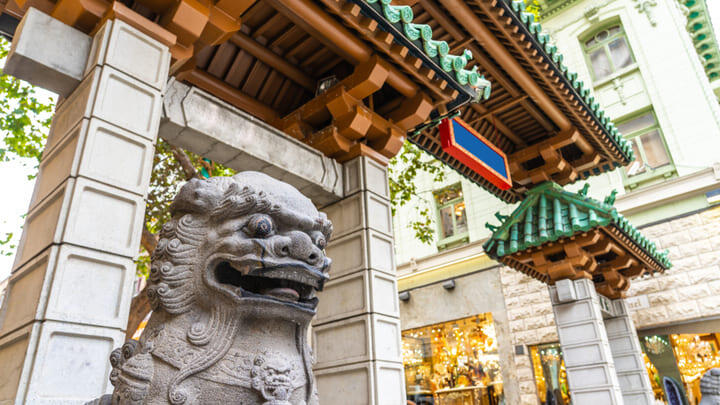 Start your Chinatown meander at Portsmouth Square, the heart of the neighborhood, where locals indulge in traditional pursuits including t'ai chi and Chinese chess, then head north into atmospheric lanes and alleyways that are alive with bustling markets, mah jong parlors and Chinese bakeries. Grab an egg-custard tart or three for sustenance as you wander to Waverly Place with its colorful flag-covered temple balconies, and Ross Alley, where workers in the tiny Golden Gate Fortune Cookie Factory assemble thousands of the crunchy future-predicting treats by hand every day.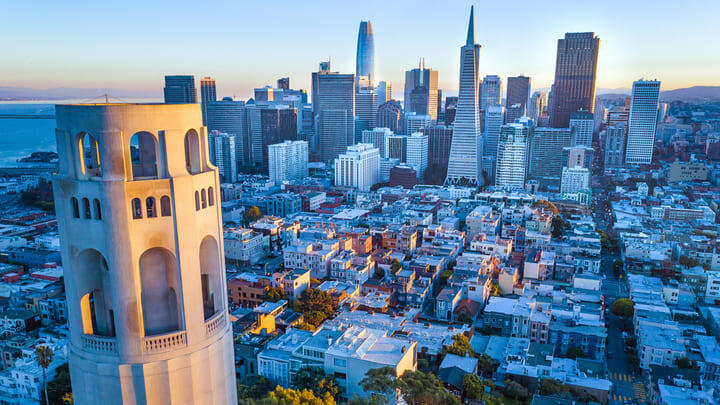 Head east along Jack Kerouac Alley to Columbus. This is Beat Generation territory, where Kerouac and fellow beatniks including Ginsberg and Cassady hung out in the 1950s, primarily at the Vesuvio bar and legendary City Lights bookstore. Hungry again already? Cannoli from the bakeries that line leafy Washington Square and its ornate, twin-spired church are some of the best in San Francisco. Suitably fortified, your steep climb up Greenwich Street to North Beach's iconic Coit Tower should just about be manageable. Finish with a walk down the Filbert Street Steps, where unusual wildflowers, chattering Telegraph Hill parrots and sweeping views of the San Francisco Bay Bridge and Treasure Island are all the reward you need.
Mission Murals
There are over 1,000 murals adorning San Francisco's streets, with the highest concentration found in the trendy Mission district south of Downtown. You'll find some of the best examples on narrow Clarion Alley, where local artists have covered seemingly every available surface with portraits, political art and tributes to the likes of George Floyd and Prince. Nearby Balmy Alley is no less colorful, with a large homage to great female artists including Frida Kahlo and Georgia O'Keeffe among its 40 or so pieces.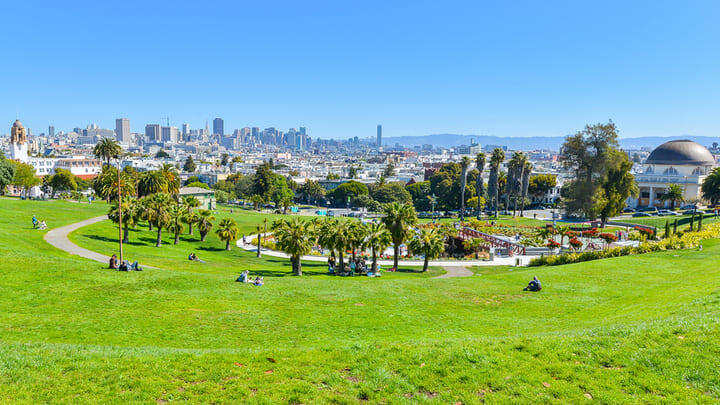 While you're in the neighborhood, take a stroll down quirky Valencia Street with its eclectic mix of fab coffee roasteries and interesting shops (Pirate Supply Store, anyone?). Then grab a gut-busting 'Mission Burrito' from one of the long-established local taquerias and head up to Dolores Park for sunny skies and great views of the Bay and Downtown.
The San Francisco Bay Shoreline
Pick up some of the sweet stuff at historic Ghirardelli Square, where the legendary Ghirardelli Company's chocolate and ice-cream emporium has all the supplies you need to fortify you for your shoreline walk. Join the paved path that weaves westwards along the coast towards the Golden Gate Bridge and watch boats bob along in the Bay, carrying eager tourists to Alcatraz and the Angel Island State Park beyond. Both should be visible from here, fog permitting. Follow the trail as it passes through the Maritime National Historical Park, passing the picturesque Fort Mason wharves, and continue to the Palace of Fine Arts as you enter the Presidio.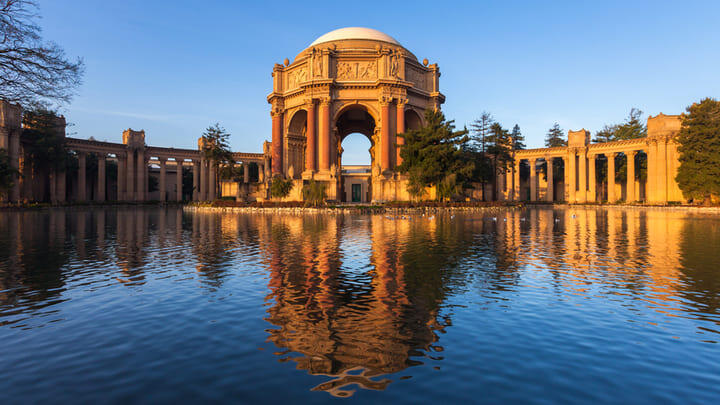 Built for the 1915 Panama-Pacific International Exposition, this faux palace is a monumental beaux-arts beauty that's surrounded by swan-filled lagoons and lush green foliage. It's a great spot to pause and cram in some more of that delicious chocolate before rejoining the path up to Fort Point, a Civil War-era fort beneath the Golden Gate Bridge which is where your hike ends, unless…
The Golden Gate Bridge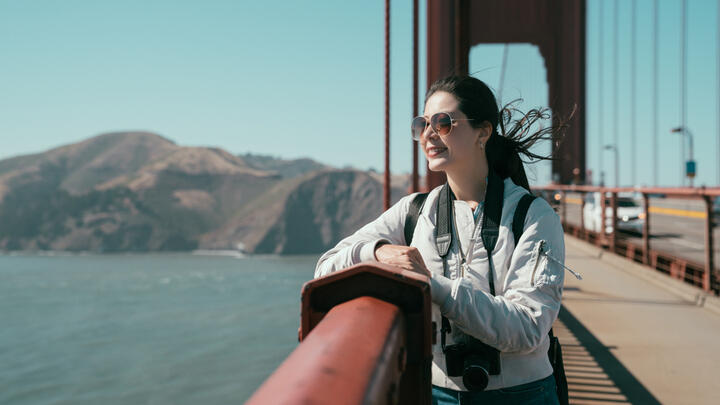 Now you're here, it would really be foolish – nay, rude – not to. For here's where you'll find some of the best views in all of San Francisco, not least the Downtown skyline and out shimmering azure blues of the Pacific. The best thing about walking the iconic red bridge is that you can go as long or short a distance across it as you like. But we recommend going the whole way to really make the best of its many vantage points. Head down into downtown Sausalito for a restorative beer and save your legs by taking the ferry back across to San Francisco.
Save on attractions

in San Francisco

 
Save on admission to San Francisco attractions with Go City. Check out @GoCity on Instagram and Facebook for the latest top tips and attraction info.