Trying to decide where to stay in San Francisco? Will it be the bustling tourist hotspots of Fisherman's Wharf and the Marina? Busy downtown or sleepy 'burbs? The hip and happening Mission and Castro districts or the colorful old-school Victoriana of NoPa and the Hayes Valley? Bay or city views? Top or bottom of the hill? Check out our guide to some of the most desirable addresses in town, with ideas for solo travelers, couples and those with a large family in tow. 
Downtown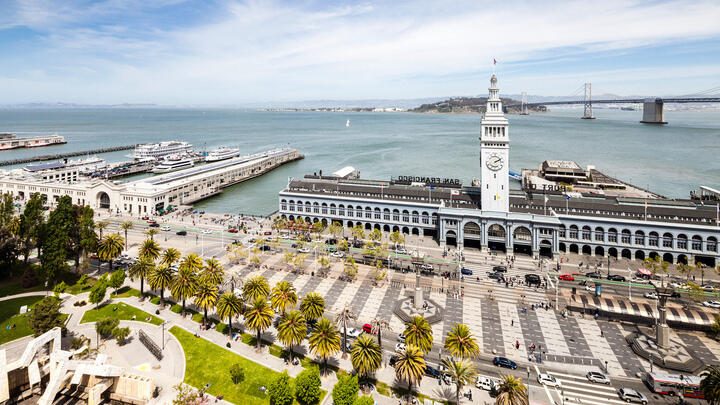 Easily one of the best places to stay in San Francisco, the Downtown area has countless benefits. Firstly, it puts you within strolling distance of stacks of the city's bucket-list attractions. It's where you'll find, for example, the San Francisco Museum of Modern Art (SFMOMA) and the landmark Ferry Building on the Embarcadero, with its soaring clock tower and cavernous interior that houses a bustling marketplace full of cafes, restaurants, cute boutiques and artisan foodie stores. The Embarcadero is also home to some of the neighborhood's best luxury hotels and rooms with Bay views.
The shopping mecca that is Union Square sits at the heart of Downtown, promising high-end boutiques and big brands that are primed to give your credit card a workout. Think Saks, Macy's, Bloomingdale's, Chanel, Apple and the Disney Store.There's also a huge range of dining and drinking options here, satisfying all appetites from steak to sushi, cakes to cocktails. And if it's great Asian food you crave, look no further than nearby Chinatown, where authentic prawn gyoza and fluffy BBQ pork dumplings may just change your life.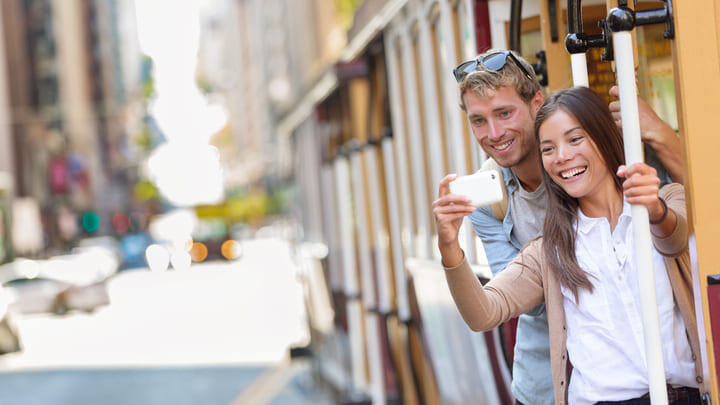 Excellent transport connections to the rest of the city also make Downtown a good choice, especially for first timers looking to tick off as many bucket-list San Francisco experiences as possible. Two of the city's three remaining cable car lines originate here, meaning you can hop on these historic painted carriages for a rollicking, bell-clanging ride across the city's hills, taking in views of Lombard Street, Alcatraz Island and the Bay as you weave your way up to Fisherman's Wharf.
Fisherman's Wharf and North Beach
Fisherman's Wharf is – to be blunt about it – a tourist hotspot. But not without good reason: here's where you'll find good old-fashioned seaside entertainments by the bucketload. We're talking everything from arcade games and boat rides in the Bay to Madame Tussauds waxworks, an aquarium and a quite dizzying array of family-friendly dining options. Then, of course, there's the famous sea lion colony at Pier 39. For those reasons, you'll find Fisherman's Wharf to be well-served by the big beasts of the hotel world – Marriott, Holiday Inn, Hyatt, Fairmont – something to suit most budgets, in other words.
If you prefer something a little less hectic, neighboring North Beach is a good choice, providing easy access to the thrills and spills of Fisherman's Wharf as well as having its own not inconsiderable charm. This buzzing district is full of Italian flavor, with some of the city's best gelato shops, and bakeries selling sweet and crunchy cannoli on nearly every street corner. Its sloping streets are also great for casual exploring: brave souls with calves of steel can take the (approximately 500) Filbert Street Steps up to the iconic Coit Tower. Trust us: it's worth it for the awe-inspiring views of the glittering Bay far below.
The Mission and The Castro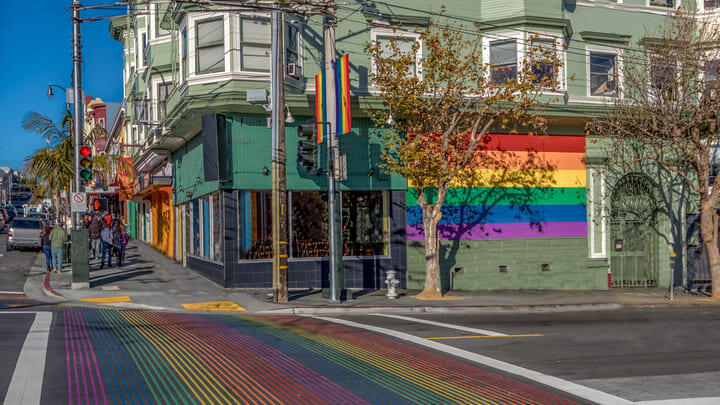 A little way south of Downtown, the Castro and Mission districts are hands-down the hippest 'hoods in town. The Castro is the heart of the city's (maybe even the planet's) LGBTQ+ community and you'll see beautiful rainbows everywhere here: flags, crosswalks, you name it. The nightlife is unsurprisingly ace and the historic Castro Theatre hosts drag nights as well as regular screenings of classic movies and Disney sing-alongs.
Between the Castro and the Mission sits Dolores Park, named for the nearby church which – having stood here for more than 200 years – is San Francisco's oldest building. The park is a lush verdant space, great for people-watching and taking in views of Downtown and the Bay. The Mission's Latino roots are reflected in many of the amazing, colorful murals that adorn the streets here, as well as in the cuisine. Don't miss the famous 'Mission Burrito': its soft, stretchy tortilla bursting at the seams with farm-fresh ingredients is in a class all of its own.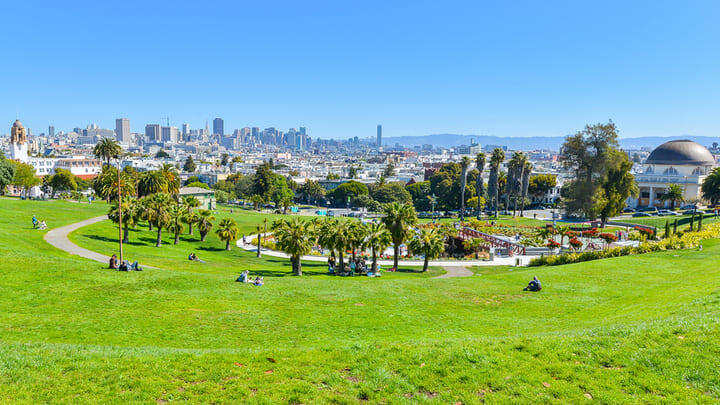 There's also some fantastic shopping on Valencia Street, with an eclectic mix of thrift stores, fashion boutiques, book and record shops and even a store hawking supplies for would-be pirates. Yes, really. A fine selection of late-night dive bars and upscale cocktail joints also makes for some great nights out here, with a smattering of decent hotels and B&Bs available to rest your head late into the next morning.
Top tip: the microclimate in this part of town means the Mission and Castro neighborhoods largely avoid the fogs that regularly roll in across the Bay, especially in summer. What's not to like?
Nob Hill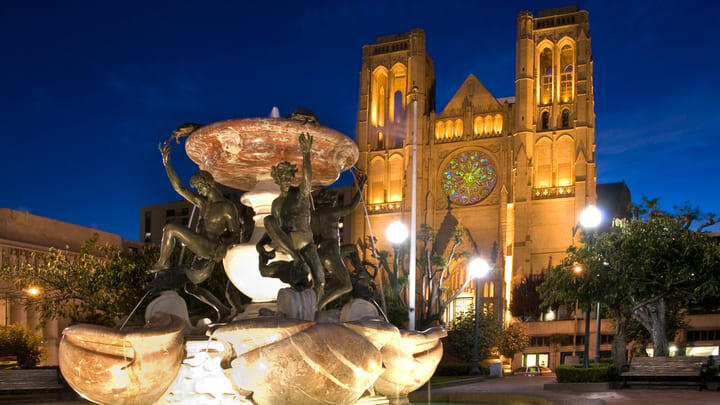 Strictly for those on an A-list budget, Nob Hill is one of the swankiest districts in San Francisco, wth price tags to match. This historic, hilltop 'hood is blessed with some of the finest architecture in town, including the grand Gothic confection that is Grace Cathedral, some beautiful old mansions and two of the city's landmark luxury hotels: the Fairmont and the Mark Hopkins. The views of the San Francisco skyline from the Top of the Mark restaurant on the hotel's 19th floor will truly set your heart aflutter though, alas, the bill may also trigger a coronary in your astonished bank manager.
Huntington Park, by the cathedral, is a pleasant green space for people-watching the neighborhood's wealthy residents, and Nob Hill's central location means it's very well placed for accessing attractions all around the city. Bonus: the California cable car line runs from close to the Embarcadero all the way up Nob Hill (and back down the other side), meaning that steep ascent to one of the city's best vantage points need not be quite so daunting.
Save on attractions

in San Francisco

 
Save on admission to San Francisco attractions with Go City. Check out @GoCity on Instagram and Facebook for the latest top tips and attraction info.