If Scandinavia isn't on your bucket list – it should be! The fairy tale-like architecture of its cities, jaw-droppingly beautiful fjords and the spectacle of the northern lights are wonders no visitor will ever forget. And of course, no tour of Scandinavia would be complete without a visit to Stockholm, a picturesque archipelago with dazzling palaces and a super-charming old town. Three days is a perfect amount of time to visit the Swedish capital, because it gives you a chance to explore the center and its closest islands as well as taking a day trip somewhere further out. Our 3-day Stockholm itinerary takes in:
Gamla Stan

The Royal Palace

City Hall

Djurgarden

Katerina-Sofia

Skinnarviksberget

Drottningholm Castle

Nightlife
Day 1: Morning – Gamla Stan (Old Town)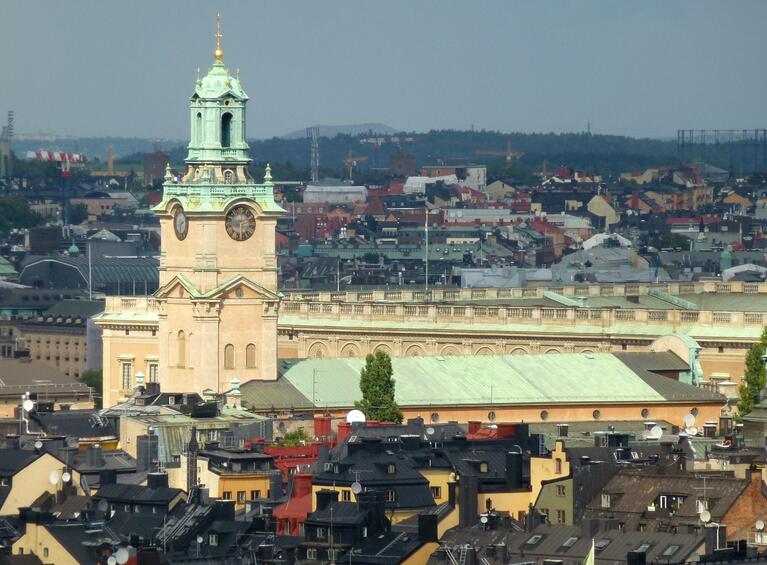 Start your visit in Stockholm's medieval center, Gamla Stan. Most of the buildings here date from the 18th and 19th centuries, although if you spend some time wandering the maze of cobbled streets and narrow lanes you'll find some that go back to the 1300s, including the imposing Storkyrkan Cathedral. Keep exploring the old town and you'll find shops, museums and plenty of cafes if you need to stop for a coffee and some people watching. 
Day 1: Afternoon: – Royal Palace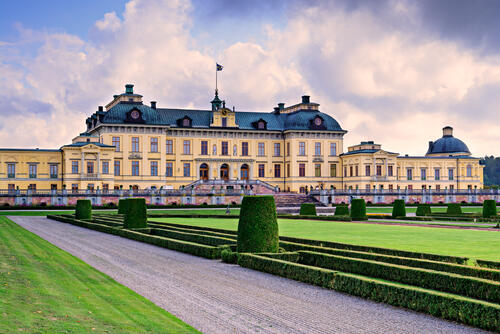 Make your way to the Royal Palace in the northern quarter of the district by noon and you'll be in time to watch the Changing of the Guard which happens every day at 12:15 (or 1:15 on Sundays). The royal guards, resplendent in their blue uniforms, parade through the palace grounds in various formations, sometimes on horseback and sometimes with a marching band. Soak it all in, then spend a couple of hours wandering through the palace's numerous museums and banqueting halls and getting a glimpse into Swedish royal life. 
Day 1: Evening – Sunset views from Skinnarviksberget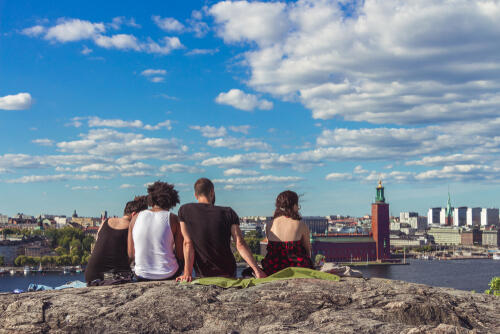 Finish the day with a romantic moment at the city's highest point in Skinnarviksparken, a public park across the archipelago from City Hall. Walk from the old town or rest your legs by taking a Hop-On Hop-Off bus to Slussen and then heading west along the waterfront. Depending on the time of year, you may want to eat at one of the cafés or restaurants around the park then head up to watch the sunset – or hike up to watch the sunset and then back down again for dinner. Either way you'll be treated to stunning 360 views over the city, as the sun goes down and the lights of City Hall cast a shimmery reflection on the water.
Day 2: Morning - Djurgarden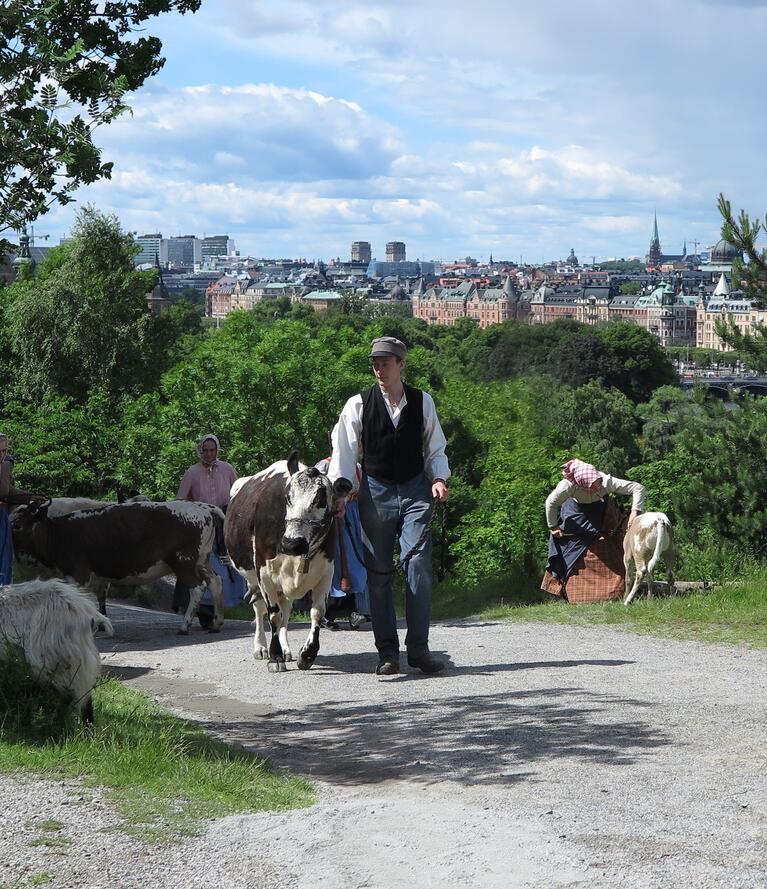 Spend the day soaking up the gentle ambiance of the royal island of Stockholm. To get there, walk, grab a tram or use the Hop-On Hop-Off bus or boat. Once there, visit one of the island's many museums: depending on your interests there's the ABBA museum, the Vasa Museum (featuring a 17th century warship that sunk in 1628 and was pulled up in 1961) or the Skansen museum, which is the world's oldest open-air museum and showcases life in Sweden before the industrial revolution. If you like a tipple try the Museum of Spirits, where you can learn about the history of gin and other delicacies. For lunch, there are plenty of cafes and restaurants on the island, or you could take a picnic to enjoy in one of the many relaxing and picturesque gardens. 
Day 2: Afternoon -

Katerina-Sofia walk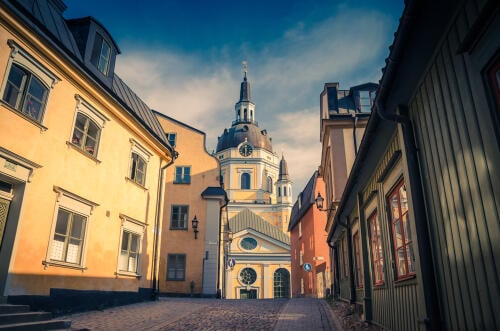 From Djurgarden, take the Hop-On Hop-Off boat over to H. Fotografiska and enjoy an afternoon or early evening stroll around the neighborhood of Katerina-Sofia. Here you'll find charming houses and quiet lanes, and the beautiful yellow exterior and towering dome of Katerina Church, which is well worth a look inside if it's open. Nearby is the Sofia Church, which is less impressive but sits on a hilltop overlooking the city and is worth the short climb for the views over the district. 
Day 2: Evening - Stockholm nightlife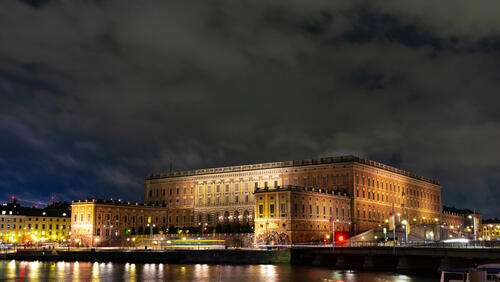 If you've got a bit of energy left, day two is a good time to check out Stockholm's lively night scene. Hang around the southern districts of Stockholm and the suburbs of Sodermalm, where you'll find buzzing cafes and cool bars with a casual, laid back atmosphere. Or you could head back to Gamla Stan for a pub crawl or nighttime walk via the Royal Palace and Storkyrkan Church, which look equally attractive at night. If you're in the mood for a flutter stop by the Casino Cosmopol, a stylish art deco building where you can try your hand at blackjack, poker, roulette and slot machines. 
Day 3: Morning - boat tour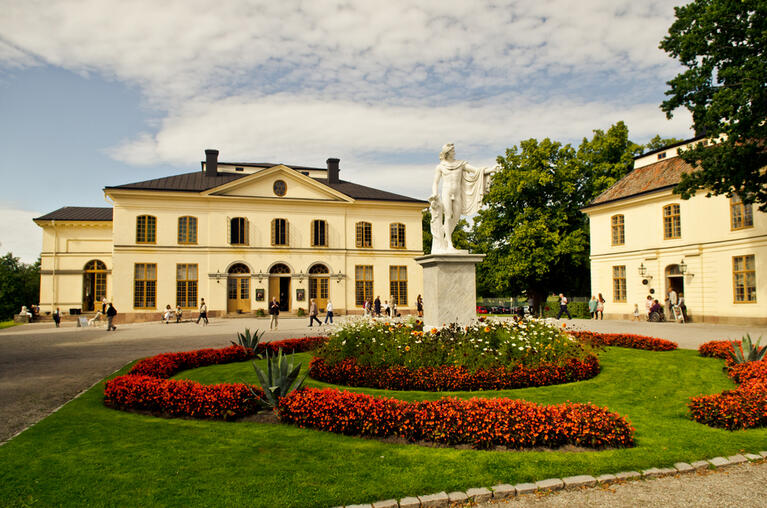 If you're feeling the need for a refreshing wake up this morning, Stockholm has numerous boat-tour offerings for the cross-eyed traveler. If you want to stay local, jump on the Hop-On Hop-Off boat and ride the whole circuit until you feel revived, or choose from a Royal Canal tour, Under the Bridges of Stockholm tour, an archipelago tour or boat trips to Fjaderholmarna, Artipelag or Gustavsberg. Or if you want to explore further, take a whole day trip to Drottningholm Palace, traveling on a historic vessel via Lake Malaren. Once there, you can explore some of the private residence of the Swedish Royal Family, as well as the Drotttningholm Theater and Royal Gardens.
Day 3: Afternoon - City Hall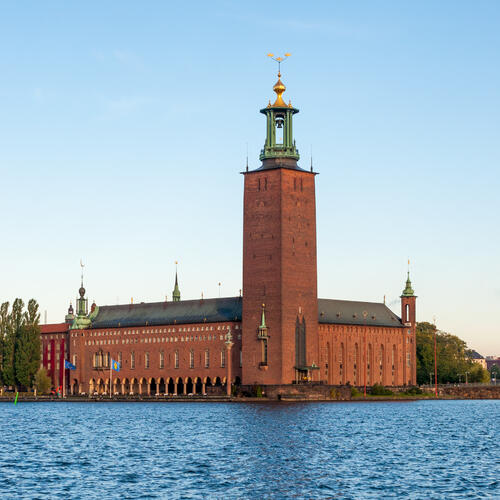 Unless you're spending the day at Drottningholm or out in the islands of the archipelago somewhere, head back into the center of town for the afternoon for whatever you might have missed on day one. There's the Nobel and Jewish Museums in Gamla Stan, or have a peek in the Riddarholm Church, burial place of Swedish monarchs for 600 years. Then head to City Hall on the northern waterfront, where you can take a guided tour or, at certain times of year, climb the 106-meter tower for stunning 360 degree views over the city. 
Day 3: Evening - Ostermalm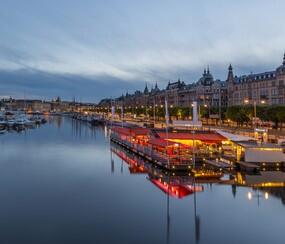 Head east for an evening stroll along the waterfront. You'll find loads of bars and cafes here if you're looking for a traditional meal or pre-dinner aperitif. If you pass the Kungstradgarden Metro station, be sure to pop down to check out the cool wall art and sculptures. Take a stroll down Strandvagen, a magnificent tree-lined boulevard dotted with elegant villas, and head towards the trendy suburb of Ostermalm Fiinish your time in Stockholm dancing the night away in one of the neighborhood's classy bars or clubs.
Make the most of your time with Go City.
See it all in three days with Go City. An All-Inclusive or Explorer Pass will save you time and money on dozens of Stockholm attractions, so you won't have to miss a thing!