Connected by a whopping 57 bridges, Stockholm's city center's cluster of 14 islands are chock-full of amazing attractions, from baroque palaces and medieval churches to rickety rollercoasters and traditional meatball emporia. It's a compact city, easy to get around on foot (or by tram, metro, bus and boat) and there are more than enough things to do in Stockholm to keep even the most jaded of sightseers busy for a good few days, perhaps even a week. Dive in for our guide to Stockholm's must-see attractions…
Gamla Stan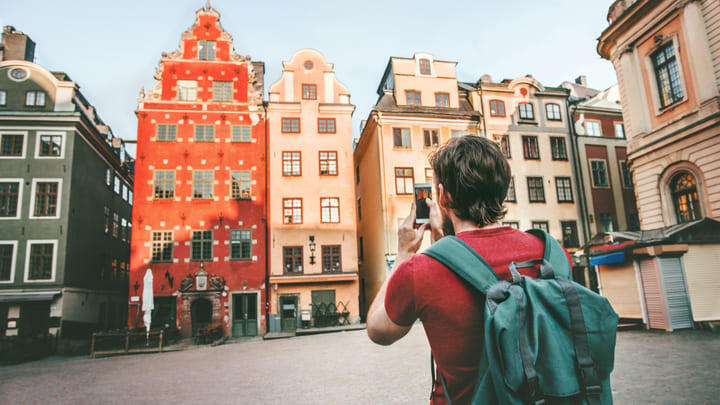 There's no better introduction to Stcokholm's fairytale charms than a stroll through Gamla Stan, the city's medieval old town. Start in Stortorget – the main square – location of the city's most photographed buildings: a swoonsome row of gabled 17th-century townhouses in chili reds, turmeric yellows and mint greens. Delicious! Even more delicious are the still-warm cinnamon and cardamom buns you'll see glistening in bakers' windows here. Grab one (or two) for sustenance then get lost in Gamla Stan's atmospheric cobbled streets. 
It's along these narrow lanes that you'll encounter such treats as Stockholm Cathedral (Storkyran), a medieval gothic confection with a beautiful copper-green bell tower, awe-inspiring vaulted interiors and artifacts that include a 15th-century sculpture of St George and the Dragon. The occasional candlelit concerts that take place inside are highly recommended, should your visit happen to coincide with one.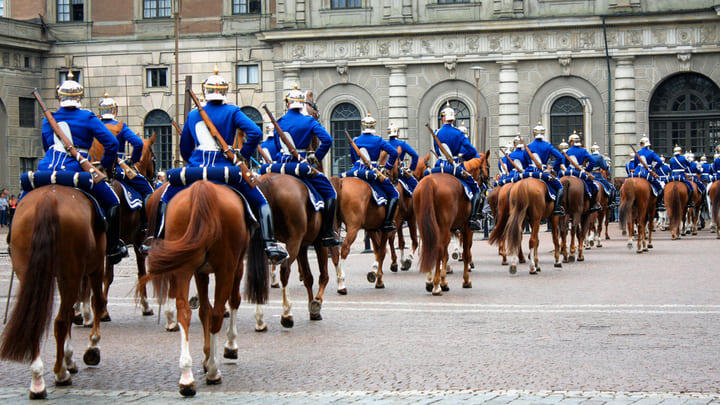 Other highlights of a walk around Gamla Stan include the opulent Royal Palace (the Swedish monarch's official residence, no less), where you can watch the Changing of the Guard ceremony. And Stockholm's narrowest alley, which tapers to a mere 90 centimeters across at one point and may make you regret that second cinnamon bun. Also not to be missed is the quite extraordinary carving over the doorway of Skeppsbron 44, which depicts the distraught face of a cuckolded husband sobbing over his wife's… how do we put this politely?… lady bits. Apparently commissioned by the husband himself, it's well worth a look, especially on rainy days when tears appear to pour from his eyes.
Stockholm's Best Museums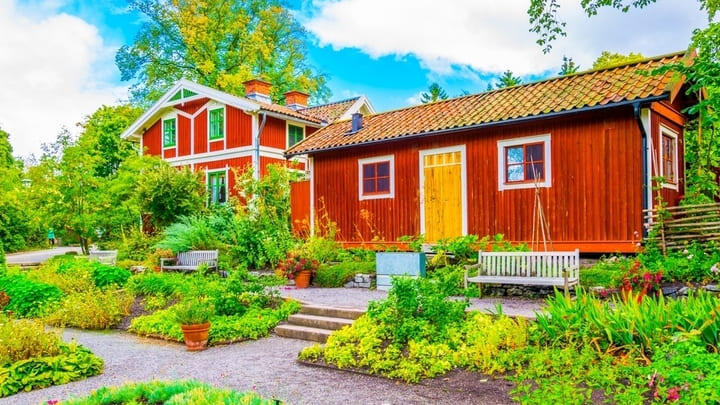 You're pretty spoiled for choice when it comes to fine museums and galleries in Stockholm. Chief among these is Skansen, an exceptional open-air living history museum on the verdant island of Djurgården, where craftspeople in period costume demonstrate what life was like in 19th-century Sweden. Also on Djurgården are a museum containing a 17th-century royal warship, an interactive museum charting the history of the Vikings and the fantastically fun musical extravaganza that is ABBA: The Museum, where wannabe dancing queens can jive with holographic avatars of Benny, Björn, Frida and Agnetha, and belt out their best Waterloo in the karaoke booth.
Elsewhere, both Sweden's National Museum and the diminutive Moderna Museet are free to enter and between them contain artistic treasures by the likes of Dalí, Degas, Duchamp, Rembrandt, Rubens, Renoir and Picasso.
Looking for things to do in Stockholm with kids? Interactive science museum Tom Tits Experiment is hard to beat. Once they've stopped giggling at the somewhat peculiar name, there are hundreds of hands-on experiments to get involved in, such as escaping a Houdini rope knot, seeing your shadow change color, becoming a human yoyo and getting all shook up in a simulated earthquake. Around 30 minutes by train from the city center, in Södertälje, it's a little off the beaten track but well worth the effort.
More Fun Things to do in Stockholm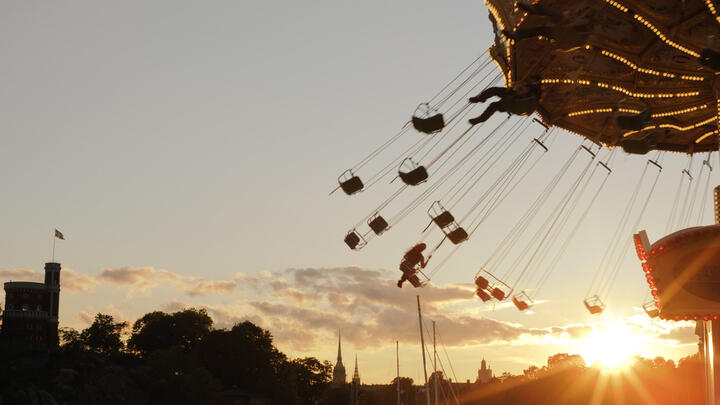 Old churches and musty museums a little too dry for you? Good news: Stockholm also has stacks of activities guaranteed to bring you joy and laughter. Take Gröna Lund on Djurgården. Here by the water in Sweden's oldest amusement park you can scare yourself silly on 21st-century thrill rides galore, or enjoy the more sedate old-fashioned entertainments offered by the tunnel of love, amusement arcade and rickety old wooden rollercoaster. Young children will love nearby Junibacken, a fairytale theme park that brings characters from classic Swedish literature to life, primarily those of author Astrid Lindgren (best known for her Pippi Longstocking stories) and also, of course, the Moomins of Moominvalley.
Ride Stockholm's metro for a fun way to experience (free!) contemporary art and sculpture: the platforms and tunnels, particularly in and around the city center, are almost otherworldly. You don't even need to have a specific destination in mind to do this: the metro network is an attraction all of its own. Expect burning hellscapes, beautiful blue skies and rainbows, and cute puffins perched high on ledges.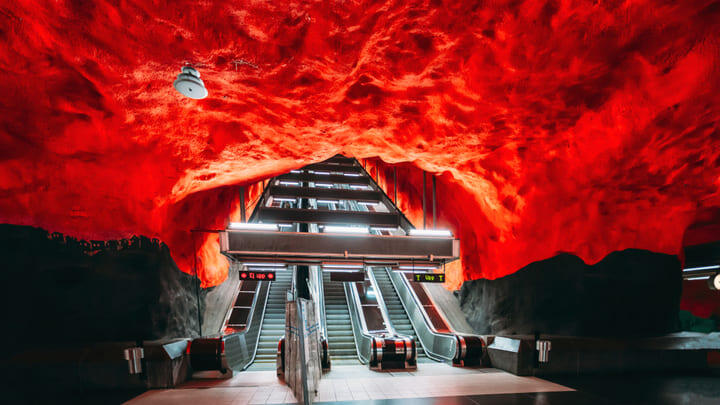 Emerge blinking into the daylight at Globen station and hop aboard the SkyView – this 20-minute ride up the side of the spherical Avicii Arena building affords excellent views across the city, its lakes and the southern suburbs.
Eat, Drink and Be Merry!
All this activity making you hungry (and thirsty)? Culinary delights abound in Stockholm, from the legendary Swedish smörgåsbord to crayfish, pickled herring and meatballs. You'll find some of the best meatballs in town at the aptly named Meatballs For The People on trendy Södermalm. Or, should you be so inclined, a free bus runs from the city center to the planet's biggest IKEA store, almost as famous nowadays for its meatballs as it is for its flat-pack Scandinavian home furnishings. Afterwards, discover Stockholm's boozy heritage and sample traditional schnapps, local craft gins and flavored vodkas at the magnificent Museum of Spirits. Skål!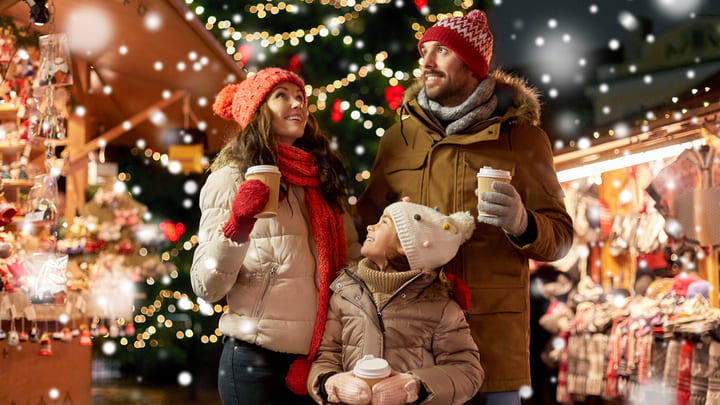 No list of things to do in Stockholm would be complete without mentioning the annual Christmas markets, which are among the best and most atmospheric in the world. Wrap up warm (temperatures don't get much above zero in December) and make straight for Stortorget for the main event. Expect a heart-warming festive scene that includes a towering pine tree festooned with twinkling fairy lights and dozens of traditional wooden cabins hawking Scandinavian crafts, gifts, trinkets and sweets. Warm up with a hearty mug of spiced glögg (mulled wine) and a gingerbread cookie.
Save on things to do in Stockholm
Save on admission to Stockholm attractions with Go City. Check out @GoCity on Instagram and Facebook for the latest top tips and attraction info.